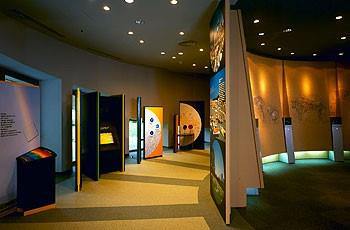 A new discovery of the ancient city Kyoto. Spend your day to stimulate your mind with cutting-edge technology while experiencing Japan's rich ancient history at the same time.
Kyoto and Nara are two of Japan's most famous ancient cities, but they are also home to "Keihanna Science City" which spans Kyoto, Nara and Osaka and where cutting-edge technology is used to share knowledge.
Kyoto is dotted with many historical temples and shrines, including a temple associated with the famous "Ikkyu-san" the famous Japanese anime character – Here you will see the latest technology on display to share ancient history!
What is "Keihanna Science City"
"Keihanna Science City" is where more than 140 research institutes and companies are gathered in an area of about 15,000 hectares where Kyoto, Nara and Osaka border each other and where more than 9,000 researchers and employees work. Although it is not actually a city, it is widely known as the center of knowledge in the Kansai region, and is connected by the JR rail line called the Gakkentoshi (Science City) Line.
Many of the facilities are closed to the public because they are at the forefront of current research, but some are open to the public for you to get a glimpse of their amazing technology.
You don't need a reservation to visit these two amazing spots in this Science City!
The science of "light" - fun to learn for children and adults
Japan's information hub supports the county's advanced infotech society
At the Science Museum of the National Institutes for Quantum and Radiological Science and Technology (QST) you can learn about and experience the science and technology of "light". From the history of optical research to technologies such as lasers and quantum beams that are currently being researched, this is a fun way to learn about light while physically experiencing it. It's explained in an easy to understand way, however the content is actually very advanced! Both children and adults will be amazed.
The Kid's Science Museum of Photons (Japanese)http://www.kansai.qst.go.jp/kids-photon/index.html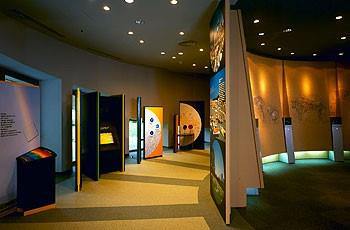 Right next to the National Institutes for Quantum and Radiological Science and Technology (QST), Kansai Photon Science Institute - the latest research is going on right around the corner!
After learning all about light, the next destination is the Kansai-kan of the National Diet Library. Together with the Tokyo Main Library, this is Japan's largest library, containing the largest number of books and printed materials published in Japan. The Kansai-kan alone has more than 14 million items in total, and the 360-seat reading room is filled with more than 120,000 volumes! The scale of the library is overwhelming. It's free to browse, making it a must-visit for all book lovers. The Kansai-kan also has a large collection of Asian books, magazines and newspapers, and it is interesting to get a glimpse into the cultures of different countries. * Anyone aged 18 years or older is eligible to enter the reading rooms and use the materials.
Kansai-kan of the National Diet Library https://www.ndl.go.jp/en/kansai/index.html
Kansai-kan of the National Diet Library movie https://www.youtube.com/watch?v=IUOEJbnGs7Y
After learning about the latest information and research, take a short stroll through history.
Keihanna Science City is recognized as the center of knowledge in the Kansai region, but if you turn your attention to its history, you will find a history of valuing and preserving knowledge, wisdom and learning that leads to present day. After you've learned the latest information and research, why not get a taste of that history? Let's start at the village of medieval stonework culture.
The area to the east of the city center, where many research institutes are concentrated, is known as a "treasury of cultural assets". The "Touno area" is known as the area where Buddhist monks who did not want to follow secularized Buddhism, moved to in the past, and pursued Buddhism in its purest form. The "Sekibutsu no Michi", a walking path connecting the two temples, takes about an hour to walk slowly. Along the way, you'll find a variety of delicate and artistic stone Buddhas with different expressions. Take a stroll through the tranquil mountain village landscape in search of thousand-year-old Joruri-ji Temple, Gansen-ji Temple and the stone Buddha.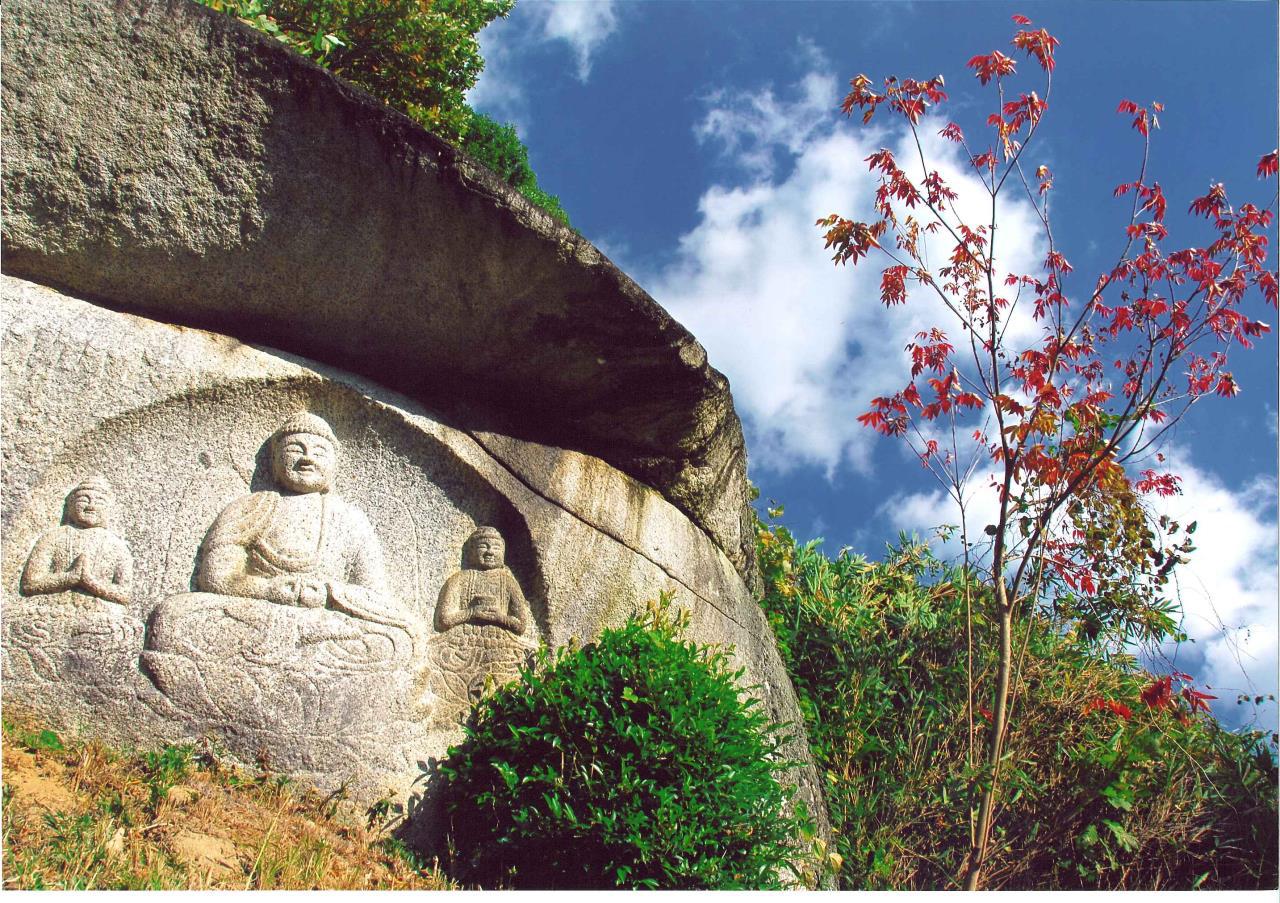 Stone Buddha, commonly known as "Warai-botoke" (smiling buddha) for its gentle expression, stands near Gansen-ji Temple.
Kizugawa City tourist information site ( Japanese) http://0774.or.jp/spot/sekibutu/
Goodwill Guide for Kamo by "Furusato Kamo-Kizugawa" http://furusato-kamo.sakura.ne.jp/english.html
On the other hand, at the southern end of the Keihanna area, there is a temple called "Shuon-an-Ikkyuji Temple" where Zen master Ikkyu spent his last years. The temple was originally built by a high priest, Daiou-Kokushi, and was rebuilt by Zen master Ikkyu. Kokyu-an, located to the south of the precincts, was the place where Zen masters lived and worked, and was visited by leading cultural figures of the time, such as Jyuko Murata, the founder of Chanoyu (the Japanese tea ceremony), and Zenchiku Konparu (the famous Noh actor of Muromachi era), who built the foundation of modern Japanese culture. The grounds of the temple are famous for its maple trees, fresh greenery in the spring and autumnal foliage in the fall. The Hojo garden is a dry landscape garden created in the 17th century.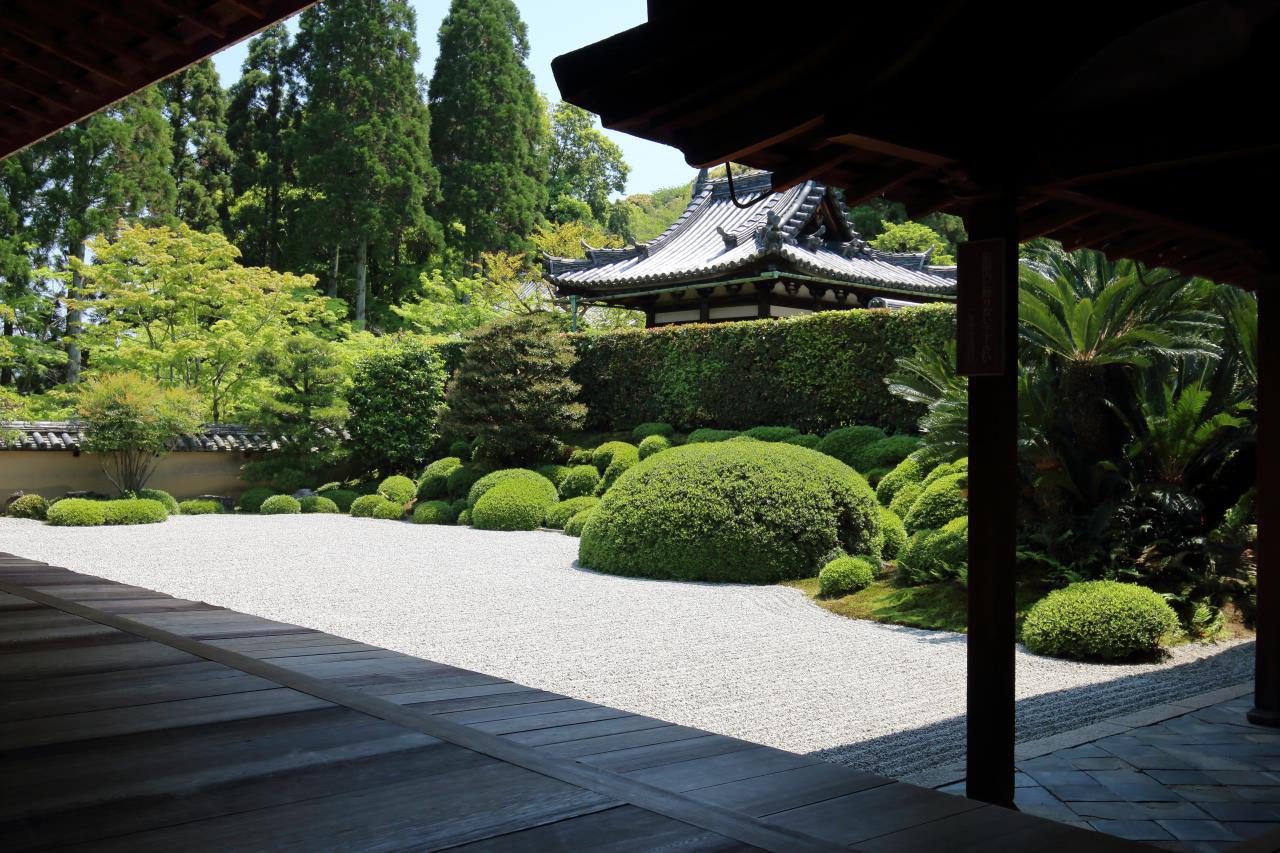 The beautiful garden is a must see to experience the peace and tranquility of Japanese Zen gardens.
Shuon-an Ikkyuji Temple http://www.ikkyuji.org/en/
Touching the history of tea at the birthplace of Ujicha.
Surrounding Keihanna Science City area is not only a science city, but also a famous place for Japanese tea (Uji tea). Uji City is home to Manpukuji Temple, which was opened by Zen Master "Ingen-Zenshi", who introduced the tea ceremony custom from China, and Uji Tawara-cho area is home to the birthplace of Nagatani Soen, who invented the Japanese sencha (type of Japanese green tea), which is made by steaming the sprouts of tea leaves and then drying them by hand-rolling them. In addition, beautiful tea plantations can be seen in Minamiyamashiro Village, Wazuka Town and other surrounding areas but both areas are a little far away - so we recommend you visit "CHA Yugaku Park" (FUKUJUEN CHA EXPERIENCE PARK), located in the core area of Gakken City.
CHA EXPERIENCE PARK, opened by the long-established Japanese tea manufacturer FUKUJUEN, introduces tea to the world. You can learn more about tea through a wide range of tea plantations with a variety of teas from all over the world, as well as many exhibits and experiences related to tea.
There are several tour courses that all include hands-on participation, and all require reservations by phone (tel: 0774-73-1200).
*All tours involve hands on participation.