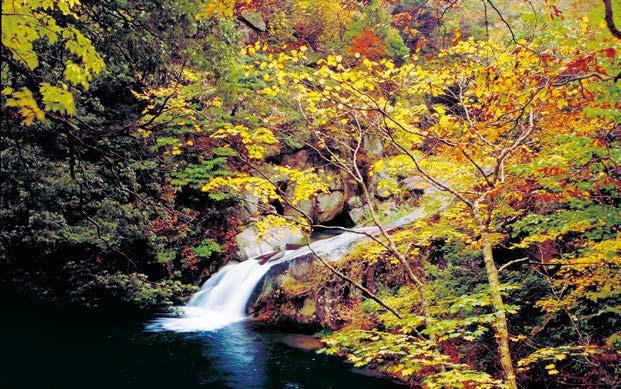 Year-Round Beauty TOTTORI FOR ALL SEASONS
Spring, summer, fall, or winter — the wonders of nature are yours to enjoy in Tottori.
SPRING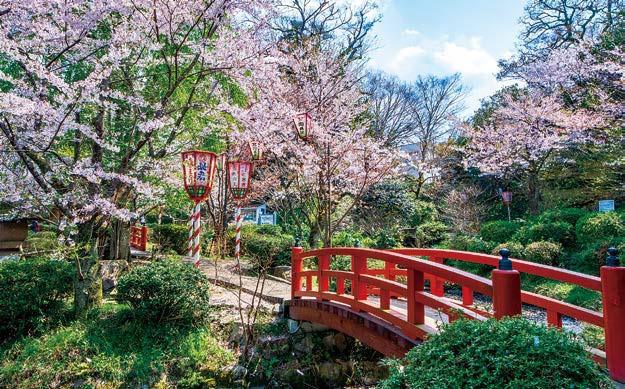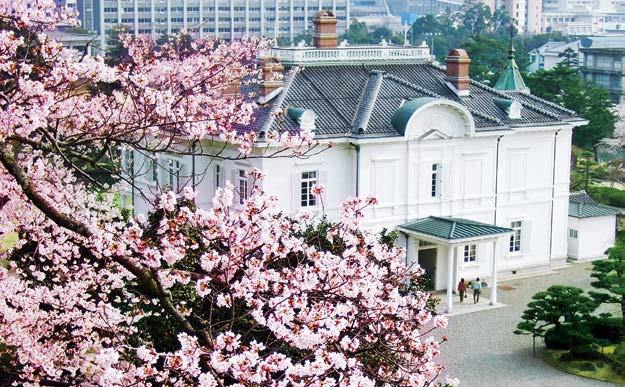 Cherry Blossoms
Spring is one of Japan's most stunning seasons, and it's especially lovely in Tottori with all of the exquisite parks and gardens where you can admire beautiful cherry blossoms in all their glory. Home to nearly 4,000 cherry trees, Utsubuki Park in Kurayoshi is a prime destination for hanami. Located at the foot of a mountain, this forest park bursts to life with color when the trees bloom all around a peaceful pond and charming red bridge. At nightfall, traditional lanterns light up creating an ethereal scene sure to leave you breathless. At the Tottori Castle Ruins, the historical Jinpukaku, a two-story white mansion that stands as symbol of Meiji era modernization, provides a marvelous backdrop for admiring cherry blossoms.
Utsubuki Park
Nakano-cho, Kurayoshi-shi, Tottori
https://www.tottori-tour.jp/en/sightseeing/799/
Jinpukaku
2-121 Higashi-machi, Tottori-shi, Tottori
https://www.tottori-tour.jp/en/sightseeing/507/
SUMMER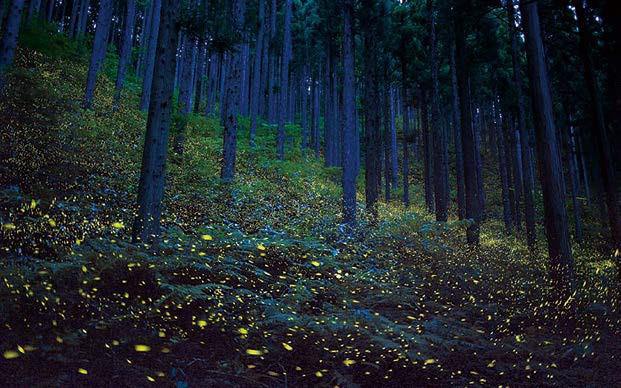 Ethereal Evenings Illuminated by Fireflies
Summer in Tottori is filled with enchanting scenes, one being the fireflies of Fukumaki. After sundown, some 20,000 wild himebotaru fireflies illuminate the mountainside forest with ghostly lights that dance and flicker. It's an otherworldly experience you won't soon forget.
Go "Glamping" on Mt. Daisen
At First Class Backpackers Inn DAISEN (FBI DAISEN), experience "glamping" which is a blend of the words "glamorous" and "camping". A variety of cozy tents and cabins are available to choose from, and there are full amenities including showers. Furthermore, there is a restaurant and bar to enjoy food, drinks, and music in a beautiful forest setting.
Fukumaki Firefly Country
Fukumaki, Nichinan-cho, Hino-gun, Tottori
https://www.nichinan-trip.jp/natural_en/fukumaki-hotaru/
First class Backpackers Inn DAISEN
706 Kobayashi, Hoki-cho, Saihaku-gun, Tottori
http://fbi-camping.com/daisen/
AUTUMN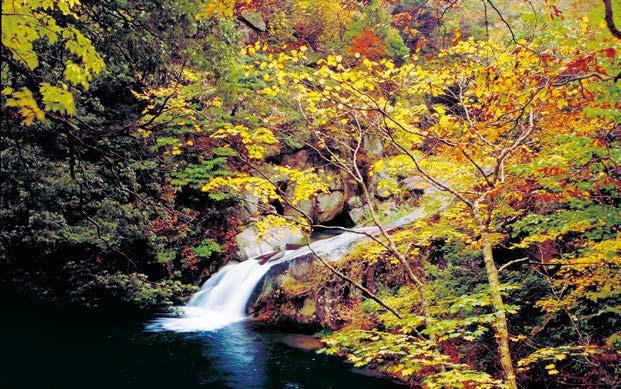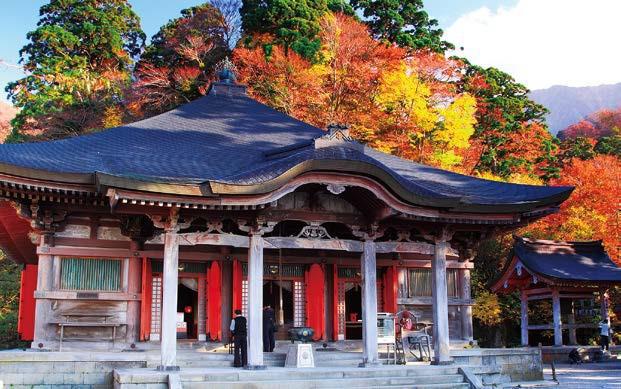 Stunning Fall Foliage
The transformation of verdant mountain forests into a tapestry of red, orange, and gold heralds the return of Tottori's intensely beautiful autumn. The hiking trails of Oshika Gorge offer breathtaking views year-round but are particularly striking when flame-kissed leaves surround its rushing waterfalls and extraordinary rock formations. Another ideal spot to enjoy the fall is Daisenji Temple, a 1000-year-old Buddhist complex sheltered in the forest on the sacred Mt. Daisen. Take in the brilliant colors in a setting of historical architecture, mighty gates, stone paths, riverbeds, and more. At night, the temple compound is vividly illuminated in blazing-hot fiery hues giving this site of autumnal grandeur an air of sacred tranquility.
Oshika Gorge
Kannokura, Misasa-cho, Tohaku-gun, Tottori
https://www.tottori-guide.jp/tourism/tour/view/343
Daisenji Temple
9 Daisen, Daisen-cho, Saihaku-gun, Tottori
https://www.tottori-tour.jp/en/sightseeing/855/
WINTER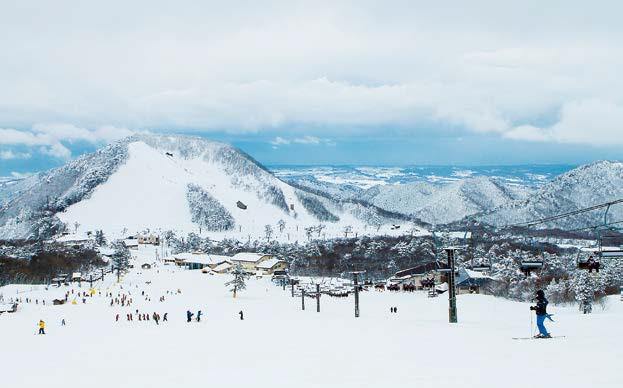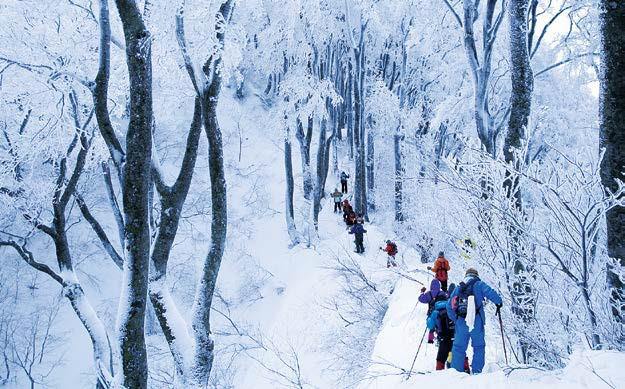 Winter Wonderland
The Mt. Daisen area offers the best skiing in all of western Japan. At Daisen White Resort, four major ski slopes boasting prime snow quality and stunning scenery — vistas of snow-covered Mt. Daisen and the Sea of Japan stretching out as far as the eye can see — await alpine enthusiasts.
Winter Sports Paradise
Mt. Hyonosen, western Japan's number one ski and snowboard destination, attracts lovers of winter sports from far and wide. Sail down the slopes and take in the otherworldly sight of the "ice monsters" (ice-covered tree formations) for which the area is famous.
Daisen White Resort
96 Daisen, Daisen-cho, Saihoku-gun, Tottori
https://www.tottori-tour.jp/en/sightseeing/849/
Tottori Wakasa Hyonosen Skiing Area
631-13 Tsukuyone, Wakasa-cho, Yazu-gun, Tottori
http://www.hyounosen.co.jp/sp/