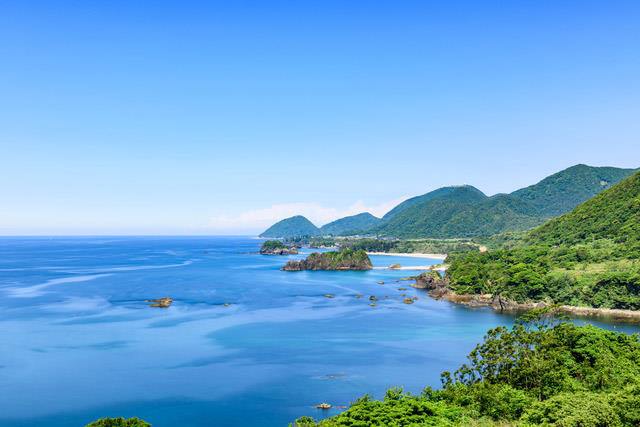 Experience San'in Kaigan Geopark! Recommended Nature Spots in Kyoto, Hyogo, and Tottori Prefectures
One of the real pleasures of traveling is seeing beautiful natural scenery that can only be found in that area. This article introduces San'in Kaigan Geopark, where you can revel in fantastic views of the ocean, focusing on five select spots in this vast area.
What Is San'in Kaigan Geopark?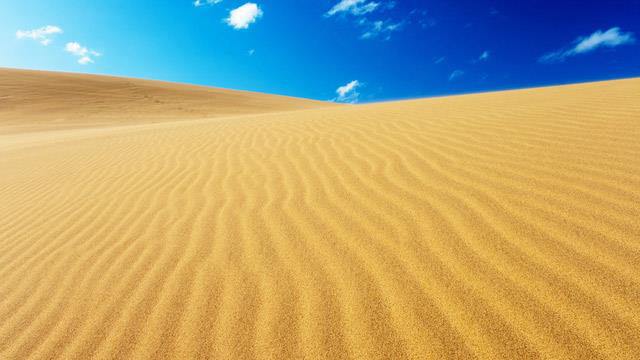 San'in Kaigan Geopark is a place where you can enjoy stunning scenery created by nature. It encompasses a huge area stretching across Kyoto Prefecture (Kyotango City), Hyogo Prefecture (Toyooka City, Kami Town, and Shin-onsen Town), and Tottori Prefecture (Iwami Town and Tottori City). There are igneous rocks and geological strata related to the formation of the Sea of Japan about 25 million years ago as well as diverse coastal terrains such as ria shorelines and sand dunes formed by sea-level changes and crustal movements in the Sea of Japan. At the park, you can feel the culture, history, and the lifestyles of people who lived with this extraordinary natural landscape.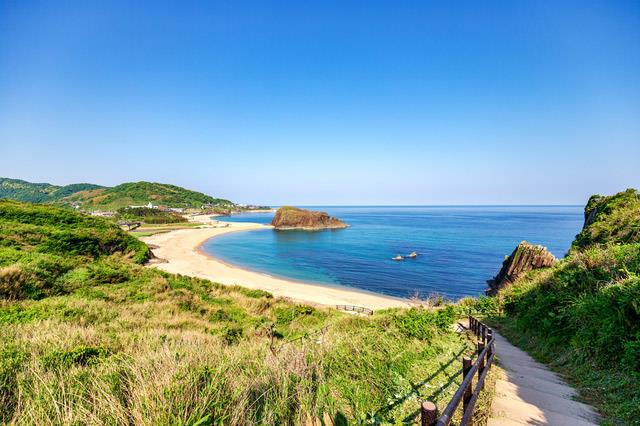 1. The Tottori Sand Dunes - Japan's Largest Sand Dunes (Tottori Prefecture)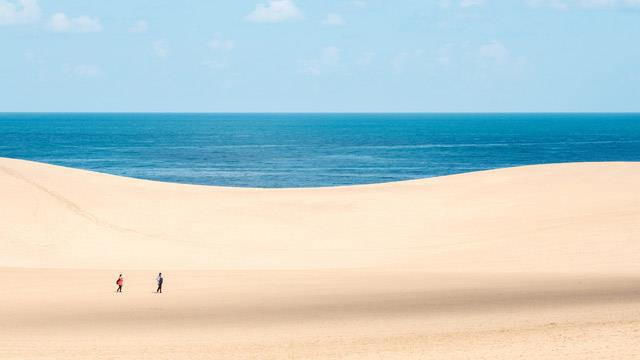 The Tottori Sand Dunes are known for their beautiful natural formations molded by the wind and sand. The sand dunes that were formed over the ages are the largest in Japan, measuring 2.4 km north-to-south and 16 km east-to-west. Walk on the undulating landscape with height differences of up to 90 m and enjoy a scenery that changes according to the time of day and season, such as the "saren," striped patterns formed by sand flowing down slopes, and "fumon" patterns in the sand that are created by the wind. There are free sandal rentals at Tottori Sand Dunes Visitor Center nearby, as well as boot rentals (for a fee) at Sakyu Kaikan, so take advantage of this if you are worried about your feet.
【Facility name】 Tottori Sand Dunes
【Days Closed】 None
【URL】
Official Homepage
KANSAI Tourism Bureau Homepage
【Address】 2164-971 Yuyama, Fukube-cho, Tottori-shi, Tottori
【Google Map URL】 GoogleMap
2. See the Beautiful Ria Coastline at Uradome Beach (Tottori Prefecture)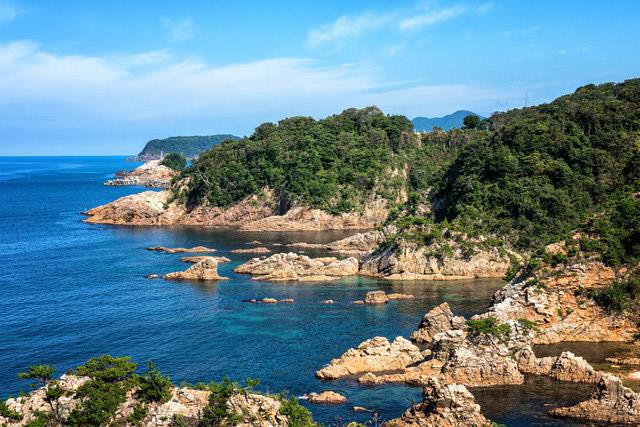 Uradome Beach was formed by the rough waves of the Sea of Japan. The coastline spans approximately 15 km with varying topography made by the erosion of granite, including sheer cliffs, strangely shaped rocks and caves, as well as a beautiful stretch of sandy beach with pine trees. There is a well-maintained path along the coast that affords a stunning up-close view of the coastline. There are also ferry rides available to enjoy the fantastic views from another perspective.
【Facility name】 Uradome Beach
【Days Closed】 None
【URL】 Tottori Prefectural Government Tourism and Exchange Bureau Official Homepage
【Address】 Uradome, Iwami-cho, Iwami-gun, Tottori
【Google Map URL】 GoogleMap
3. Genbudo - Rock Columns Creating a Natural Work of Art (Hyogo Prefecture)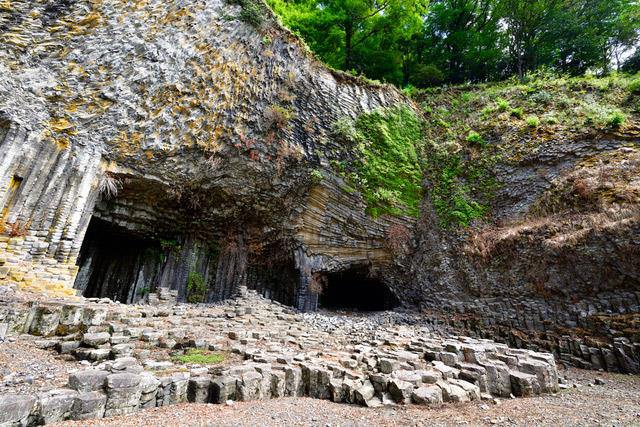 Genbudo is a place where you can see beautiful natural rock column formations. The rock columns are composed of basalt that was created when magma from a volcanic eruption approximately 1.6 million years ago cooled down, and are characterized by even patterns of cracks. Genbudo was once a quarry, and the parts that were mined now remain as caves. The sight of numerous rocks showing distinctive polygonal profiles are captivatingly beautiful. The rocks are magnetic, and this is the first place where the polar magnetic alignment was found to be the opposite of the Earth's magnetic polarity.
【Facility name】 Genbudo Park
【Opening hours】 9:00 am - 5:00 pm
【Days Closed】 None
【URL】 Hyogo Tourism Bureau Official Homepage (Japanese only)
【Address】 1362 Akaishi, Toyooka-shi, Hyogo
【Google Map URL】 GoogleMap
4. Stunning Sunsets at Yuhigaura (Kyoto Prefecture)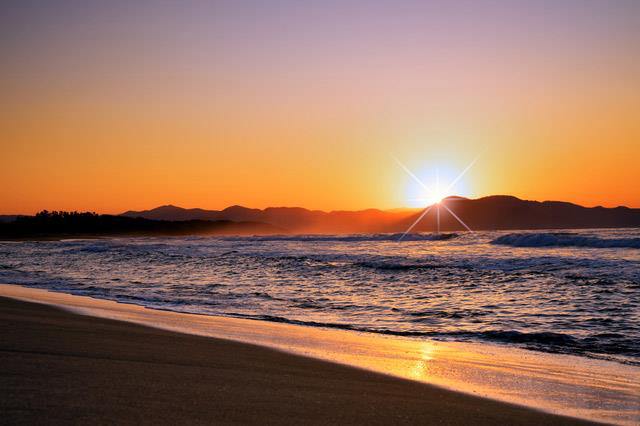 Yuhigaura (literally "sunset bay") is famous for its beautiful sunsets. Just before the sun sets, the ocean turns a golden color and looks almost like a glimmering mirror. The sight of the setting sun is like a mystical performance, with the colors gradually transforming from dark red to bright pink and finally blue. The best place to enjoy the view is on a bench on the path along the beach. Nearby, Yuhigaura Onsen - a hot spring town with spring water that is said to have great beauty benefits - is recommended for overnight accommodations.
【Facility name】 Yuhigaura
【Days Closed】 None
【URL】 Yuhigaura Official Homepage (Japanese only)
【Address】 Hamazume, Amino-cho, Kyotango-shi, Kyoto
【Google Map URL】 GoogleMap
5. Tango Matsushima - Spectacular Views Created by a Ragged Coastline (Kyoto Prefecture)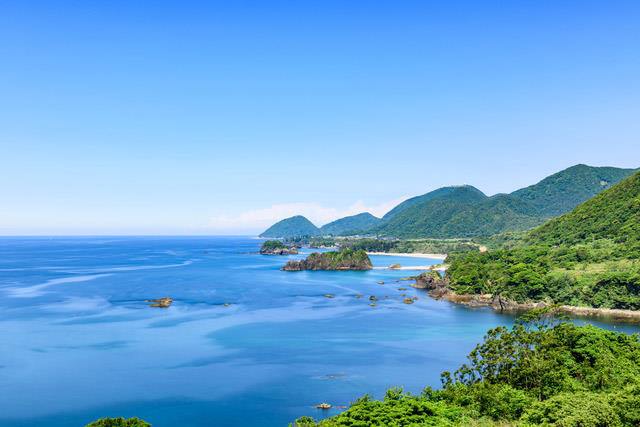 Tango Matsushima, with a stunning rias coastline covered in green pines and a rocky island off shore, is also not to be missed. There are panoramic views of the area's natural beauty from the observatory near Inugasaki Tunnel on National Route 178 that resemble a painting, including coastal terraces formed by erosion by waves and protuberances in the land, as well as coastal sand dunes created by the accumulation of sand carried by the wind. The scenery is distinguished by its vivid colors during the day and beautiful silhouette of the coastline and island at dawn and dusk.
【Facility name】 Tango Matsushima
【Days Closed】 None
【URL】 Kyotango City Tourism Association Official Homepage
【Address】 Konoshiro, Tango-cho, Kyotango-shi, Kyoto
【Google Map URL】 GoogleMap
Do you want to see any of these places for yourself? Be sure to visit San'in Kaigan Geopark and enjoy its stunning natural beauty.