The Unforgettable Taste of Freshly Picked, Perfectly Ripe Fruit
The Japanese have perfected the art of fruit production through strenuous selective breeding. Huge numbers of sweet, delicious varieties from across Japan have been transformed into commercial brands, and for those interested in filling themselves with the ripe fruits of each region, there's no better way than fruit picking.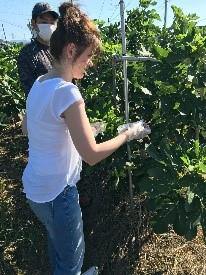 Wakayama Prefecture—The Mecca of Fruit Picking in Kansai
Wakayama is the southernmost point of Japan's main island, and boasts a flourishing fruit and boasts a flourishing variety of fruits due to its warm climate. Here we take a detailed look at Kinokawa, a city that produces various fruit year-round, and one of Japan's leading peach-producing regions. Visitors to the city can find out which farms offer fruit picking through the Kinokawa City Tourism Association website. Not only does the website offer information on "tourist farms" that specialize in fruit picking, it also allows visitors to check out general farms, providing them with a valuable opportunity to see the frontlines of Japanese farms up-close. Let us head to one of these general farms and pick some figs!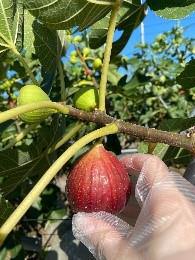 Off to the Fig Farm on a Rental Cycle
On the JR line, Kinokawa is just 30 minutes away from Wakayama City. The farm itself is far out from the station, though, so visitors can rent a bicycle from a café in front of JR Kokawa Station (advance bookings required). There are multiple rental bicycle hubs in the city, meaning visitors can conveniently pick up and drop off their bicycles in a number of different locations.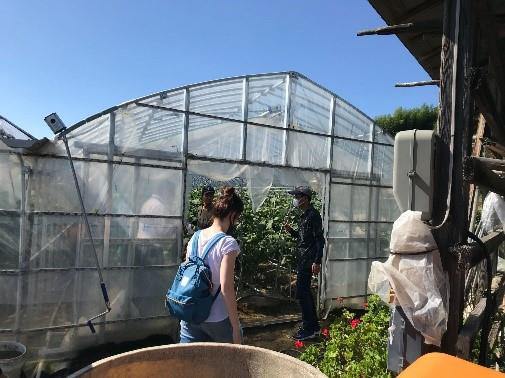 At the farm, the fig trees are in an all-weather, warm vinyl greenhouse. Perhaps this careful method of cultivation is the secret behind their deliciousness. Inside the greenhouse are multiple fig trees, some of whose fruits have turned a reddish color, signalling that they are ready to eat. The trees are also distinctive for their big leaves, which Adam and Eve are said to have used to cover their modesty. With a simple twist, the figs come loose, and a white sap trickles out of the branch, proving just how fresh they are. Visitors to the farm are welcome to peel and eat them on the spot! This subtle sweetness, gentle acidity, and juiciness can only be experienced when the fruit is freshly picked off the tree, and doing so in the midst of the farm's greenery provides an unforgettable experience. The farm also grows fig trees on their open fields.
Rental Bicycles (Japanese only)
The Station Master Cat
After the fig farm, why not head out and explore the rest of the city on your bicycle. The city is full of interesting sights—in addition to Kokawa-dera Temple, founded in 770 and home to a number of national treasures and stunning Japanese gardens, visitors can stop by locations associated with Hanaoka Seishu, a surgeon from Kinokawa who invented anesthetics, and who is thought to be the first in the world to perform surgery using anesthesia. Those who want to eat even more fruit should head to the farmers' market.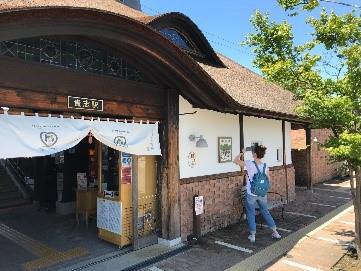 In addition to the JR line, the local Wakayama Electric Railway line—which departs from JR Wakayama Station—also runs through Kinokawa City. The final stop on the line is Kishi Station, and since it has its own rental bicycle hub, it's the perfect station to head home from. The station master at Kishi Station is Nitama the cat, successor to Tama, who was also a cat. Kishi Station was made famous by Tama, who was formerly the figurehead of the station shop. Due to her worldwide popularity, mainly brought on by her adorable looks, Tama was promoted to station master, but unfortunately passed away in 2015. Nitama is her successor, and just as adorable with a soft, tri-color coat. The station shop now sells a range of cat-related merchandise, so be sure to stop by if you have time before your train departs.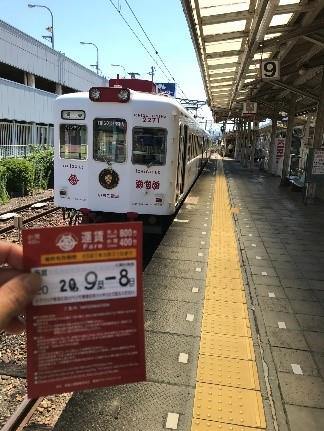 The Wakayama Electric Railway is famous in Japan for its cute trains, one of which is the white "strawberry train," due to its strawberry-inspired interior. There are four different trains in total, so make sure to check them out when you come back for your second taste of fruit picking!