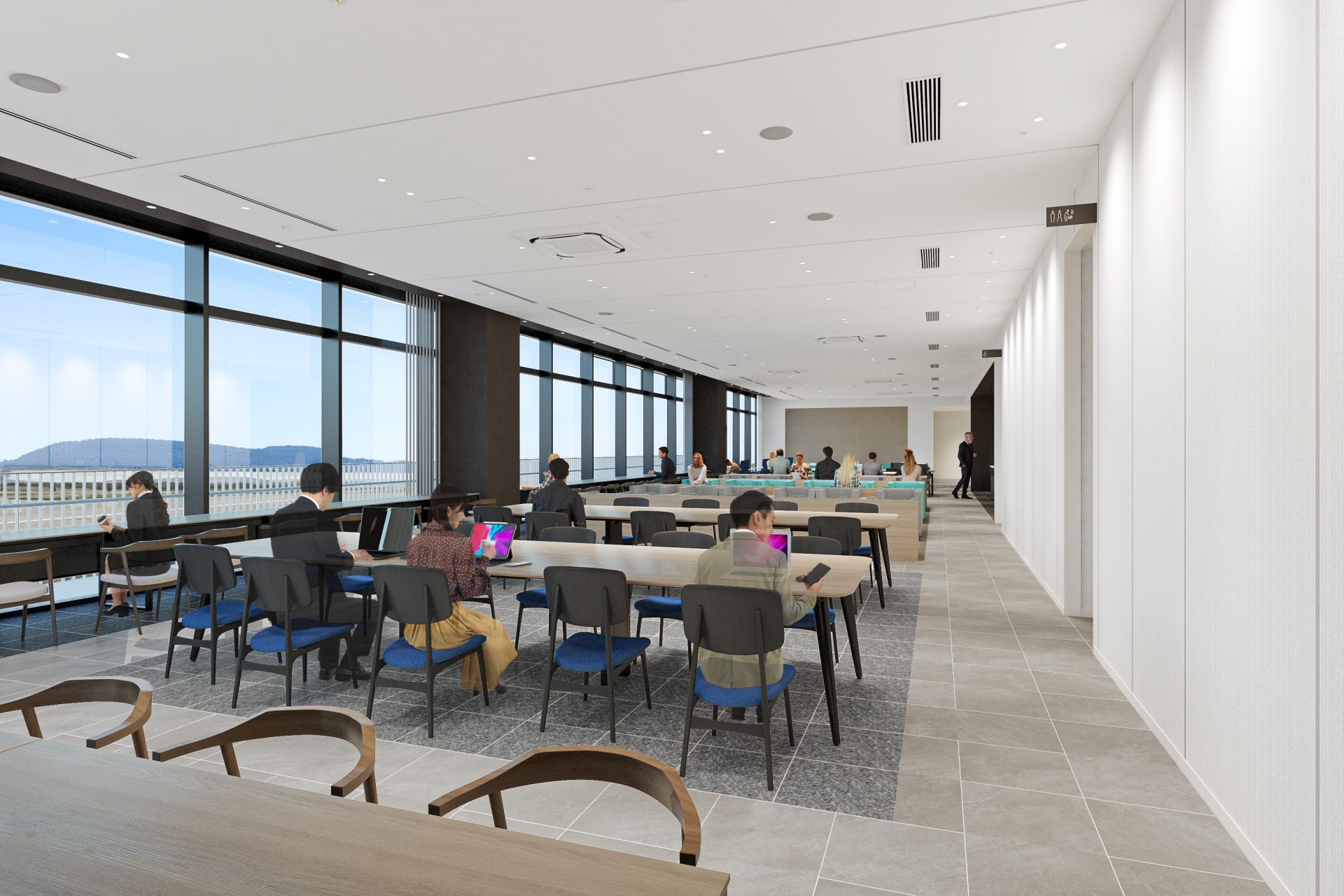 New Domestic Area of KIX set to be opened on October 26!
Kansai International Airport Terminal (T1) Renovation
Kansai Airports is undertaking a large-scale renovation of Terminal 1 (T1) of Kansai International Airport (KIX), for the first time since its opening in 1994, to accommodate increasing inbound passengers. With the concepts of "expand international capacity," "enhance airside area," and "improve passenger experience," we will expand the capacity of international flights and enhance our commercial and dining zones to greatly upgrade the attractiveness of the airport. The construction will be carried out in four phases. As Phase 1, we have been developing a new domestic area, and in Phase 2, we will renovate the former domestic area into a new international departure area. This will enable us to rearrange the layout for international and domestic areas as well as the ratio of landside and airside, thereby increasing international capacity and enhancing airside. At the same time, we promote fast travel by utilizing technologies such as self-check-in and self-baggage drop to provide a smooth journey with less waiting time.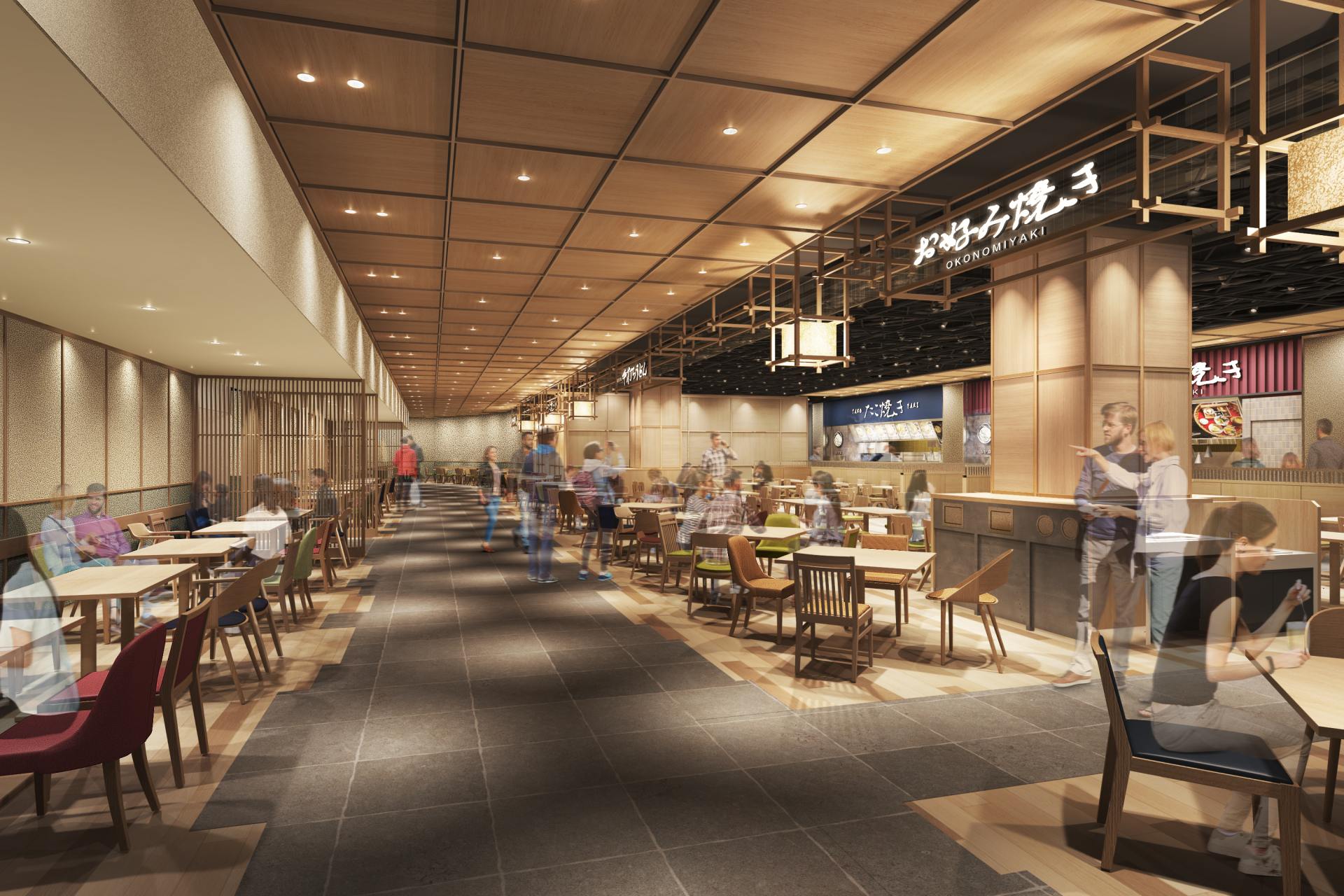 New Domestic Area Opening
On October 26, 2022, a new domestic area will open after the completion of Phase 1. In the new domestic area, security checkpoints will be consolidated in one location on the south side of the terminal with six smart lanes introduced, contributing to reducing waiting times during congestion. The commercial area in the airside will be greatly expanded, with an opening of six shops (4 restaurants, 2 retail shops) rich in Kansai color, including an okonomiyaki (savory pancake) restaurant from Osaka and a tempura specialty restaurant from Kyoto, and a new domestic lounge accessible to eligible passengers. It will be transformed into an attractive space where passengers can enjoy shopping, dining and other activities while waiting for boarding. With the opening of the area, the locations of each airline's check-in counters and arrival gates will also be changed. In the landside, the total of seven shops (6 restaurants, 1 retail shop) will open on Saturday, October 1, 2022, including the food court 'Tasty Street' ahead of the full opening of the area. This area offers services which meet the needs of a wide range of people, including flying passengers, send-offs and greeters, and those who stay at the airport late at night.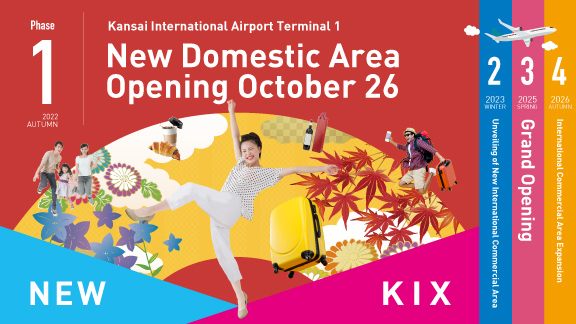 Future Steps
Aiming for a grand opening in conjunction with the 2025 Osaka-Kansai Expo, we plan to open an international departure area in the center of the second floor around winter 2023 (Phase 2) and an international lounge on the third floor as well as an expanded security inspection area on the fourth floor around spring 2025 (Phase 3.) Once completed, the entire KIX, including Terminal 2, will be able to accommodate 40 million international passengers annually. As a gateway to western Japan that welcomes passengers from all over the world, KIX will steadily take initiatives to respond to future aviation demand, while aiming to be an airport where passengers can have comfortable and new travel experiences.