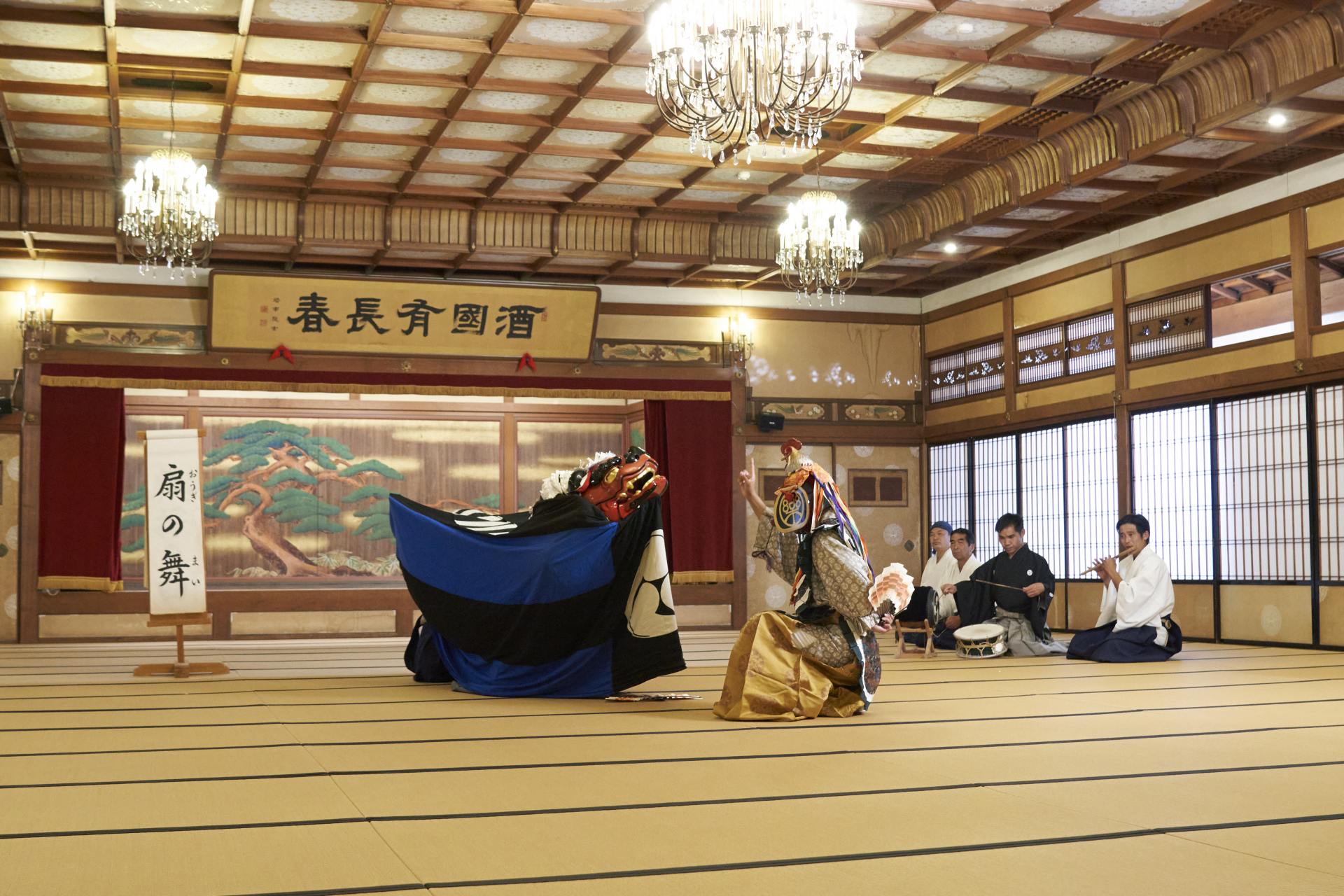 A visit to Mie, where people and nature live in harmony and the Japanese spirit lives on.
Ise Jingu (Ise Shrine), Japanese spiritual home, is in Mie Prefecture.
In ancient times, a journey to Ise was the trip of a lifetime, a special destination in peoples' hearts. It has a rich local traditional culture in crafts and performing arts developed from the comings and goings of people over time, and a food culture that originated in meals prepared for the imperial court called "miketsukuni" that continues to this day.
A trip to experience the culture of Mie, fostered through abundant natural resources and the work of its people, was an opportunity to feel the spirit of Japan anew.
Learn about the skills and style behind traditional craft through a hands-on experience with a master kumiko craftsman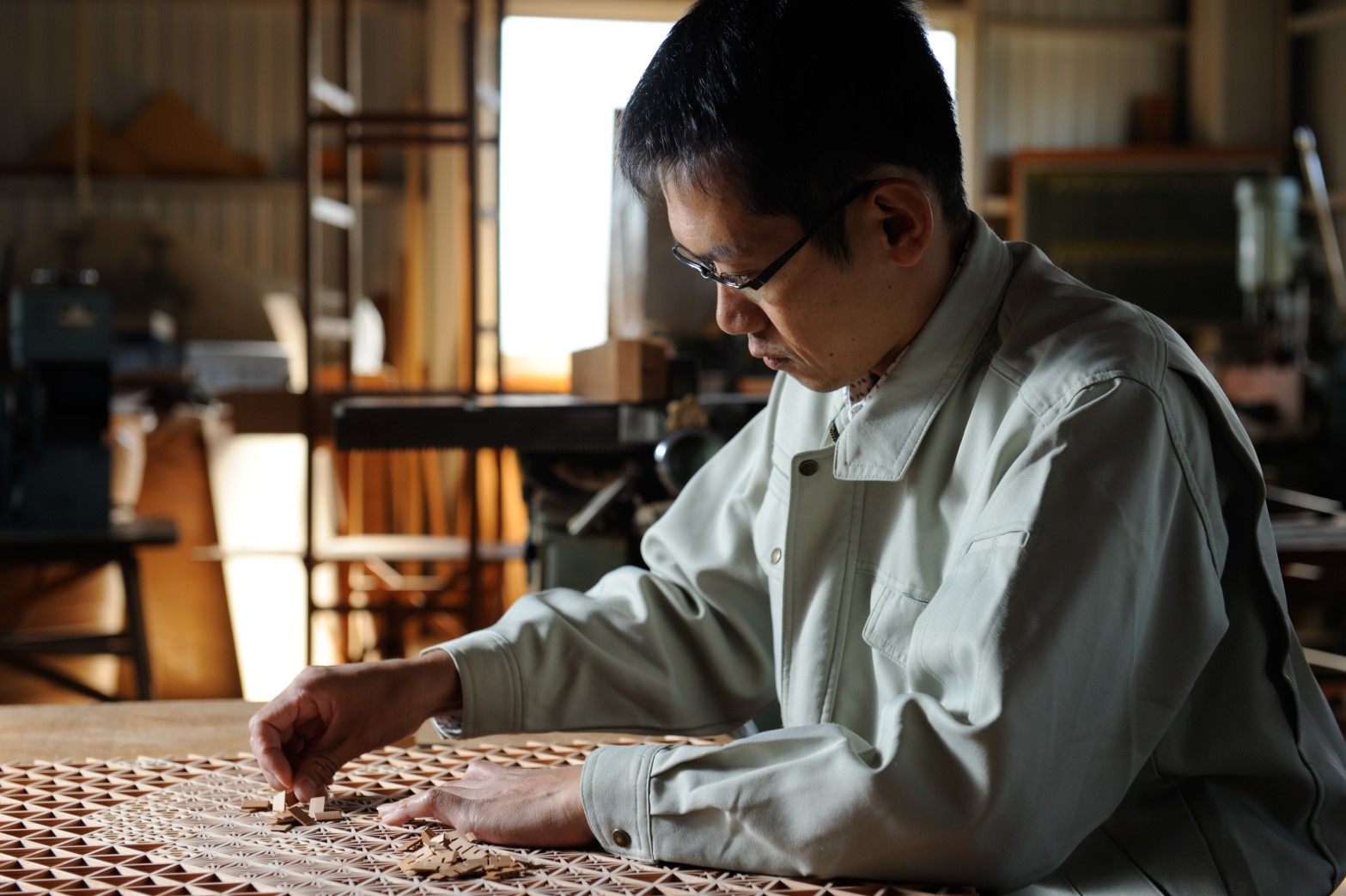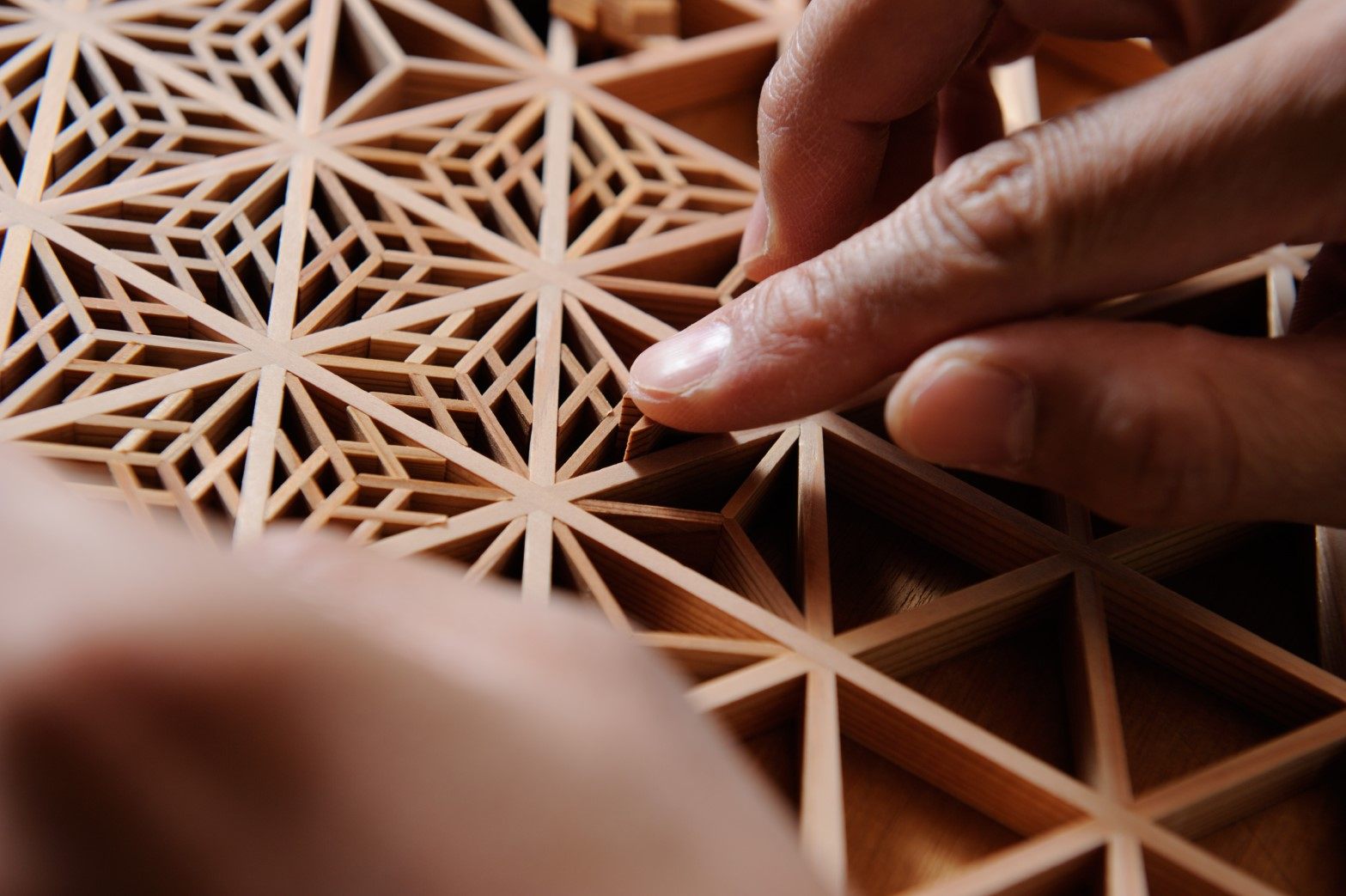 Our travels around Mie begin in the northeastern part of the prefecture, in Kuwana. Kuwana is home to Sashikan Tategu Kogei, a company of a master craftsman of kumiko that is gathering attention not only around Japan but around the world. Kumiko is a traditional woodworking technique that creates intricate geometric shapes by assembling small, thin pieces of wood without using any nails or adhesive. At Sashikan Tategu Kogei, which was founded over 80 years ago, the third-generation master, Yuji Kuroda, creates kumiko fittings that respect the craft's history while harmonizing with the present era.
Kuroda skillfully assembles the kumiko while chatting passionately not only about his craft but about the importance of the mountains and trees in the surrounding natural environment, as well as issues of carrying on traditions. As a craftsman, he has a dignity beyond his esteemed career and achievements.
Under the guidance of this master craftsman, we assemble some coasters. Kumiko items assembled by our own hands become special souvenirs of the trip.
Authentic sukiyaki as only a legendary restaurant can, in the heart of Matsuzaka beef country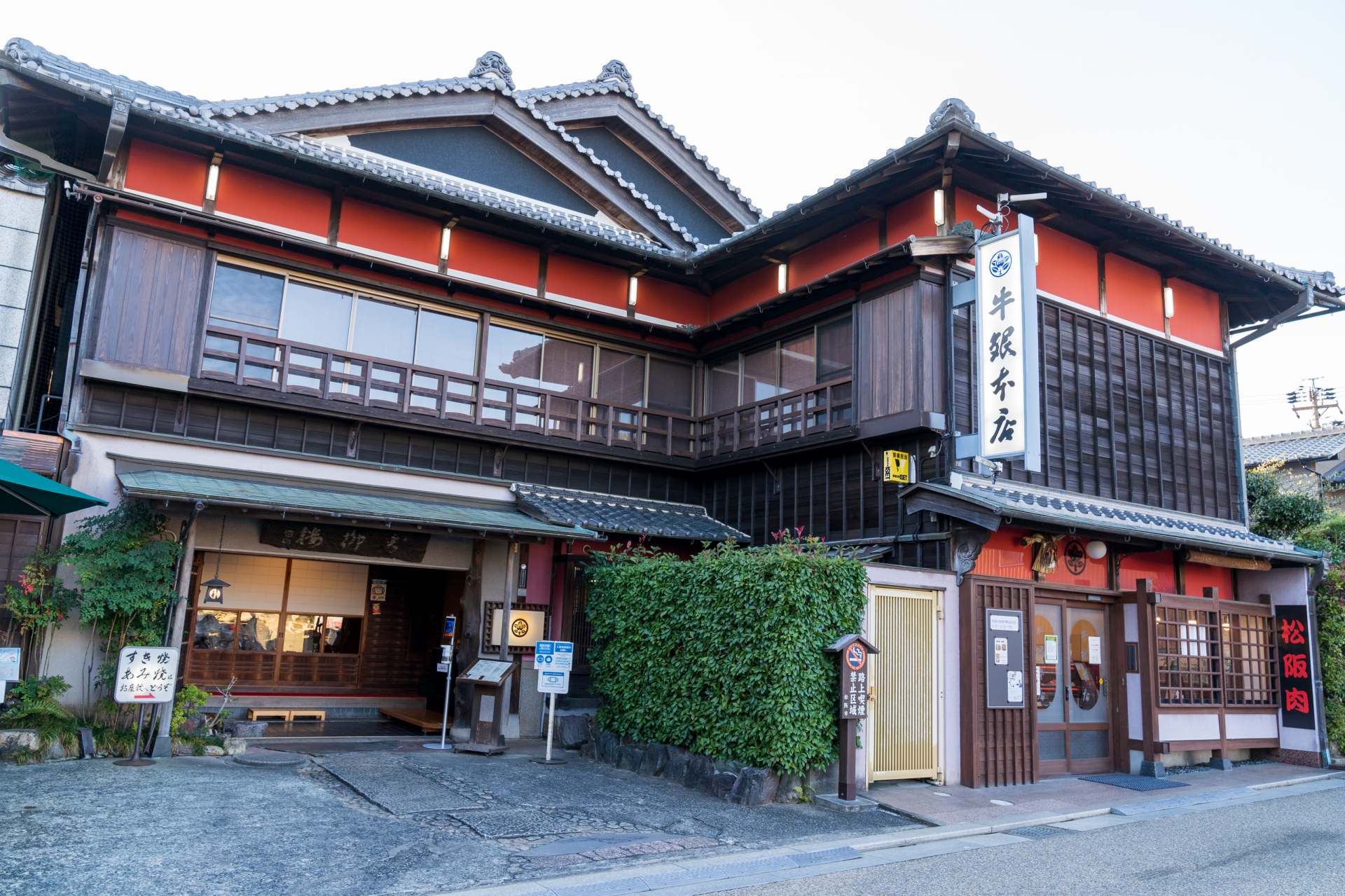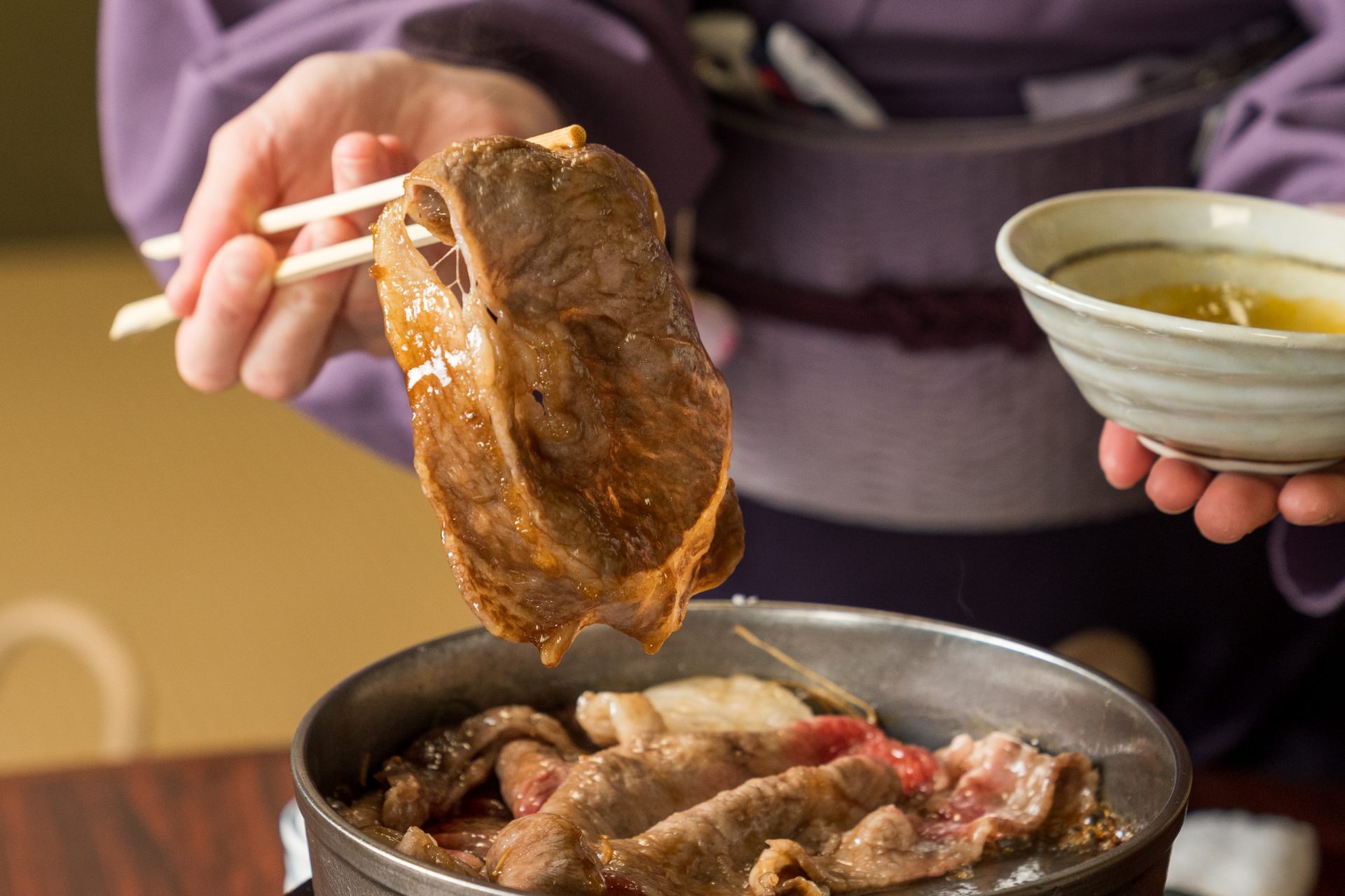 Maybe it was because we were concentrating so hard on our work and conversation with the master craftsman, but we start to feel ravenous. We move from Kuwana to Matsuzaka for lunch. Matsuzaka of course is known for its world-famous brand-name beef, Matsuzaka beef. We visit Gyugin Honten, a famous old restaurant with over 110 years of history, located within the historic streetscape of the old castle town.
At the traditional Japanese entrance of the nationally-designated important cultural property, we are greeted by our personal attendant. We are ushered into a private room where we enjoy a cup of tea before the beautifully marbled Matsuzaka beef is brought in. Of course we eat it sukiyaki-style, the in-house specialty.
Our attendant expertly prepares it before our eyes, doling out servings onto small plates with perfect timing, and every bite brings instant bliss. The top-quality Matsuzaka beef, prepared with the same grilling methods and seasoning since the restaurant's founding, is nothing short of exquisite.
A stay at a private guest house associated with the Imperial Family, and a private viewing of Ise-daikagura performance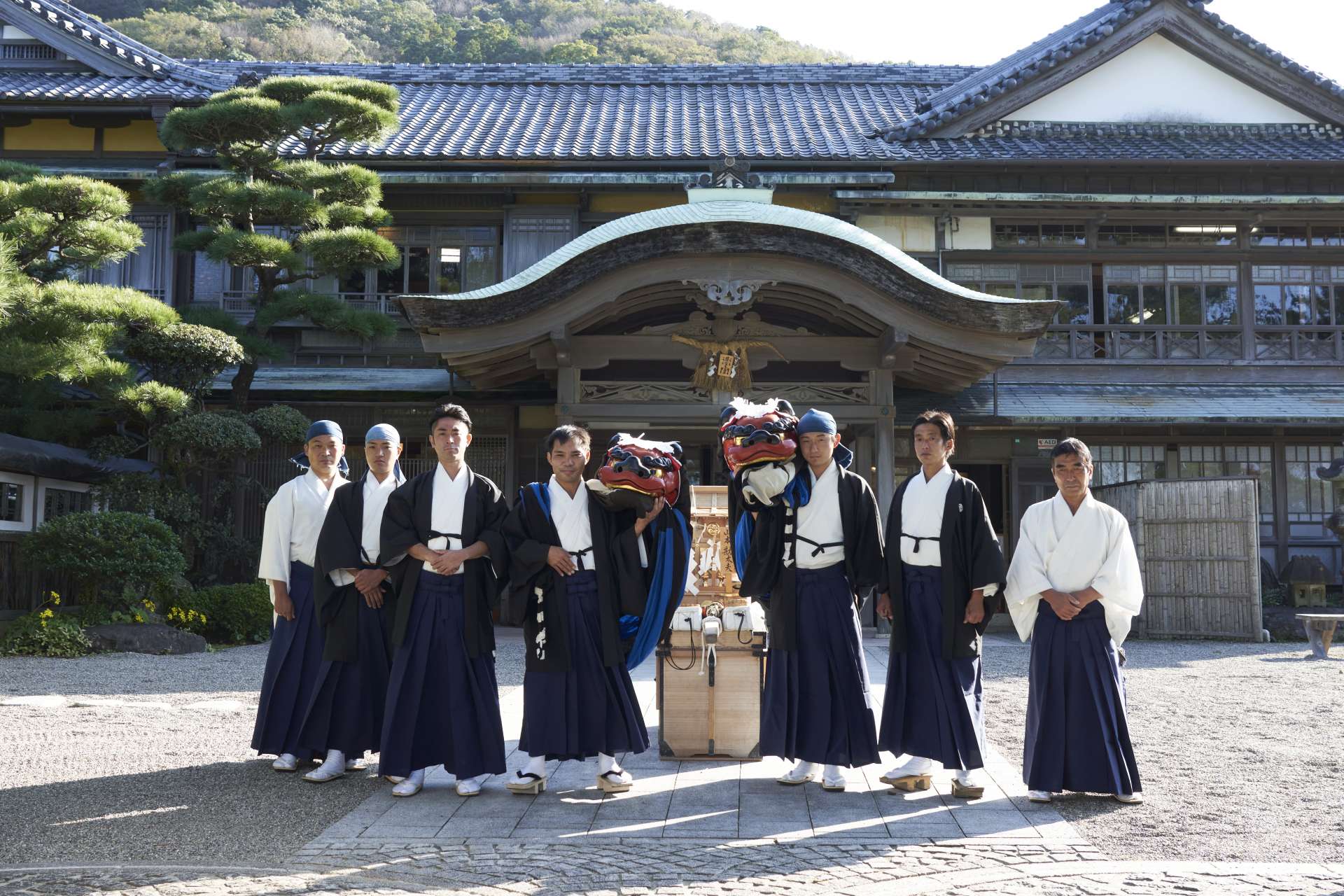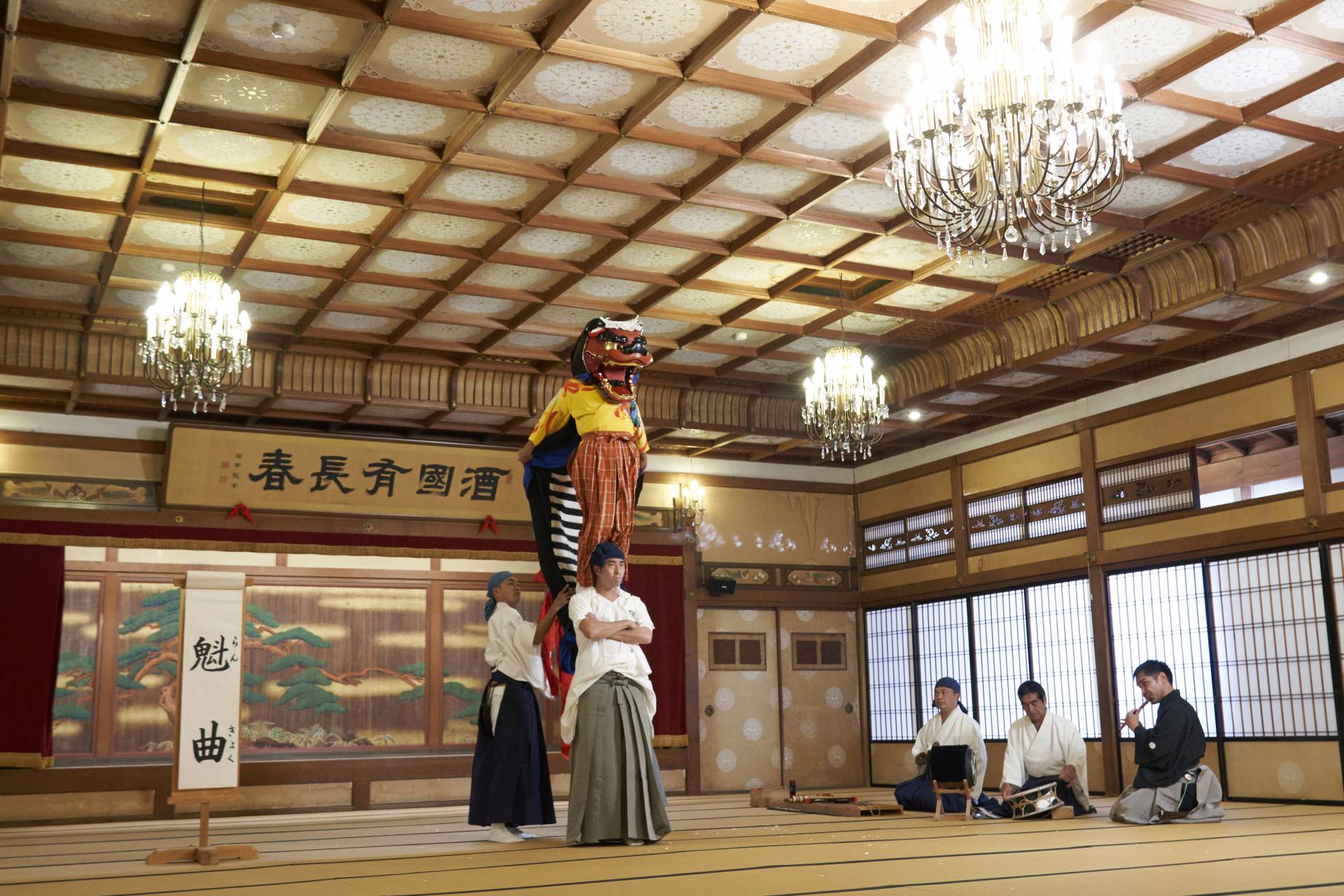 After a blissful moment, it is time for the special cultural experience that makes up the main part of our tour. We move again, to Ise City, the home of Ise Jingu, and arrive at Futamigaura, a scenic spot with beautiful white sand and green pines. We visit the Hinjitsukan, a guest house built for the Imperial Family and other dignitaries to stay in while visiting Ise Jingu.
As we admire the opulent space, a pinnacle of Japanese architecture, a group of people dressed in traditional Japanese clothing enter. They are Yamamoto Kandayu, one of the nationally-designated important intangible folk cultural assets of Ise-daikagura Kosha.
First, we see a dynamic number called Hokagei performed with swords and other props outside the building's entrance. After that, we move to the great hall, and watch a shishimai lion dance and other traditional performances. Between performances, we learn about the roots and significance of Ise-daikagura. It is a valuable opportunity to get a sense of the true spirit of a traditional performing art that has continued for 450 years, through watching, hearing, and experiencing.
A peaceful and restful stay at a luxury resort with a view of Ago Bay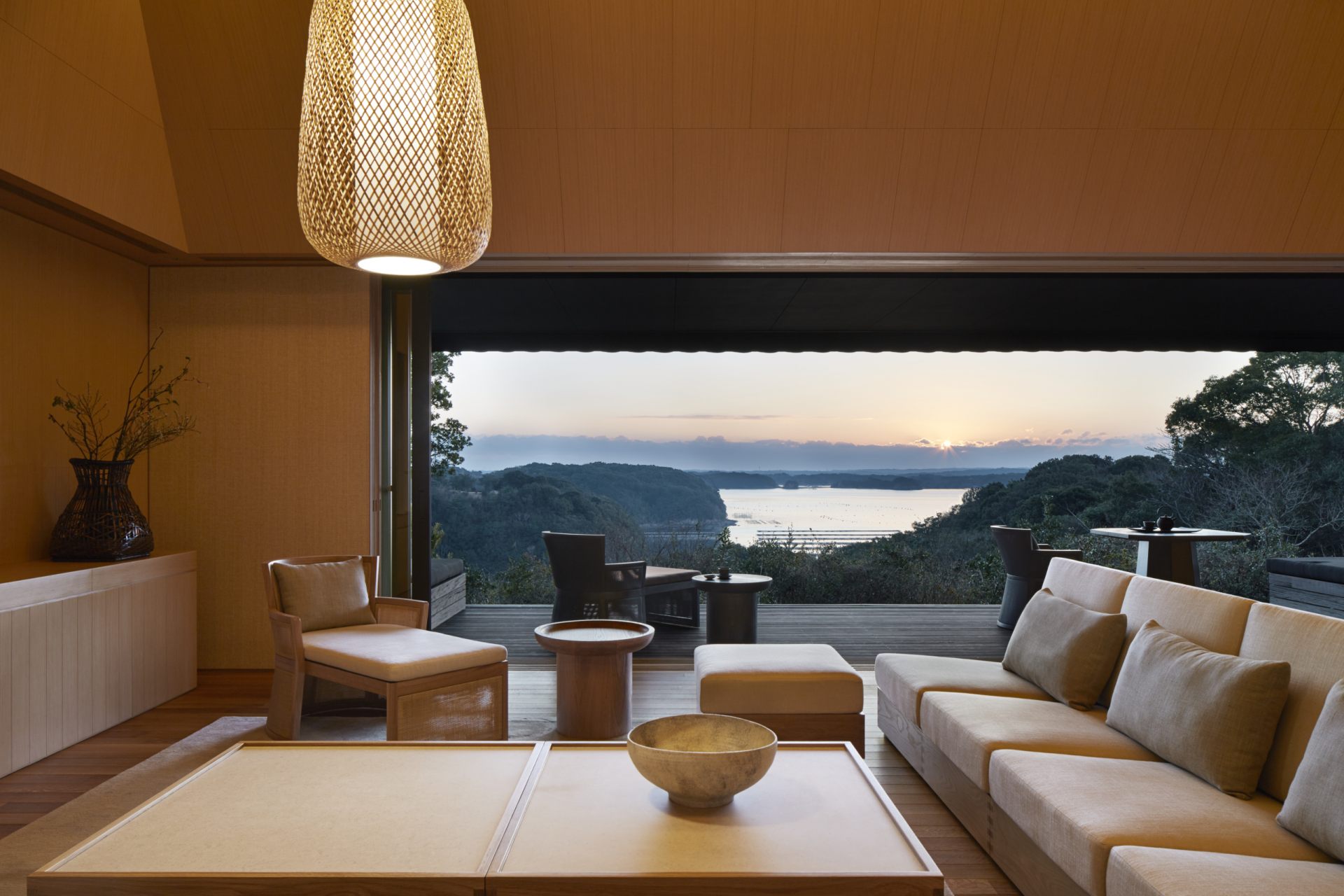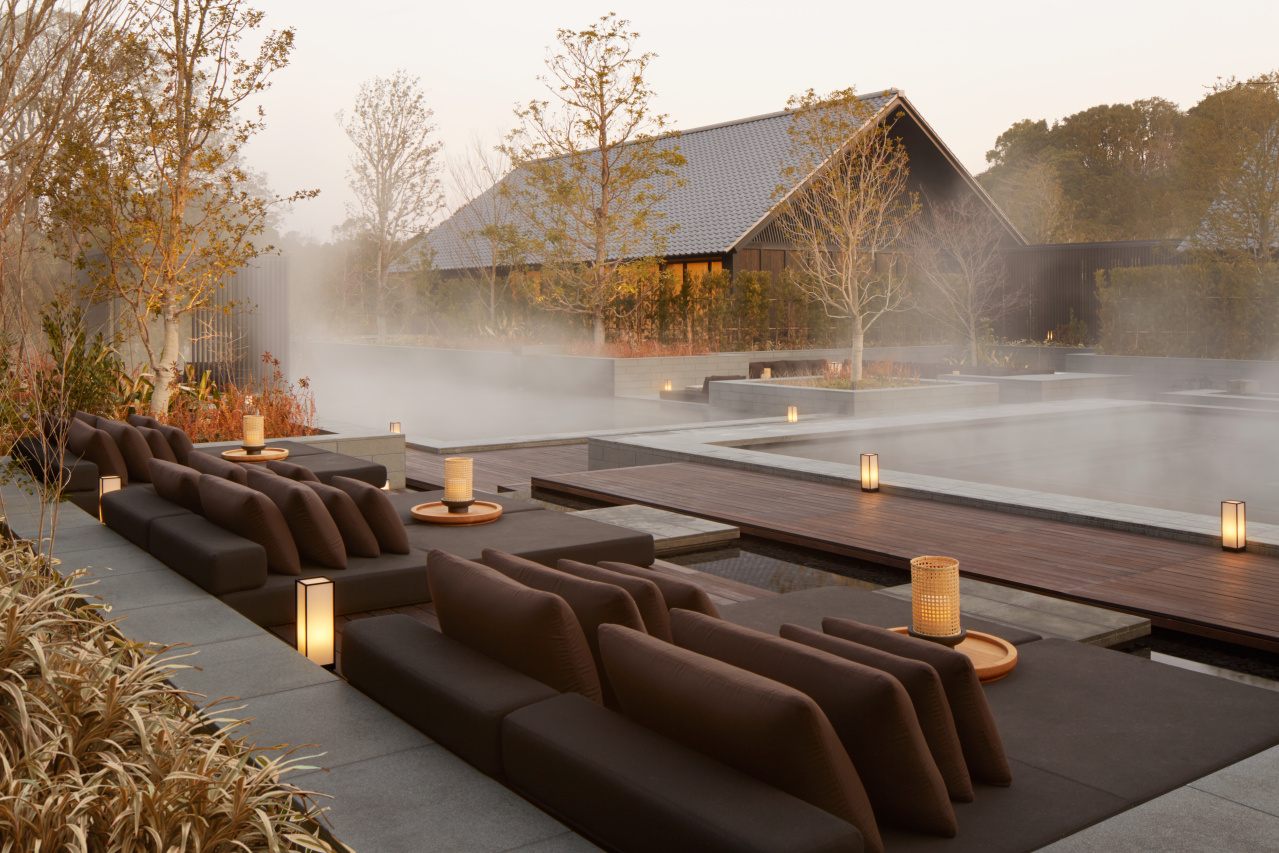 As the afterglow of the Ise-daikagura performance lingered, we leave Futamigaura and head to the Shima Peninsula in the central-eastern part of Mie Prefecture. There, we check into the luxury resort AMANEMU, surrounded by the abundant nature of Ise-Shima National Park.
We are greeted by the general manager, Noriko Tanaka, and when we enter our suite room, the spectacular view of Ago Bay appears through the large windows. It's the sort of beautiful that you can gaze at for a while without a thought in your mind. The buildings are built with aesthetic inspiration from traditional Japanese folk houses, and it has a comfortable atmosphere that somehow feels nostalgic despite being the first visit. It's a feeling of true relaxation for mind and body.
After a short break, we soak in the outdoor natural thermal spring at sunset. After washing away the fatigue from our trip, we savor a dinner full of the local best from land and sea, and revel in a moment of peace.
A delightful lunchtime, with fresh seafood and conversation with a friendly ama diver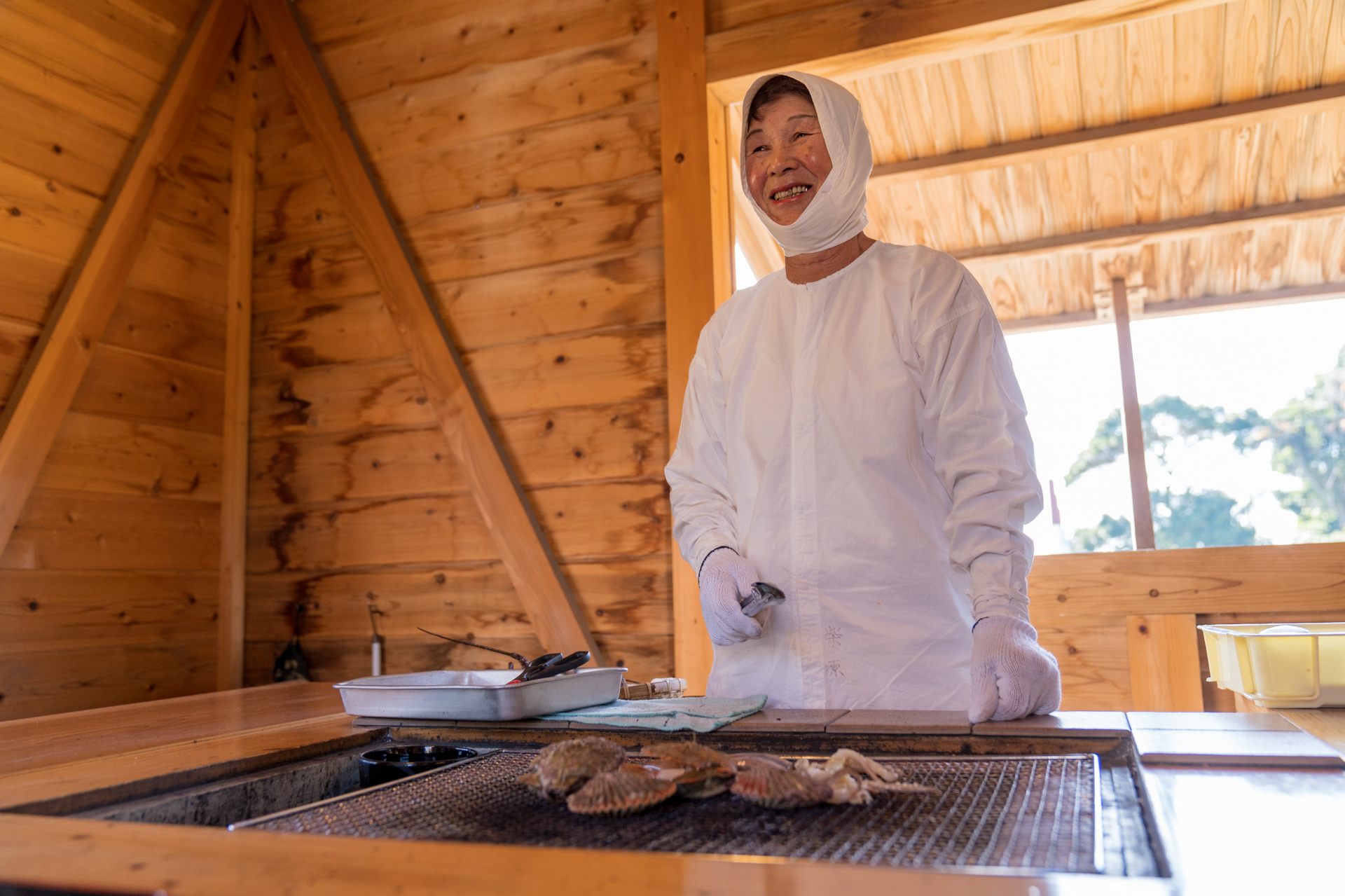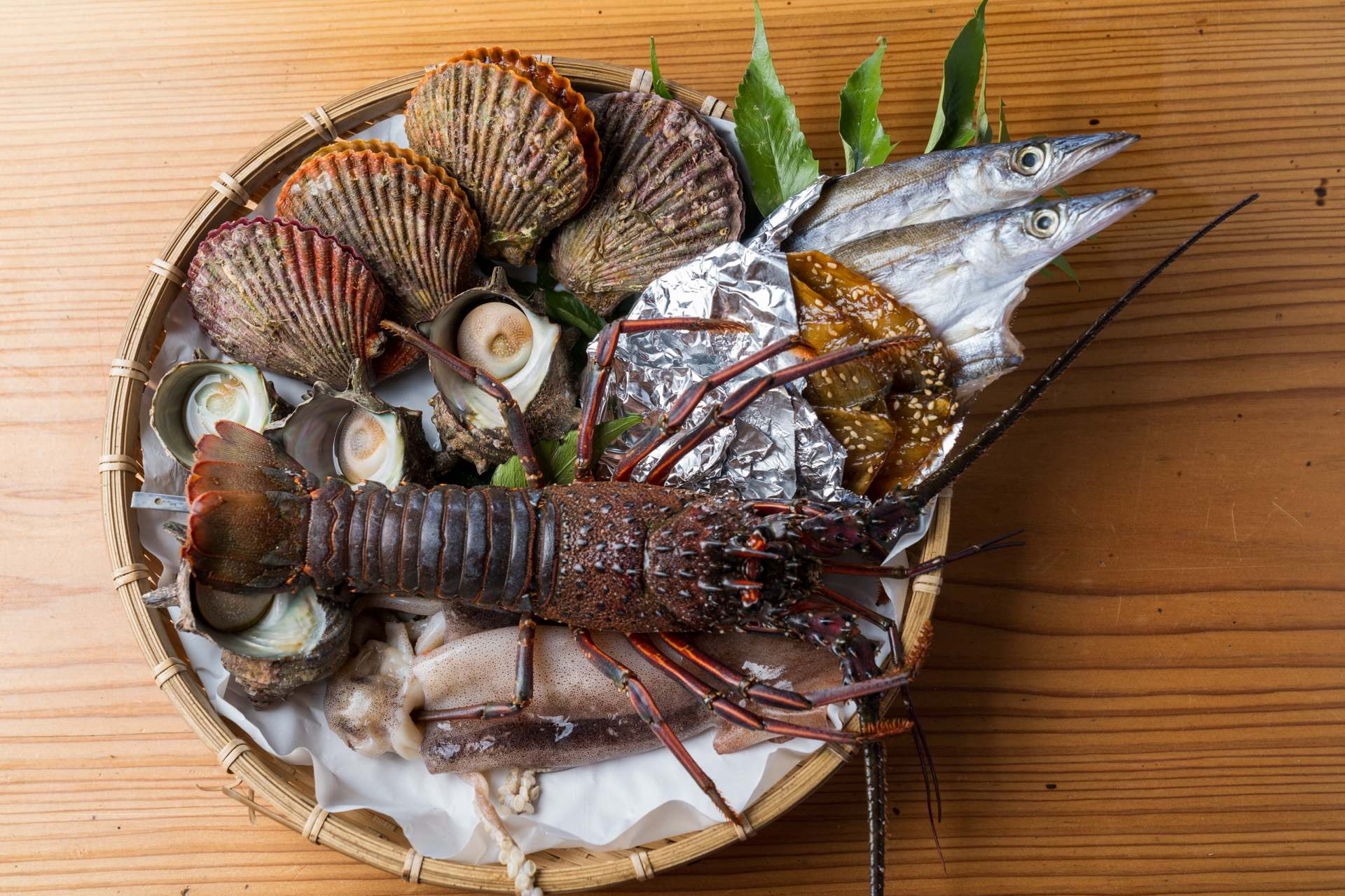 After enjoying a night of peace and relaxation, with the dawn comes the second day of the trip. After a leisurely breakfast before check-out, we head to the innermost part of the Shima Peninsula.
We arrive at a facility styled like the traditional ama-goya buildings where female skin divers rest and eat their meals. Welcomed by an ama wearing white traditional diving clothes, we enter the small building to the sound of a crackling charcoal fire and a basket piled with fresh, local seafood.
As soon as we sit around the fire, the ama began to pile turban shells and lobster on the grill. As the fragrant aroma fills the air, we are captivated by the ama's stories about diving and the sea. The grilled seafood is delicious on its own, and the warm heart of the ama makes it all the better.
A special visit to Ise Jingu, Japanese spiritual home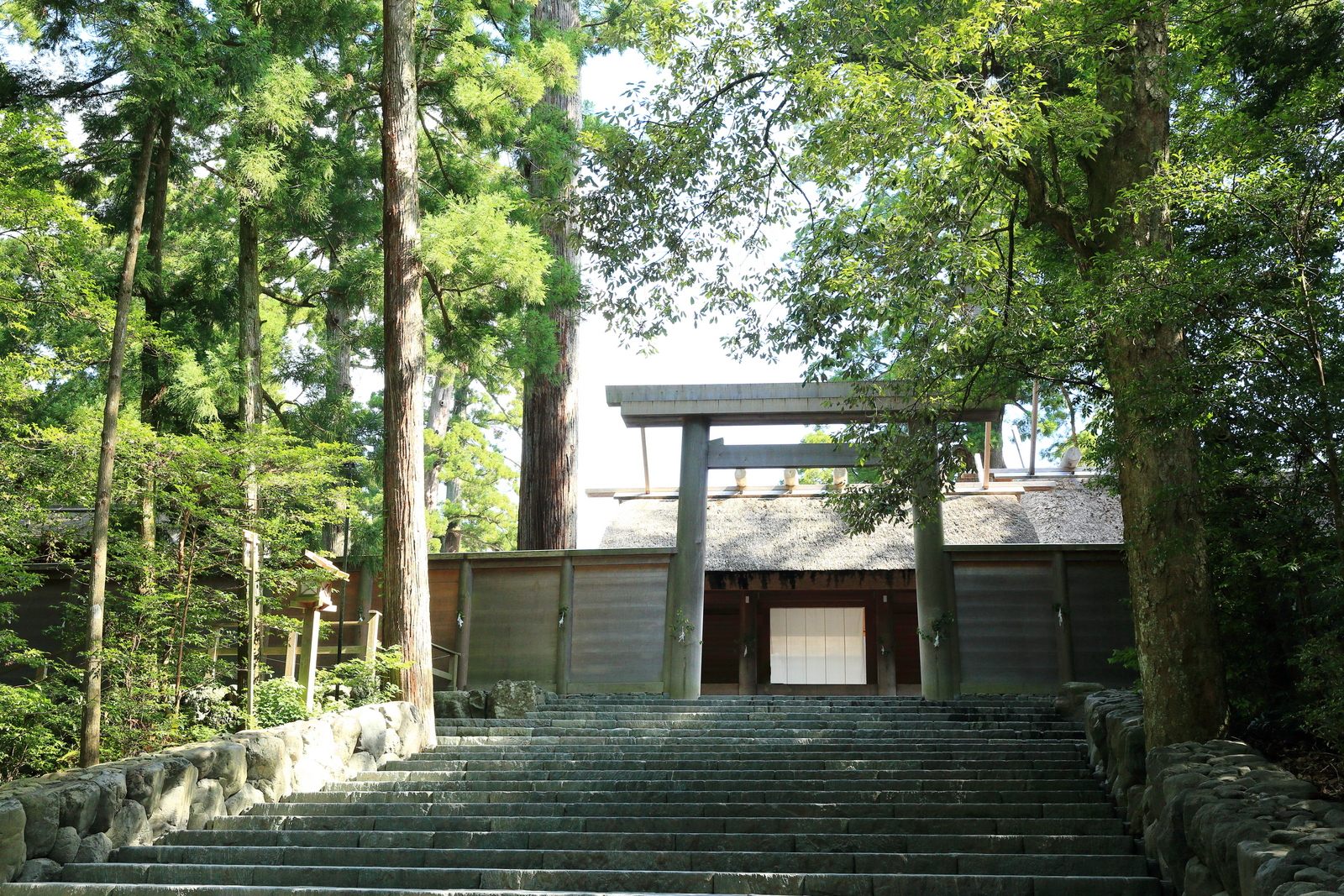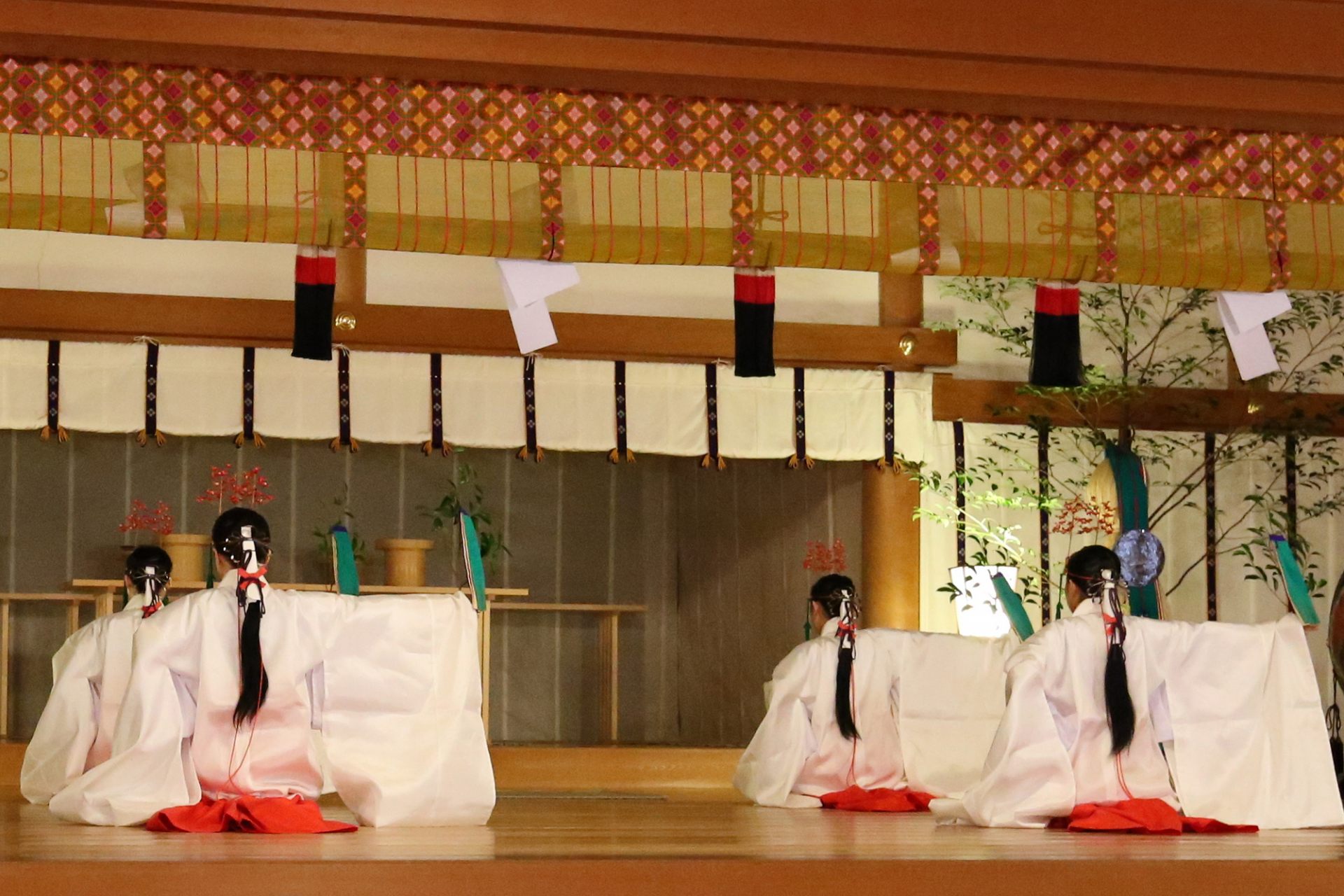 Having enjoyed the culture and food of sea of Mie in the ama-goya, we dress up in formal attire and visit Japan's holiest of places, Japanese spiritual home, Ise Jingu, with 2,000 years of history since its first enshrinement. We head to the inner shrine for a special pray, where we offer our greetings, thanks, and prayers to Amaterasu, the deity enshrined there, and receive kagura prayers from the shrine maidens.
The air itself feels holy in a simple walk through the shrine grounds, and in the inner shrine this feeling grows stronger and it is as though our bodies and souls are being purified. It really is possible to feel a divine presence and divine virtue in this place.
After paying our respects, we bow at the big torii gate at the banks of the Isuzu River and leave the shrine, to walk along the streets of Oharaimachi and Okageyokocho lined with shops. Buying snacks and souvenirs is one of the best parts of visiting Ise.
Experience the charm of the sea and pearls in Toba, home of the world's first cultivated pearls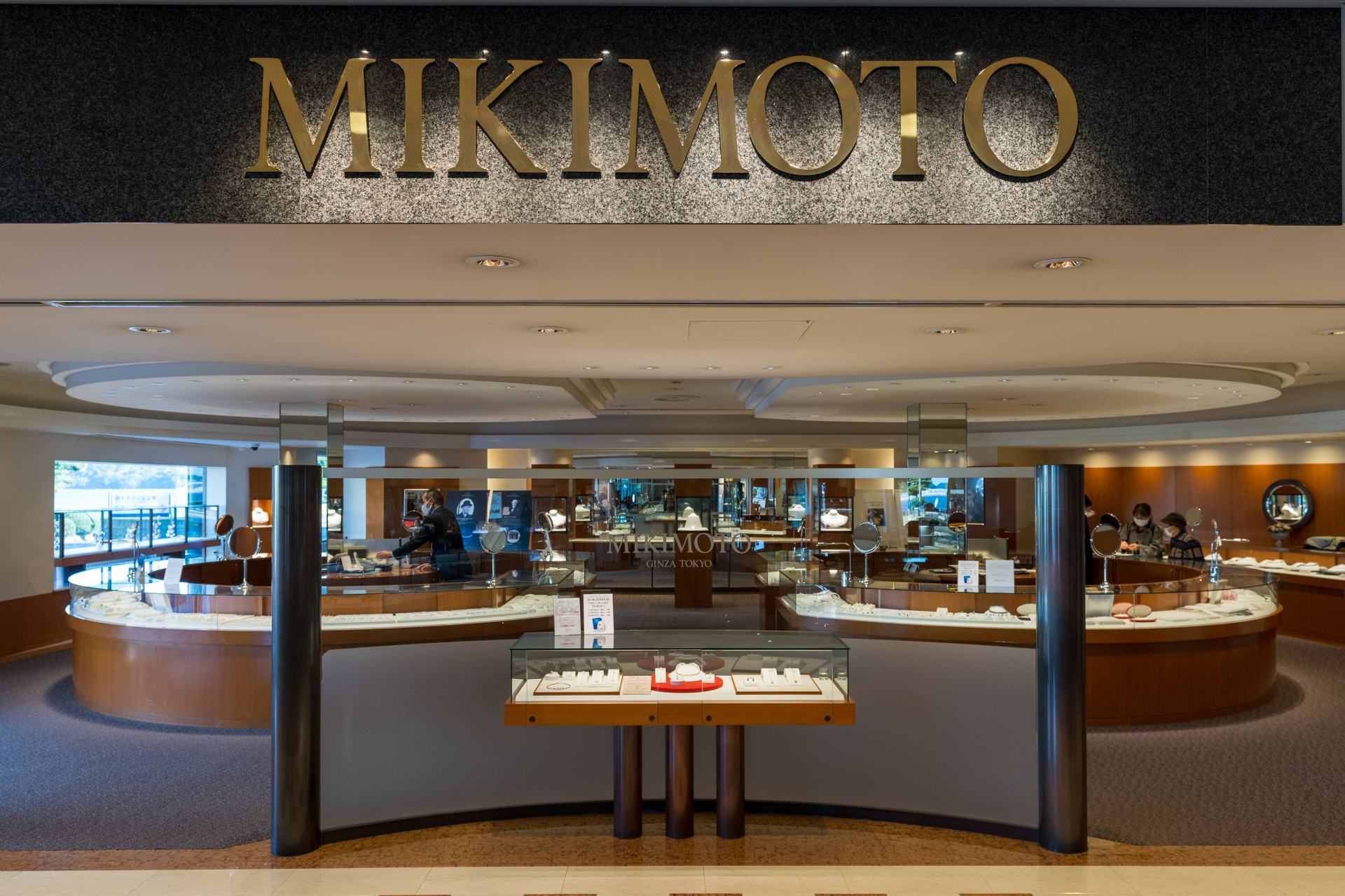 Time flies, and our visit to Mie is coming to an end. We just have one destination left.
After receiving divine blessings from our special shrine visit, we journey to the final stop on our itinerary: a small island in Toba Bay called Mikimoto Pearl Island. This is the birthplace of cultured pearls, where Toba-born businessman Kokichi Mikimoto was the first in the world to succeed in cultivating pearls.
First, the director of the Mikimoto Pearl Museum gives us a tour. As we learn about the history and process of pearl cultivation, each item on display takes on a special glow. In the private room, we get special permission to try on valuable items in the collection such as a crown studded with pearls and take some royal snapshots.
Through the skills and style behind crafts and performing arts, the divine atmosphere surrounding an ancient sacred place, the abundant food from land and sea, and the restful and luxurious stay, we have experienced the many-faceted charms of Mie Prefecture, and now have a deep appreciation for why Mie has been a well-loved destination for so long.
By personally visiting Mie and experiencing and telling about the wonderful culture and tradition we encounter there, we hope we can be some help in ensuring that charming tradition and culture of Mie is passed down to the next generation.
Check also...