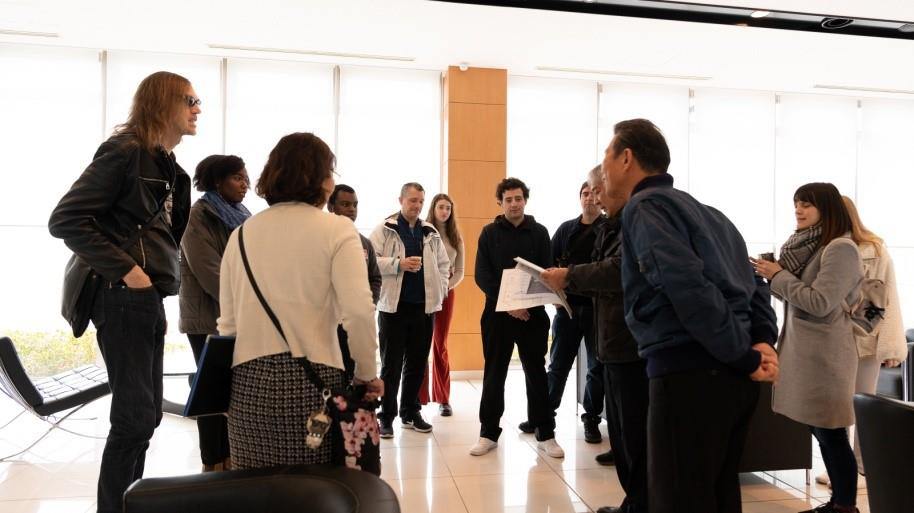 Private Charter Flight at Kobe
The "Emperor Nintoku Mausoleum and Mozu-Furuichi Kofun Group Flight Tour" that sees you gaze down over a world heritage site cluster of tombs and famous, symbolic Osaka sites, Abeno Harukas and Osaka Castle
Emperor Nintoku's Mausoleum, which includes the Mozu-Furuichi Kofun Group of tombs, was registered as a UNESCO Cultural World Heritage Site in July 2019. Flying is the only means by which you can fully enjoy and appreciate the charm of this location, which also turns enjoying famous, symbolic Osaka sites into a special, new sightseeing experience. It also includes a convenient transportation service!
An experienced pilot will be in charge of the flights
It begins with a 30-minute hired taxi ride from JR Sannomiya Station, which takes you to Hirata Gakuen, which is located beside Kobe Airport Terminal and operates small chartered flight services for SKY TREK. Experienced pilots are in charge of the flights.
Participants will gather in a clean lounge and receive an explanation from the airplane captain about the day's course, altitude, how to use emergency equipment, and any precautions to take onboard. The captain will decide the course and altitude depending on the weather that day, so please be sure to listen carefully to the explanation.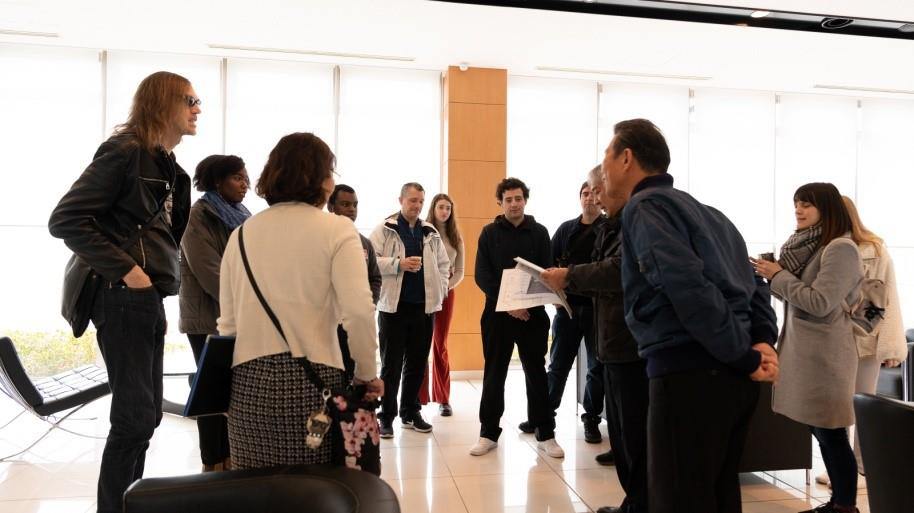 Participants listening to the captain's explanations. Announcements can also be made in English.
Flights use the latest luxury airplane
The SKY TREK small airplane, KODIAK 100, is used for international humanitarian support, is of excellent stability and has the latest safety features. The exterior has a sharp and elegant beige color, and has been redesigned from its original 8-passenger capacity to hold 6 people, for a surprisingly spacious interior! Inside you'll find headrests and tables, in addition to high quality black leather seat belts for a luxury feel. Fasten your seat belts, and let's takeoff!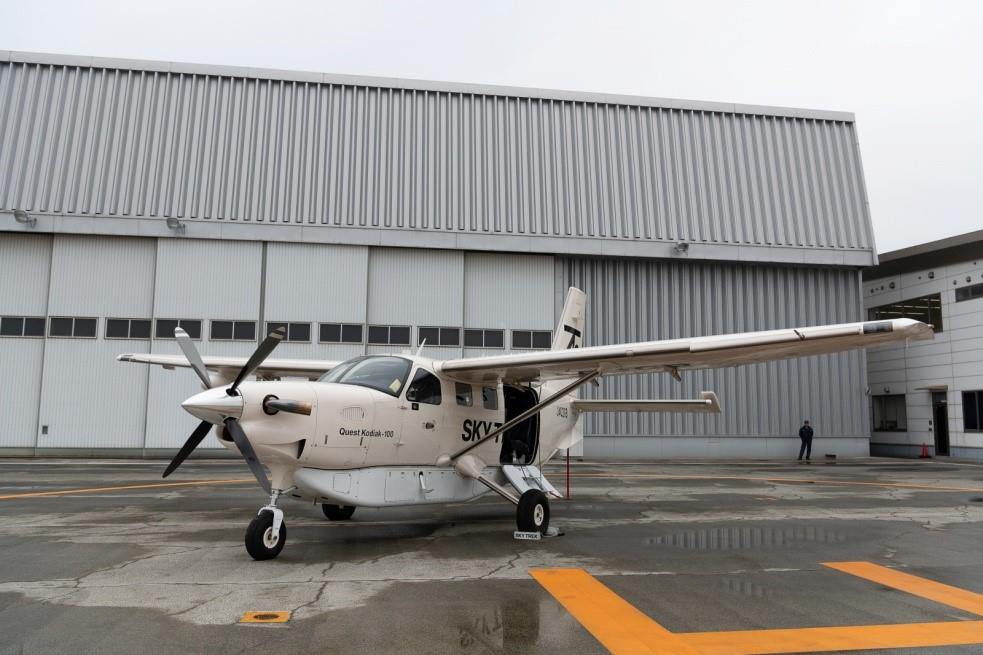 The airplane is compact, with a cute, rounded shape.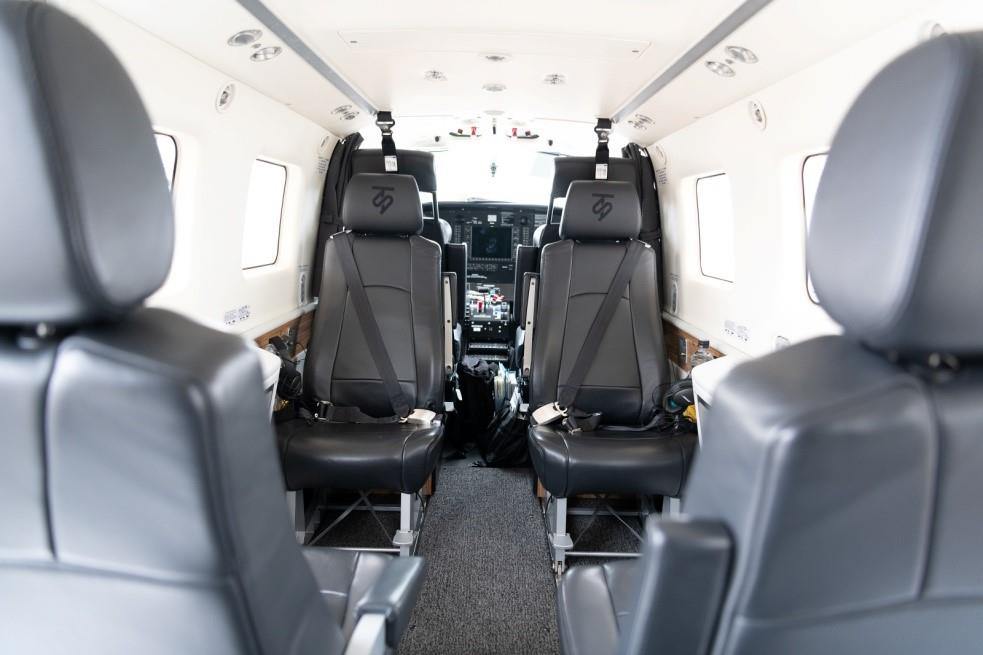 The seats inside face each other, so it's easy to talk! The seats are also made of leather for extra comfort!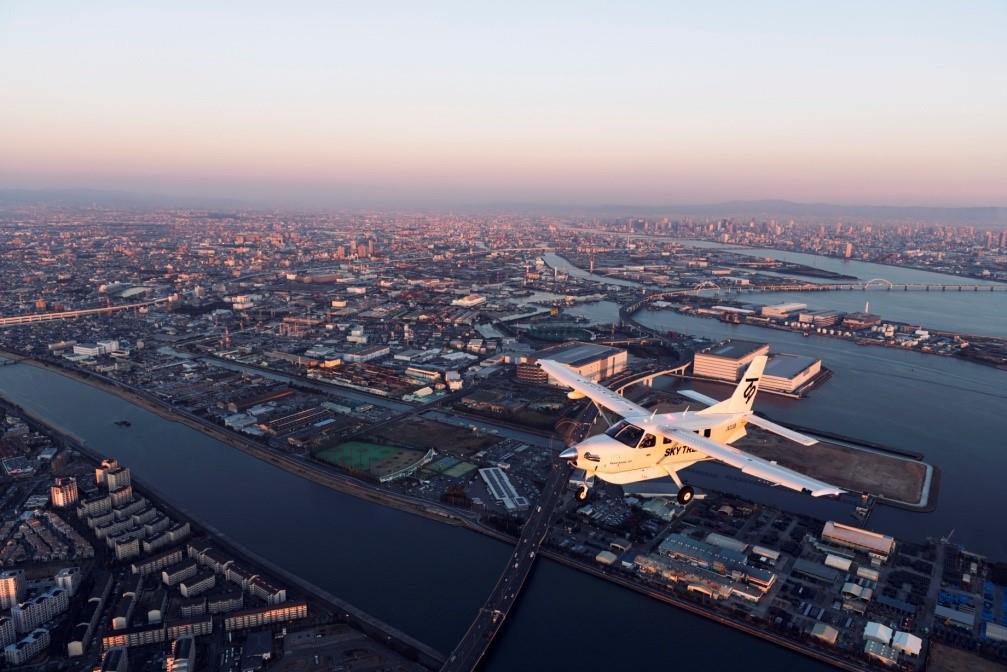 Relatively low flying only experienced in small airplanes. Enjoy your 40-minute trip in the air!
Photo by Tetsuya Ito / Courtesy of SKY TREK
Experience a dynamic view of the UNESCO World Cultural Heritage Site tombs and famous, symbolic Osaka sites from above
The SKY TREK flight heads towards Osaka from Kobe Airport. The outward journey gives you a view of the tombs from above, while the return journey passes over Abeno Harukas. The total journey time is around 40 minutes. The site of the course are the tombs, which were registered as a UNESCO World Cultural Heritage Site in July 2019. Amongst the tombs is Emperor Nintoku's, which is said to have been built in the 5th century. His tomb is larger than the pyramid of the Egyptian pharaoh, Khufu and the mausoleum of the first Qin emperor of China. It is counted as one of the world's three largest tombs. Come and enjoy the magnificent sight, which cannot be enjoyed on the ground!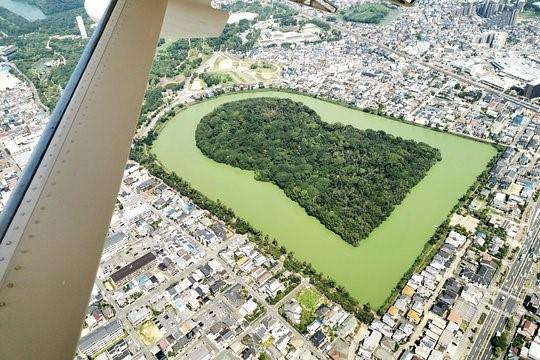 A total length of 486m. From the ground you cannot see the whole area, but from above you can enjoy the magnificent sight of this, the largest keyhole-shaped tomb mound in Japan.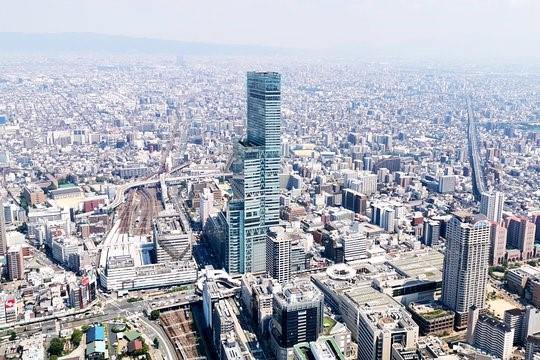 Due to the low altitude, you can see the 300m skyscraper Abeno Harukas up close. It gives you a special yet strange feeling.
Facility information
You can experience these things here!
Name of facility | SKYTREK. Inc.
*SKYTREK, Inc. is a travel agent, and the airplanes used are operated by an air carrier company that SKY TREK contracts.
Name of experience | Emperor Nintoku Mausoleum and Mozu-Furuichi Kofun Group Flight Tour
Address | Kobe Kuko Hirata Gakuen Air Center 8 Kobe Kuko, Chuo-ku, Kobe City, Hyogo 650-0048
Opening Times |
Model course times: 10:00 a.m.-12:40 p.m. *Times subject to change.
You will be picked up at JR Sannomiya Station at 10:00 a.m., and the flight will depart at 11:00 a.m.
Closed | No scheduled holidays
Cost | 44,000 yen (22,000 yen per person/2 people flying) *tax included
Payment method | payments made using the website
Number of persons accepted (group) | Maximum 6 people (minimum 2 people)
*When there is less than 6 people, you may share the flight with others
*Subject to change depending on the weight of those flying and luggage weight.
Telephone number | +81 (0)50-1744-2588 (weekdays: 10:00 a.m.-6:00 p.m.) SKY TREK Reservation Desk
Foreign language support | English
Official Website (English) | https://tours.skytrek.co.jp/?ls=en
Notes|
*You must enter all required fields when applying via the website (name, date of birth, weight, sex, age, weight and number of luggage items, contact details, e-mail address, emergency contact person and their contact details).
*The application deadline is 12:00PM three days before you fly
*Departure times subject to change/consultation depending on the weather on the day.
*The route on the day will be decided based on any restricted areas, land, weather, or other conditions.
*The flight time may vary depending on the total weight of persons flying and their luggage weight.
*Please gather at the appropriate location 30 minutes before departure.
*The flight course may be subject to change depending on the weather on the day.
*There is no restroom onboard.
*Please refrain from consuming alcohol onboard.
*Please refrain from taking photos or videos during landing and takeoff.