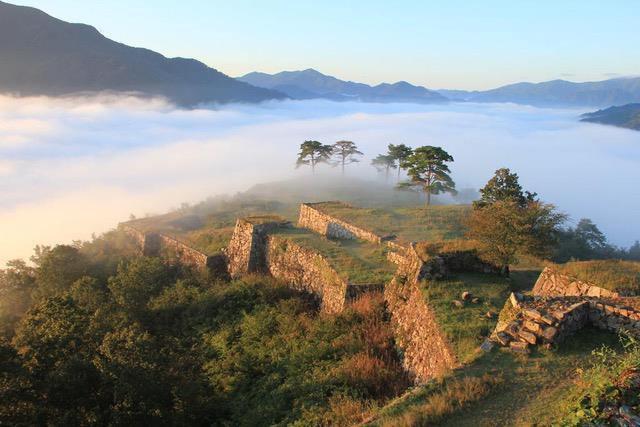 A yoga workshop to purify your mind in a spiritual place
The Takeda Castle Ruins that spread out on the summit of a mountain 353.7 m in elevation has been called the "Machu Picchu of Japan," and it is also famous as a spot with a wonderful view. Especially from September to November, you often find a view surrounded by a sea of clouds, giving you a mystical experience as if you are floating in the air. How would you like to relax your mind at the Takeda Castle Ruins?
Head to the "Celestial Castle" while listening to explanations about its history
The Takeda Castle Ruins is a rare ruin in Japan with its stone walls fully intact. After meeting at the mountain castle village in the foothills, everyone moves to a parking lot halfway up the mountain and then begins climbing to the castle ruins. It takes about 20 minutes to walk to the Takeda Castle Ruins while listening to explanations of the history and culture that surrounds it, and you also take commemorative photos. Once you arrive at the summit, which is 353.7 m above the sea level, allow yourself to experience the natural power of the beautiful scenery.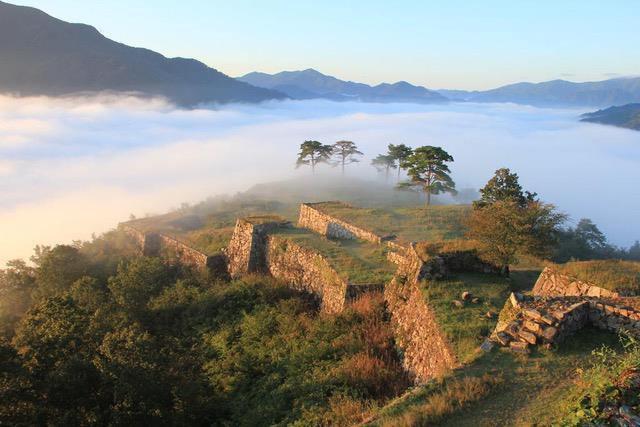 Takeda Castle Ruins was built in 1431 and was abandoned in 1600. Most of the stone walls currently visible had major repairs in 1585.
Refresh yourself by doing yoga in the ruins of a castle that floats in a sea of clouds
After arriving at the Takeda Castle Ruins, it's time to do some yoga for about an hour. You can see the grand Asago mountain range that spreads out in front of you, and the charming castle town can be seen below. If you breathe in deeply while viewing the picturesque scenery, it will allow you to relax right down into your body. Set your thoughts in order by spending a relaxing time in the middle of the perfectly clear air. Doing yoga in a magical place like the ruins of a castle floating in the air is sure to be something special that can only be experienced here.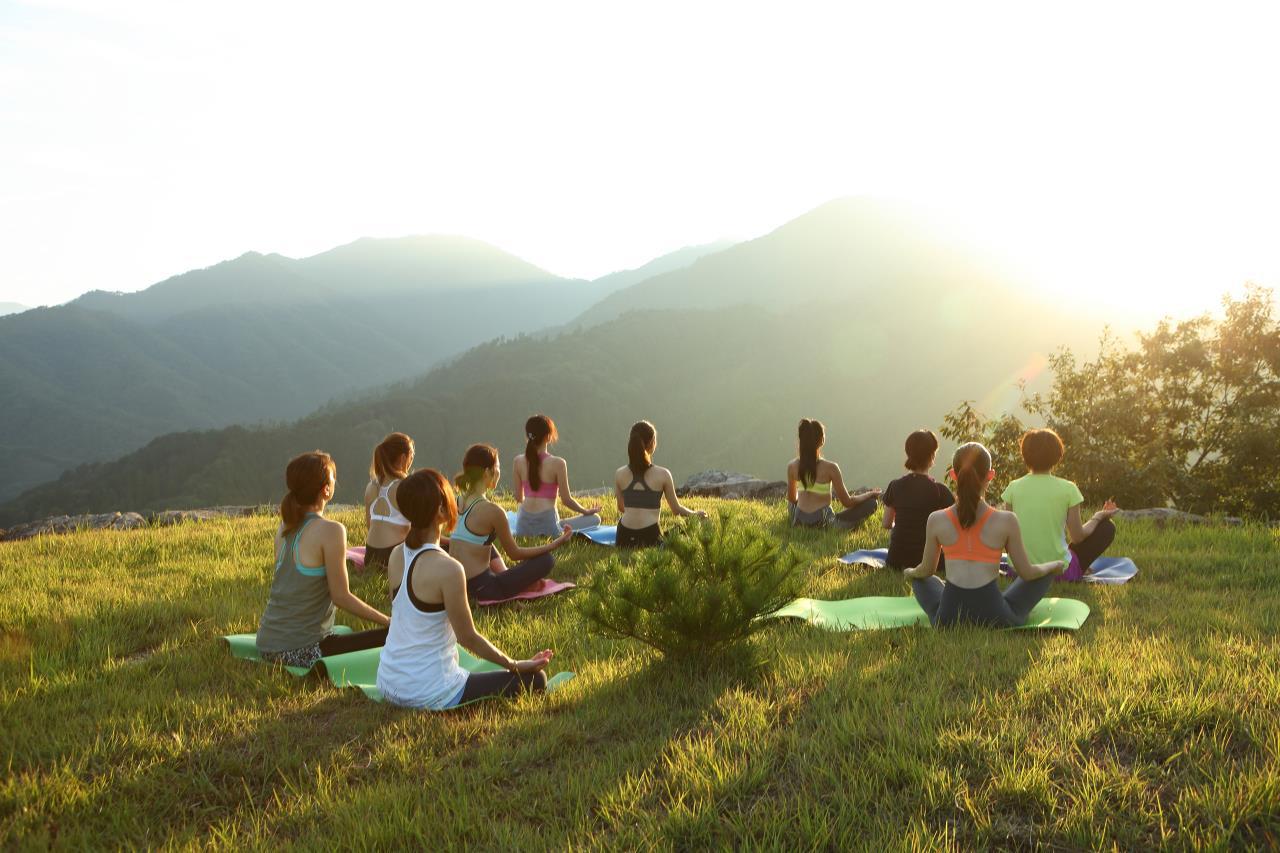 Take in the gentle sunlight and breathe deeply! You can relax right down to the core of your body.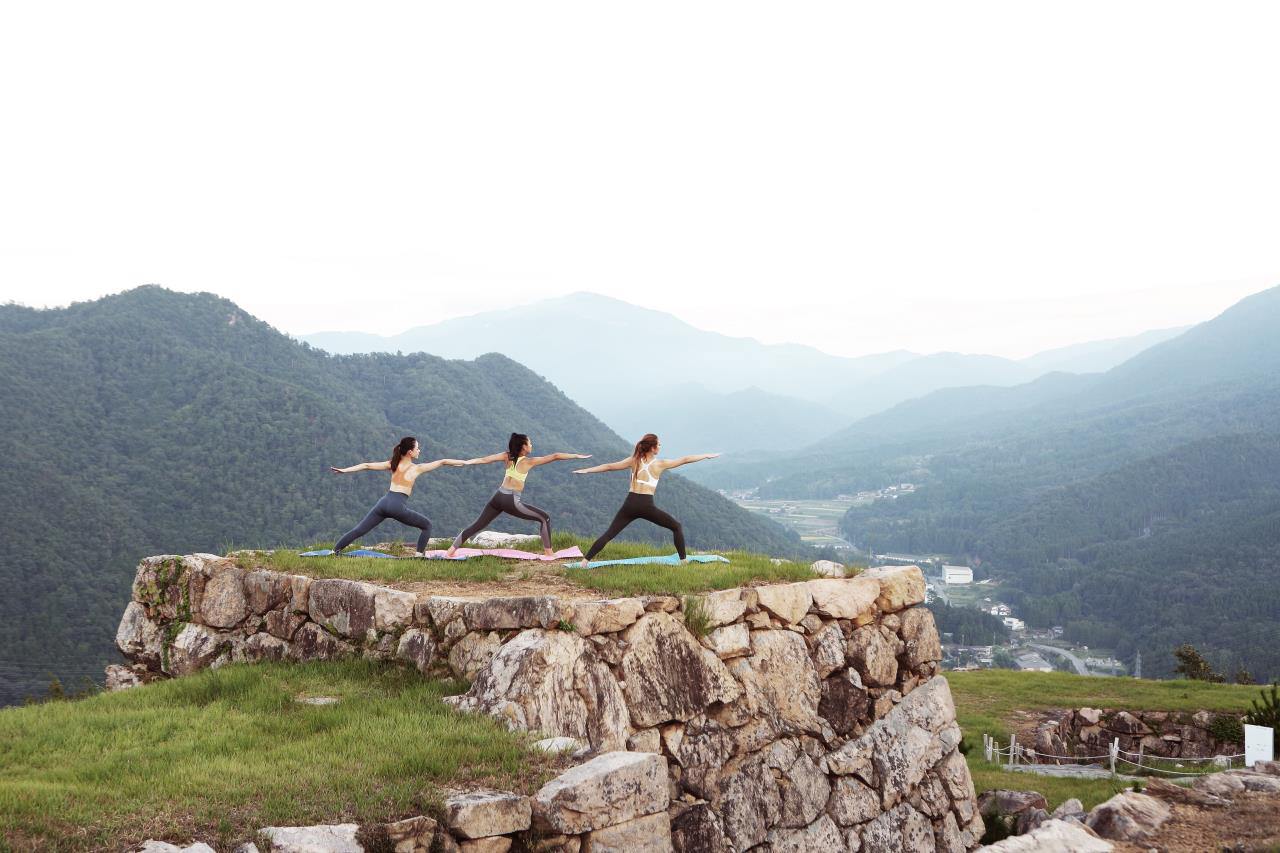 The remains of the stone walls that run 400 meters north and south, and 100 meters east and west, are the largest in the scale of their kind in Japan. While observing the ruins in the surrounding area, you might also enjoy imagining how the castle looked in the past.
After the yoga, have lunch at a soba noodle restaurant that overlooks the Takeda Castle Ruins♪
After the Celestial Yoga, it's time for lunch at the soba noodle restaurant Uemongoro. This is the best location to see a panoramic view of the Takeda Castle Ruins from the large windows. The soba noodles you eat here are handmade by grinding the flour every morning with a millstone. Detoxify yourself eating flavorful soba noodles mixed with tempura and salad that use seasonal ingredients. After you eat, take a walk through the castle town. Enjoy walking the streets while trying sweets that use local ingredients, and you can also have fun picking out souvenirs.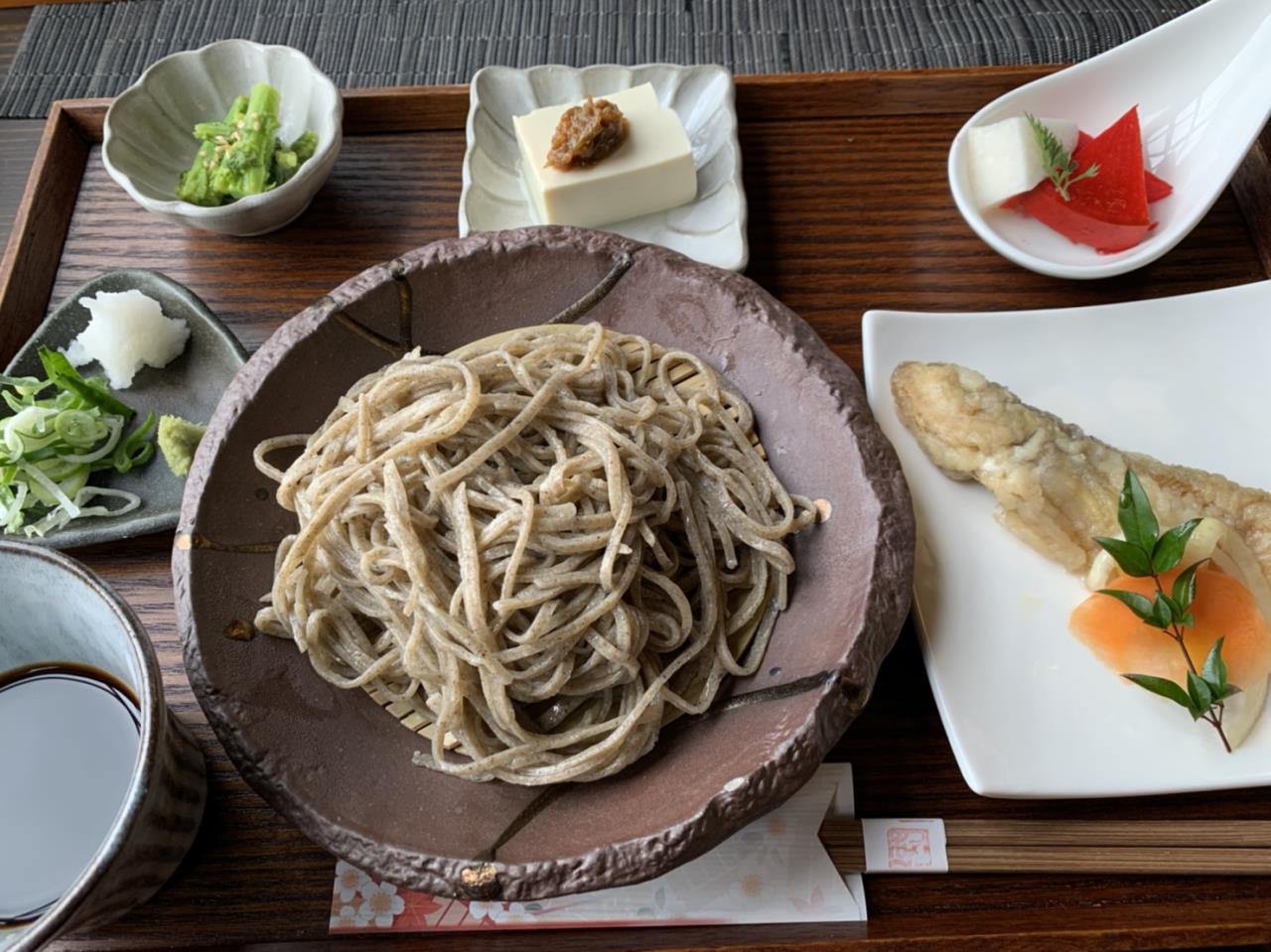 The soba noodles come with various other food, such as small bowls of seasonal vegetables and tempura.
There are also a variety of optional tours to give you a unique experience of your own!
In addition to the Celestial Yoga tour, you should also try out the temple experience at a Buddhist temple dedicated to Kannon. At this ancient temple that has buildings and a sutra library that have been registered as tangible cultural properties by the prefecture, you can try out Zen meditation, sutra chanting, and even copying sutras by hand. There are also a variety of other optional tours, such as going to Ikuno silver mine or the Yofudo Onsen. You should enjoy yourself on a trip by taking a relaxing day to purify your body and mind.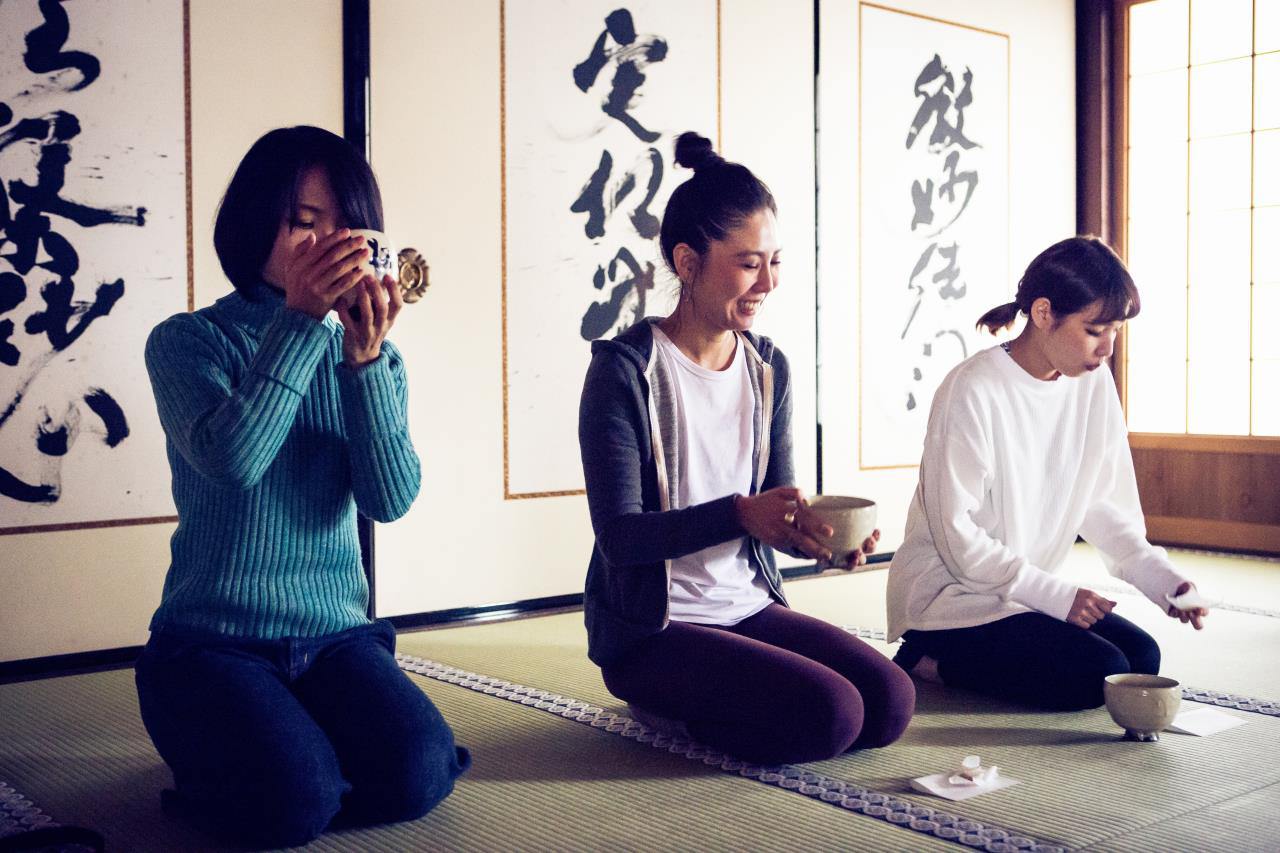 As one of the temple experiences at the Buddhist temple dedicated to Kannon, you can try some tea and teacakes.
Facility information
You can experience these things here!
Name of facility | Enmusbi Travel
Name of experience | Takeda Castle Ruins Celestial Yoga Workshop Tour
Address | Mountain castle village 13-1, Wadayamachotono, Asago City, Hyogo 669-255 (meeting place)
Time | One time starting at 10:00 a.m. (a reservation is required by 3:00 p.m. seven days before the date)
Budget | 7,000 yen *Separate fees are required for other options
Accepted payment methods| American Express, Diners Club, JCB, Mastercard, VISA,
Acceptable numbers of people (group) | At least 4 people, and at most 16 people
Telephone number| 079-668-9955
Languages spoken| Japanese only
Official Website (Japanese)| http://maru-tabi.jp/
Note |
*The reservation deadline for each event date is by 3:00 p.m. seven days before it is held.
*If rainy weather or other bad weather is expected, the program will be changed to "Takeda Castle Ruins Temple Yoga" along with walking around the temple and town at the base of the Takeda Castle Ruins site, and you can enjoy Zen meditation, partaking in teacakes, and yoga at the temple. Please be aware of that in advance.
*Please participate while wearing clothes that are easy to move in, along with yoga wear and sneakers. The weather may also change suddenly and start raining, so bring a thin jacket with you.
*Please participate with a backpack that will leave both of your hands empty.
*There are no vending machines at the Takeda Castle Ruins, so please bring any sports drinks or other drinks with you in advance.