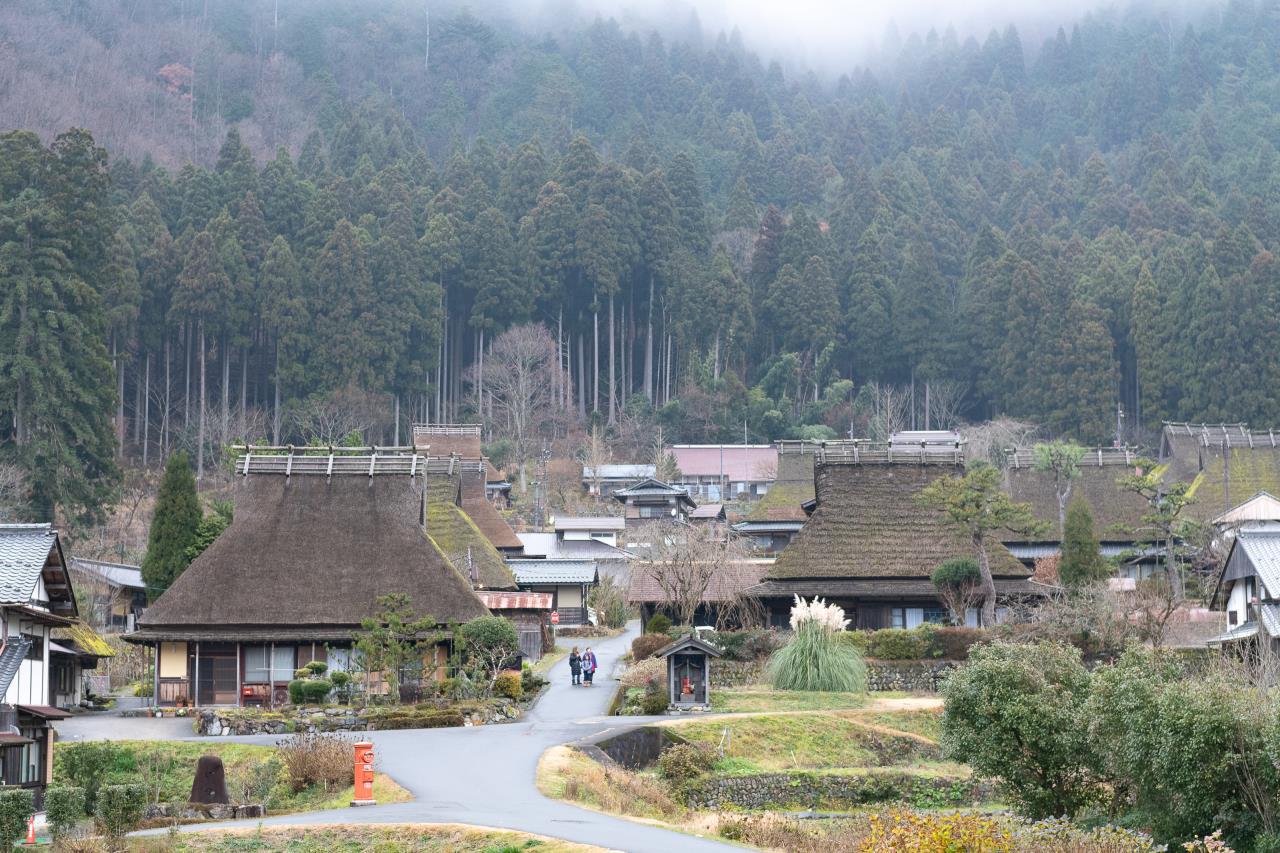 Thatch Roof Fuki-kae Experience
Miyama is home to many traditional thatch roof houses
Thatch roof houses are houses with roofs made of "kaya," a plant in the Poaceae grass family. They have been used for Japanese homes since long ago, but are rapidly disappearing in recent years due to lifestyle changes and a decline in materials. There are still many well-preserved thatch roof houses built during the Edo period (1603-1867) remaining in nature-rich Miyama, located in the center of Kyoto Prefecture. Miyama is popular for its scenery that changes through the seasons and is known overseas for it's unspoilt Japanese landscape.
For staying guests only! Learn about people's lives through the 5000 year history/thatch craftsman experience
The culture of thatch roofing is not unique to Japan, and this architectural style can be seen in Europe and Scandinavia as well. There is currently an international thatch roof boom. The shape varies slightly depending on the country and region. The thatch roofs of Miyama are characterized by soft rounded curves and a beautiful and even configuration that extends to the edge. It is necessary to do a "fuki-kae" to replace the "kaya" of the roof once every 20 years. Experience the Satoyama lifestyle through the "fuki-kae" process that is filled with the wisdom and sense of beauty of people's lives.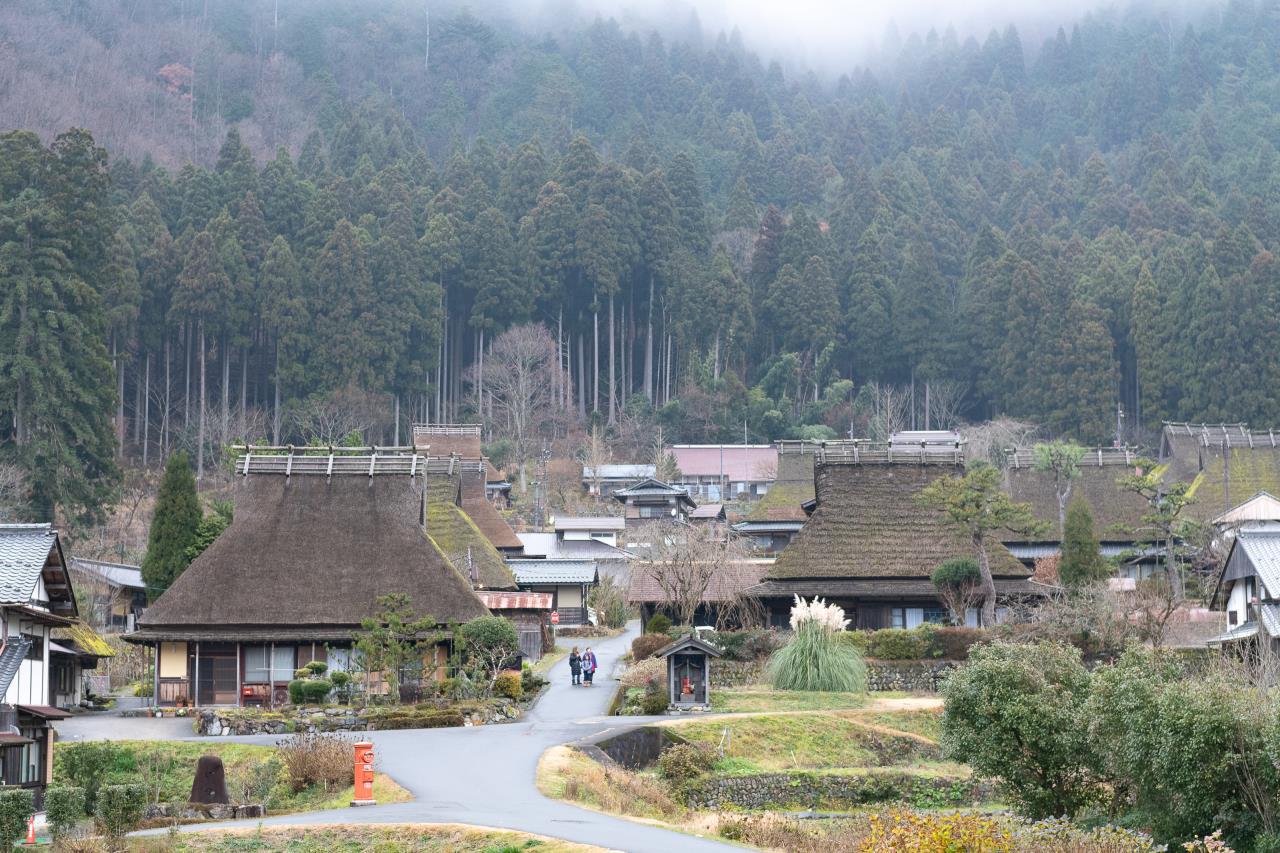 "Kayabuki no Sato" consists of 39 thatch roof houses (Chii district, Miyama). It was selected as a national important preservation district of historic buildings along with the surrounding rice paddies and mountain forests in 1993.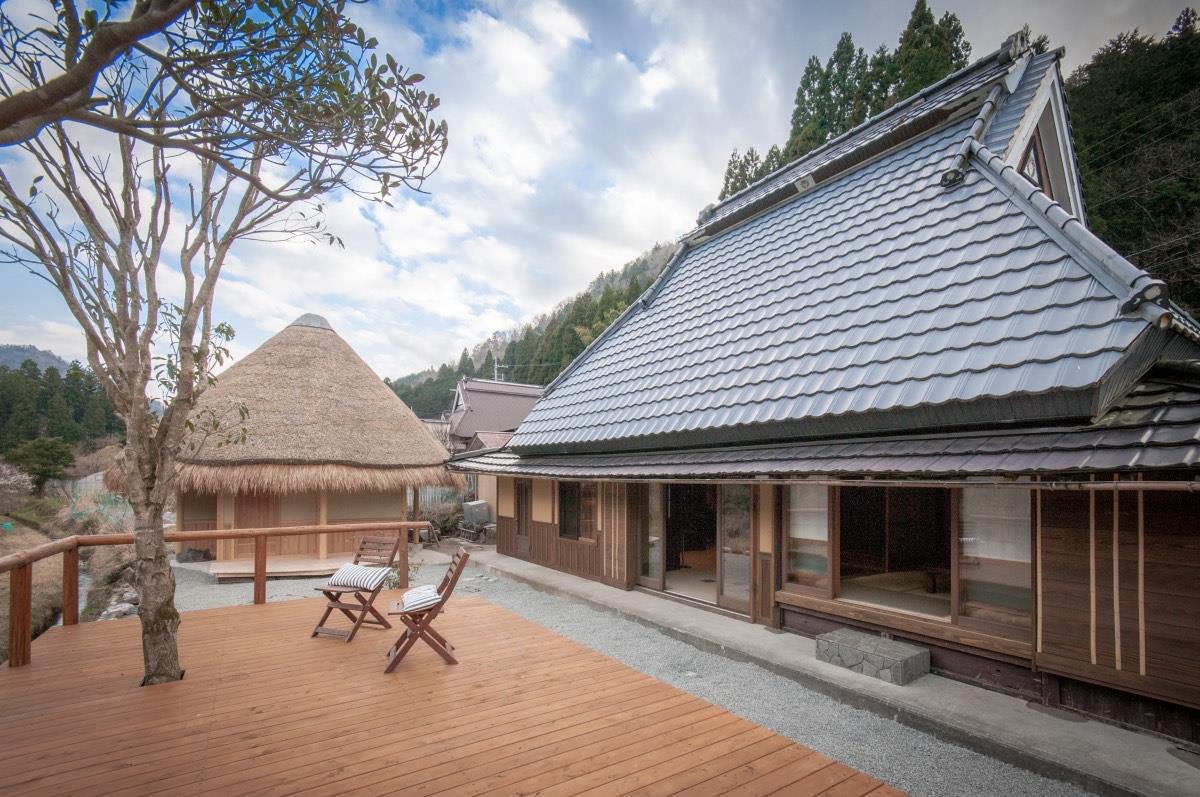 It is about 10 minutes by car to the traditional Japanese house where you will stay. The experience will be held at the adjoining dwelling.
Miyama's carefully preserved "fuki-kae" is imparted by craftsmen!
Craftsmen that preserve Miyama's thatch roofs will provide a lecture on the fundamentals. After learning through a series of videos about the history of thatch roofs, international styles, and an experiment to find out why thatch roofs do not leak during rain, it is time for the hands-on experience! It takes some time to get the hang of it, but be assured that there will be careful instruction and repetition. The lush fragrance of the "kaya" is healing. In the past, the thatch roofs were protected by mutual support networks of villagers called "tanomoshiko." We will divide the roles into villagers and craftsmen and recreate the thatch roof setting.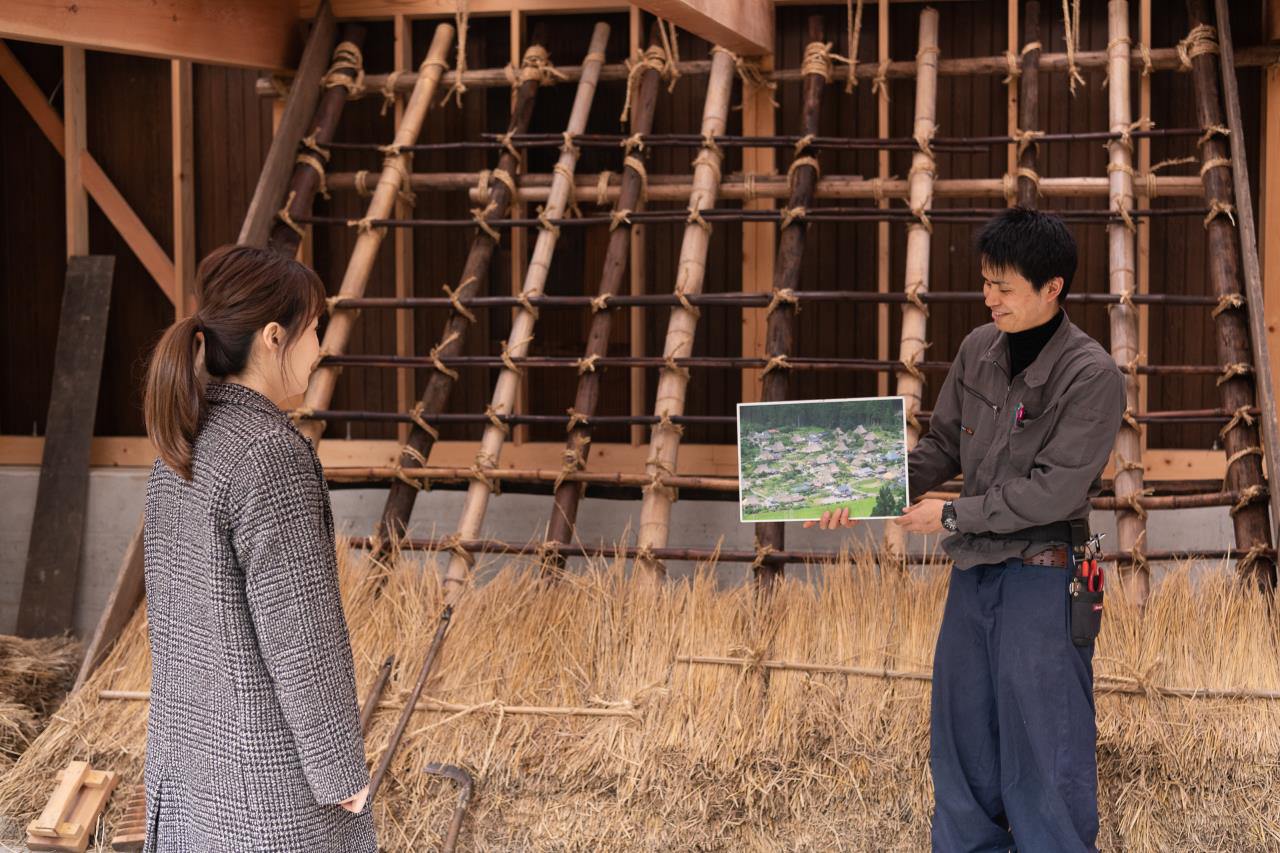 You will learn how to create a thatch roof and the different styles in each country. *Explained in the video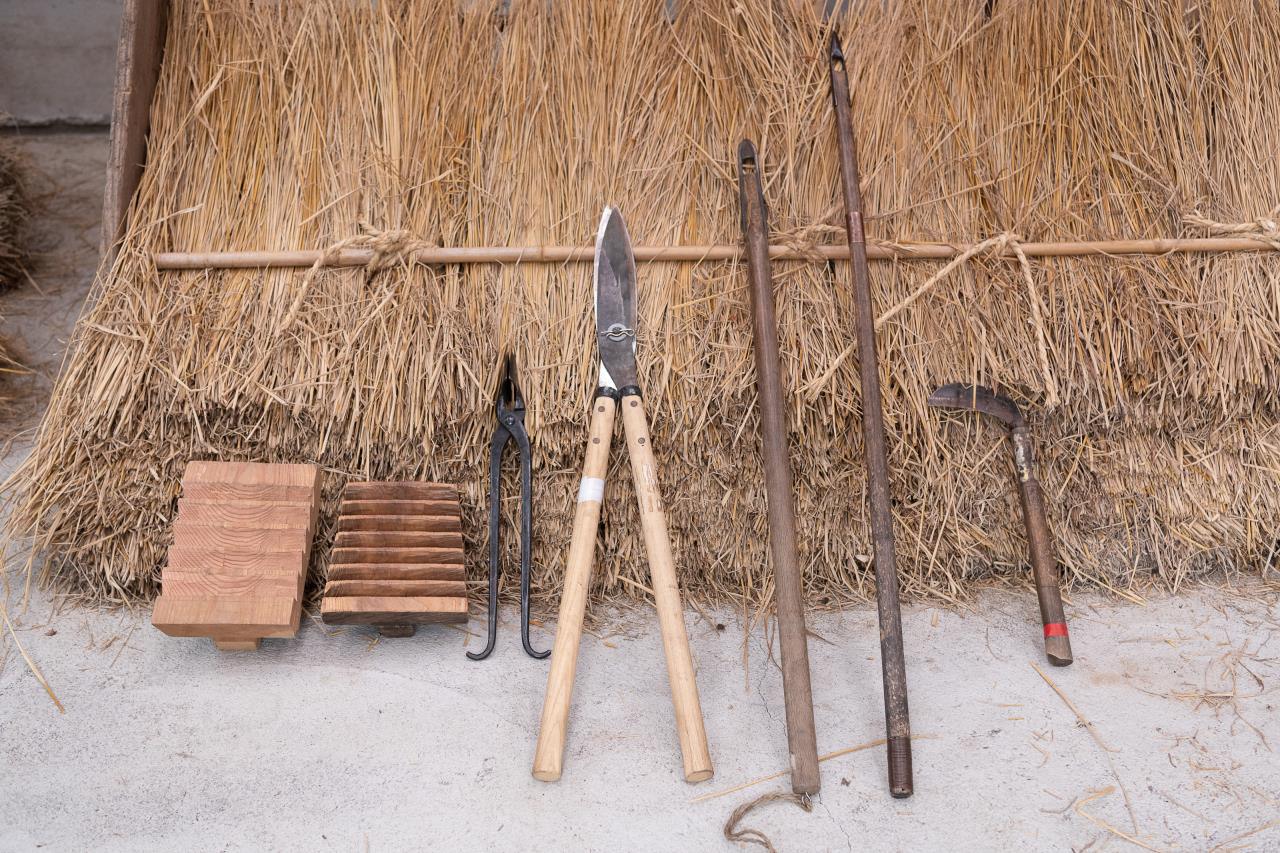 Some of the tools used for fuki-kae (the two tools on the left) are also handmade by craftsmen. Preferences differ slightly based on the craftsman, and it is said that some people use about 20 tools.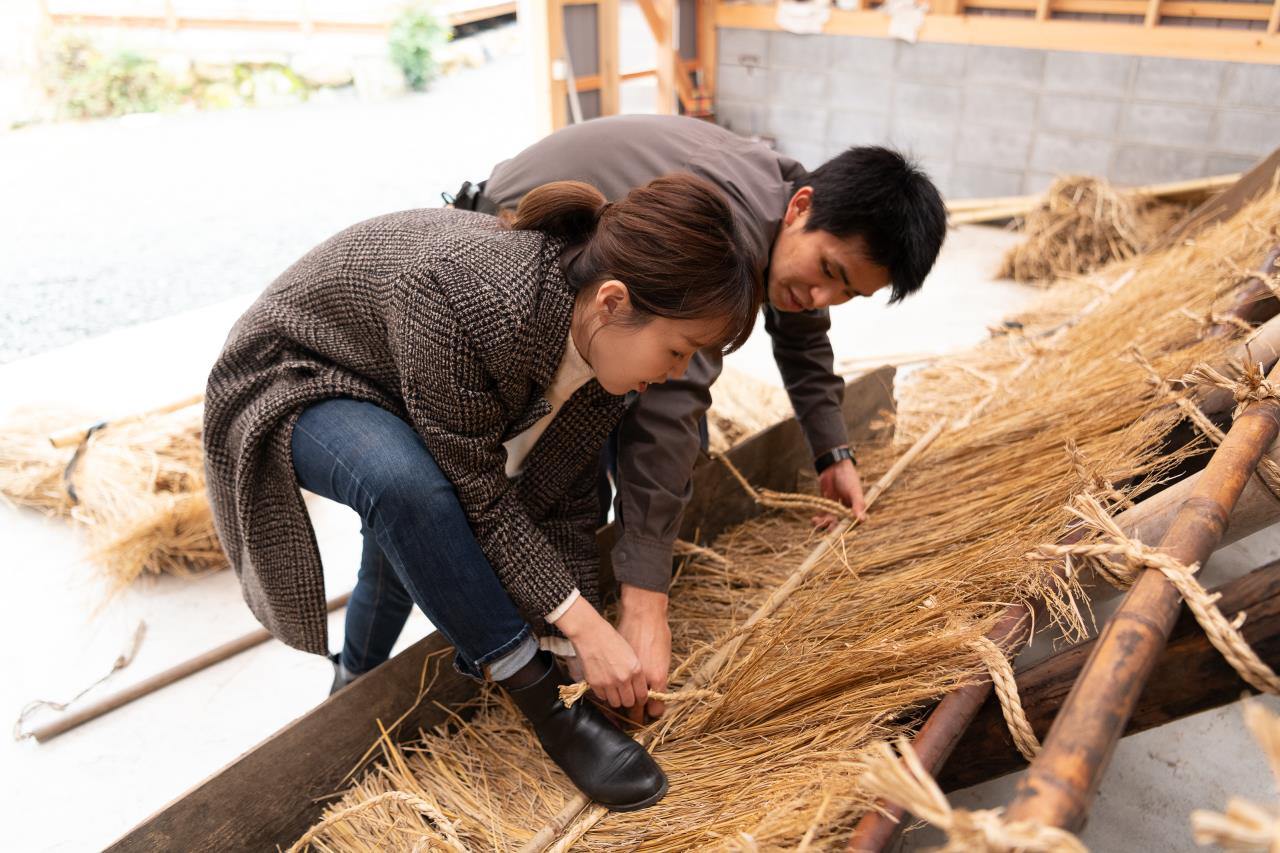 Tightly tie a rope from the foundation pillar and fasten it firmly so the kaya does not fall out.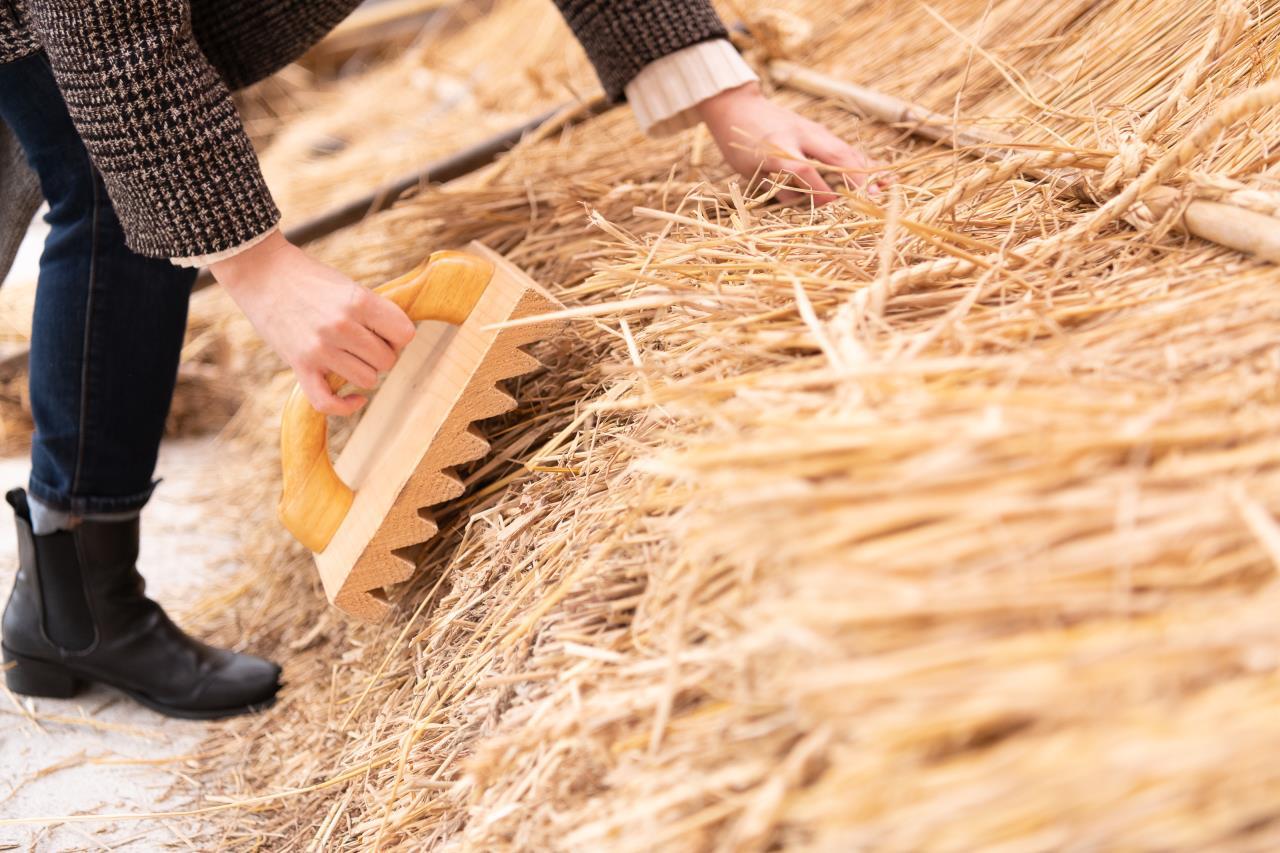 You tap any kaya that sticks out into place to create a clean, even form. You tap the kaya from underneath in a diagonal, upward direction. You continue repeating this set of actions.
After the experience is over, relax in the rustic yet stylish Japanese-style house.
After the thatch roof experience, let's relax in the rustic Japanese-style house. The building can be rented so that one group can use it exclusively and spend time without feeling constrained. We recommend enjoying traditional Japanese sweets and tea while sitting on the veranda and viewing the abundant nature. A food service is also provided in which you can cook and eat local vegetables and game. A minibar, beer server, and wine cellar are also included, making it a perfect retreat for adults who enjoy drinking.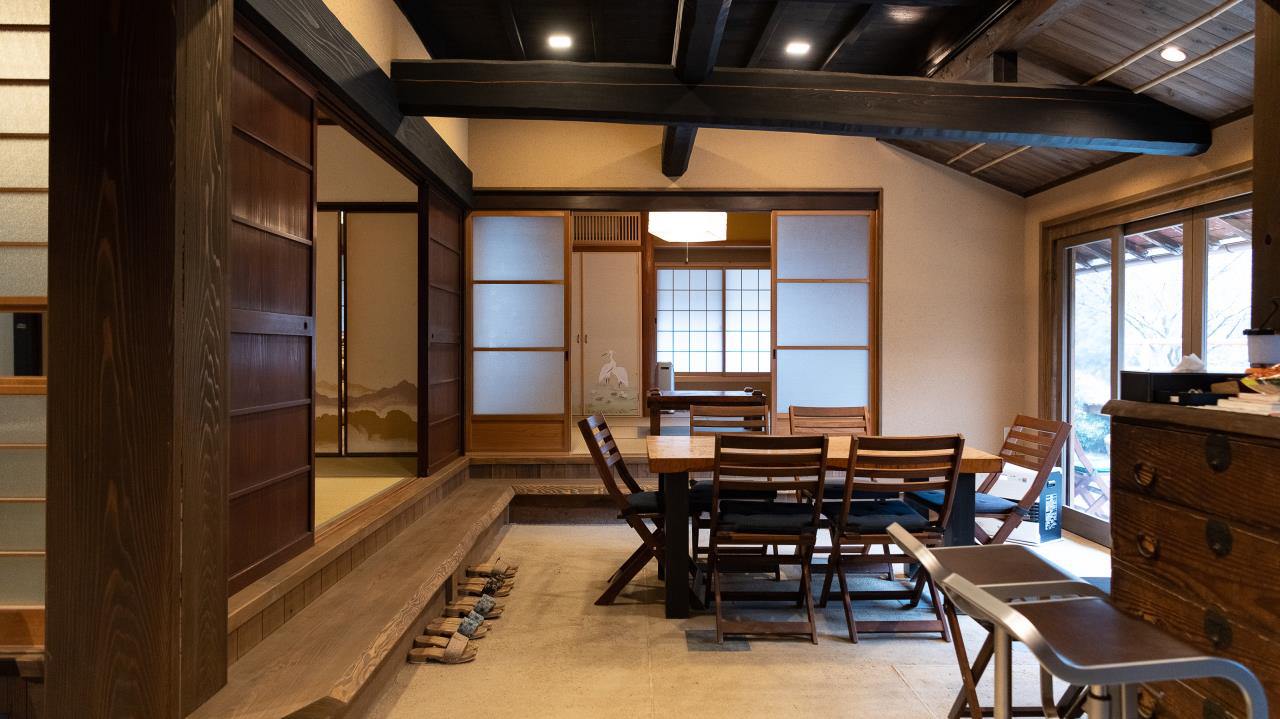 It is a modern atmosphere including a Japanese-style room and porch where you can relax comfortably.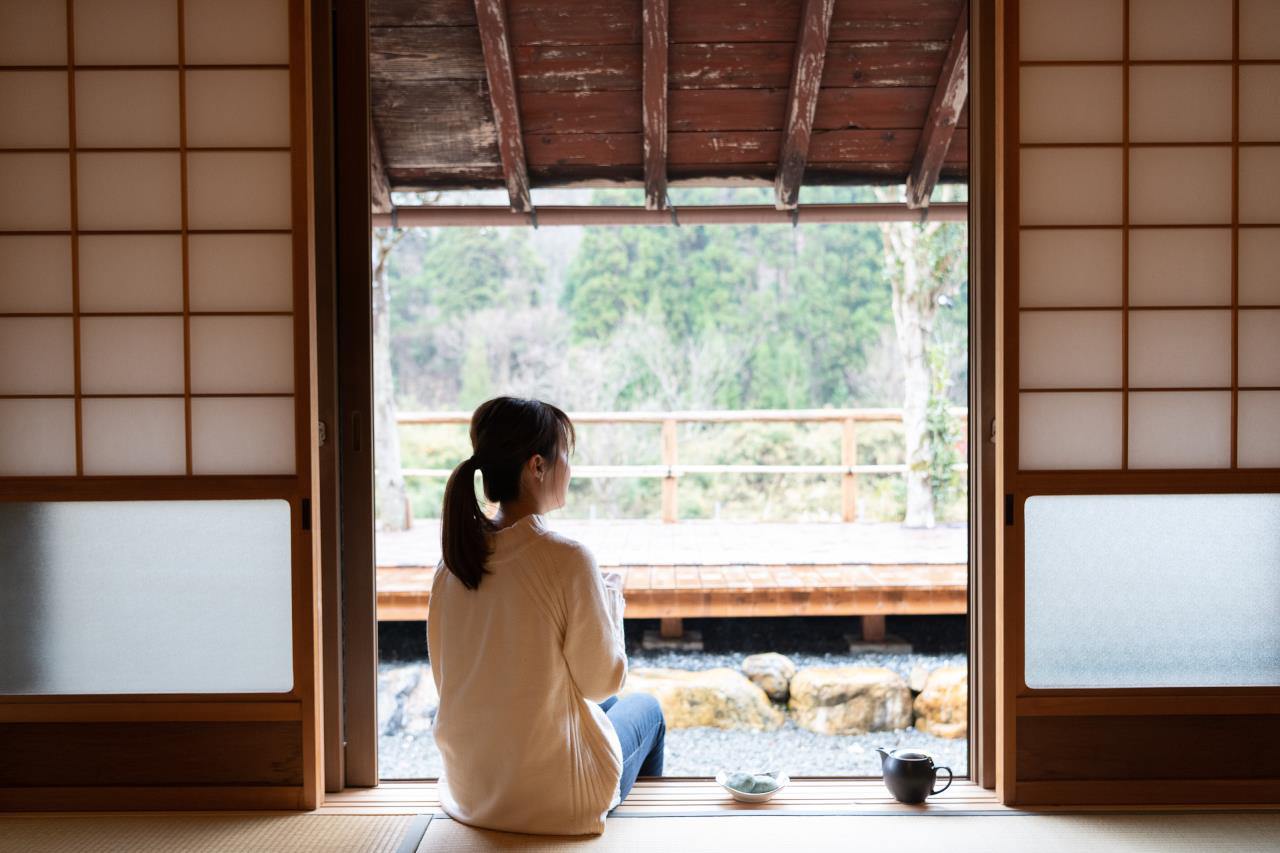 You will be healed by the beautiful seasonal view and the murmuring of the clear stream that flows nearby.
Facility information
You can experience these things here!
Name of facility | Miyama E I S A
Name of experience | Thatch roof craftsman experience with accommodation
Check-in center (accommodation reception building)
Address | 52 kitsuneiwa, Miyamachoshima, Nantan City, Kyoto 601-0751
Business Hours |
*Schedule confirmation required (180 minutes for the thatch roof experience) check-in after the experience
Check-in: 4:00 p.m., Check-out: 10:00 a.m.
Closed | No holidays
Cost |
From 61,900 yen per night including breakfast (cost for 5 people) + 10,000 yen per person for the thatch roof experience
*From an additional 12,200 yen per night for a party of 6 or more (weekdays)
*The accommodation cost varies depending on the length of stay and reservation period
Payment methods | Cash or credit card (VISA, Mastercard, American Express, Diners Club, JCB, UnionPay)
Number of guests accepted (groups) | 2-10 people
Telephone number | 0771-75-5125
Multi-language support | Available
Official Website (English) | http://miyamafandb.jp
Notes |*The kaya may adhere to your clothes (it is best to wear casual clothes that can get dirty)