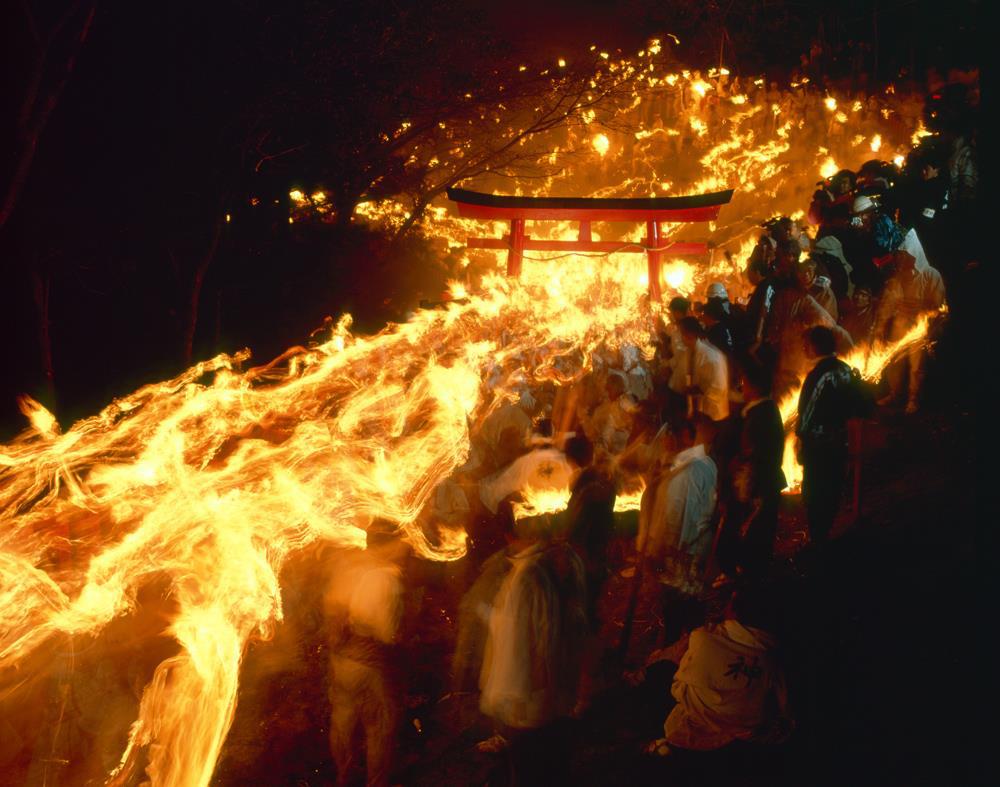 A fire festival with more than 2,000 white-clad torchbearers running down a steep slope
Kamikura-jinja Shrine is an auxiliary shrine of Kumano Hayatama Taisha, one of the Kumano Sanzan shrines. Kamikura-jinja Shrine possesses an ancient traditional ritual connected with Kumano yamabushi (mountain priests). The ritual involves men clad in white robes cinched with straw ropes carrying torches lit from a sacred fire down the steep stone steps at the top of Mt. Kamikura. This is a ritual that originated as a baptism by fire. Licks of flames bursting from the torches shimmer in the darkness. Approximately 2,000 torchbearers receive the sacred flame with pentagonal torches, and pray for the well-being of families throughout the year and the granting of other wishes. The unusual ritual involves the steep descent of 538 stone steps.
The Kumano Sanzan shrines: Kumano Hayatama Taisha, Kumano Hongu Taisha and Kumano Nachi Taisha are the three Kumano Sanzan shrines (with one temple, Mt. Nachi's Seiganto-ji, also included). The Kumano Sanzan are linked by the Nakahechi trail of the Kumano Kodo (Kumano Sankei-michi).
Photos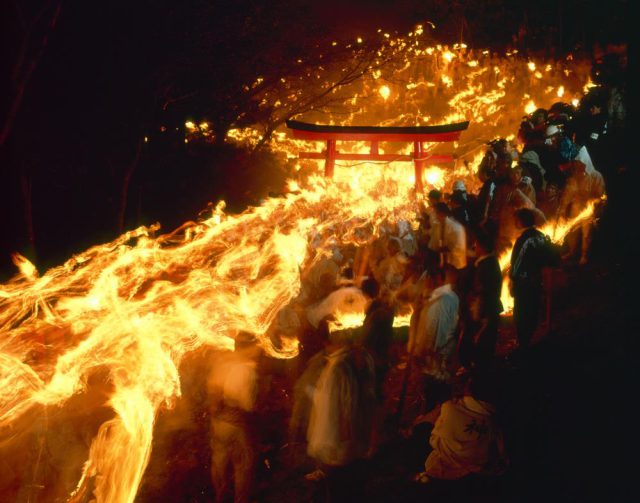 Event information
Access

From Osaka: Take the Kuroshio Limited Express train on the JR Hanwa Line for Shirahama; Change trains at Shirahama Station to the Kisei Main Line (Kinokuni Line) for Shingu and get off at Shingu Station; Takes approximately 5 hours

Date

6 Feb 2023

Inquiry

Others
Map
Nearby Spots