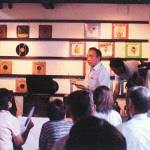 History of Hamasaki Misuya Needles, Phonograph Music Listening Session
【Description】
They used to call the Hamasaki area "Needle Town" because around the turn of the 20th century, over 30% of local residents worked in manufacturing needles, which was then a thriving local industry.
Shoraian, a hiking information center that opened outside JR Hamasaki Station in 2012, has displays that include Misuya needles, a locally-produced kind of specialty sewing needle, and phonograph needles. In addition to acquainting yourself with the history of Hamasaki needles in the welcoming atmosphere of a traditional folk house, you can listen to records played with a needle produced in Hamasaki. Make sure you give this moving, expressive music a listen.
Photos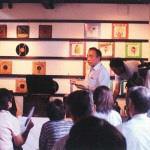 Information
Postal Code

669-6702

Address

Machi Aruki Information Center Shorai-anHamasaka 2351-1, Shin-onsen Town, Mikata County, Hyogo Prefecture

Tel

Nippon Precision Jewel Industry Co., Ltd. 0796-82-3171

Holiday

Wednesdays
Map
Nearby Spots