Making a kitchen knife as a traditional craft @ Sakai, Osaka -Attaching a handle & sharpening-
The Japanese knives from the blacksmithing city Sakai have been attracting attention from all over the world in recent years
Japanese knives from Sakai, Osaka are said to be used by 90% of chefs who cook Japanese cuisine in Japan. The origin of these knives goes back to the era of Emperor Nintoku. In 379 AD, large scale construction work began in Sakai to provide work for soldiers returning from war and to control flooding. For this reason, blacksmiths from all over Japan were summoned here to make the hoes and plows that were used by these men. It is thought that Sakai became a blacksmithing town because the descendants of the blacksmiths remained there. After that, by 1800 it was already known as a location that produces carving knives. To this day, Sakai Knives continue to be handmade by craftsmen. Their amazing sharpness has of course seen tremendous popularity from within Japan, but also from professional chefs overseas.
Try out a workshop for an authentic traditional craft in Japan's center for blacksmithing, and use the real thing at home!
At the well-established Wada Shoten founded 150 years ago, you can try out a workshop involving the creation of knives as a traditional craft. Choose the one you like from small knives, pointed carvers, sashimi knives, and all-purpose knives. Try out a sharpening workshop to maintain their cutting ability, and then complete the final process of attaching a handle under the guidance of a craftsman. You can bring your knife back home, so it is also great as a souvenir.
First of all, feel the sharpness of Sakai Knives!
Put on the same working clothes as the craftsman, and feel the sharpness of the knives. You can also compare the sharpness of knives that have not been maintained with knives that have recently been sharpened. It is obvious to tell which knives have been sharpened by the craftsman, and which knives have not. This is where you can learn how important it is to maintain (sharpen) knives.
This is a sharpness test for the edge of a knife on a newspaper. The freshly sharpened knife smoothly goes through it without any effort.
Learn how to sharpen knives even at home!
Learn about sharpening techniques by using knives prepared in advance that have been dulled. First, listen to the explanations from the craftsman and observe their actual movements, and then try it out yourself. The whetstones used for sharpening include a rough grindstone used for daily maintenance, and a medium-grade grindstone to further improve sharpness. If you learn the basics of sharpening under the careful guidance of the craftsman, you will even be able to do it at home, so make sure to master the trick to it. Once you have gotten the hang of it, you can beautifully sharpen a knife with a medium-grade grindstone.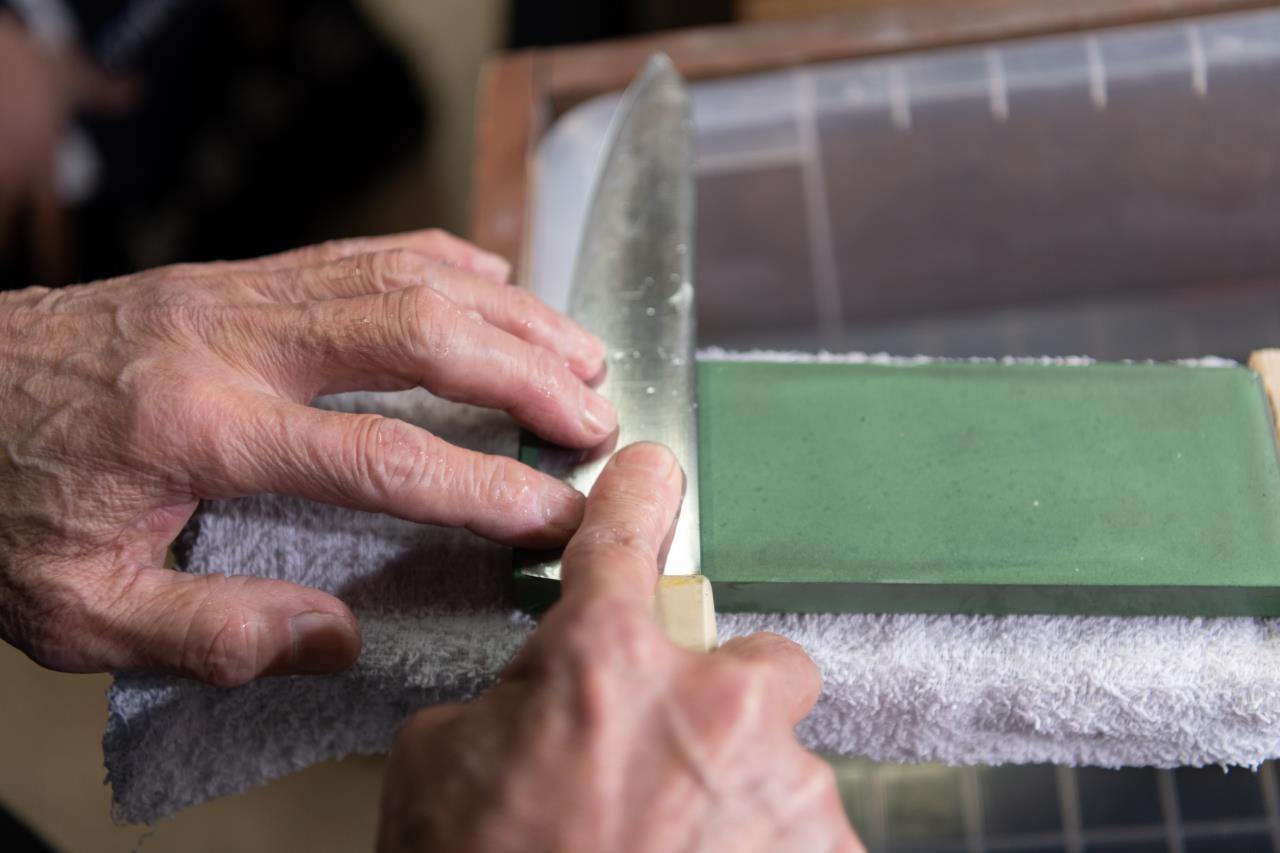 Under the magnificent skills of the craftsman, the sharpness is restored in just five minutes. That's just what you would expect from such efficient movements.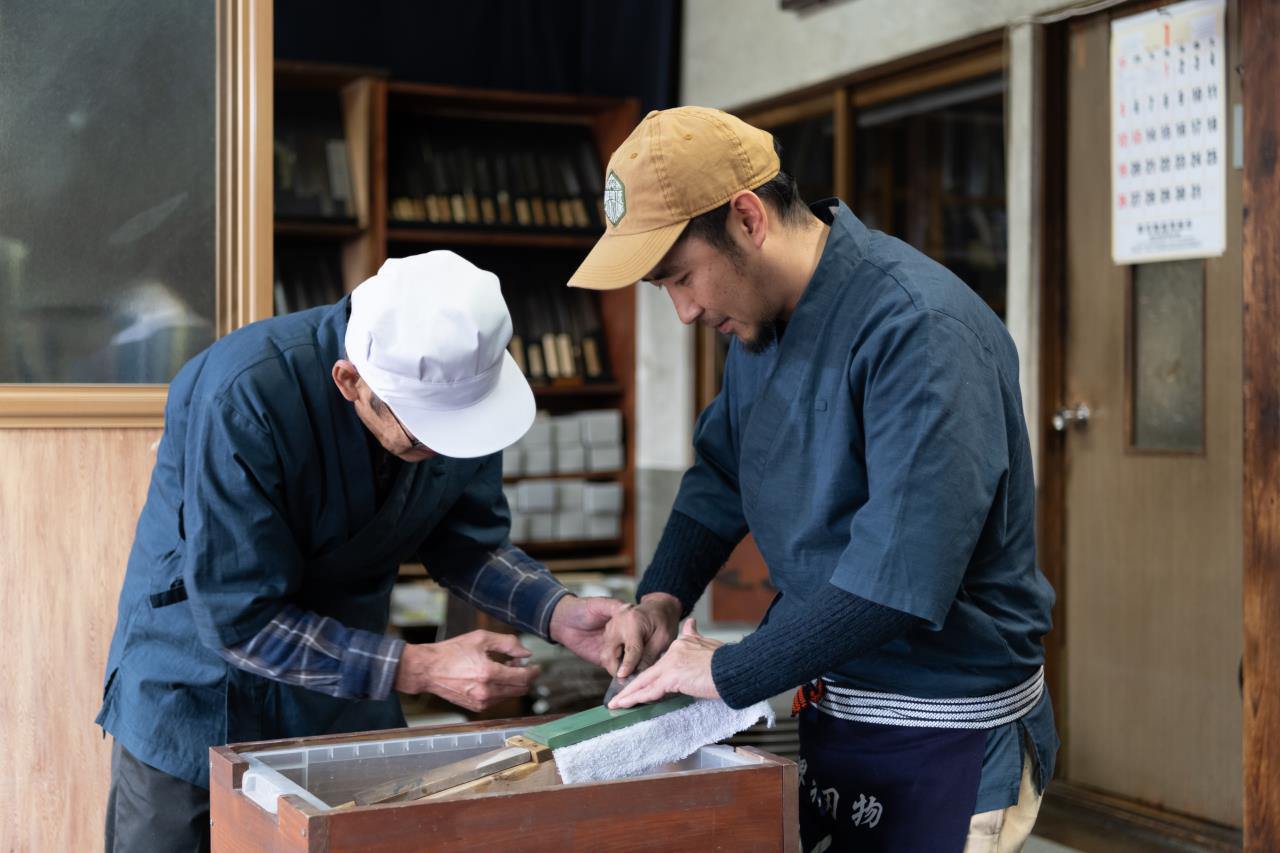 Once you actually do it yourself, you find just how difficult it is.
Attach a handle by pounding it in with this fascinating workshop!
Once you have finished with the sharpening workshop, next comes the work of attaching a handle to grip the knife. Aizo Wada provides guidance as the Fourth Wada Shoten. He is an incredible 94 years old. The skillful way he moves his hands when showing examples is a must-see. Mr. Wada heats up the portion that will be inserted into the handle for you. Following this, you insert the blade into the handle, hit the behind of the handle with a wooden mallet, and the blade enters the handle wonderfully. Once this is done, Mr. Wada does some final touches to complete it.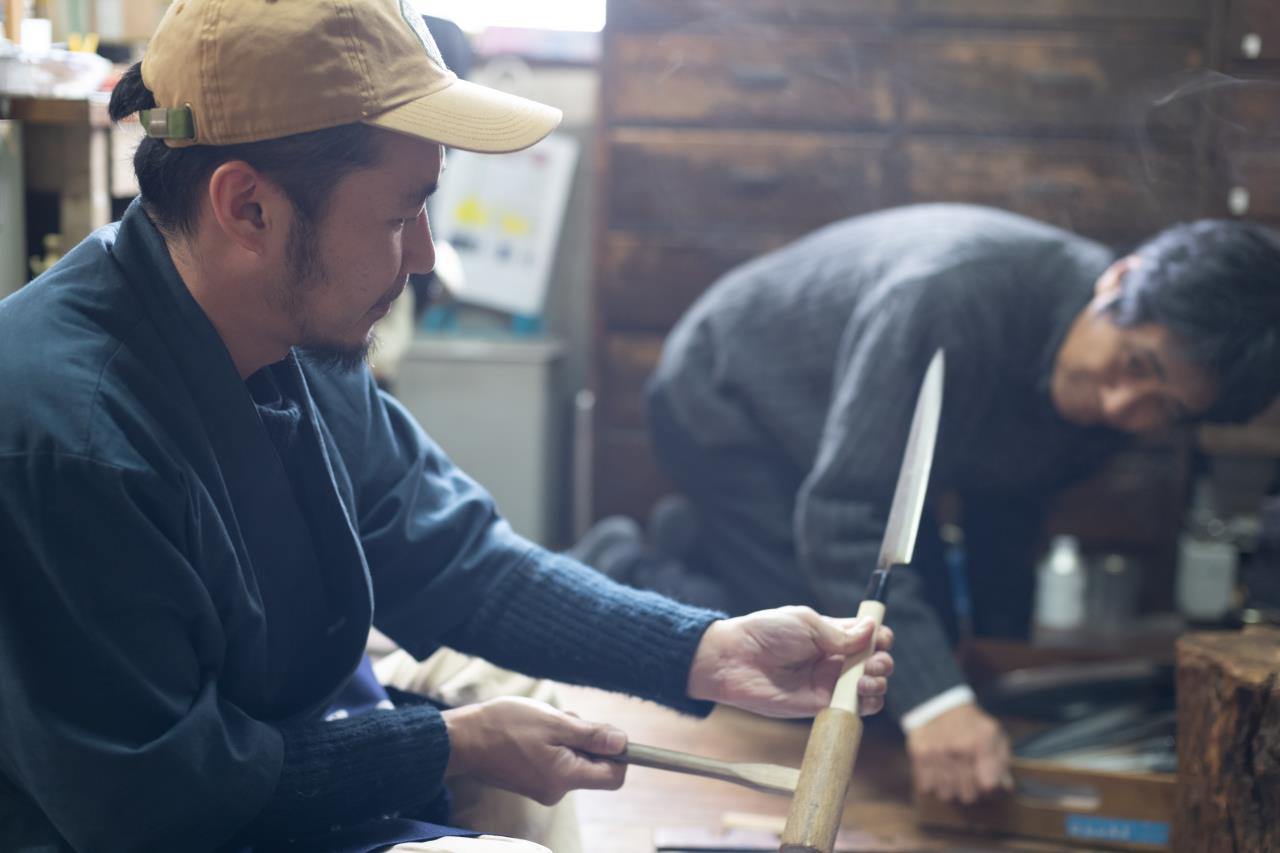 By pounding the bottom of the handle, you may be worried about the blade popping out, but it smoothly goes into the handle.
Your personal knife you assembled yourself is something to treasure!
Up to this point takes about 90 minutes. If you request it when making a reservation, it is also gratifying to have your name or a phrase you like engraved onto it. The completed knife is wrapped up, allowing you to take it back home. You will surely want to go back home to cook with it right away! Once you feel that the knife does not cut as easily, try doing the sharpening that you learned here.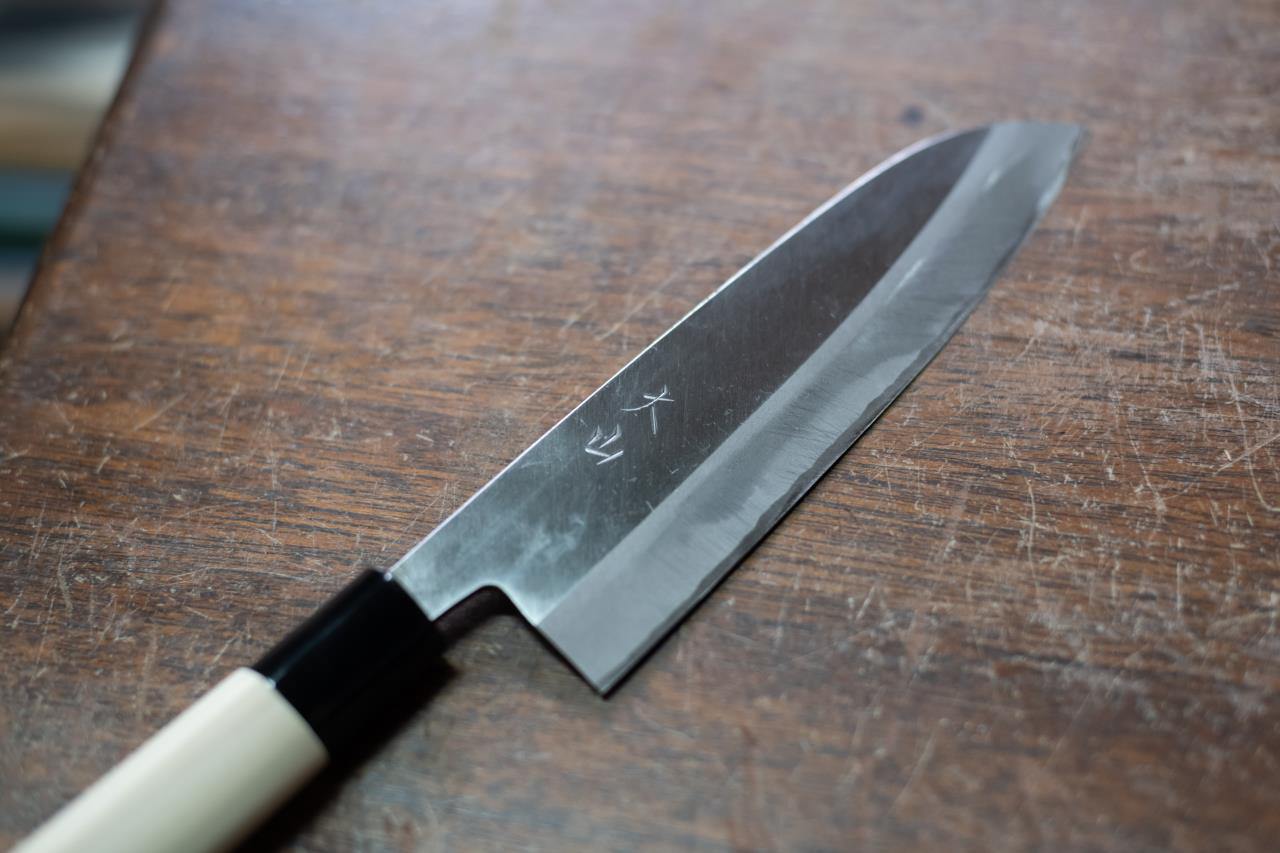 The engraving service is free. However, further discussion is needed for phrases that are quite long.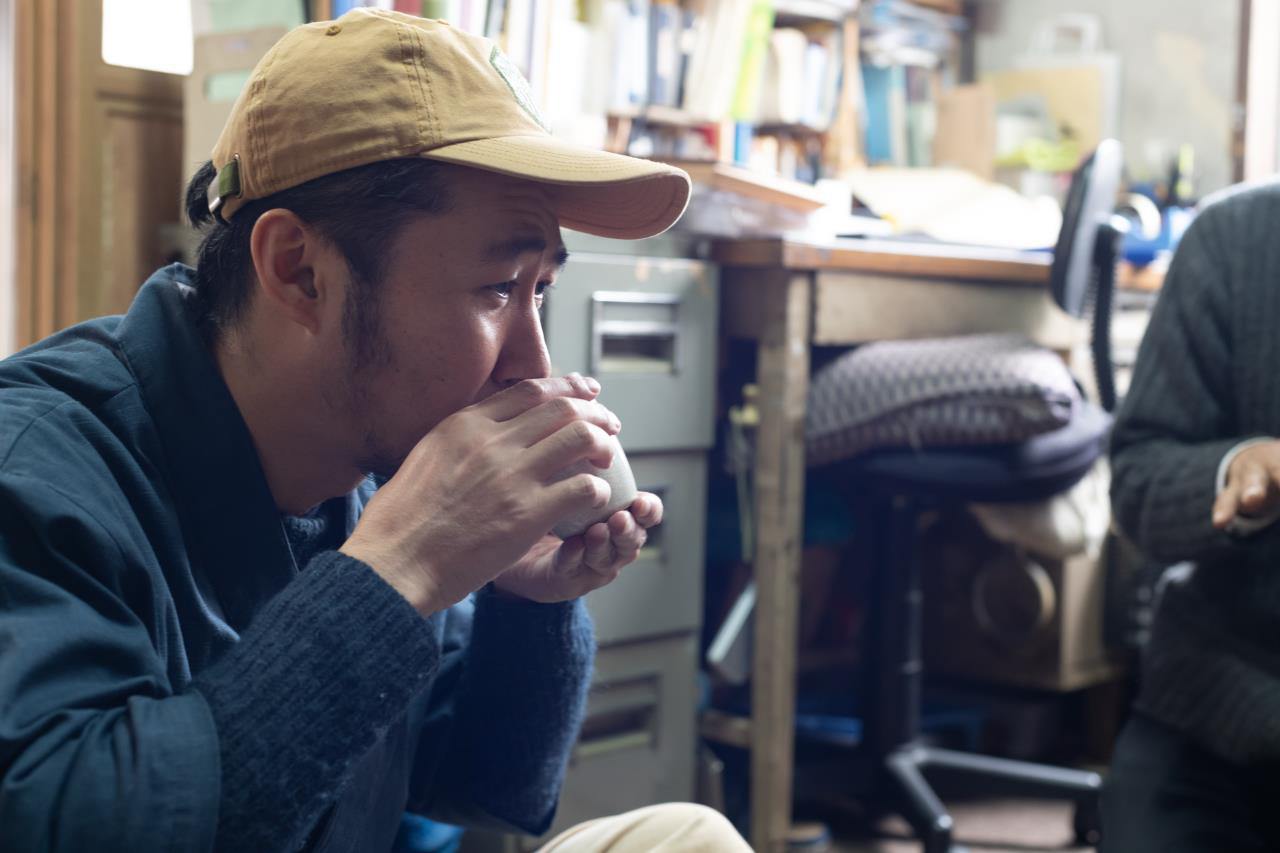 After the workshop, tea is also served. Chatting with the craftsman with the completed knife right in front of you is a valuable experience.
Facility information
You can experience these things here!
Name of facility | Wada Shoten
Name of experience | Making a kitchen knife as a traditional craft @ Sakai, Osaka -Attaching a handle & sharpening-
Address | 1-1-1 Shinmeichohigashi, Sakai-ku, Sakai City, Osaka 590-0935
Business Hours |10:00 a.m.-6:00 p.m.
Off days | Saturdays, Sundays, and holidays (open if there is a reservation)
Estimate | 8,500 yen (this includes the workshop fee and the knife)
Payment methods | Cash, credit card (VISA, Mastercard, American Express), PayPay
Number of guests accepted (groups)| 2 to 15 people
Telephone number| 072-232-1886
Multilingual support | English guide (reservation required in advance, and there is a separate fee)
Official Website (English)| https://www.sakaiwada.com/english
Things to note | For foreign language support, either go with someone who can act as an interpreter, or an English interpreter (no other languages) can be arranged, but a reservation is required in advance, and there is a separate fee (5,000 yen per person).