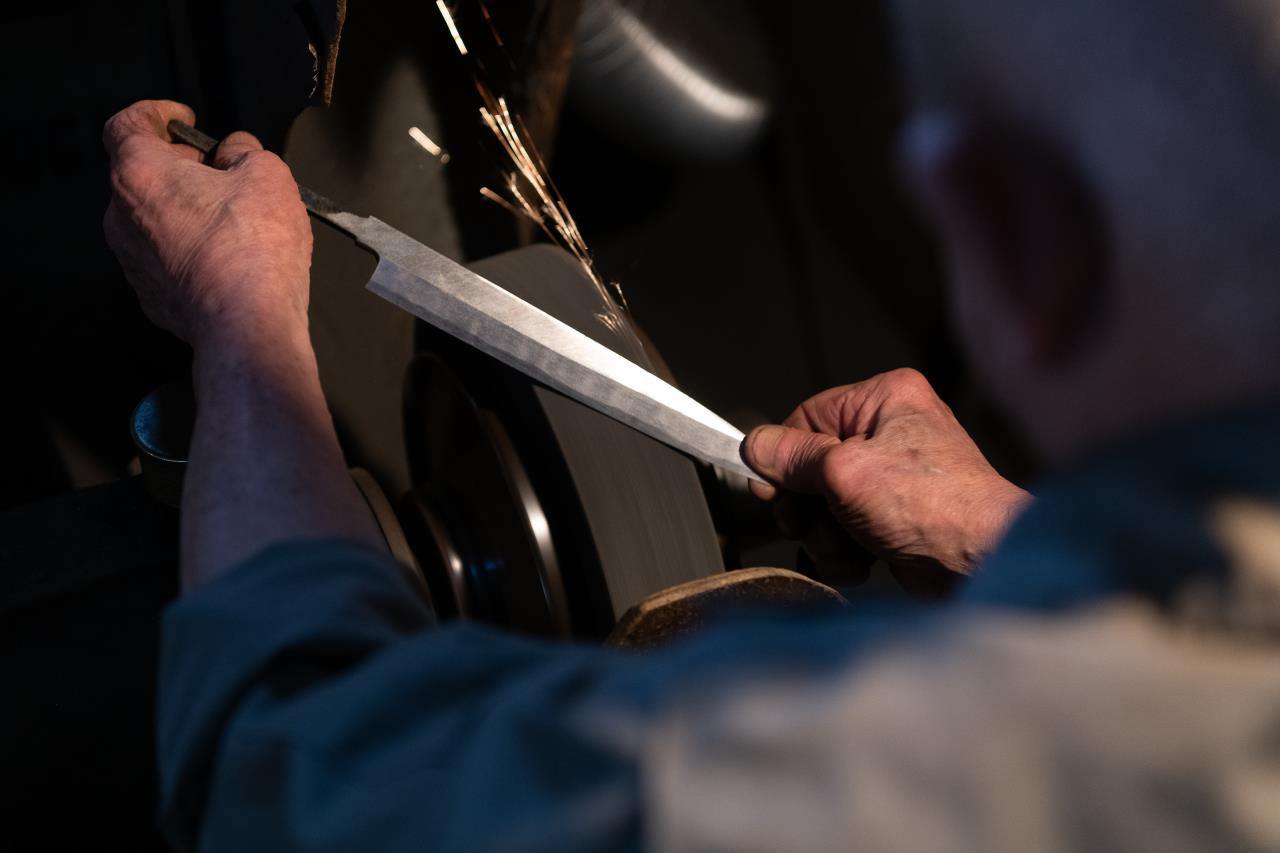 Experience knife sharpening and iron forging
#Loved by professionals both in Japan and around the world
In Japan, utensils and tools made from metal are collectively called kanamono. As in many other fields, the manufacturing process has largely been mechanized. However there are still many artisans who adhere to traditional handmade methods, taking the time to carefully craft products of high quality that are prized around the world. Production centers are scattered across the country, including Nambu ironware from Iwate Prefecture, blades from Sakai City in Osaka Prefecture, and carpentry tools and cooking utensils from Miki City in Hyogo Prefecture.
A glimpse into craftsmanship - experience kitchen knife sharpening and iron forging
Miki City in Hyogo Prefecture is well known as a place that produces some of Japan's finest kanamono metalwork. Professionals both in Japan and around the world have long sought out its carpentry tools, used on construction sites, and knives, used by chefs.
This tour will take you to two kanamono foundries to experience kitchen knife sharpening and iron forging, giving you a glimpse into Japan's commitment to craftsmanship. Along the way, enjoy tasting Japanese sake at a visit to Inami Shuzo Co., Ltd., the only sake brewery in Miki City.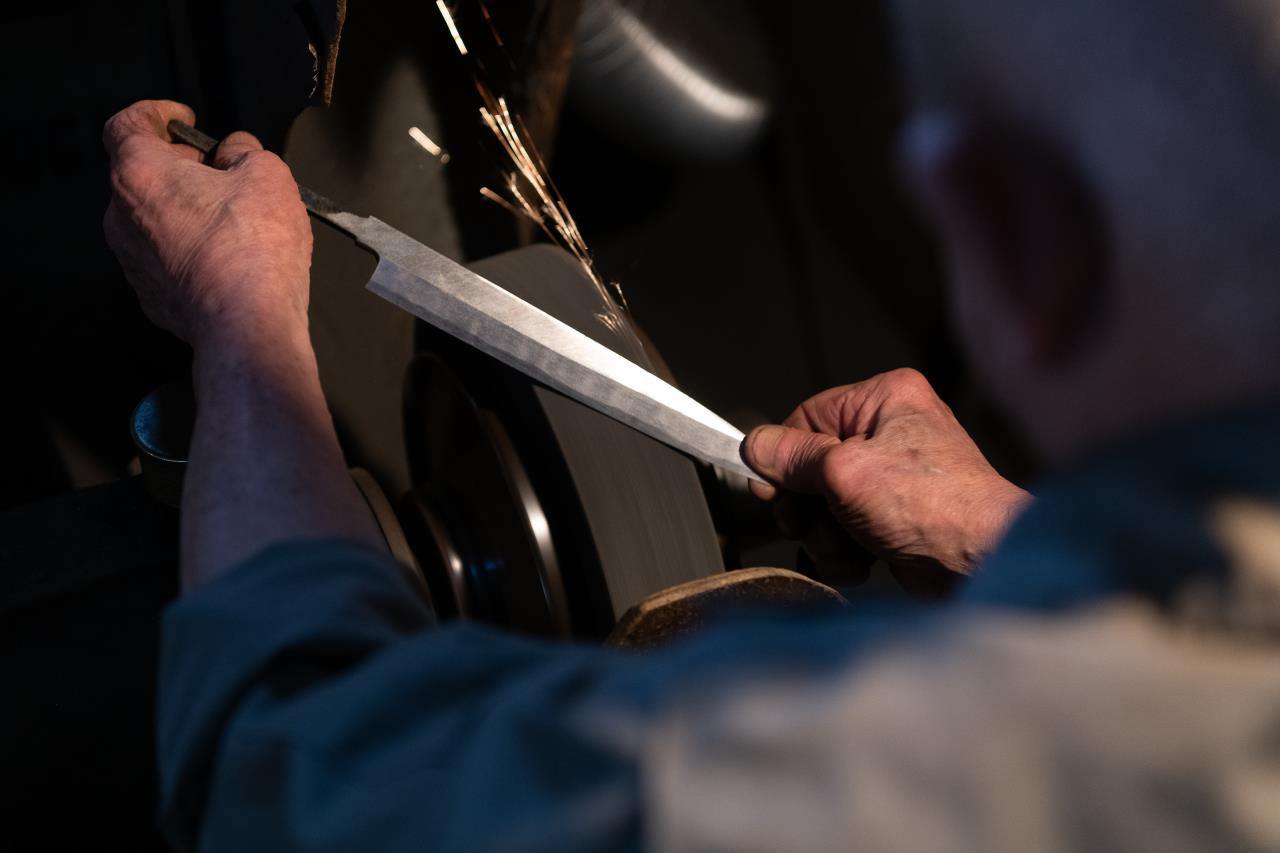 Experience knife sharpening - be wowed by the artisans' workmanship.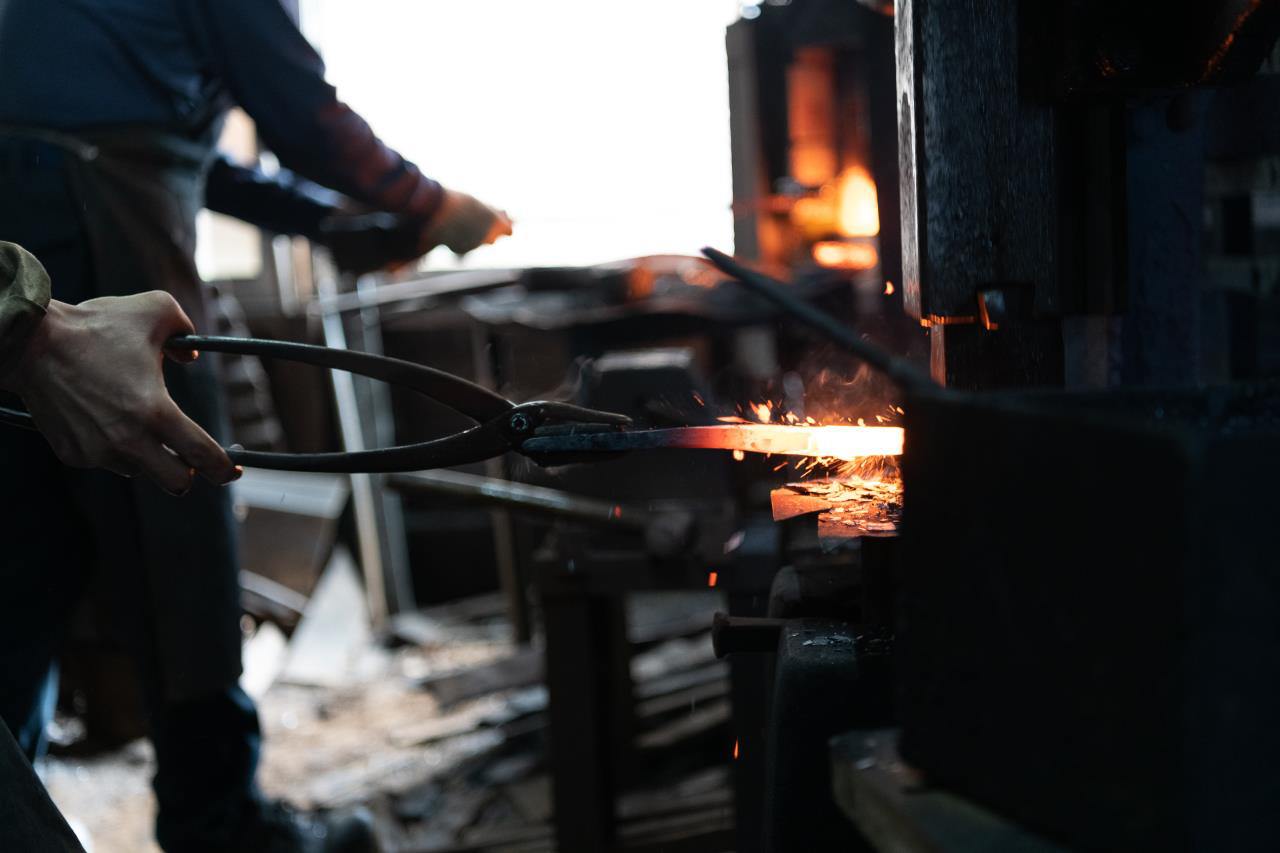 Sparks fly at this foundry which produces planes.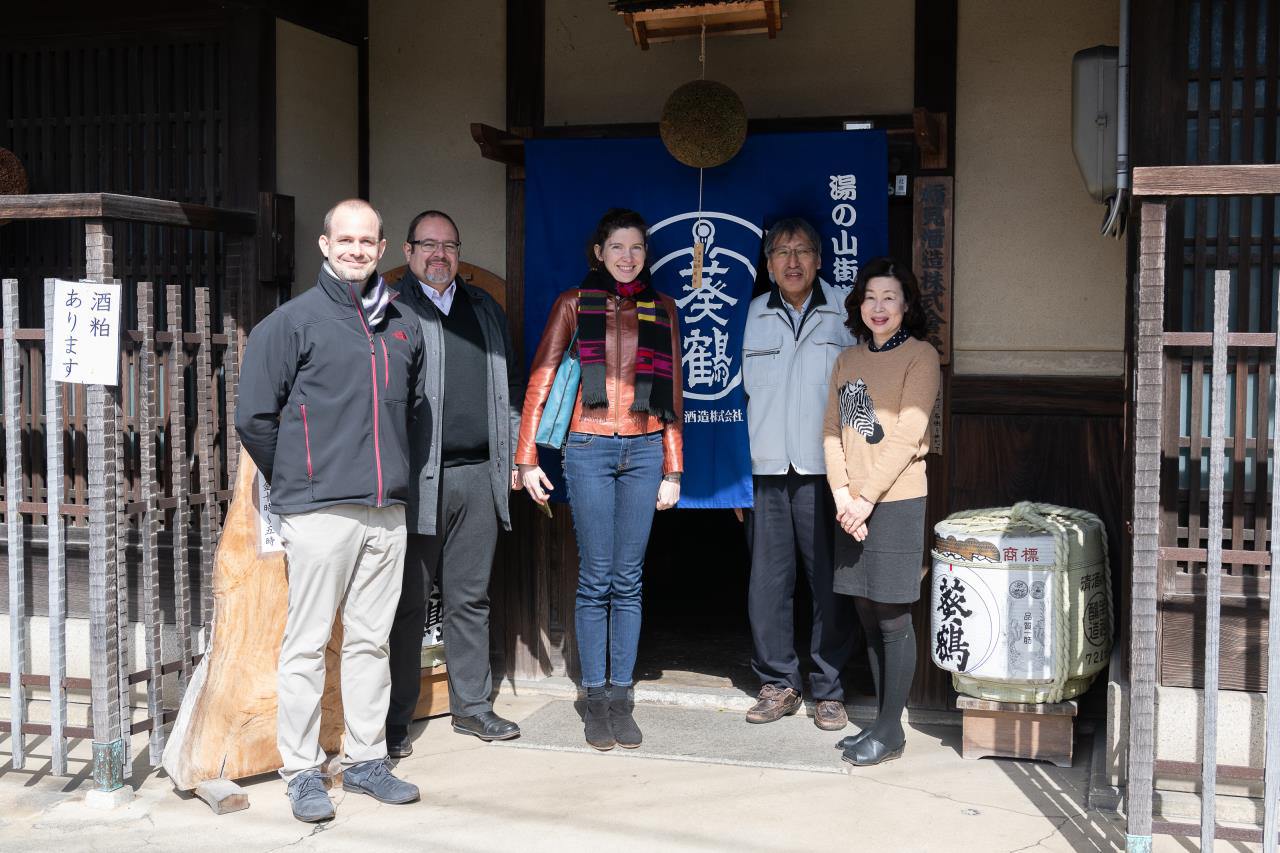 Take a commemorative photo in front of the noren curtains at Inami Shuzo Co., Ltd.
Learn hands-on how to put an edge on a blade and maintenance methods
Your first stop will be at a foundry for knife-sharpening. An experienced artisan who has devoted seventy years to the practice of metalwork will lead you through the process of putting an edge on a blade. After first placing the knife in a wooden cartridge, you will grind it against a rotating grindstone. The dull surface of the knife will then shine as if it were a mirror. Your teacher will guide you throughout the process, helping you to carefully grind your own finished product. You will learn how to care for the blade on a daily basis using a household grindstone, before being handed your completed product. You are sure to feel a special fondness for this knife that you made yourself.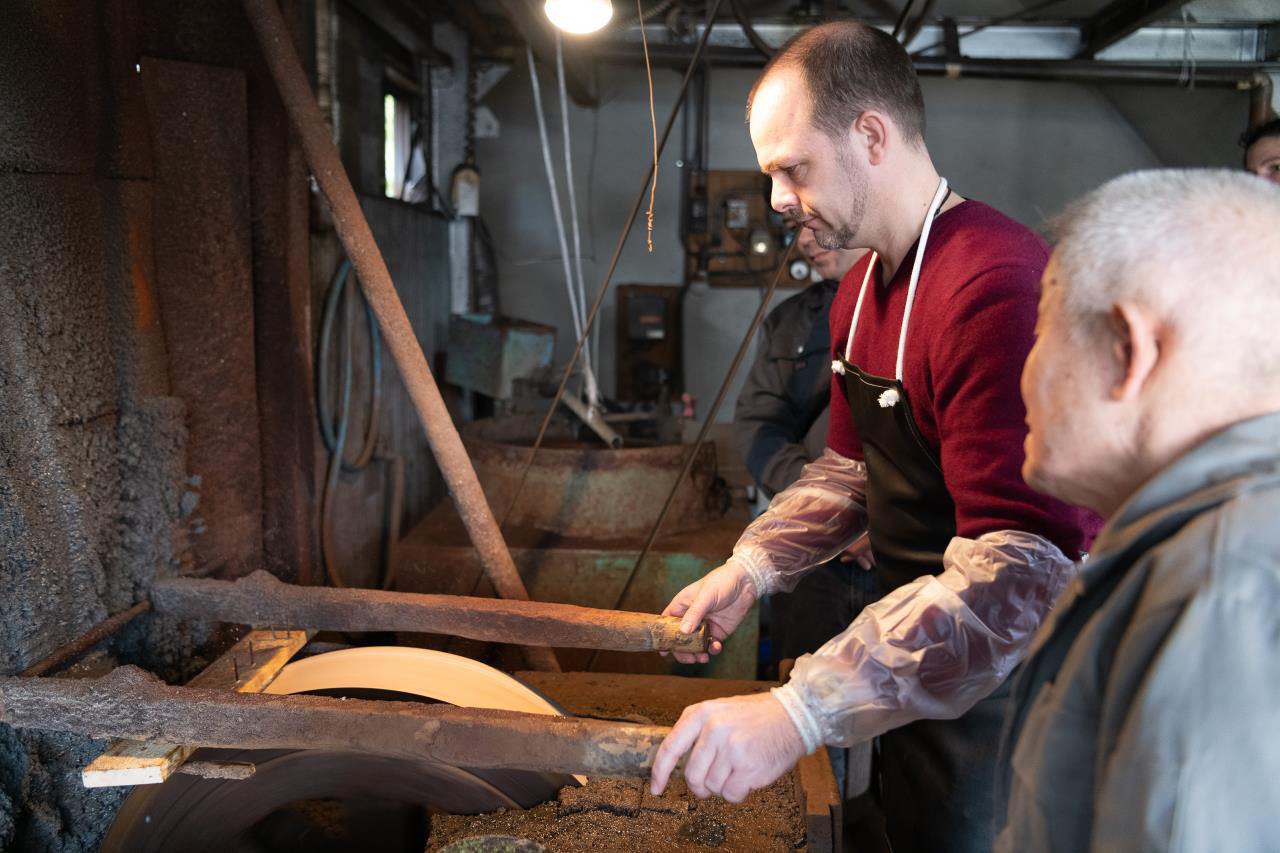 Using a wooden cartridge makes the whole experience safe.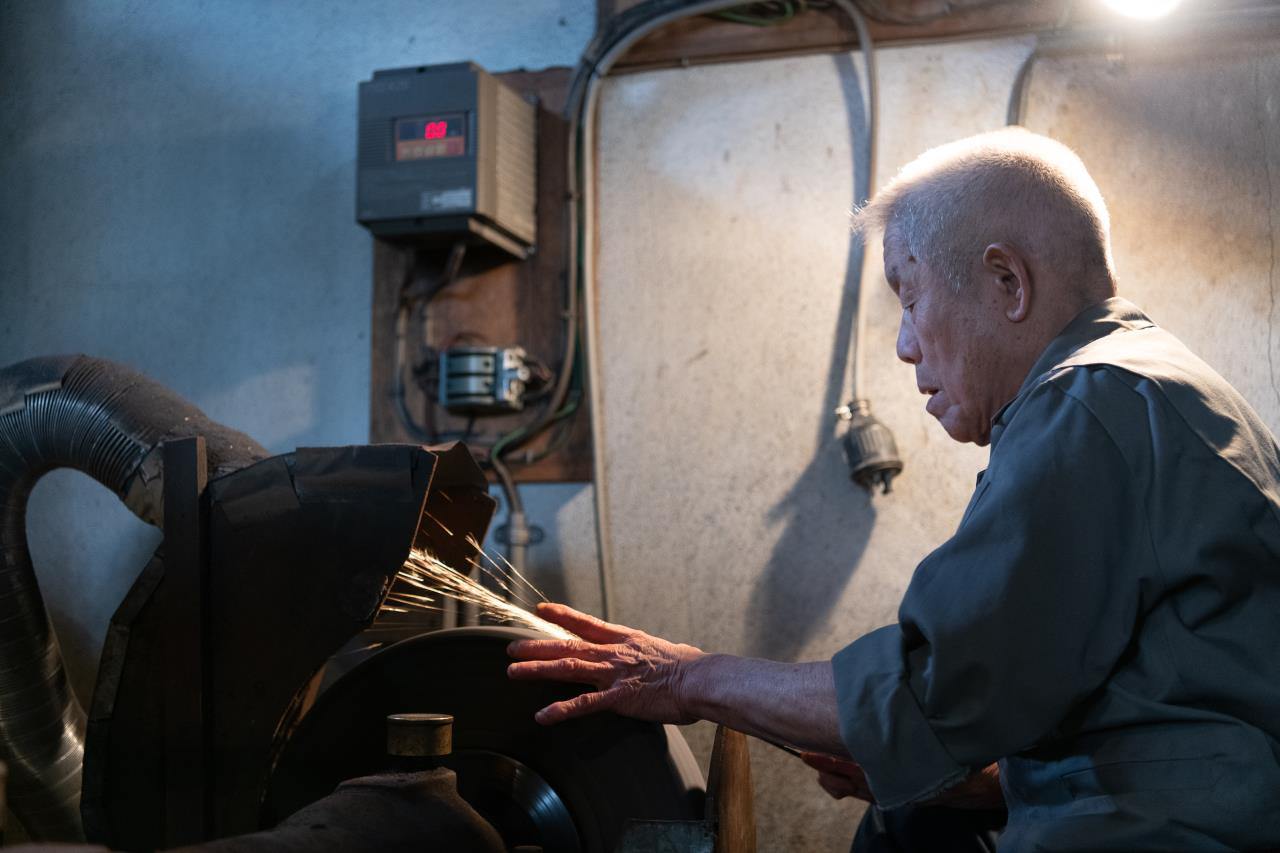 See the artisans' technique with your own eyes.
Hammering heated iron
Next you will visit a foundry that makes planes, which is a carpentry tool used to shave wood and create a smooth surface. This foundry has specialized in making plane blades for generations. You will experience the process of hammering and shaping red-hot iron heated to over 800℃. Sparks will fly - and temperatures rise - as you try to hammer the metal while keeping an even thickness. You are sure to be astonished by observing the technique of the blacksmith as they forge the metal into a finished product.
Cooking classes for Japanese cuisine or Japanese sweets and tea ceremony classes can be added as optional extras along with this tour.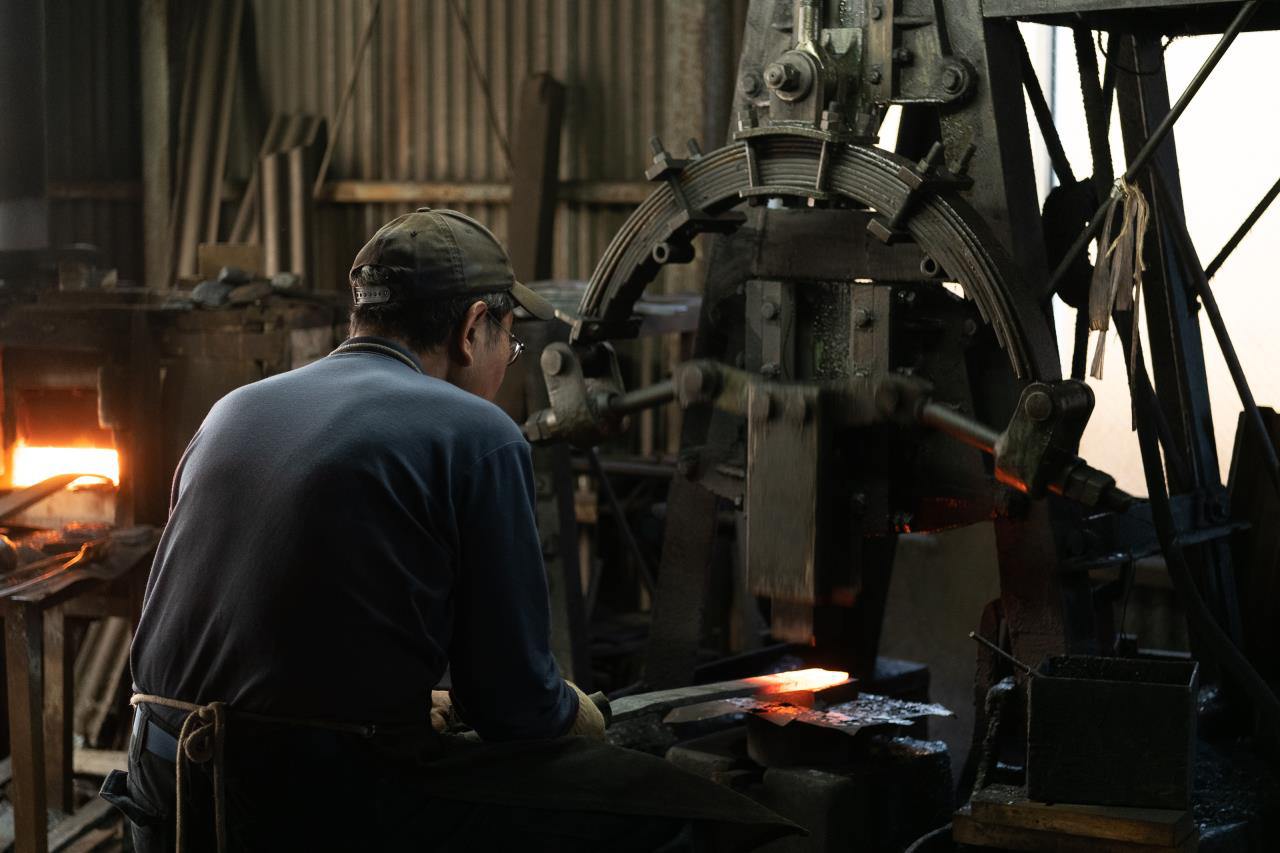 A machine meant for iron strikes the metal.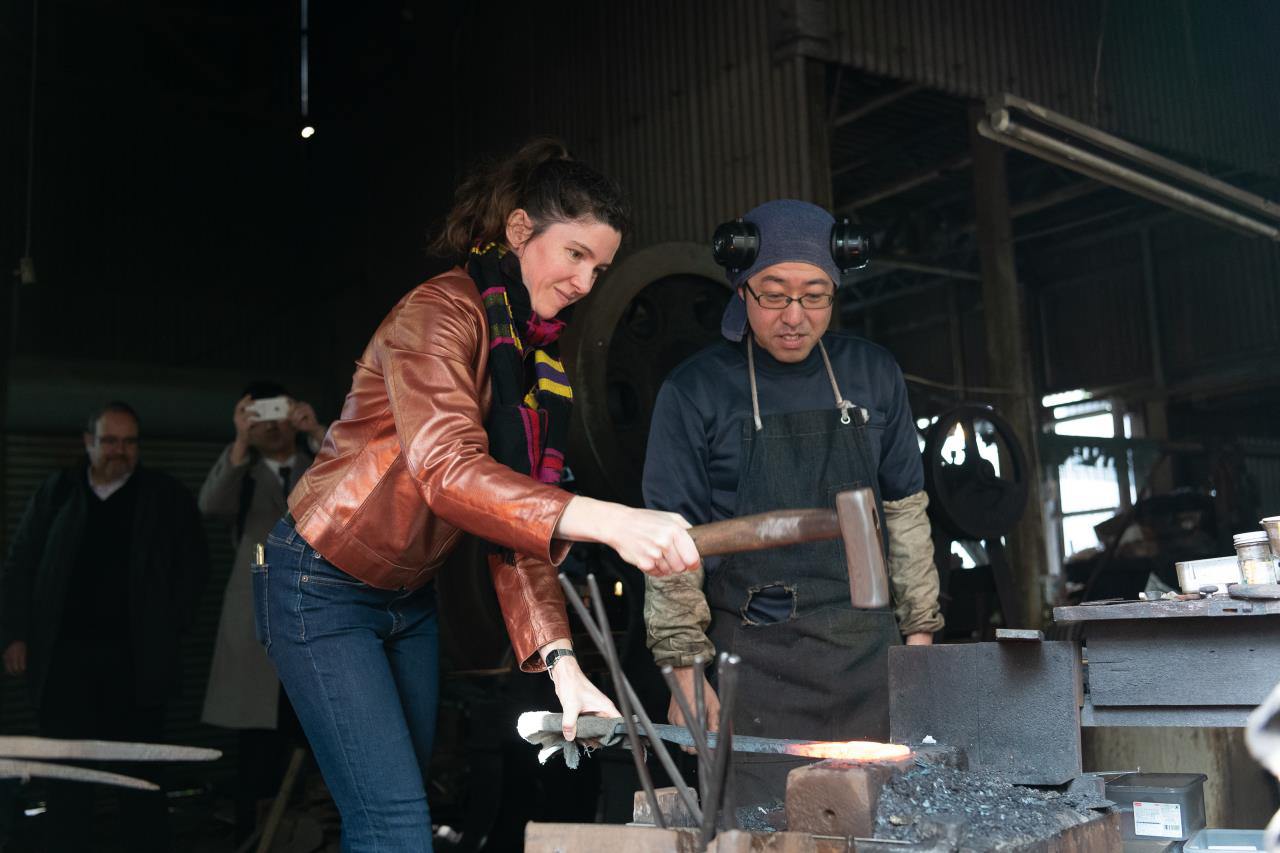 Careful instruction will make you feel like an artisan.
Facility information
You can experience these things here!
Facility names |
Nagahara Knife Manufacturing Company
Yamamoto Plane Manufacturing Company
Inami Shuzo Co., Ltd.
Miki Blade Manufacturing Company
Name of experience | Experience knife sharpening and iron forging
Address | Yunoyama Street, 2 Shiba-machi, Miki City, Hyogo 637-0414
Business Hours |9:50 a.m.-4:00 p.m.
Closed | Bookings required
Price |
24,000 yen (please arrange your own insurance)
*Optional extras include two types of tea ceremony (full experience or simple experience) and flower arranging.
Tea ceremony: Full experience 6,000 yen; Simple experience 3,000 yen
Flower arranging: 3,000 yen
Payment methods | Cash or credit card (VISA, Mastercard, American Express, JCB)
Number of guests accepted (groups)| From 3 persons
Telephone number | Miki Blade Manufacturing Company (Takegawa) 0794-82-0067
Multi-language support | Available
Official Website (Japanese)| https://www.city.miki.lg.jp
* No English website