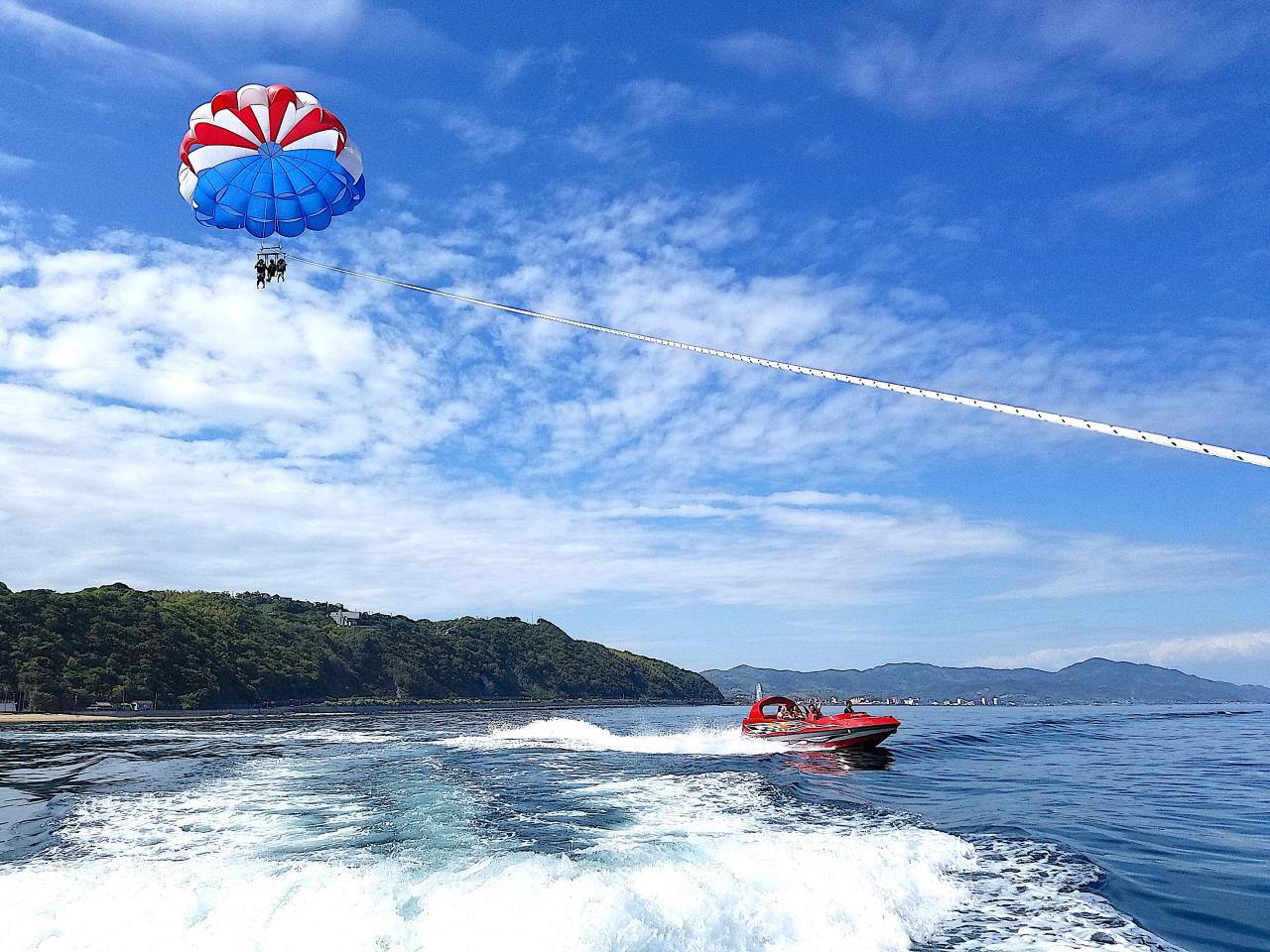 Jet Boating and Parasailing
A tropical island in Kansai - popular among international tourists
Because of the warm climate and being surrounded by the ocean, Awaji Island is sometimes referred to as the "tropical island in Kansai." Many international tourists visit the islands' marine leisure facility, SEA MOON RESORT, on Aiga Beach.
Easy registration using the reservation form on the website
The area is open from late April to late October. You can sign up for various marine sports on the day that you want to participate, but for jet boarding and parasailing, you can also make reservations. You can make a reservation on the website or Facebook's reservation form. July and August are busy months, so we recommend making a reservation early, as soon as your schedule has been decided on.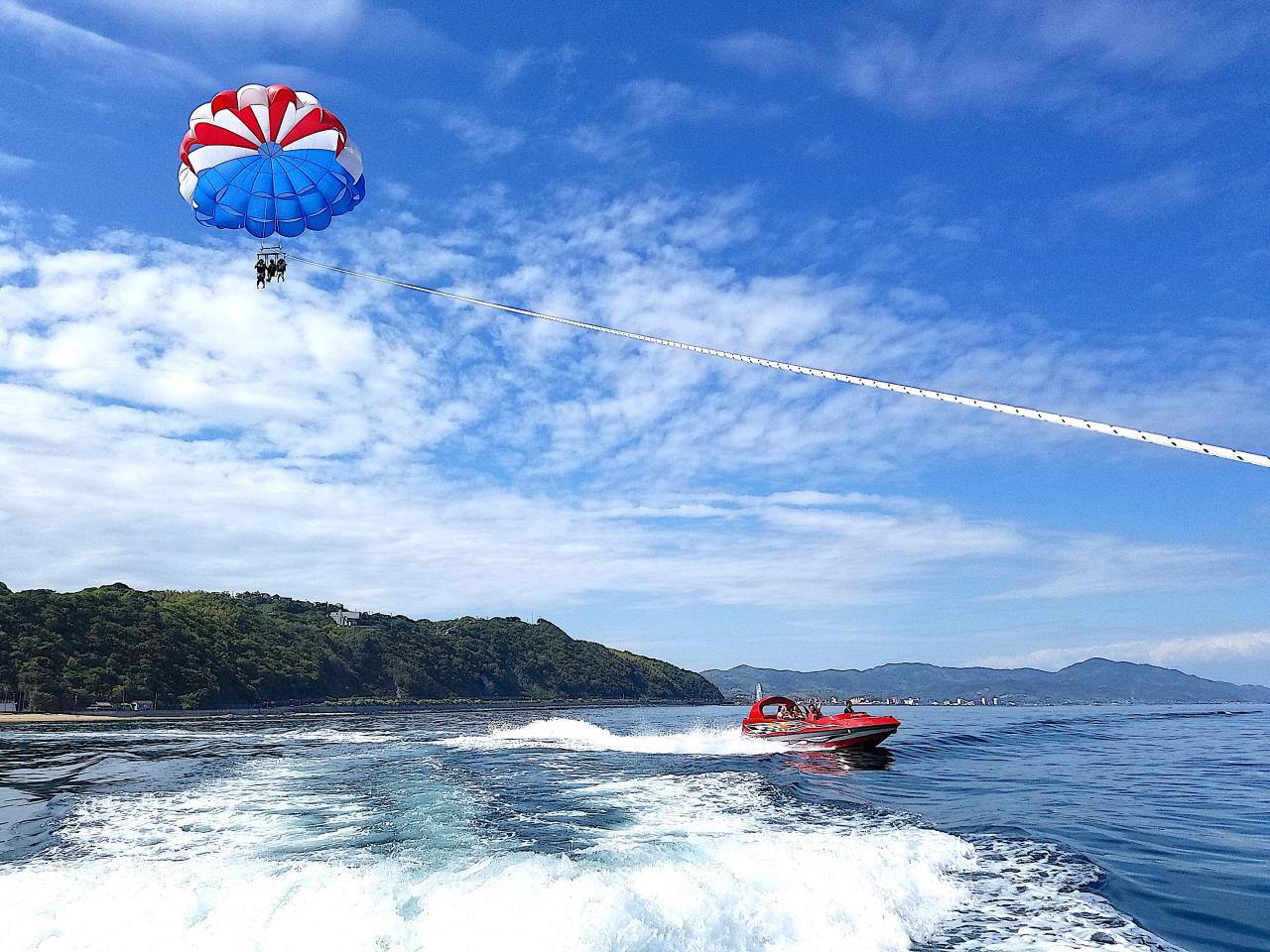 The facility is on the beach. It's great - once you are ready, you can start right away.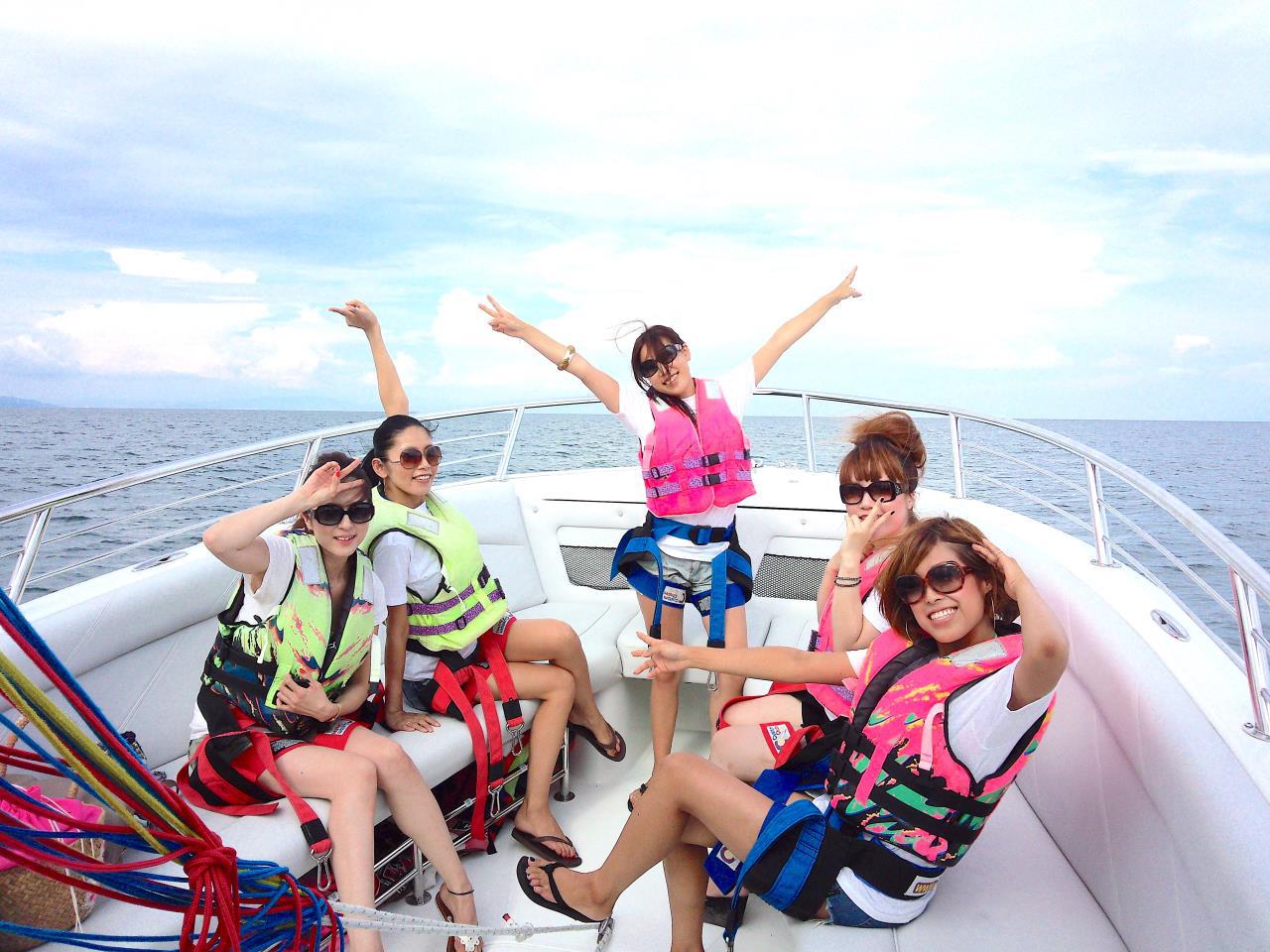 Have fun with your friends! Life jacket can be borrowed for free.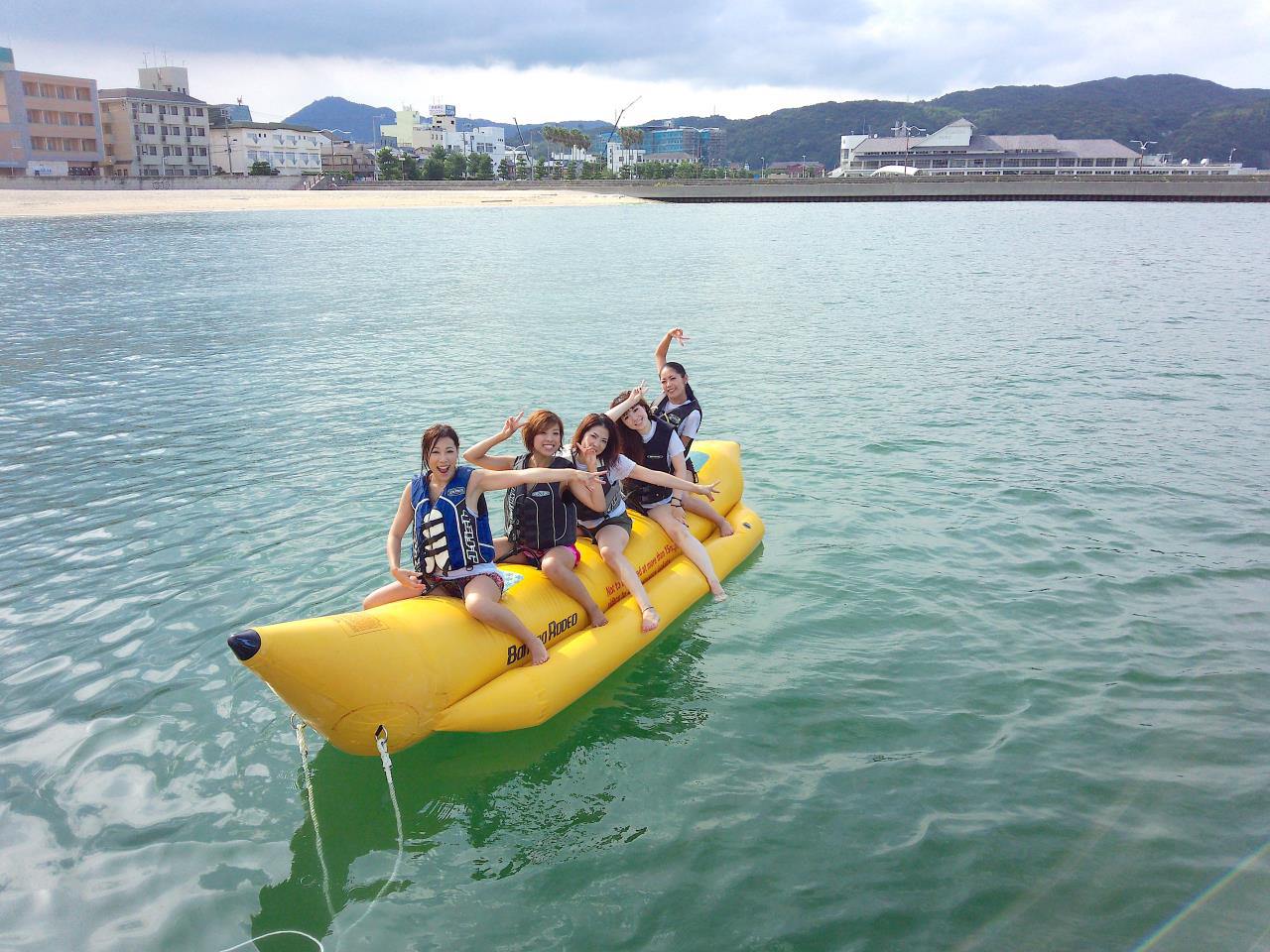 Banana boats, a classic marine sport, is a popular classic.
Safe and comfortable in your everyday clothes! Take stroll through the vast sky
The biggest appeal of the area is that this is the only place you can enjoy real parasailing in the Kansai region. After equipping a parachute, you take off from a boat in the ocean, and you go up and up into the sky, where you can enjoy taking a walk in the sky, for an amazing sense of freedom. Although it is a popular marine sport, you take off from the boat, so you don't have to worry about getting wet. It's safe to wear your everyday clothes, so anyone from three through eighty years of age can try it out. The parasail can generally fit two people, but there are also three-seaters (with a weight restriction), so it's perfect for sharing the excitement with your close friends. Enjoy the moment with an extraordinary 360 view.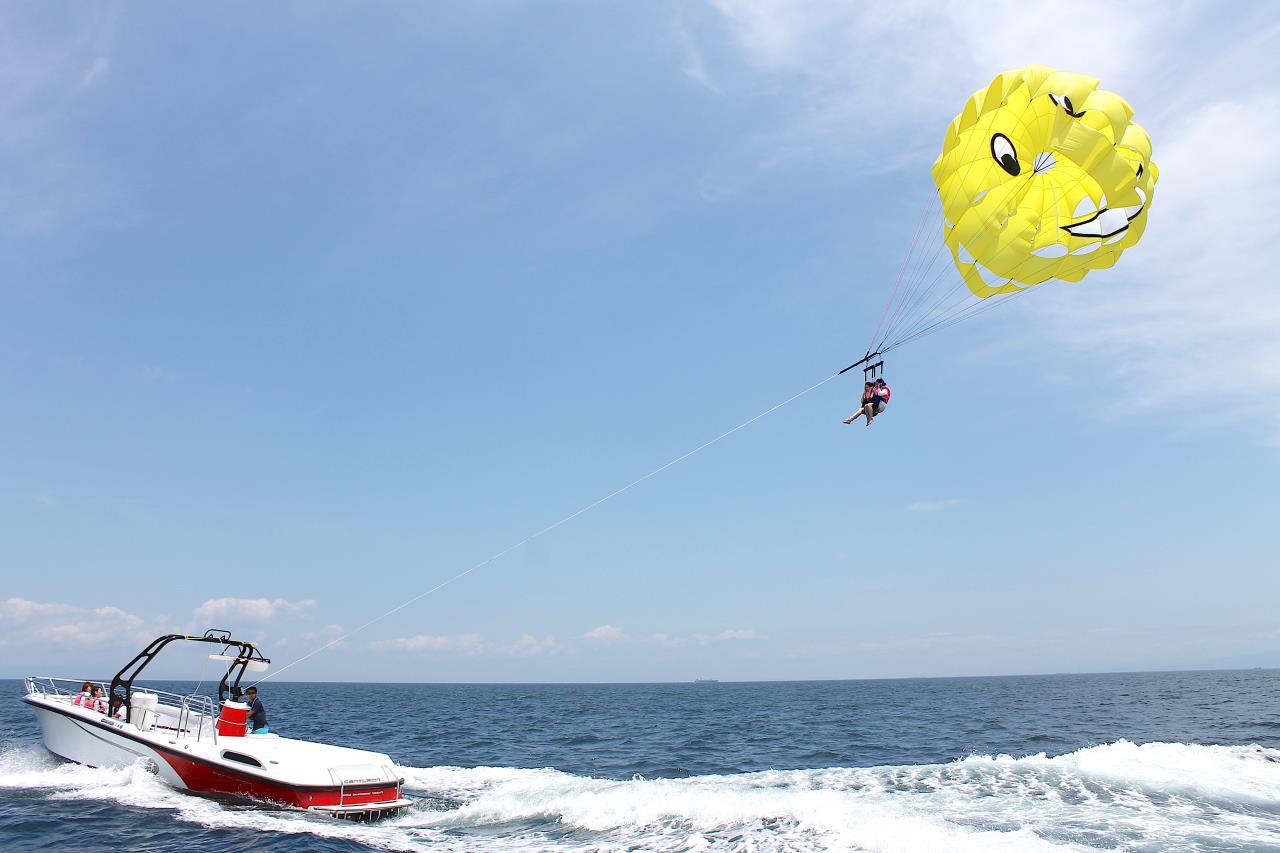 You float to an incredible 50 to 60m above the ocean!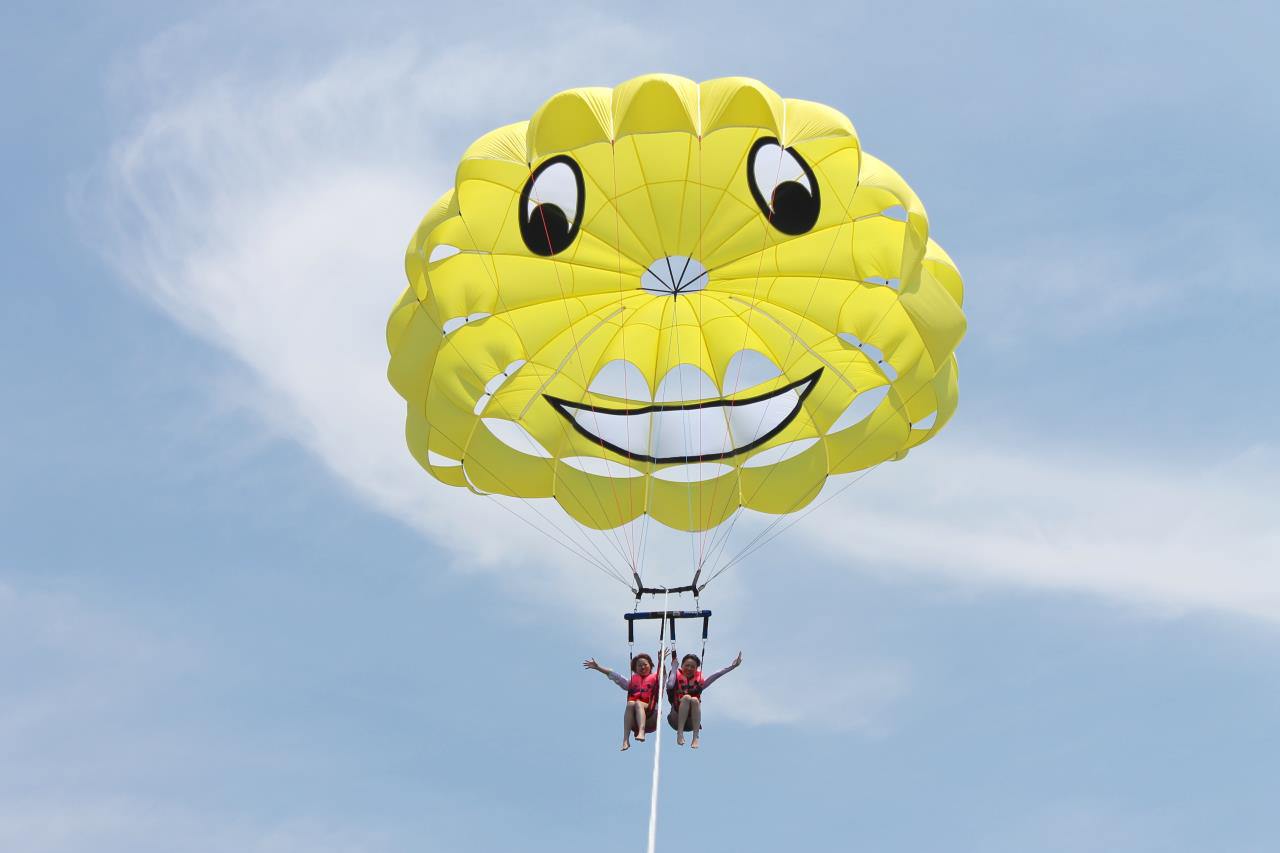 It's a sport safe for beginners. Give it a try!
Enjoy some BBQ after the marine activity
There are many activities other than parasailing on the standby list as well. Jet boating, where you travel at a velocity of more than 60km/hour to enjoy the continuous drifts and full 360 spins is sure to make you scream, and is highly recommended. Also, banana boats, where you balance your boat as team, is available. Other popular sports are paddleboards & sea kayaking, where you calmly drift across the water. After thoroughly enjoying the vast ocean, why not enjoy the BBQ listening to the calming sound of the waves? Next to the beach is a hotel, Sea Aiga Kaigetsu, where there are terrace seats by the ocean, and you can enjoy BBQ with a variety of seafood and the local Awaji Island cuisine.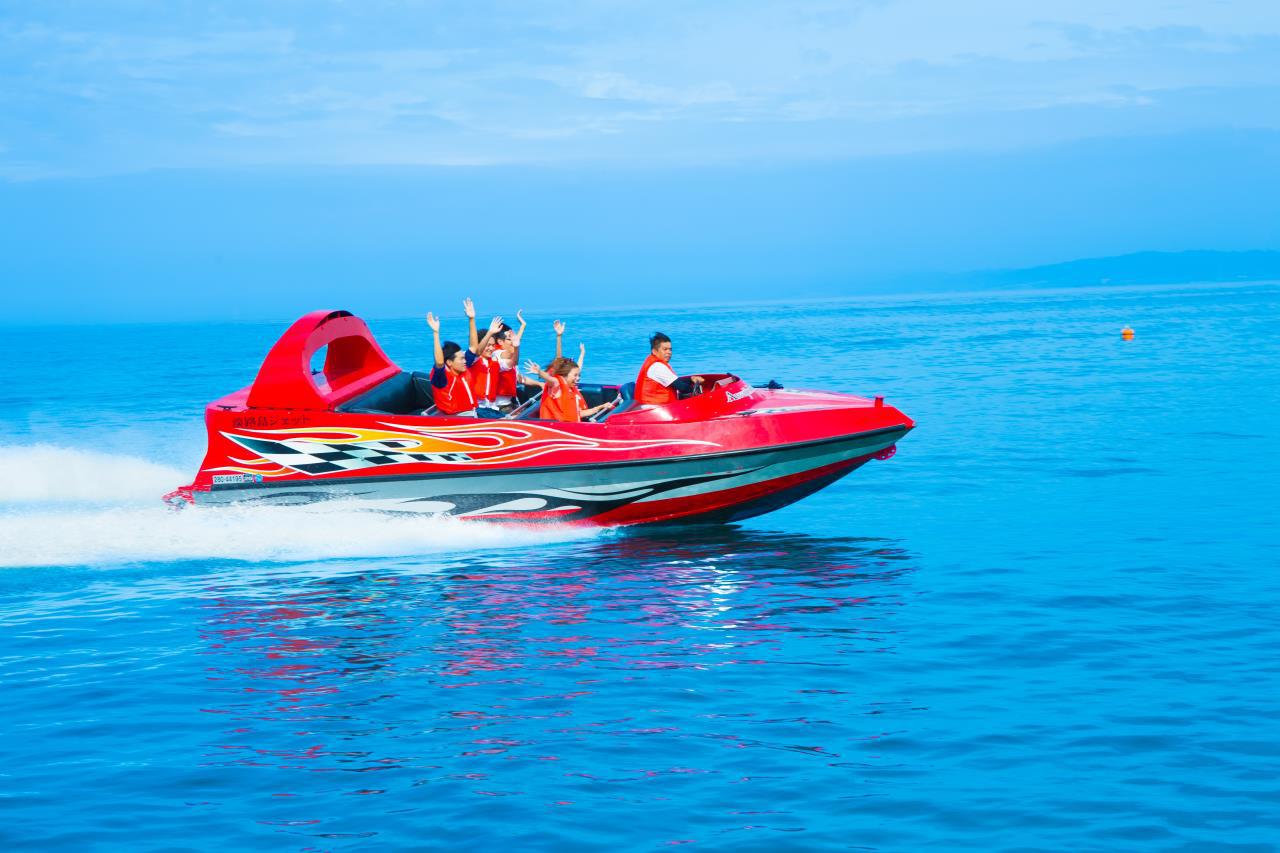 Exciting! Exhilarating! Jet boarding is highly recommended.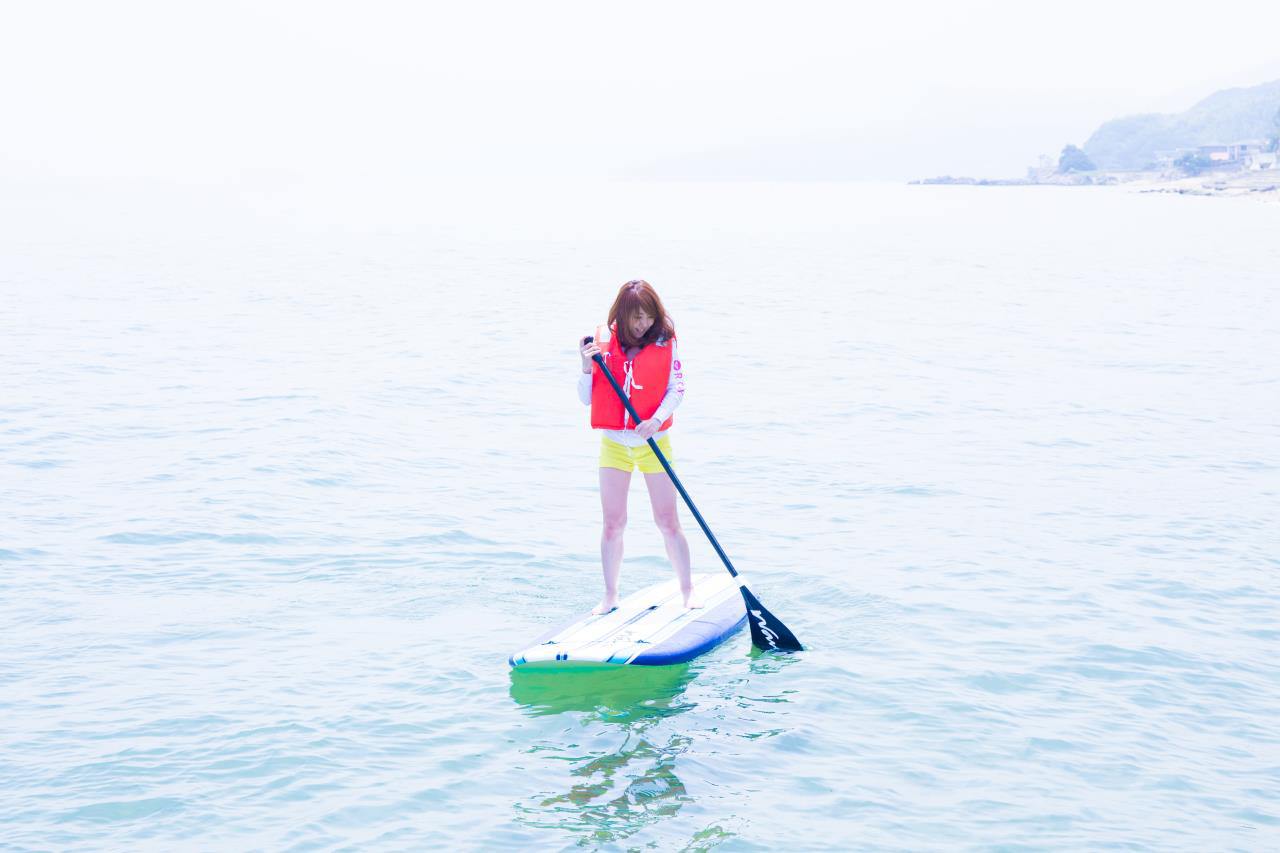 Use your strength to paddle and calmly drift on your paddleboard.
You can enjoy BBQ during the off-season as well!
On the BBQ menu, you can select a plan to include Awaji Beef if you make your request beforehand. Awaji Beef is a famous brand beef of Awaji Island. It is renowned for the juicy and melt-in-your-mouth deliciousness. You can still enjoy a BBQ meal during the off-season for marine sports, in the fall and winter, so please feel free to contact the restaurant.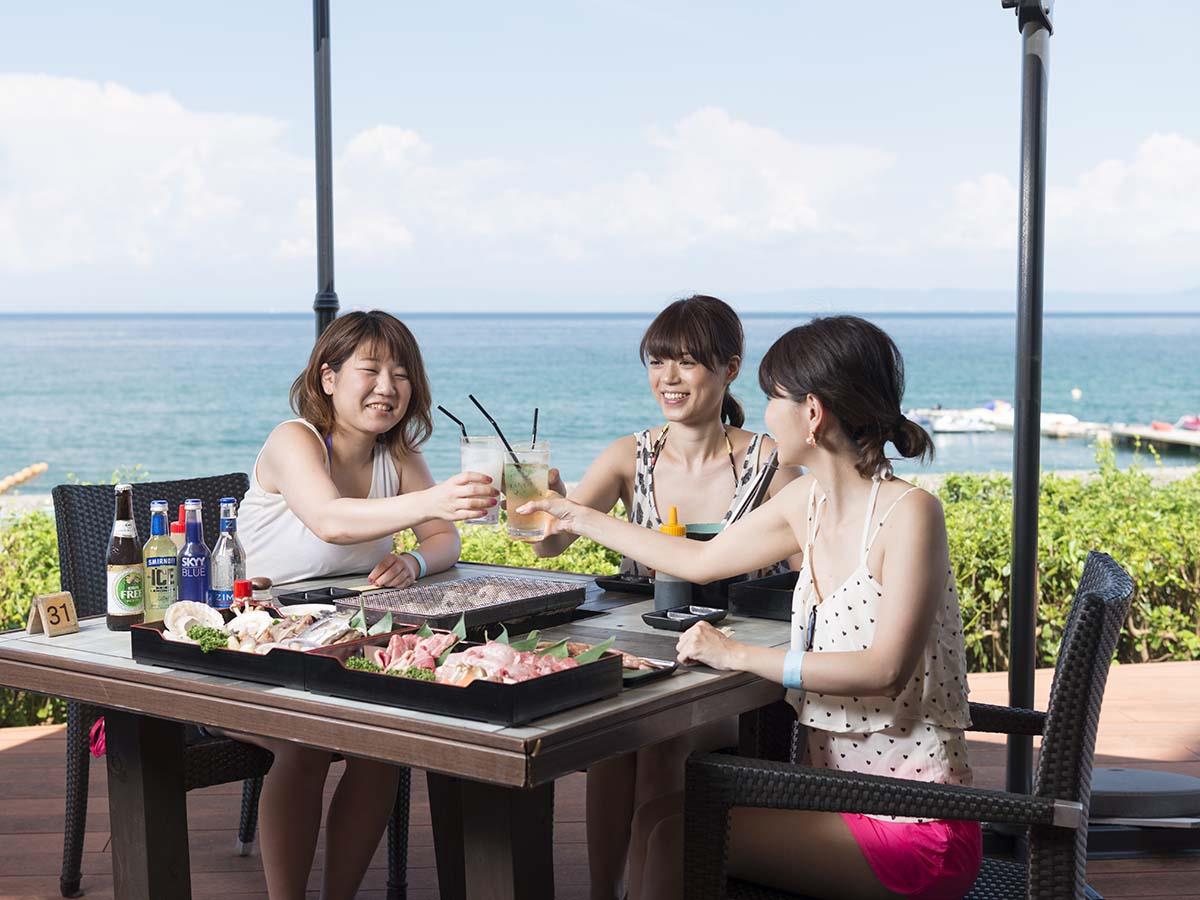 The BBQ area is on the beach, with the ocean right in front of you. The menu plans include the regular set menu, starting from 3,828 yen, and the Awaji Beef set menu, starting from 6,600 yen (both includes tax)
Facility information
You can experience these things here!
Name of facility | SEA MOON RESORT
Name of experience | Jet Boating and Parasailing
Address | 1970-6 Aigachoheianura, Sumoto City, Hyogo 656-2121
Business Hours | 10:00 a.m.-5:00 p.m.
Closed | No holidays *Service is open from late April to late October. Only open on the weekends and holidays in October.
Budget |
Jet Boating from 2,500 yen /person
Parasailing from 7,000 yen /round, per person
Paddleboarding 1,500 yen /hour, per board
Banana boats  from 2,000 yen /person, every 10 minutes
BBQ (Beach BBQ seafood set) from 3,480 yen /person
Payment methods | Cash only
*Some venues at Sea Aiga Kaigetsu accept the following credit cards: VISA, JCB, Diners Club, MasterCard, American Express, UnionPay
Number of guests accepted (groups)| From 1 person
Telephone number | 0799-24-4455 (Hours: 8:00 a.m. to 10:00 p.m.)
Multilingual support| None * English service available only through email
Official Website (Japanese)| http://seamoonresort.jp
* No English website
Note:
*English reservation website
https://www.govoyagin.com/ja/activities/japan-hyogo-awaji-island-jet-boat-and-parasailing-experiences/10147
Check also...