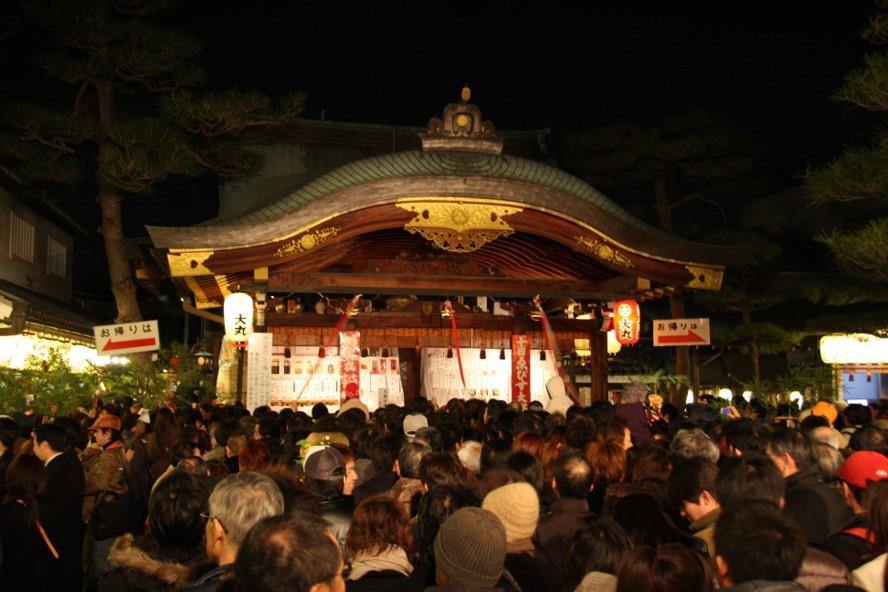 See maiko, apprentice geisha, dance to pray for prosperity in business at the start of the year in Kyoto!
Starting on January 8 at the Ebisu-jinja Shrine in Kyoto, movie actresses from the Toei Kyoto Studio Park in Uzumasa will come to pay their respects at the shrine, borne aloft in large hoe-kago baskets colored in red and white and decorated with the auspicious trio of pine, bamboo, and plum, all accompanied by rousing shouts of "Shobai-hanjo de sasa motte koi!" ("Your business will prosper if you bring us bamboo branches") while traditional Ebisu-bayashi music plays. During this procession, participants hand out branches of auspicious kitcho-zasa bamboo to each of the department stores, shops, and banks along the way, all as part of a celebration of the beginning of the new year in Kyoto. The largest part of the festival takes place on the 10th, and on the 11th maiko apprentice geisha hand out lucky bamboo branches and rice cakes.
Ebisu: The guardian deity of the fishing industry and a symbol of the fortune produced by the sea. Ebisu is depicted with a sea bream under his left arm, and a fishing pole in his right hand.
Photos
Event information
Access

Take the Keihan Electric Railway to Gion-shijo Station, then walk approx. 5 minutes.

Date

8 Jan 2022 - 12 Jan 2022

Period

January 8 to 12
Map
Nearby Spots