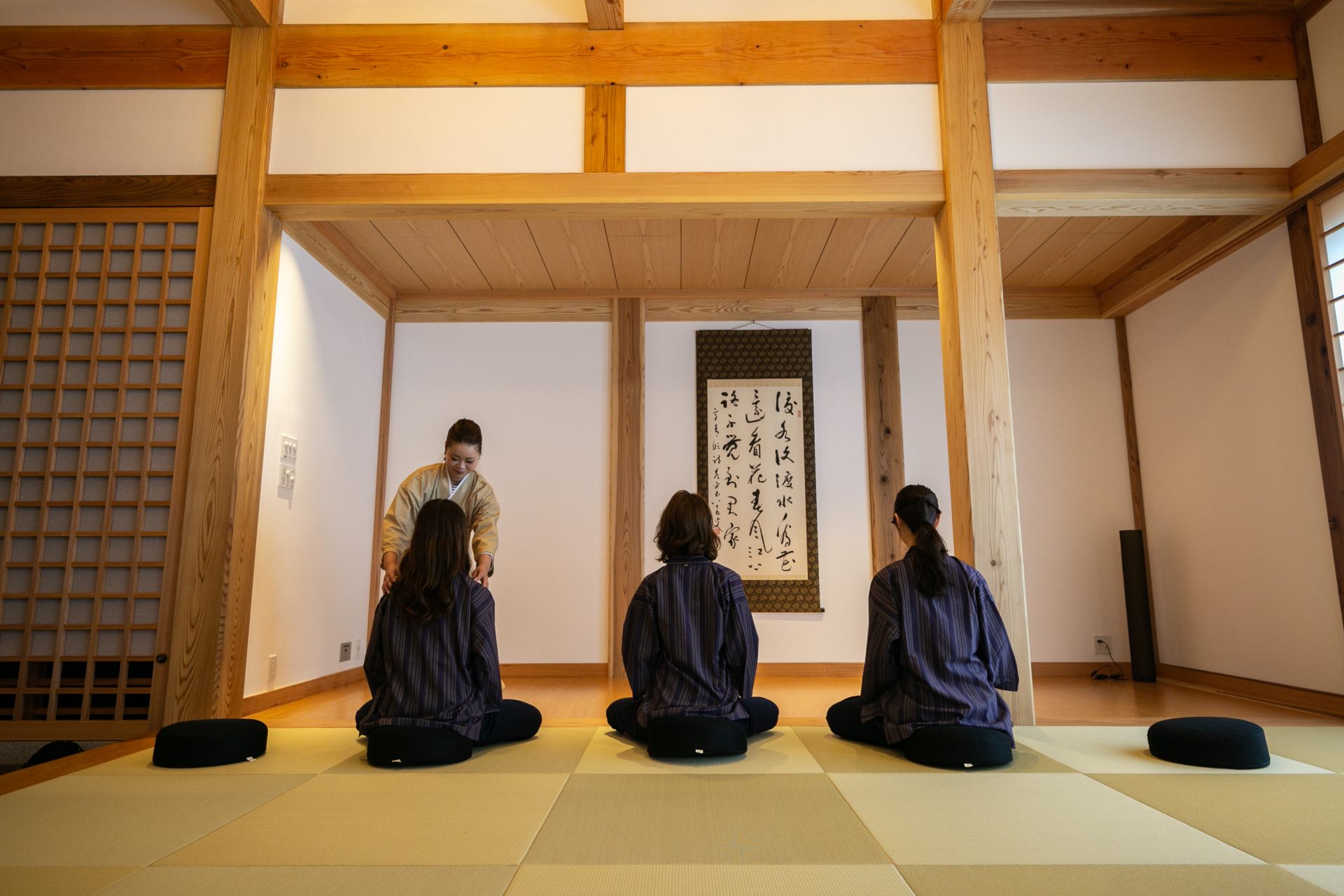 To Fukui Prefecture: Stepping into 770 years of Zen and the Old-World Papermakers' Town.
Fukui Prefecture sits against the Japan Sea just north of Kyoto, hugged by Ishikawa, Gifu, and Shiga prefectures. Previously called "Echizen", this area once served as the seat of the Azai Family and flourished after the Onin War. In addition to its vast history and heritage of "Echizen washi" paper craftsmen, many visitors know Fukui as the home to Eiheiji Temple, nicknamed the "temple of eternal peace", which still stands today as one of the most frequented temples in the Hokuriku area.
From a National Living Treasure making globally acclaimed Echizen Washi Paper to traditional craftsmen a Zen escape at the monastery, Fukui is a hidden gem that's layered with a precious, tangible history and undeniable flair just waiting to be peeled back.
Kick off in Obama! Journey towards the origin of Japanese food and the country's 3rd biggest torii gate.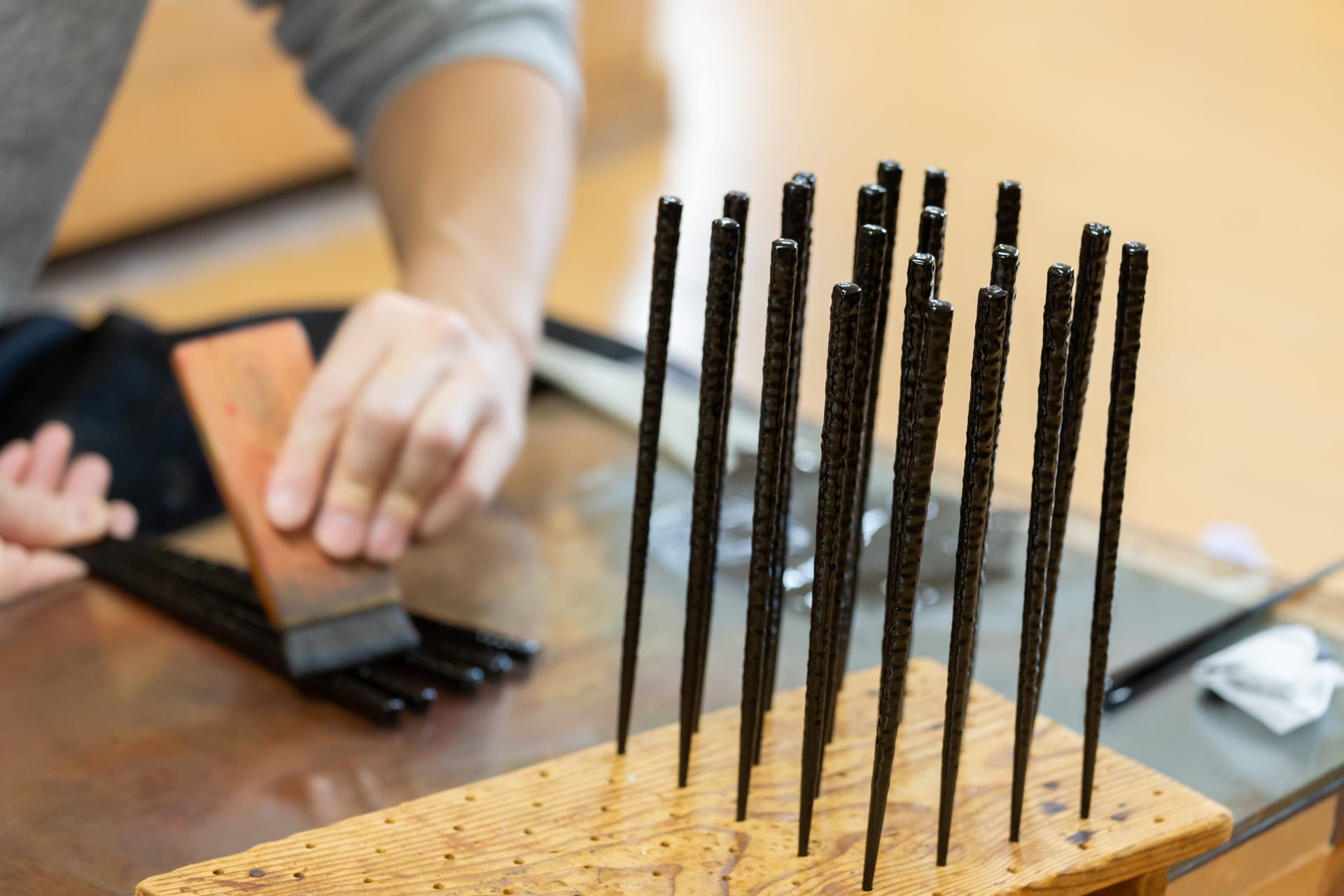 Head out from Obama Station and make your way to Hyozaemon.
Inside you'll find a workshop on the 2nd floor where they produce "katobashi" chopsticks made with recycled pro baseball bats that broke during games or practice. You'll also find artisans creating mesmerizing designs with lacquer and mother of pearl that you can watch up close. There's even a workstation just steps away where you can practice carving your own pair of chopsticks.
Once your studio tour is complete, head over to Kehi Jingu to visit the head guardian god of the Hokuriku region. Standing at 11 meters tall, the large wooden gate leading into the temple is the 3rd largest in Japan behind Kasuga-taisha Shrine (Nara) and Itsukushima Shrine (Hiroshima). You won't be able to help stopping to peer up at the vermillion painted gate in all of its breathtaking splendor.
Feast on Local Favorites for Lunch at Toki no Kura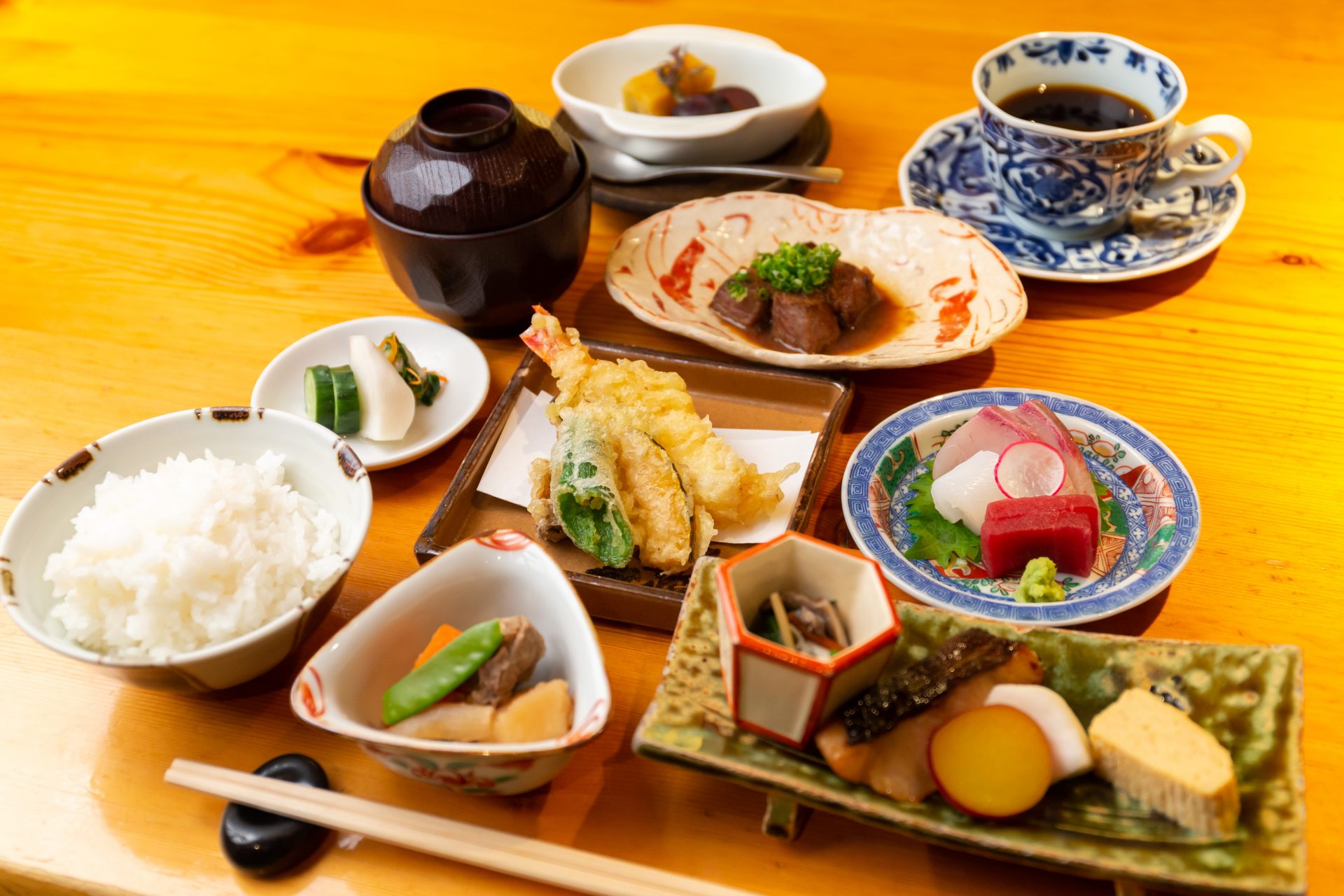 If coming from Obama, you can find the Toki no Kura restaurant along the way to Eiheiji. This famous spot was reviewed in the MICHELIN Bib Gourmand 2021. In addition to fresh seafood dishes from Fukui's prized Echizen Kaigan coast, you'll also find lunch items with plentiful "Echizen" local favorites and Wakasa Beef. Just like the name of Fukui's famous brand "Tokishirazu", this is the perfect place to "lose track of time" while feasting in a cozy, private room.
Private Tea Ceremony in the Garden of a Historic, Cultural Property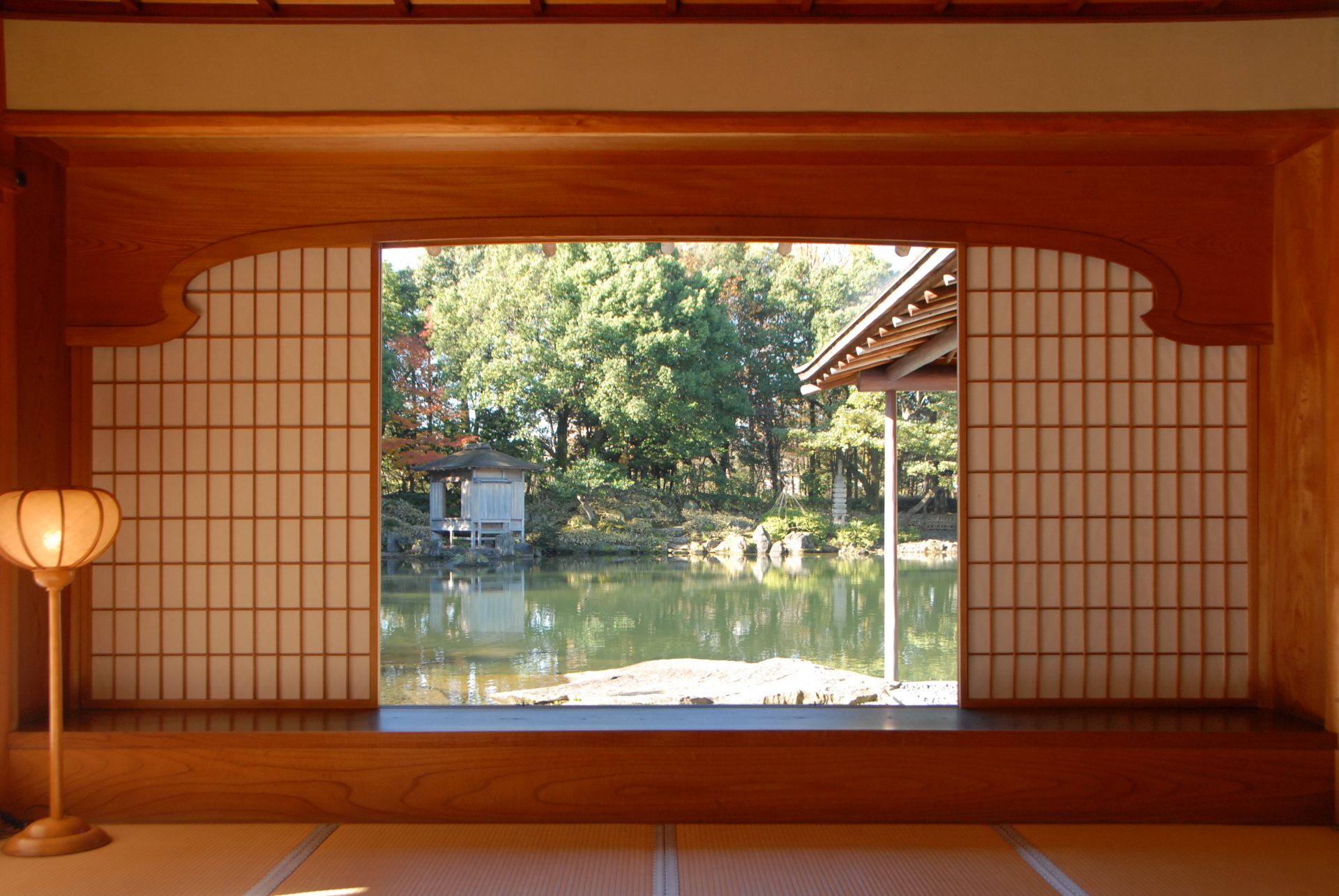 Yokokan Garden is the modern name of the sprawling grounds once called "osensuiyashiki" when it belonged to the Echizen-Matsudaira clan. The tea room inside offers a serene escape and heart-warming views as you peer out over the garden. This is where you'll enjoy a completely private tea ceremony experience led by tea master Souka Shioya. You may find yourself sit a little straighter as the enveloping quiet settles over the tea room as a natural response to the heartfelt presentation and warmth of your host.
Join in on an Authentic Morning at the 770-years-old Eiheiji.
Next you'll head towards the eastern part of Fukui for Eiheiji in Fukui and check in at the Hakujukan inn in front of the temple gate. Inside you'll find the hard-to-miss, 300-year-old "Hou" wooden fish statue which was used to signal meal times until a few decades ago. The rooms inside are designed after the elevated, Japanese aesthetic that's encapsulated by the text "In Praise of Shadows". Along with the Alexa system affixed at the reception, you'll find a number of whimsical fusions of both Japanese modern and traditional aesthetic.
This is where you will spend the night before waking up at 4AM the next morning to find an air of serenity and incredible calm.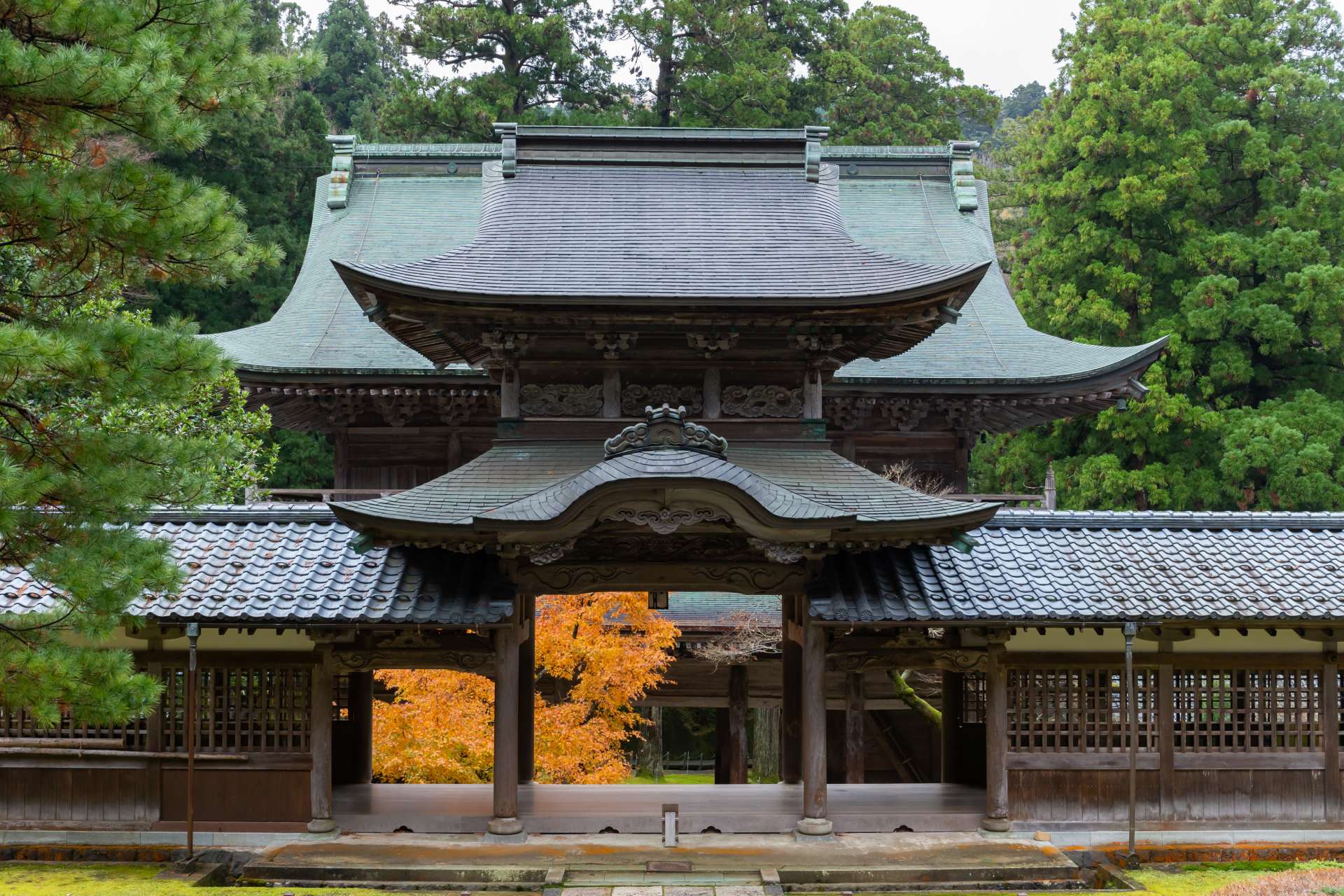 From a time of meditation and reciting sutras, spend a time lost in the world of the monastery before heading up to the "Hattou" Hall. Here you'll stand among a chorus of over 100 unwavering voices as the monks read scriptures. Their voices will seem to almost reverberate in your bones; a truly authentic, out-of-body experience that will feel nothing like tourism. You will then return from Eiheiji to the temple lodging to enjoy a traditional shojin ryori monk's meal before checking out. After checkout you'll have one final chance to participate in a Zen Meditation session at Eiheiji, emptying your mind with the clear calm that echoes off the temple walls.
A Mouthwatering Fusion of Locally Produced French Cuisine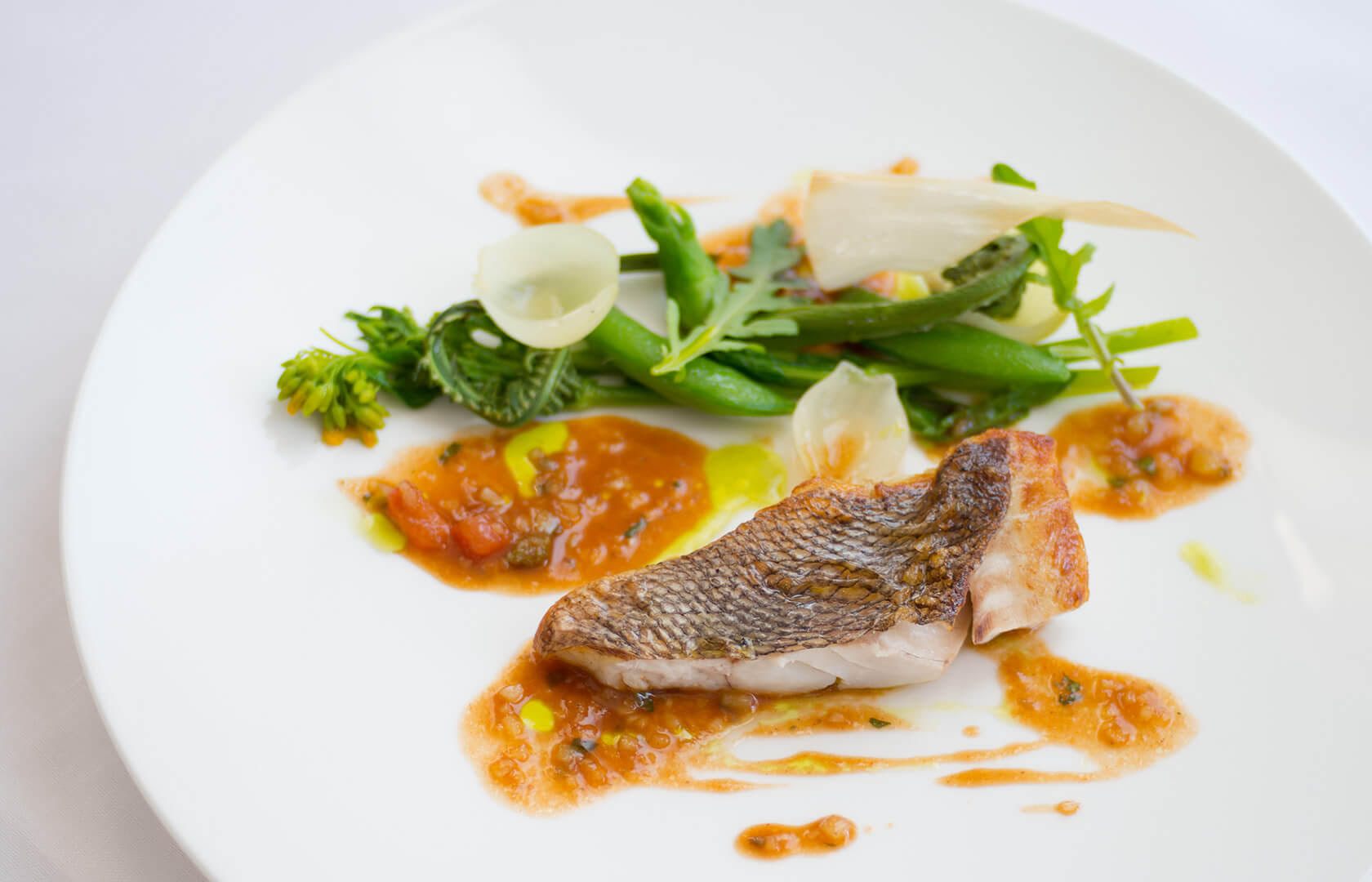 After a morning in the world of Zen it is time to make your way back into Fukui City for a lunch at Soin, the full on French restaurant featured in MICHELIN Bib Gourmand. While French in design and flavor, the ingredients are sourced locally, celebrating the area with lightly seared seafood and succulent bites from the Hokuriku coastal area. Only in Fukui could this perfect marriage of delectable seafood come together so perfectly with the flavors of French cuisine.
Into the Land of Master Papermakers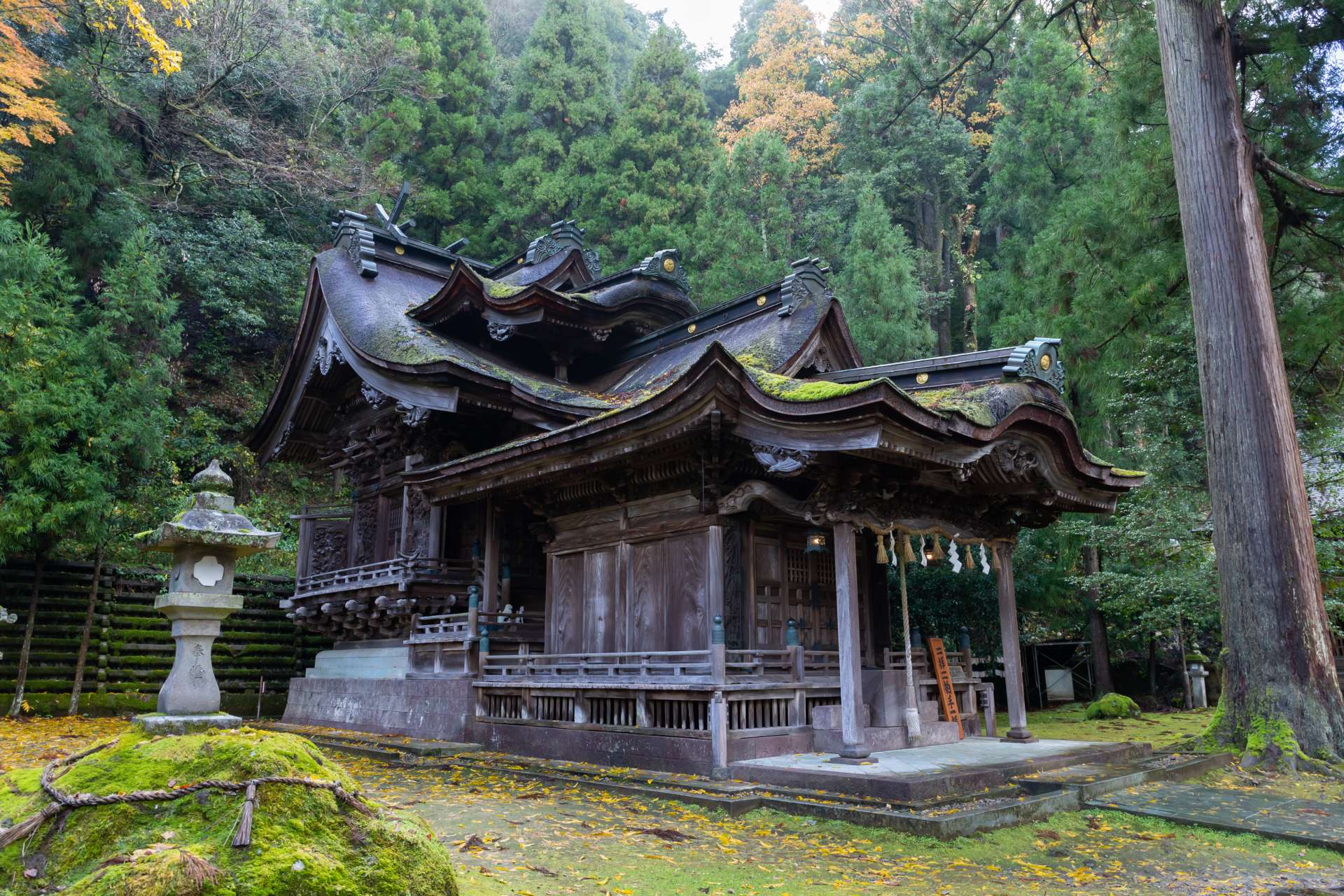 After lunch you'll make your way south to the town of Takefu. There you will find the area nicknamed "Gokasho", which is the papermaking mecca that's also home to Okamoto Otaki Shrine. Legend has it that this Shinto shrine worships the guardian Kawakami Gozen who first bestowed the art of papermaking to this village 1500 years ago. There is a local guide available to provide more details about the Shrine's origin story and breathtaking construction.
The Iwano Heizaburo Seishijo Paper Mill Enjoy a private studio tour and experience the "Kamisuki" papermaking chorus firsthand.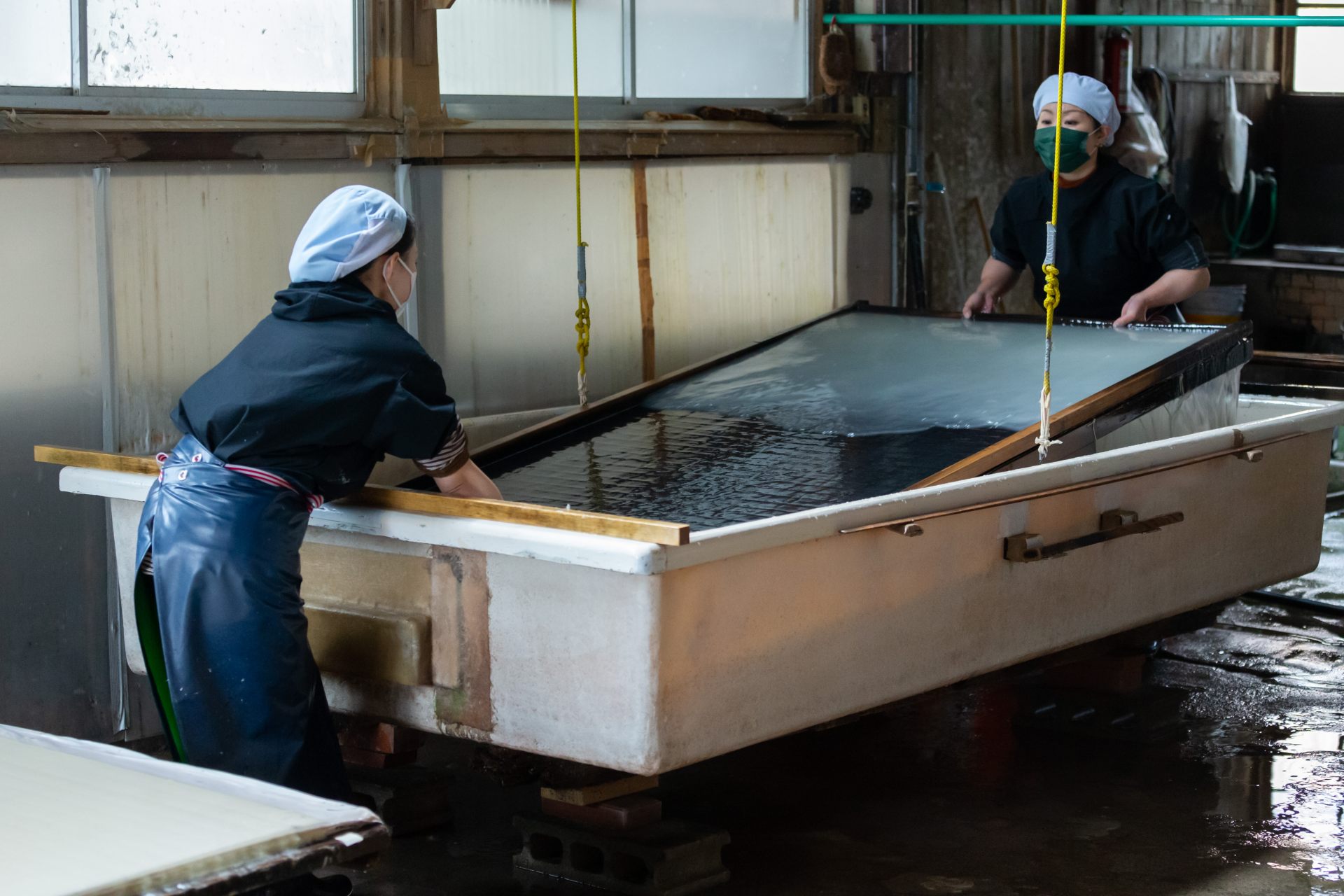 Now it's time to enter into the heritage tradition at a "kamisuki" papermaking studio. The Iwano Heizaburo Paper Mill is the largest Echizen Washi paper studio in Japan. Inside you'll enjoy a private guide from craft expert Akiko Tamamura. This tour includes not only an explanation of how the paper is made, but also an exclusive song performance of the traditional "Kamisuki no Uta" (Papermaking Song) firsthand! Still your heart as the rich tune and rhythm resonate from within you.
A studio visit of Living National Treasure Iwano Ichibei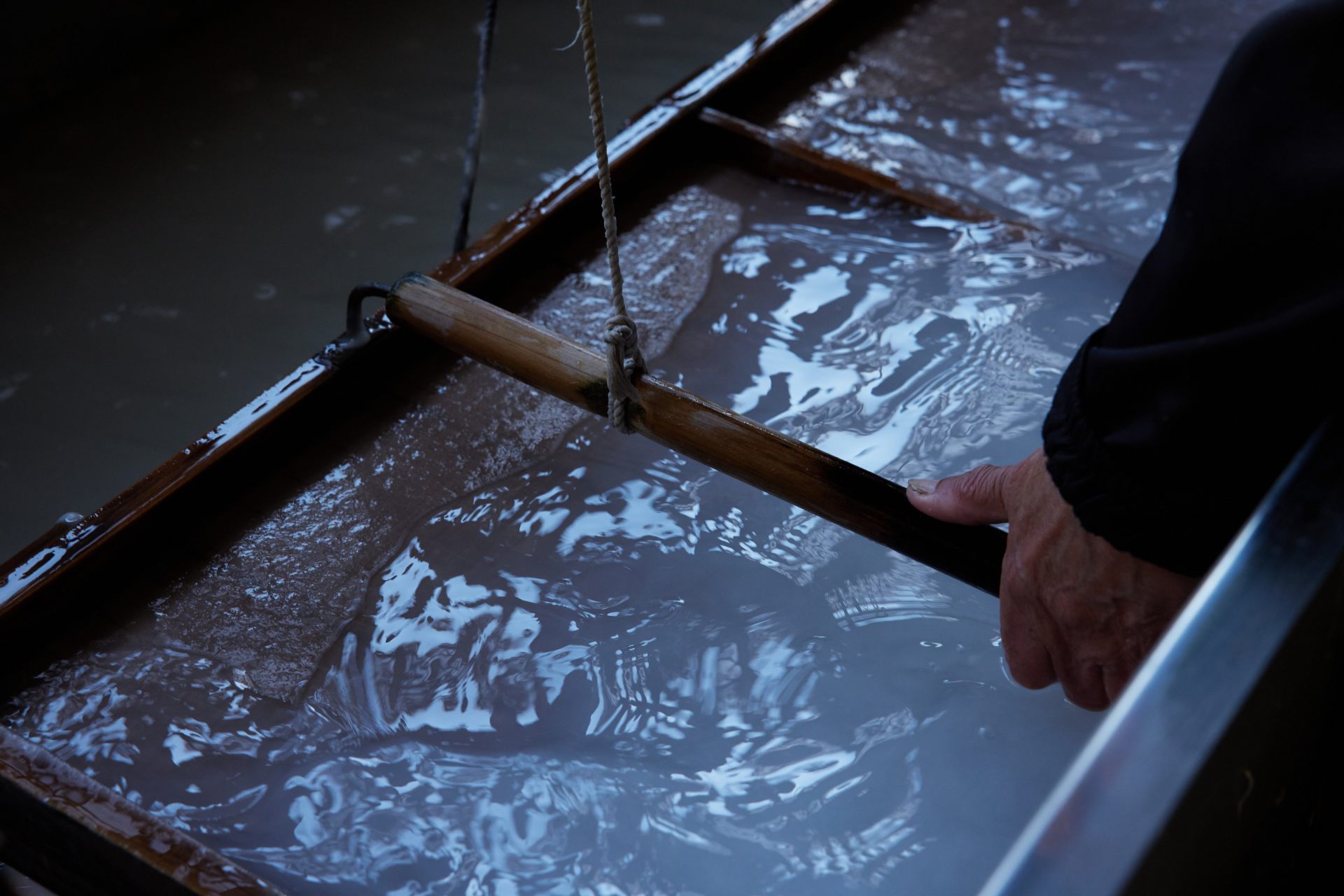 A short stroll from Iwano Heizaburo's Paper Mill will bring you to the studio workshop of the esteemed Living National Treasure, Iwano Ichibei. While he is already 88 years old, his exuberant vibrance and passion towards his work are unmissable as he pulls you into the stories of his daily life at the workshop. Watch has Iwano painstakingly transforms bark and river waters into washi paper before your eyes, using the same generational method that is sought after today by artists and museums around the world.
A momento from Iwano Heizaburo and Iwano Ichibei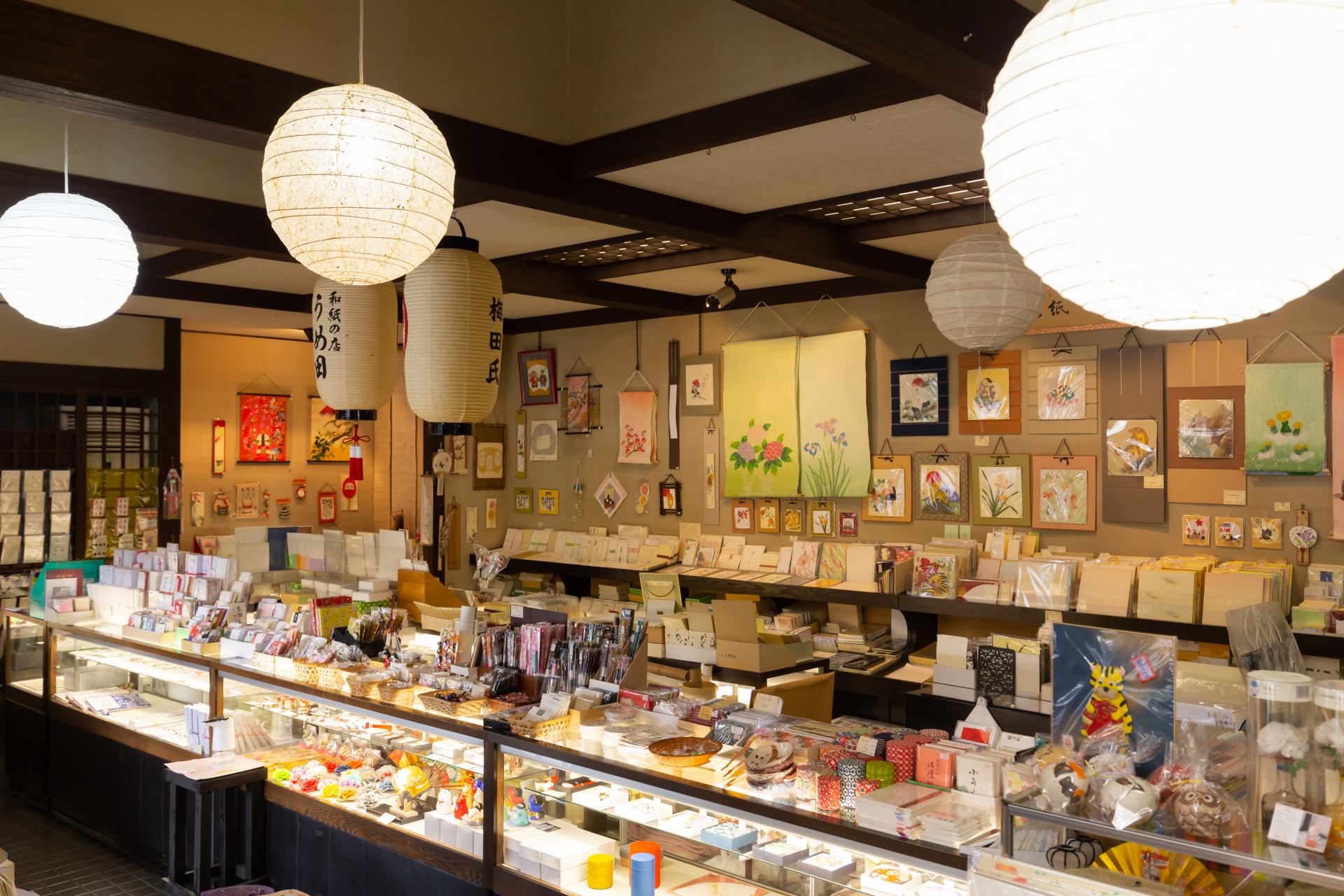 To commemorate your trip, you'll have a chance to visit Umeda, a famous souvenir shop with over 2000 intricate pieces that are made with Echizen Washi paper. Umeda was also a paper mill in its bygone days, giving the interior a robust, authentic flair as you shop. This is one of the few places where you can buy authentic works from Iwano Heizaburo and Iwano Ichibei, so feel free to speak with the staff and find the perfect selection to suit your trip and tastes.

By personally visiting Fukui and experiencing and telling about the wonderful culture and tradition we encounter there, we hope we can be some help in ensuring that charming tradition and culture of Fukui is passed down to the next generation.