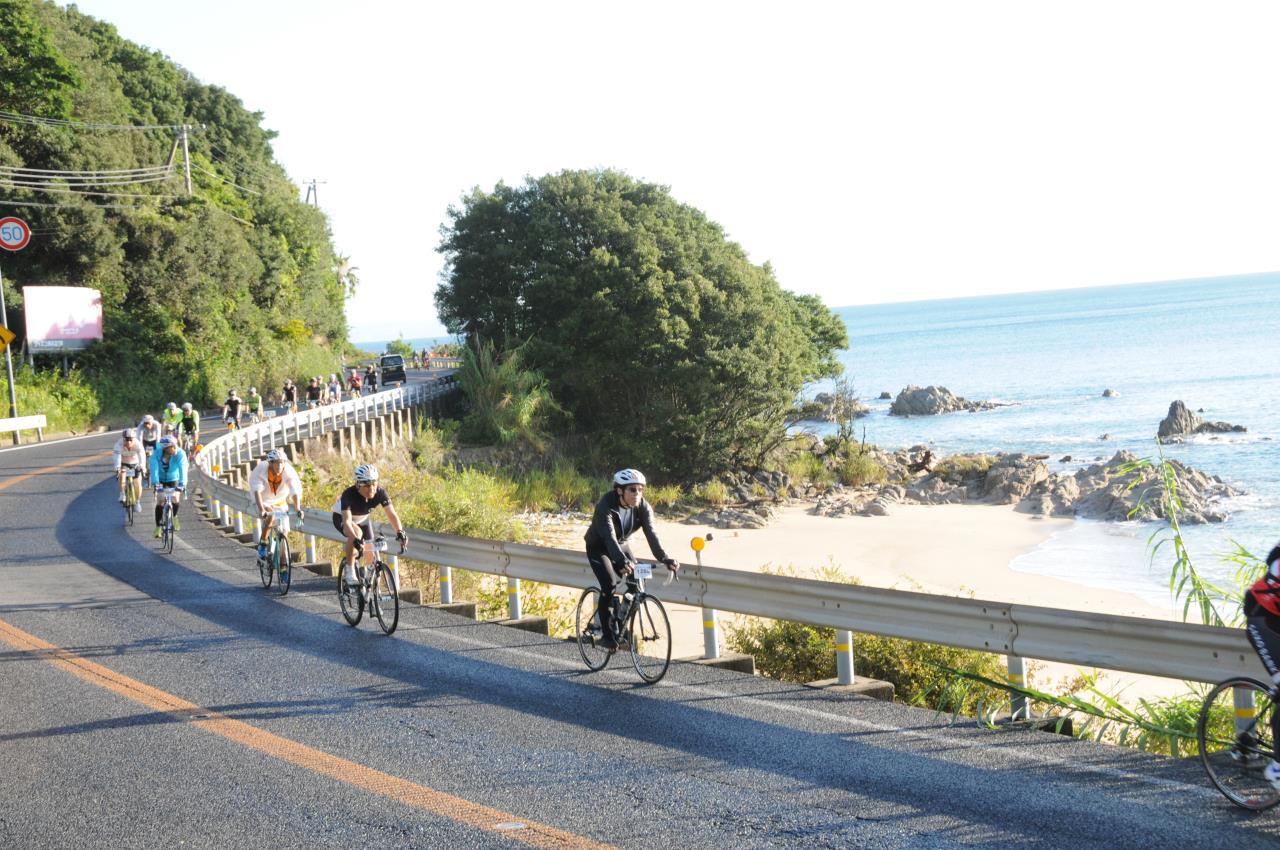 Come with empty hand, beginners are welcome! Exhilarating cycling on Awaji Island, a hottest place among cyclists.
Awaji Island is one of the most popular resort destinations in the Kansai region. You can enjoy playing with the sea, hot springs are spring out from all over the island, large flower fields everywhere, and the specialty of marine products and wagyu beef. There is a theme park with anime and famous characters, and there are many ways to enjoy the island but this "Awaji Island round trip cycling", also called "Awaichi" for short, is becoming more and more popular.
But to do a full circle, that's 150 kilometers! Unless you're an expert, you'll need a night to stay, so this time we're going to take you on a fun-filled shortcut that will take you through the scenery while also stopping at hot springs and flower garden spots.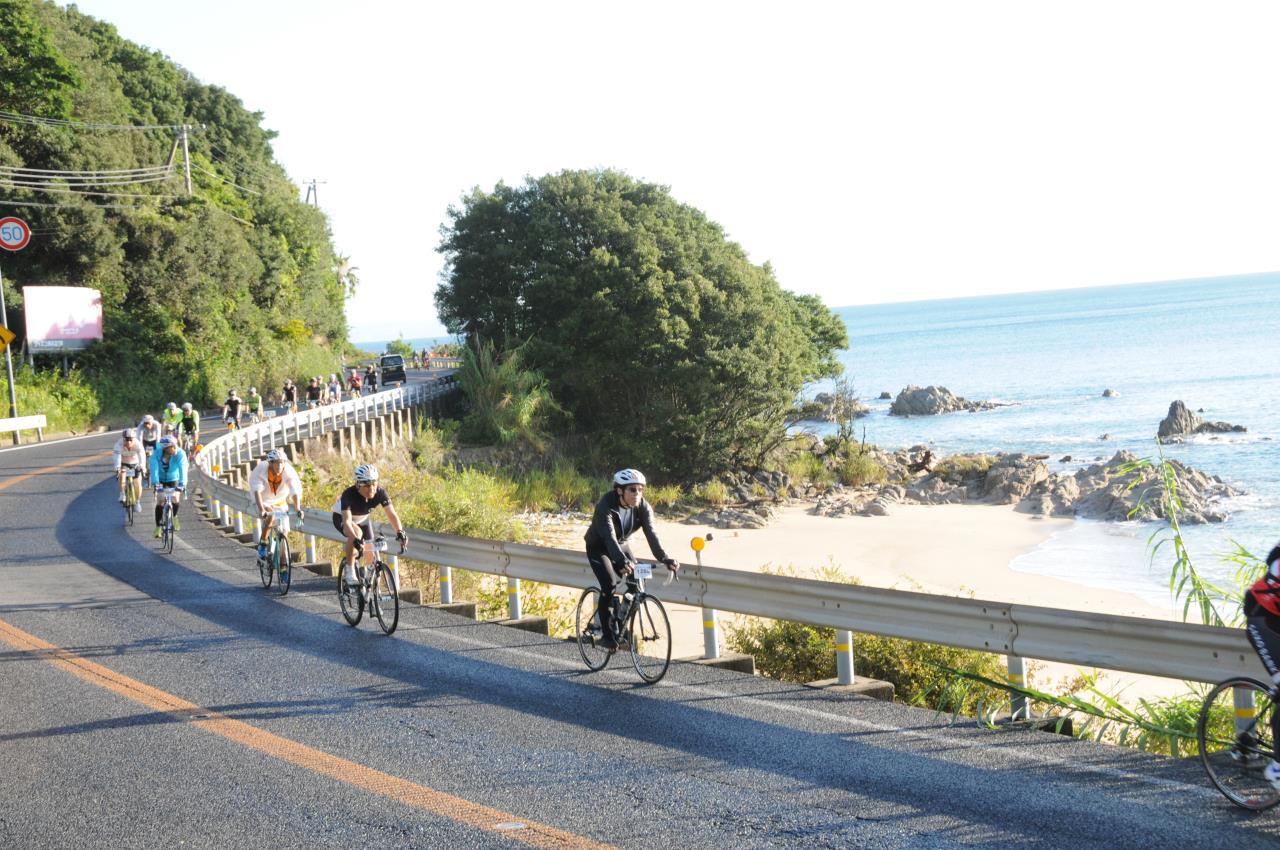 Cycling along the beautiful coast! Wear a helmet when cycling.
The start is from Iwaya Port where the ferry arrives and departs.
There are three ways to get to Awaji Island: 1) take a high-speed bus along the land, 2) take a ferry from Fuke Port in Misaki Town near the Kansai International Airport to Sumoto Port, or 3) take a ferry from Akashi Port in Hyogo Prefecture to Iwaya Port. This time, we'll go with #3 to land at Iwaya Port! You can rent a bicycle at the Iwaya Tourist Association, which is located near the harbor.
Type of bicycles you can rent here is city bicycles - so-called mama bikes in Japan. (some with electric assists). There are also road and cross bike rental shops on the island, so if you're looking for a more serious cycling experience, head to one of the specialist shops.
Rental bicycle information (English): https://www.awajishima-kanko.jp/cycling/en/rental.html
This time the route goes around the tip of the north end of the island!
After leaving Iwaya Port, we will head south along the coastal road and hit the east coast of the island. It's flat and easy to cycle, with a beautiful ocean scenery and a refreshing sea breeze, and before we know it we're at our first stop, the Higashiura Terminal Park the road side rest area called "Michi no Eki". From here, we head inland and cross the island to the west coast side. There will be no shops or toilets for a while, so let's take a break here.
7km and 280m above sea level, the toughest part of the course is here!
As we entered the inland area, we began to lose sight of the houses, and all we see here is trees and rice fields. Small ups and downs are repeated and the altitude is gradually increased. It's breathtaking to go uphill, but it's also exhilarating to be surrounded by greenery. As you climb 280 meters above sea level, you'll see two stops at Awaji Hana-Sajiki, a 15-hectare garden that offers a panoramic view of a flower garden with colorful flowers blooming against the backdrop of the sea.
From the "Awaji Hanasajiki", we descended with repeated ups and downs.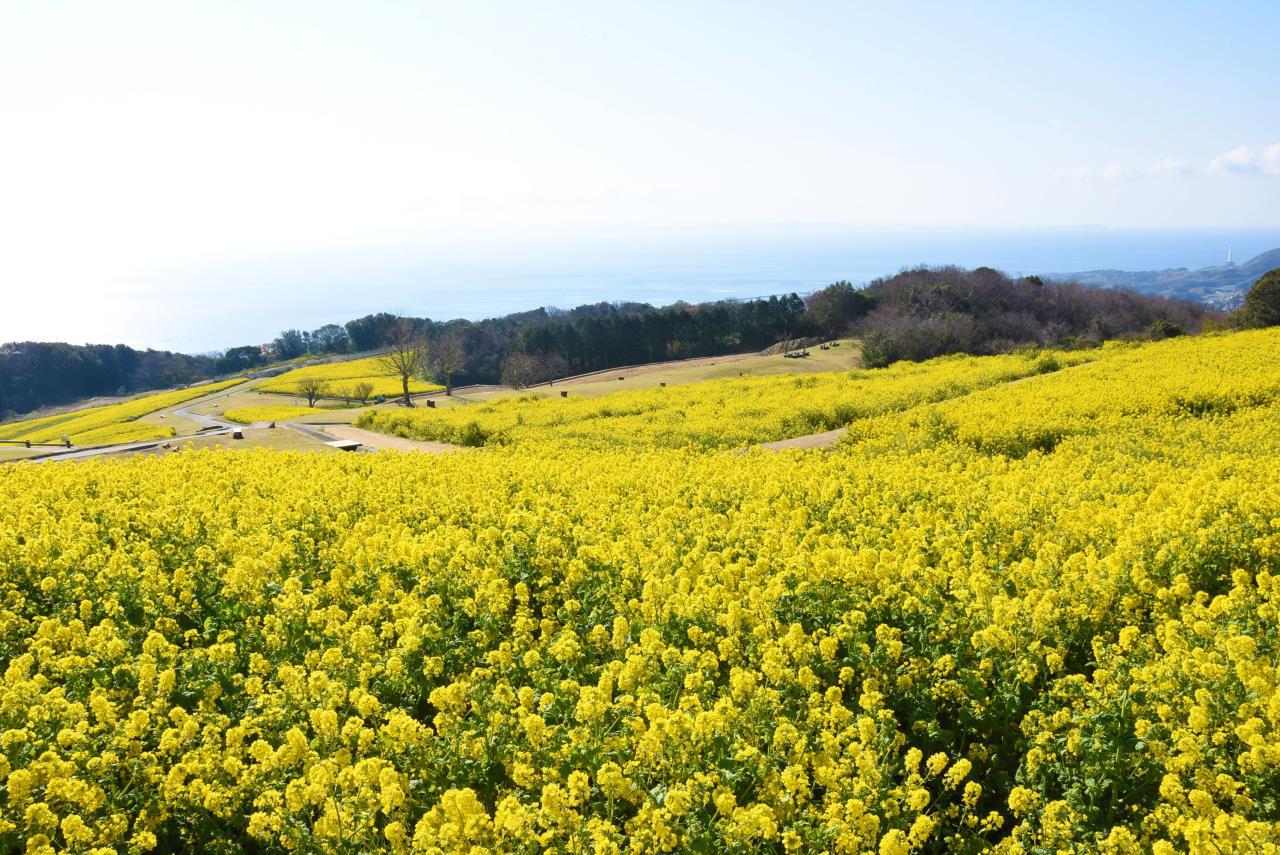 The second half of the cycling day is full of fun!
Once you've descended the hill, you're already on the west coast of the island. This time, we continue on the flat road by the sea again as we head north. The western side of the road - we can expect a wonderful sunset over the horizon, but the sun is still high, and considering time it's 4:30 p.m., it is time to return the rental bikes.. we have to miss the sunset this time!
When the west coast road takes a big right turn, you're already at the north end of the island. The Akashi Bridge can be seen and the goal is about 3km away. It's hot spring time here! Work up a sweat and soothe your tired muscles in the popular open-air bath at the "View Matsuho no Sato".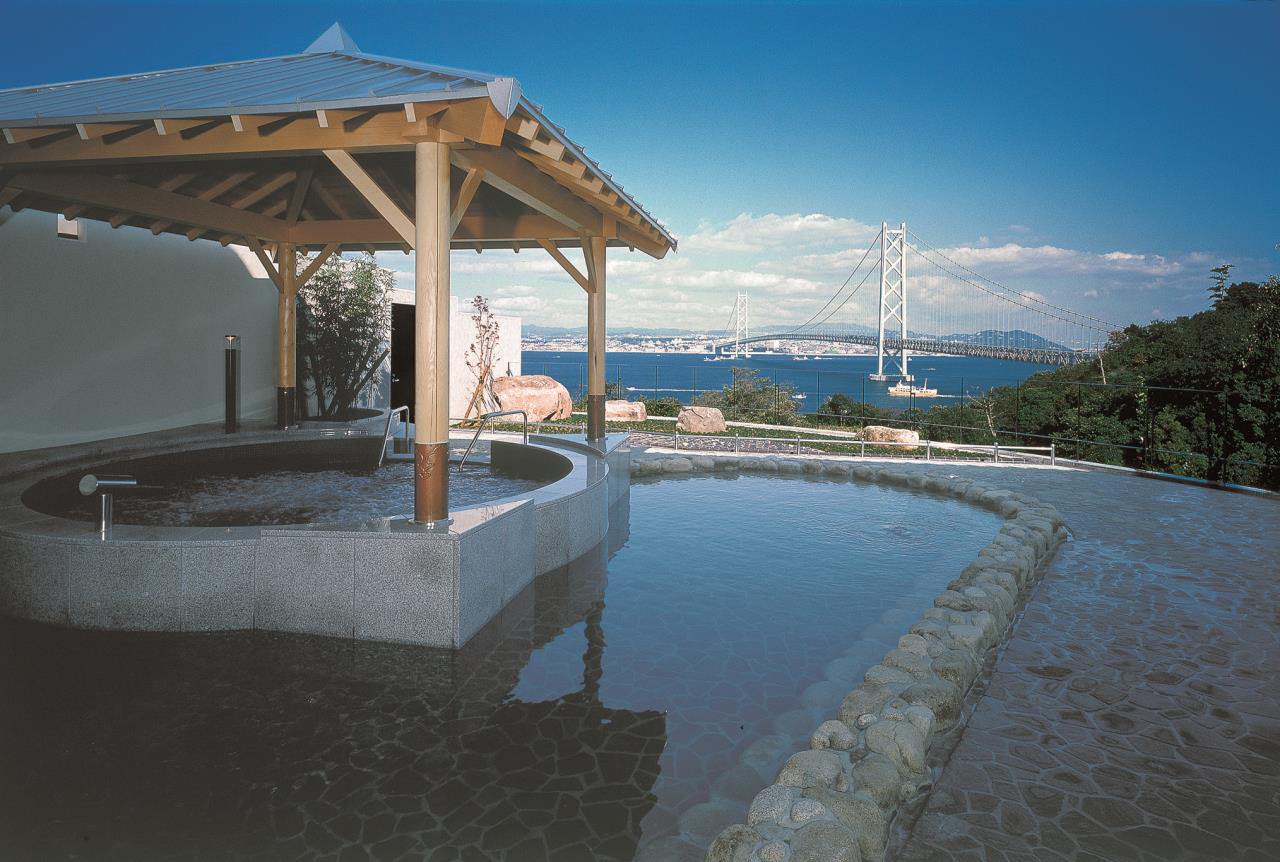 "View Matsuho no Sato" is a hot spring bath house that specializes in day trips. They sell towels, so you can go empty-handed.
View Matsuho no Sato (Japanese) http://matsuho.com/
Brand beef? Delicious raw Shirau (small sardines)?  Can't leave here without trying the local gourmet!
The goal is right in front of us, but we also want to stop by at the roadside rest area "Awaji" at the end! Your destination is Awaji's gourmet food heaven. Awaji Island has been a gourmet island since ancient times, where food was offered to the Emperor of Japan. Extremely fresh fish and shellfish from the sea, and in the mountains, brand-name beef "Awaji beef" is grown, and vegetables such as sweet onions are harvested in the villages. Enjoy the Awaji Island burger with plenty of Awaji beef and sweet onions, or try the raw Shirasu-don (rice topped with fresh small sardines) that you can only enjoy here because this is a place of those production!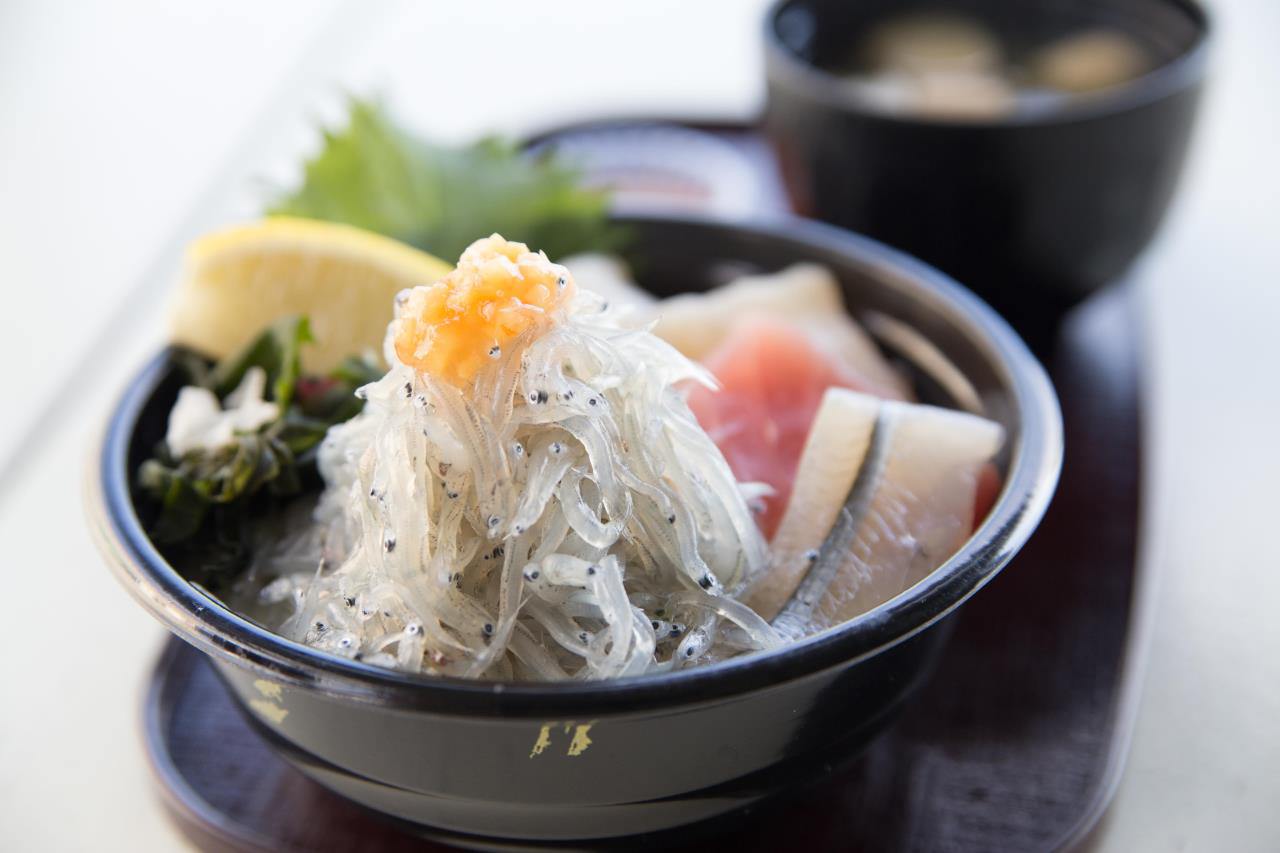 The raw shirasu-don and Awaji beef burgers can be found at various restaurants on the island, and they are the new soul food of Awaji Island.
The course is about 30 kilometers long, and if you don't make any detours, you'll have about two to three hours to bike ride. Awaji Island has many hot springs where you can stop by, and there are many delicious foods and place to go and see. We also recommend you to make your own original route by connecting your favorite spots.
"Awaji Road Bike" website - the great ally for all cyclers and the cycling map
"Awaji Island Road Bike", the official site of Awaji Road Bike Supporters, introduces a variety of courses according to difficulty levels. What's more, the navigation system and elevation information are interlocked, making it a strong ally for road guidance. There is also a cycling map published by Awaji Island Tourist Association, which has detailed information on restrooms, convenience stores, and rental cycle shops, which is a must-have for cycling.