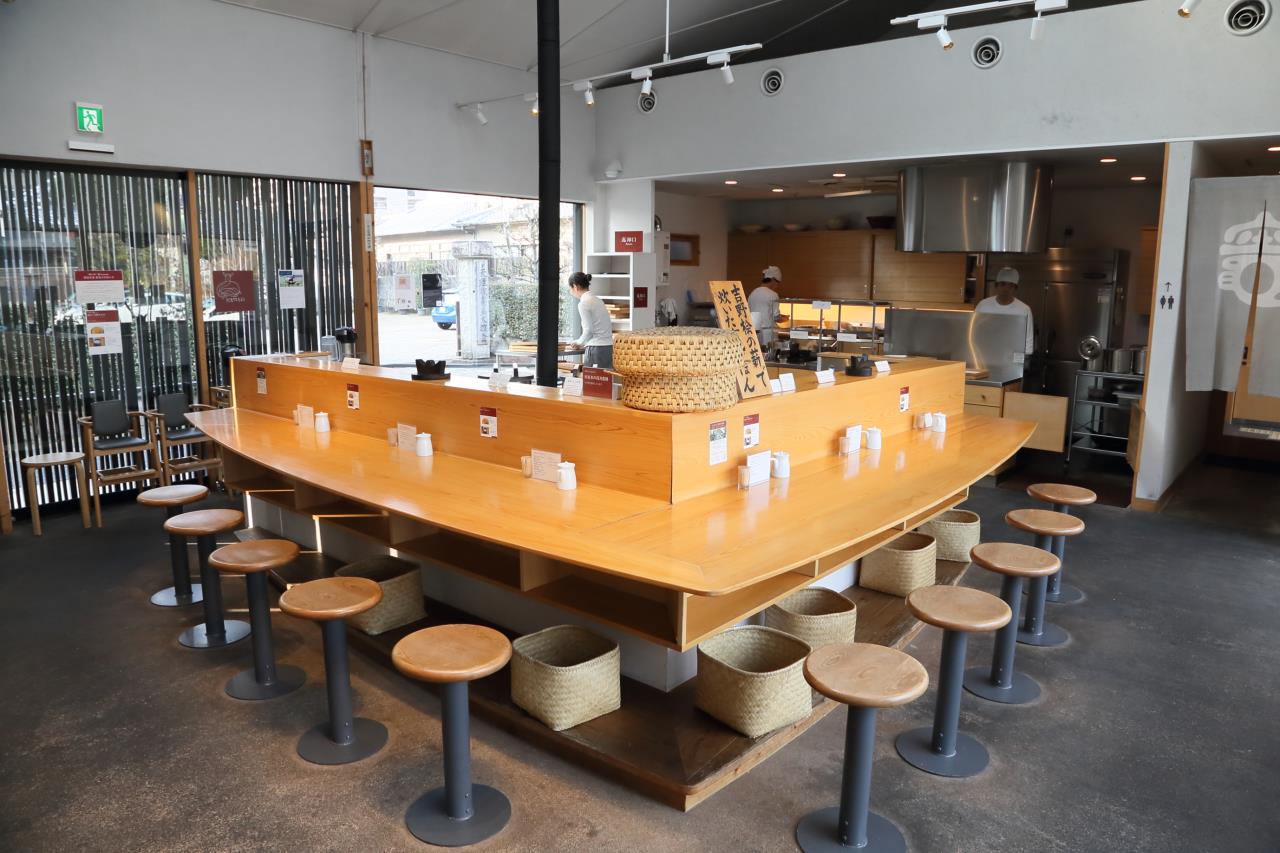 "Kamado": Traditional Japanese Kitchen Equipment Once Found In Every Home
The "kamado" keeps its heat secure within its earthen and cement walls, and uses a wood fire for cooking. It is thought that cooking methods in Japan advanced significantly thanks to the introduction of the kamado. In Japan, most hearths were built into the ground. But after the introduction of gas and electricity, the role of the kamado in the Japanese home eventually came to a halt about 50 years ago. Since then, the hearth has become a nostalgic symbol of the Japanese traditional home. More recently, the value of the kamado has rekindled, and is slowly being used again in some restaurants and facilities.
Get a glimpse into Japanese traditional lifestyle and culinary culture with this delicious hands-on experience
All of the rice on the menu at Kamado is prepared using our authentic kamado hearth. At Kamado, we seek to revitalize traditional Japanese ways of life and knowledge through our cooking. Come indulge in the experience of eating onigiri made from rice, freshly cooked in a traditional Japanese hearth.
Your one of a kind experience with our shop's quality rice starts here
Our Japanese rice cooking experience is offered at Kamado, located within the sightseeing complex, Shika no Fune in Nara City. Our food is made with local ingredients from Nara and all of our rice is cooked inside of our kamado hearth so that you can enjoy the most authentic Japanese home cooked meal. Our hearth was built by a local craftsman from Uda City in Nara. Unfortunately though, the number of craftsmen specializing in kamado hearths is decreasing. We began offering a rice cooking experience to customers at Kamado about two years ago. Our guide is Hitomi Yamashita, who also manages the food and goods store in the same shop. To start, let's go over an explanation of how the rice is prepared.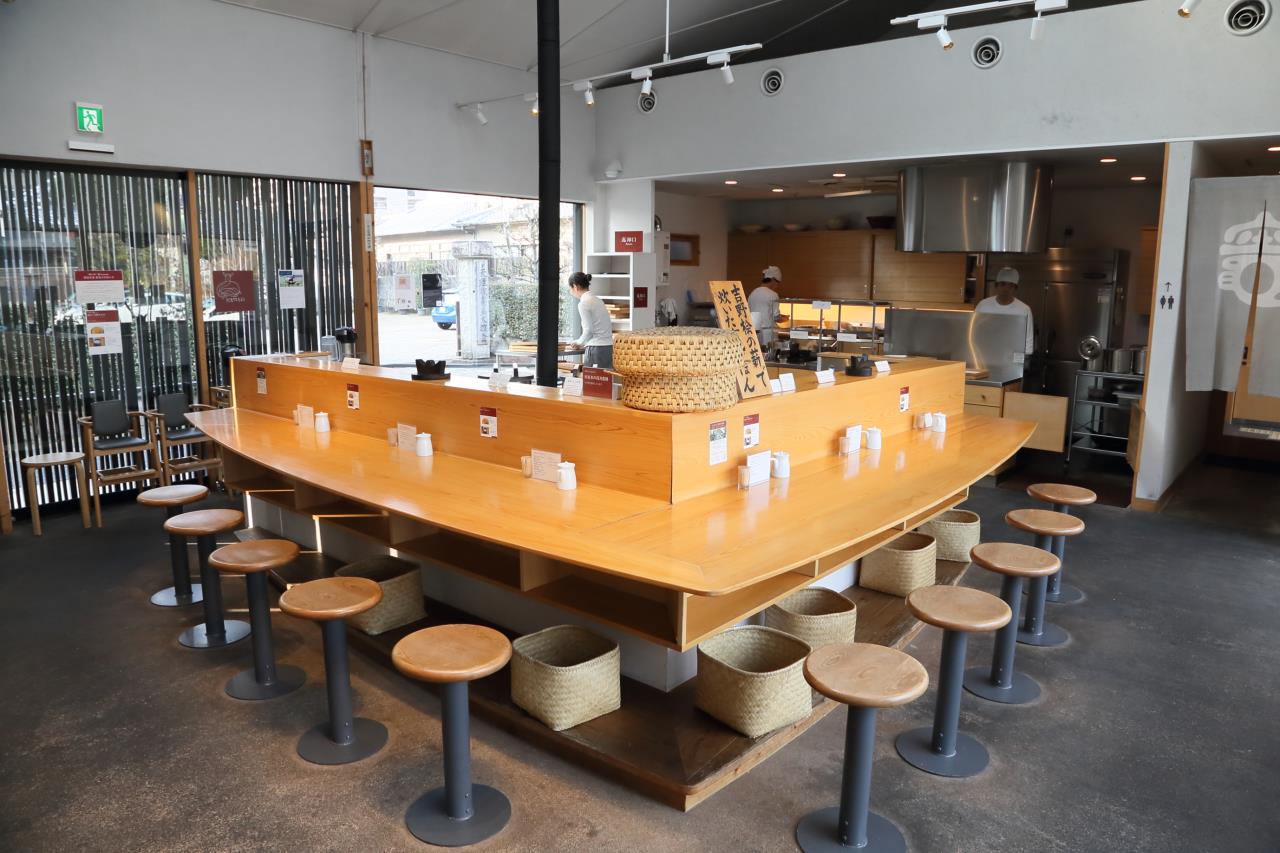 The inside of Kamado with center counter and table seating.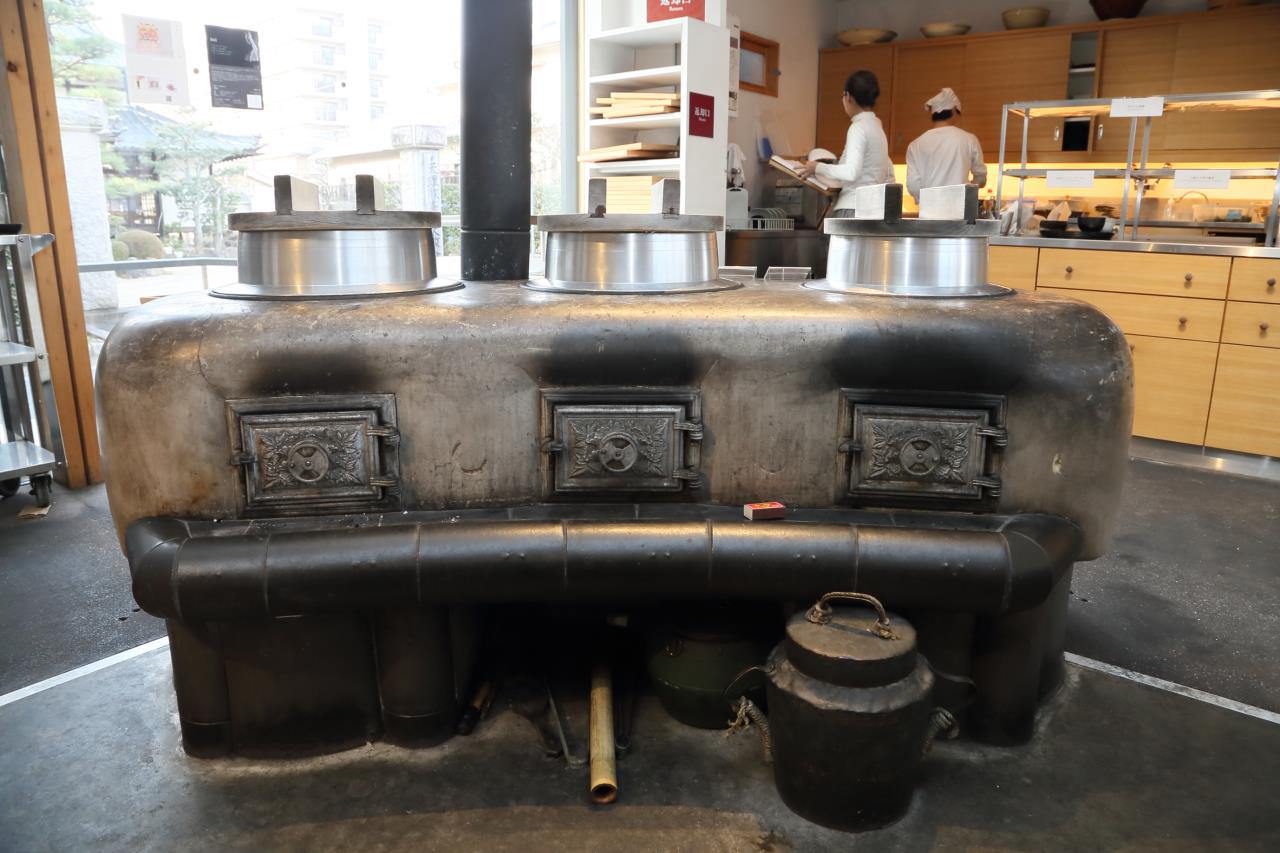 From the left, approximately 9, 7, and 5 liter pots.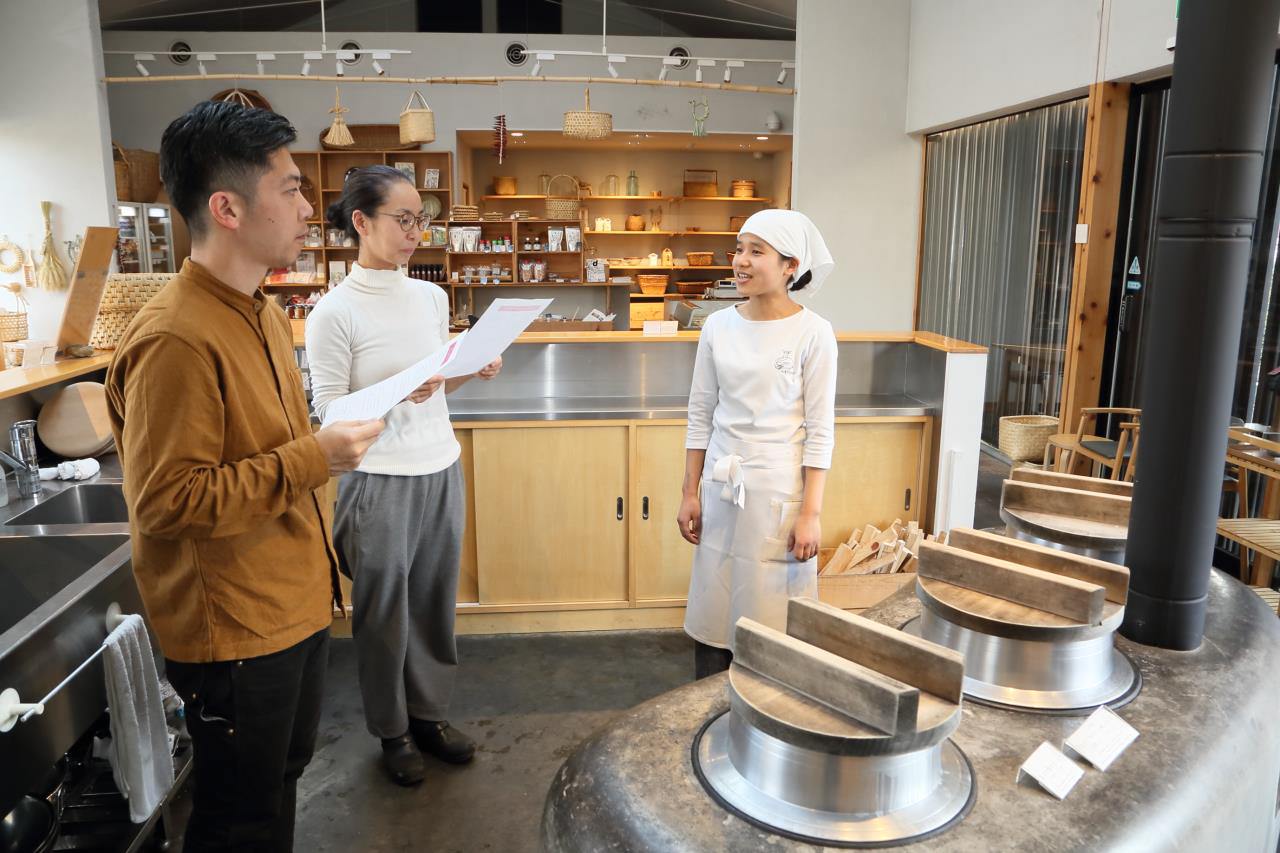 Ms. Yamashita (left) kindly giving an explaination to guests in front of the hearth.
Have fun using bellows to adjust the heat!
Once the water and rice have been assembled in a pot, the experience will begin with the lighting of the fire. We burn the kindling and blow air into the flame using bellows for about fifteen minutes. Once the water has come to a boil, the kindling should be broken down so as to prevent the pot from boiling over. We then reduce the heat for five minutes. After this, the rice should steam for another ten minutes. It is during this time that the rice will begin soaking up the steam, so it is important not to remove the lid from the pot. When you are done, you will be left with beautiful, fluffy, and chewy rice.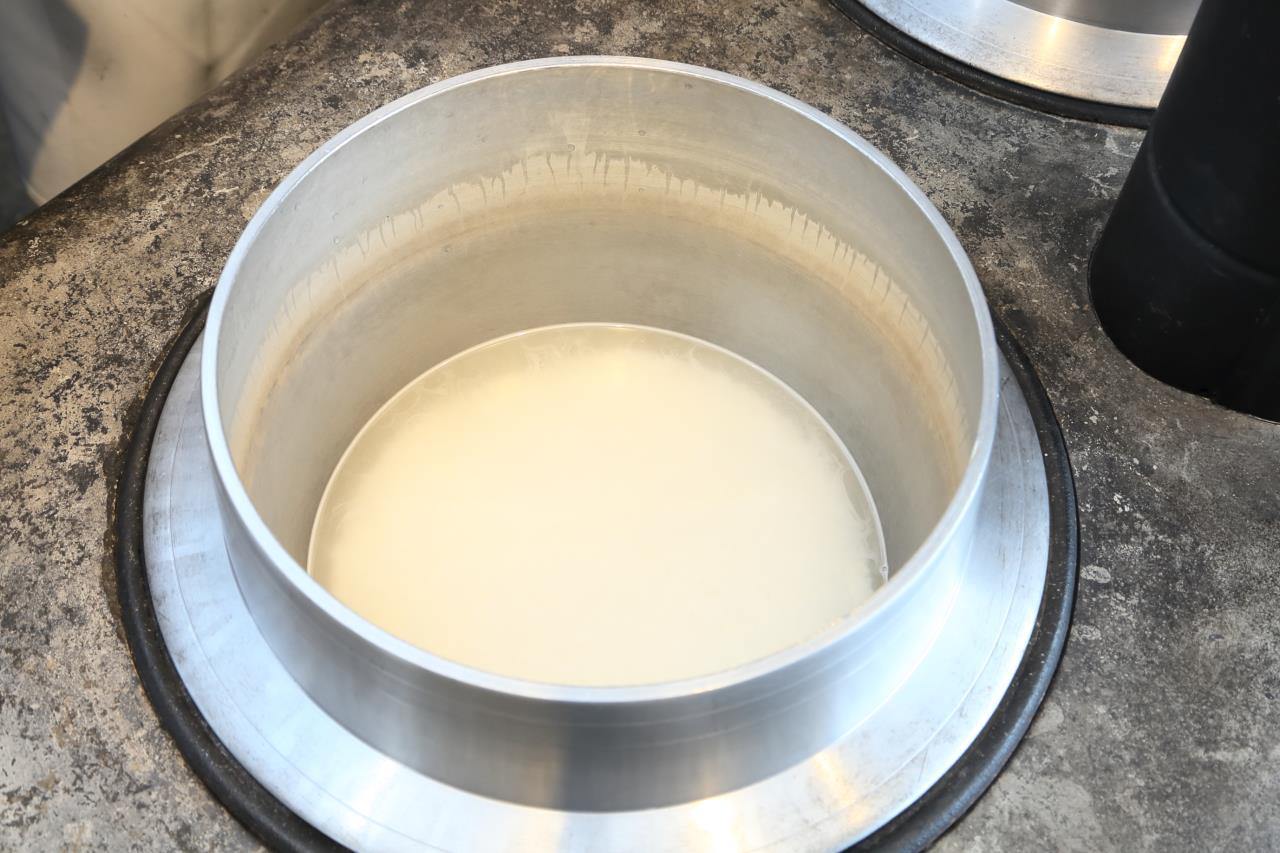 The rice we use is Hinohikari, grown and harvested in Nara. It has consecutively been awarded an A rank in taste from 2012 to 2015, four years running.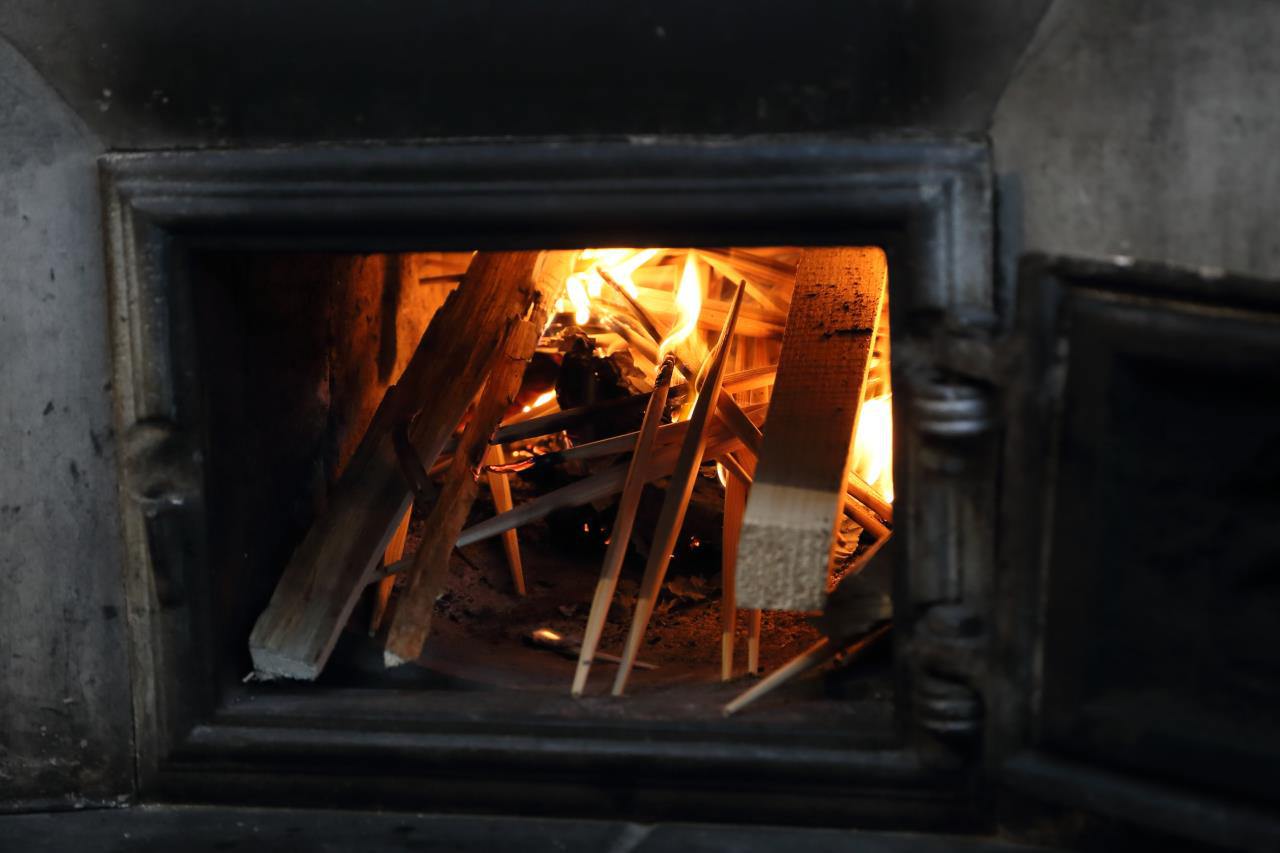 Our kindling comes from the Japanese hinoki cypress, also known as the "tree of fire" (hi no ki) because of its easy to burn wood.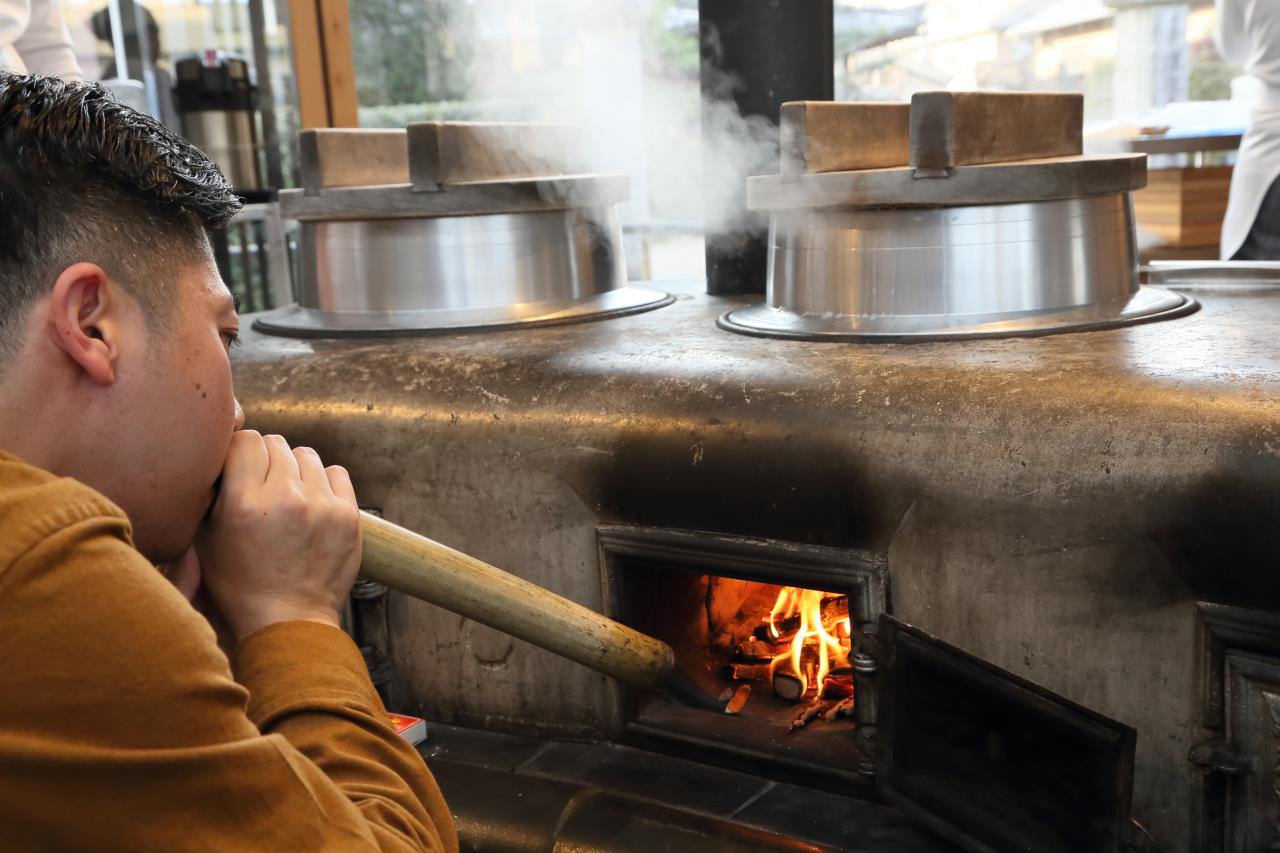 Using billows on a fire will make the flames grow! The ashes from the fire are later collected and spread onto rice fields.
After the rice is finished, they will be made into onigiri!
Every grain of your freshly cooked rice will glisten. The best way to enjoy fresh cooked rice as good as this is by using it for onigiri. And so, we must be quick and assemble our rice into balls as soon as we can. With both hands wet with cold water, we put a pinch of salt in our palms, take our desired amount of rice, and shape the onigiri. If you have never tried making onigiri in your country, we are sure you will love the experience. Finally, all that's left is to select one of the side dishes we have prepared for you, and enjoy!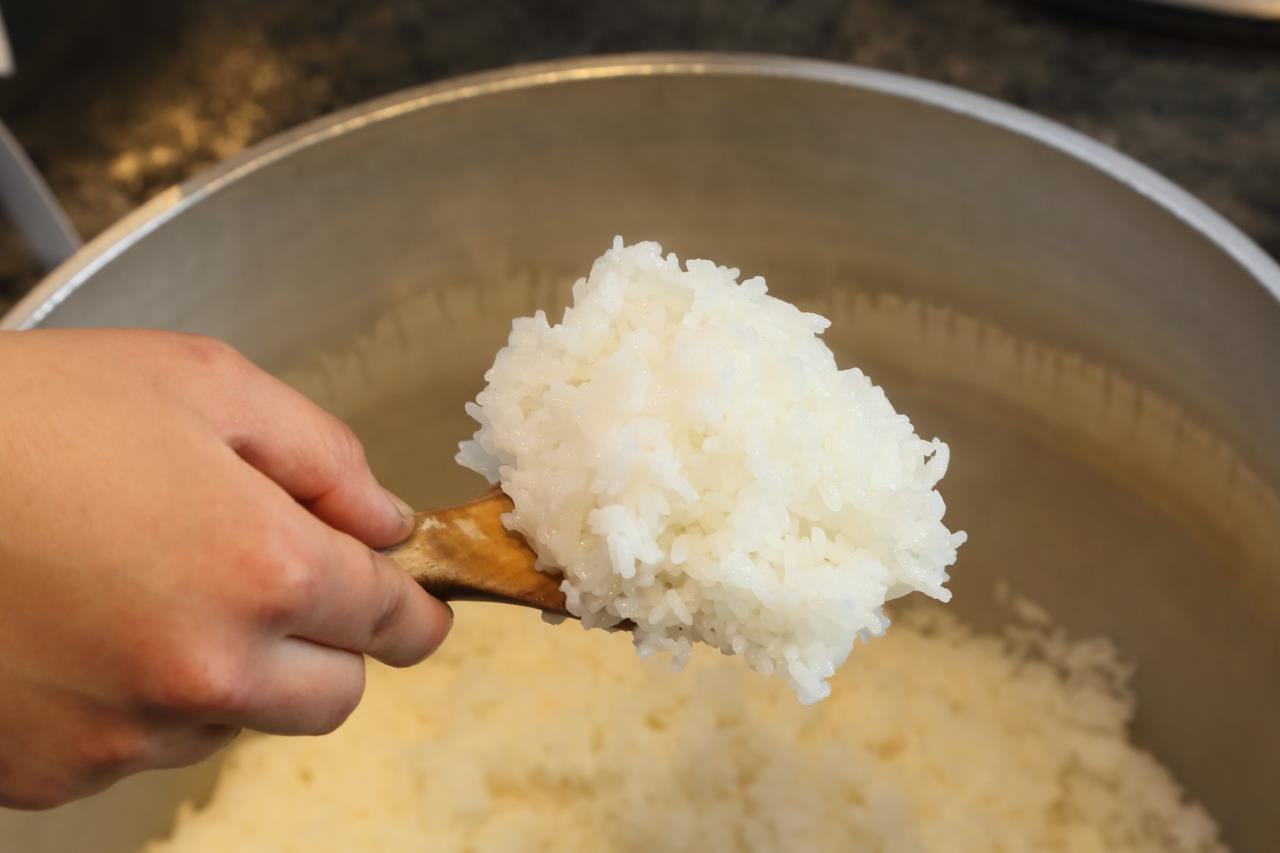 Rice cooked in a kamado hearth comes out glistening. Prepared with just the right amount of water, you will feel the soft texture of every grain.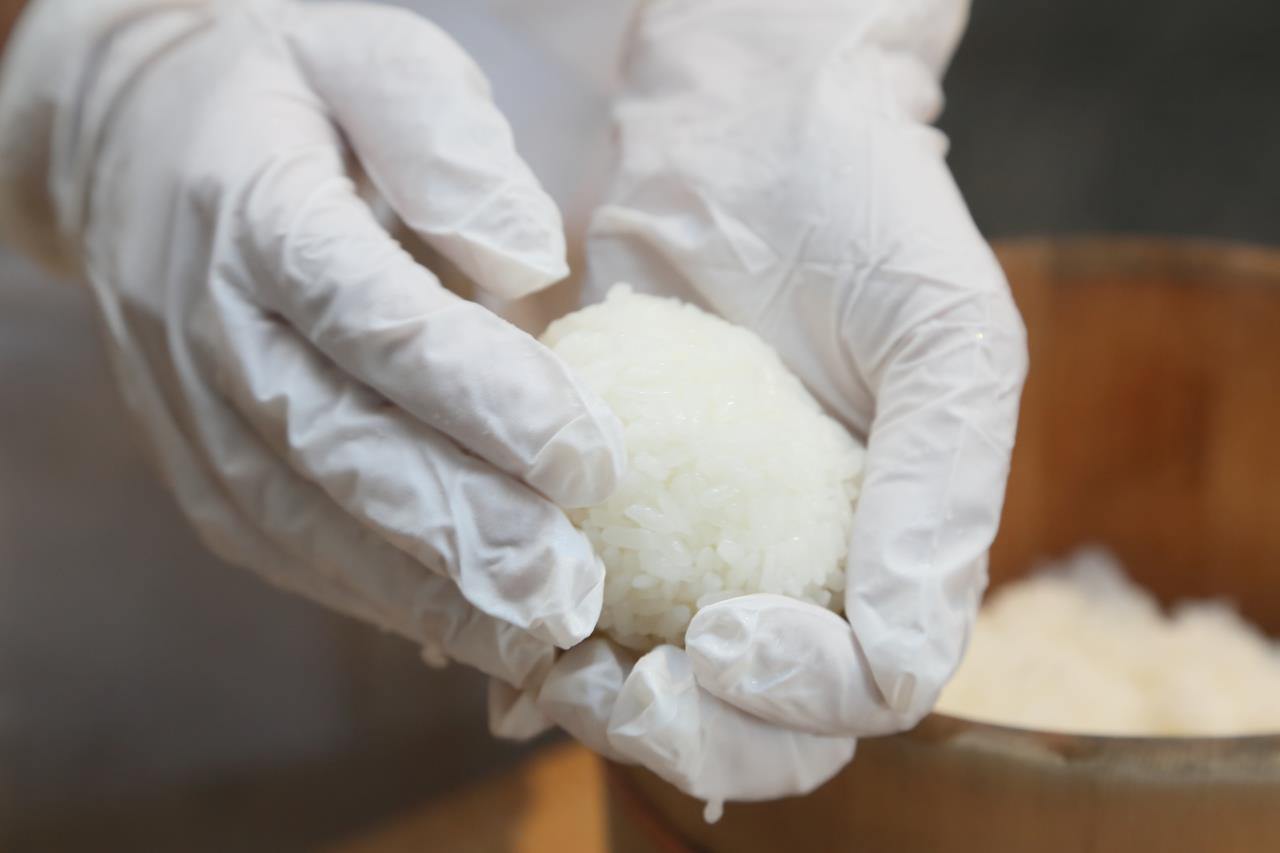 The flame we used to cook the rice is very hot, so please be careful.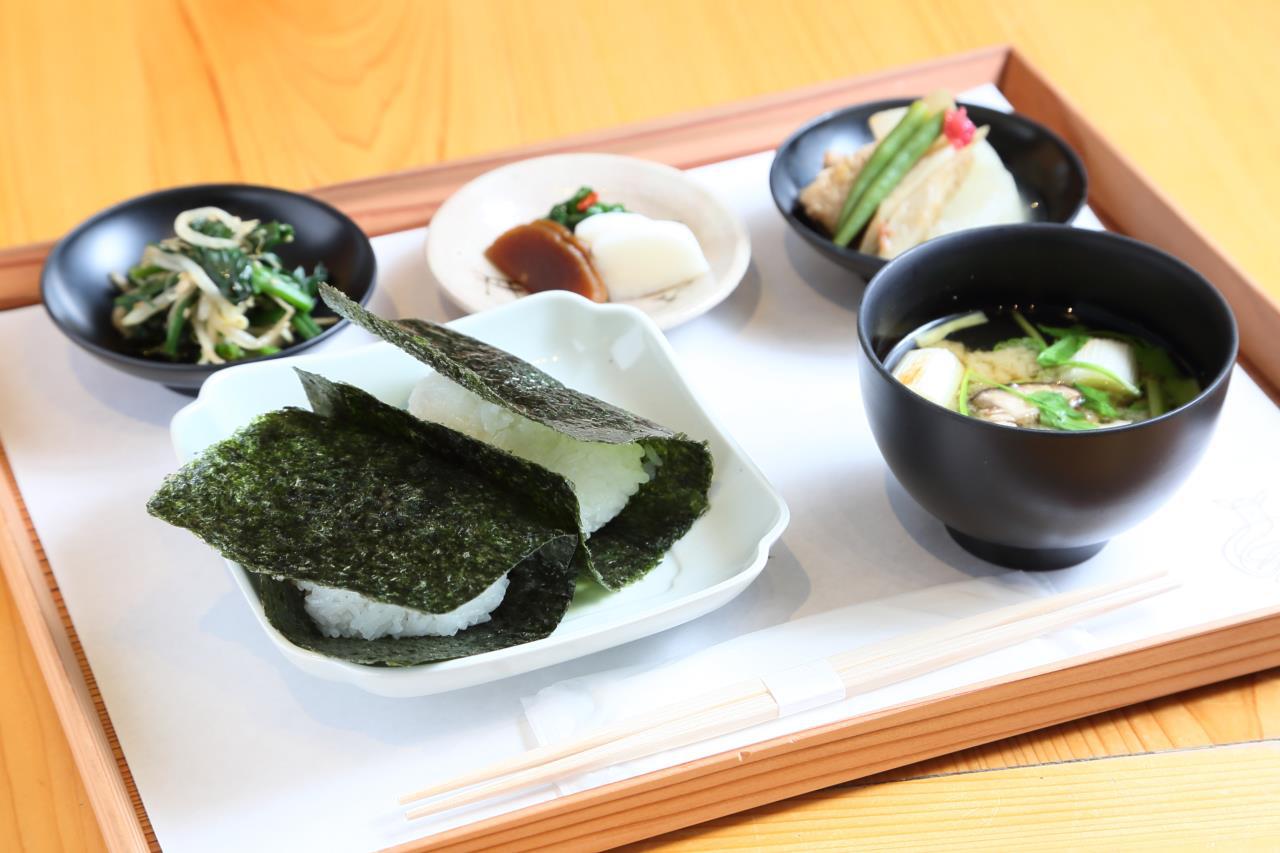 We change our sides each week. Nara-style pickled vegetables and miso soup are the absolute best sides to have with onigiri.
For other fun experiences, come visit the Nara Tourism Base
The rice cooking experience begins from 3:00 PM and is enough to fill you up with its ample portions. We recommend you either skip lunch or snack on something small before noon so that you arrive here with an empty stomach. We would love for you to come see us to discover Japanese traditional culture in the most fun, delicious way possible. Shika no Fune also organizes an "Enjoying the Tea Ceremony in Nara" workshop year-round. The class is held 2-3 times a month on Saturdays. Detailed information can be found at Mayu in the Nara Tourist Info Center. If you are interested in experiencing Japanese culture firsthand in Nara, please feel free to come visit us at Shika no Fune.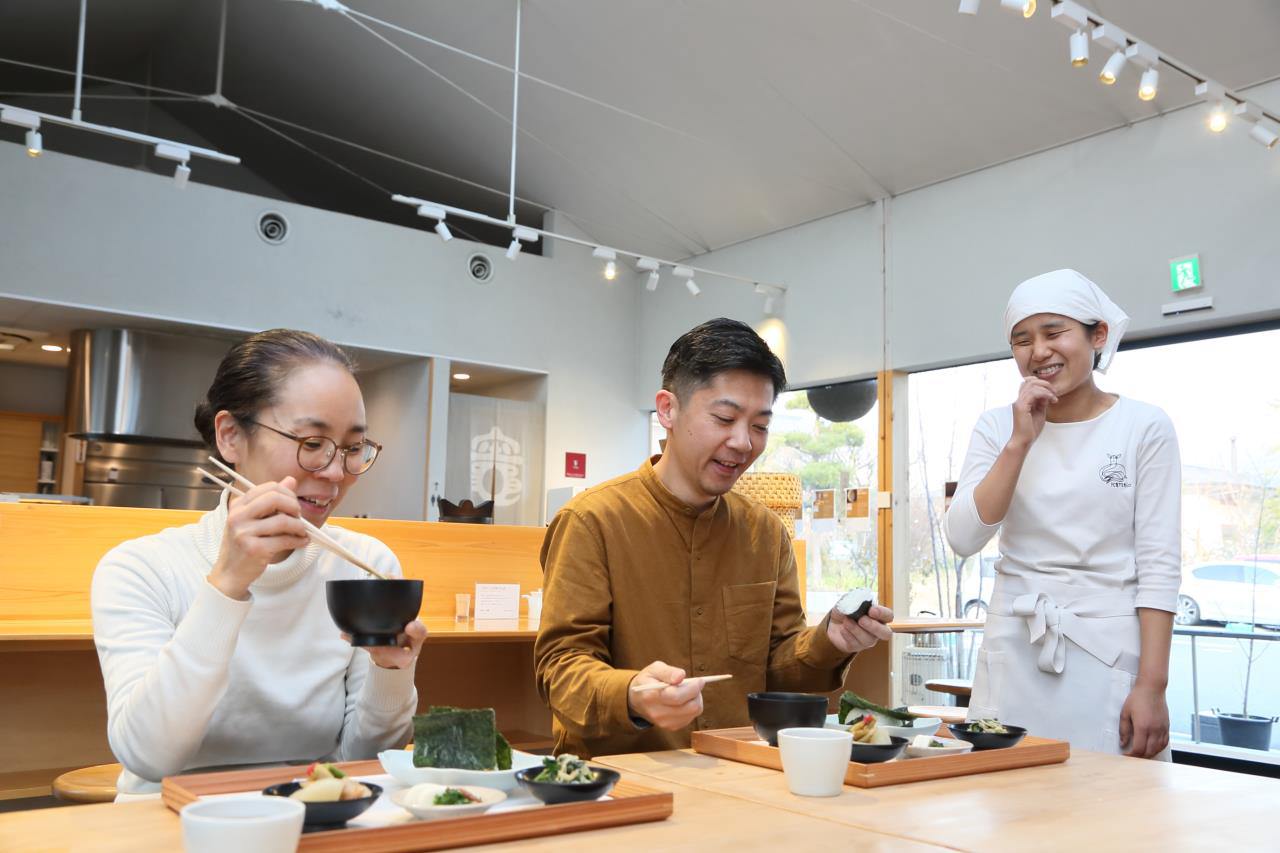 Enjoying a delicious meal after your hard work is over is the best part! We offer a number of great side dishes to eat with your rice.
Facility information
You can experience these things here!
Name of facility | Shika no Fune: Kamado
Name of experience | Hearth-Steamed Rice
Address | 11 Inoue-cho, Nara City, Nara 630-8317
Business Hours | Weekdays 11:00 a.m.-6:00 p.m.
Weekend and public holidays 8:00 a.m.-6:00 p.m.
The activities are offered on Mondays, Thursdays, Fridays, and every other Tuesday from 3:00 PM to 5:00 PM (Exceptions may apply in the case of some special events)
Closed | Wednesdays, and every other Tuesday
Price|3500 yen
Payment Methods|Online with credit card at nara-experience.com (done together with reservation)
Number of guests accepted (groups) | 2 to 8 people
Telephone number | 0742-94-5520
Languages spoken| Japanese only
Official Website (English) | http://www.kuruminoki.co.jp/shikanofune/en/
Notice|・Children of elementary school age or younger must be accompanied by a guardian
・We recommend coming in clothes you don't mind getting dirty