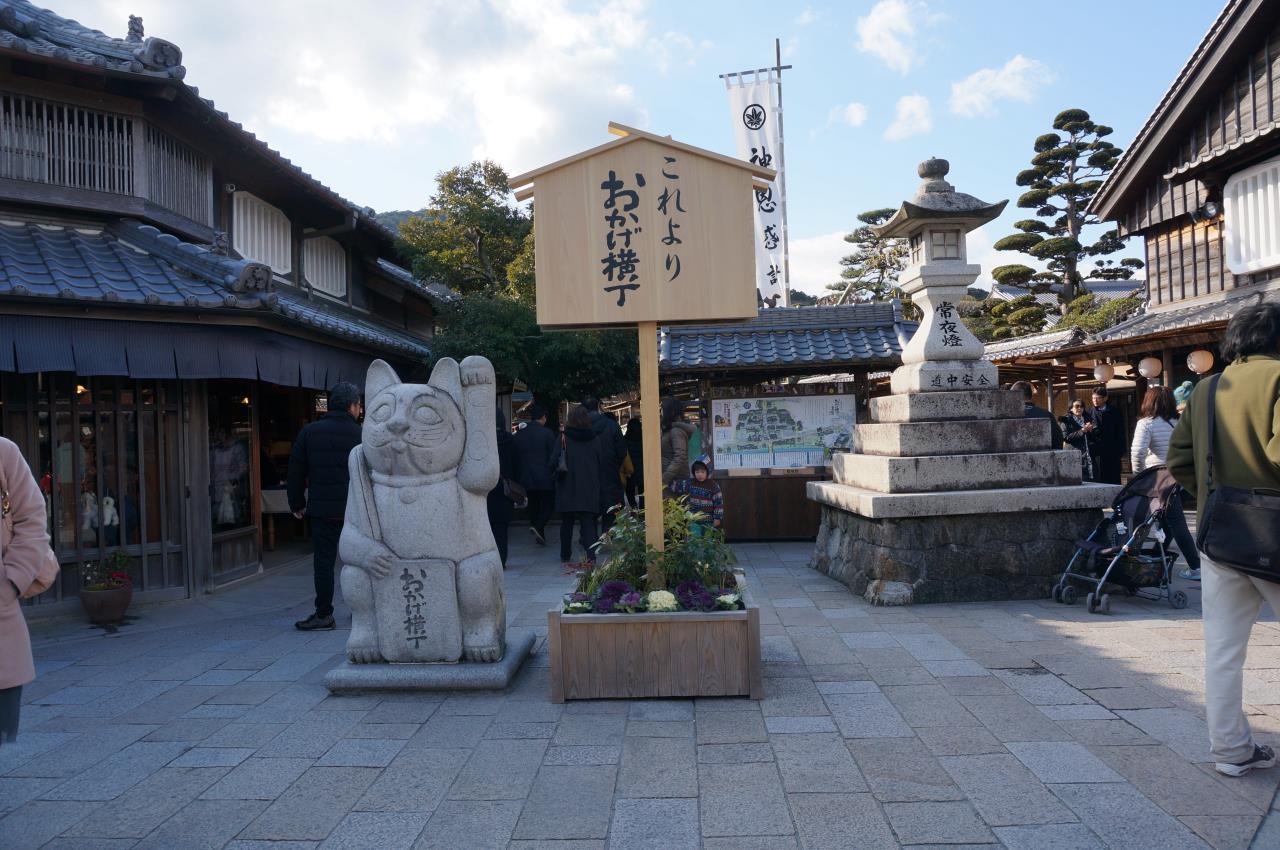 After visiting Ise Jingu, enjoy Okage-yokocho walk -2
After visiting Ise Jingu, enjoy taking a walk at "Mukashi-machi" (old townscape). Along the stone paving on the bank of Isuzu-gawa river starting from the Ujibashi bridge at the entrance to the Naiku (Toyo-uke Daijingu) of Ise Jingu, you will find the shrine town called "Oharai-machi" (Purifying town) replicating old streets with restaurants, souvenir shops, traditional sweets shops with a long history and traditional inns etc. At the center of "Oharai-machi", "Okage-yokocho" (Blessing alley) with around 60 shops is very polular among Japanese tourists and local residents and is lively like a festival every day. You will be fascinated by good old Japanese sweets and lovely Japanese fancy goods and find it difficult to choose. Business hours differ by shops and seasons, but nearly all shops are open from 11:00 till 17:00.
Okage-yokocho Mokuton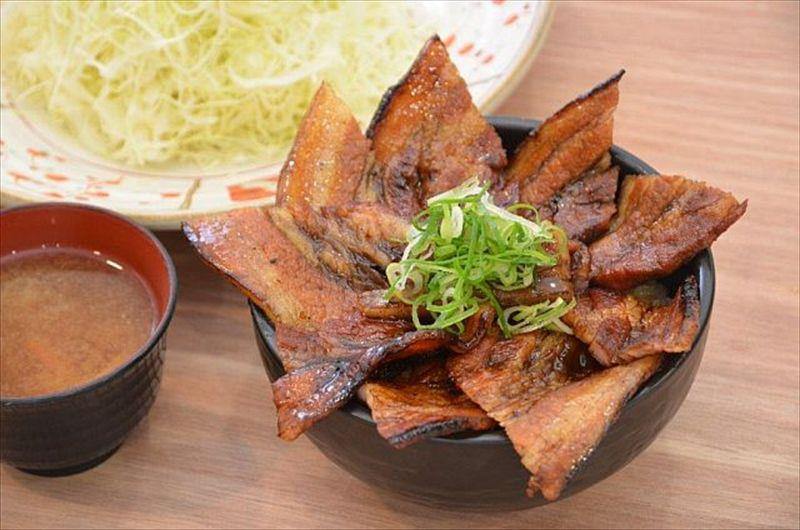 Tonkatsu (pork cutlet) speciality shop run by a pork farm opens at Okage-yokocho. The restaurant offers a variety of menus including popular "Butakaba-don" (bowl of roasted pork dipped in deep sweet sauce), "Hirekatsu-don" (pork fillet cutlet bowl) and "Okosama-zen" (Kids' plate). Also recommended when you get hungry after visiting Jingu.
Yokocho-Kimiya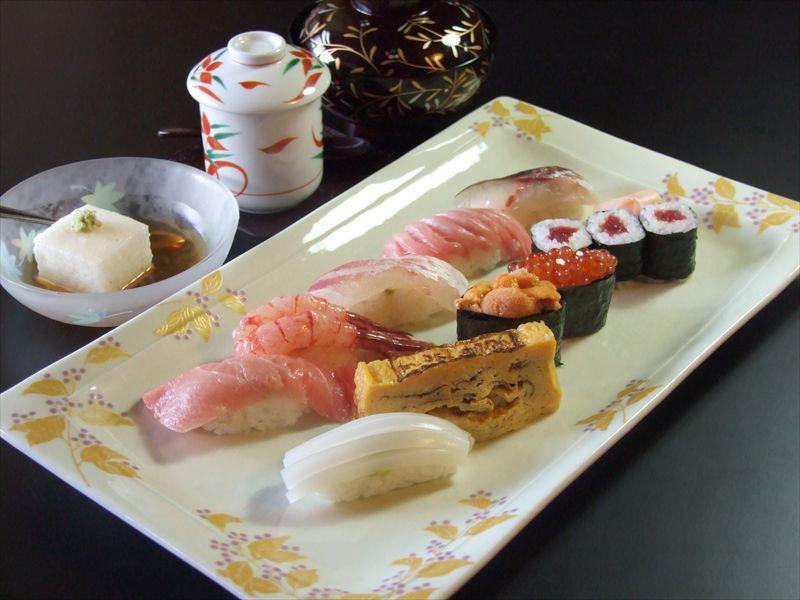 A restaurant where you can eat authentic nigiri sushi, using selected fish and shellfish throughout the country, mainly from the seas local to Okage-yokocho, namely Ise Bay and seas of Shima. Lunch time menu named "Nagi" is recommended for its good value, as it comes with 6 pieces of Nigiri sushi, sushi rolls, steamed egg custard and small bowls.
Yokocho-soba Shoseiko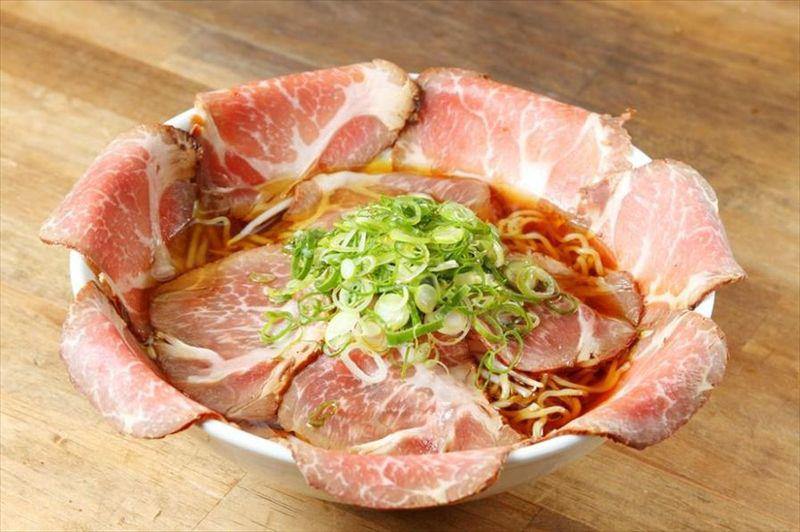 Ramen noodles shop in Okage-yokocho is most suitable when you are a bit hungry or inclined to try another resaurant after walking and eating. The shop takes pride in its soup made from the bones of premium branded Matuzaka (fairly close to Ise) beef through extracting over three days. The noodles bring out the best of selected wheat flour and are added with umami (savory taste) of special roasted pork fillet, which its taste has been tightened for over a week. While it is simple and refreshing, the aftertaste remains firmly and you will not forget the scent of soy sauce based soup.
Butasute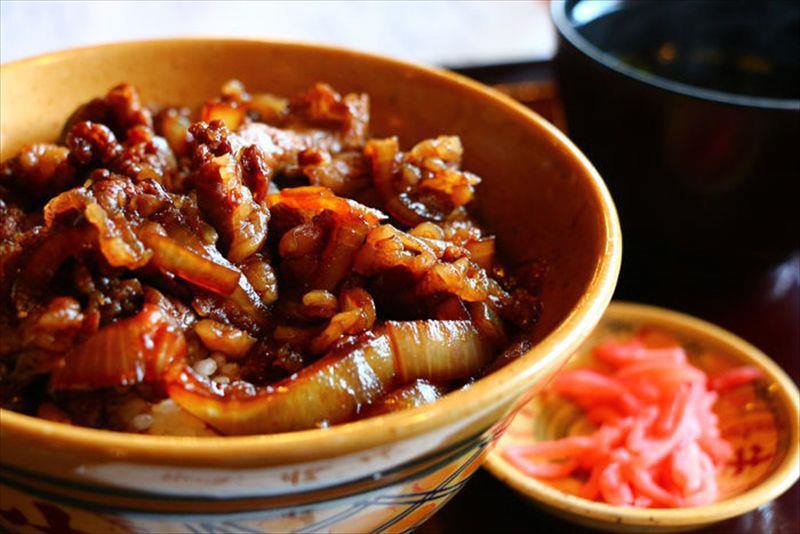 "Butasute" restaurant, established in 1909, only serves the beef carefully bred from calfs at their affiliated farmers. As such beef's strings are cut deliverately by skilled cooks, no doubt you will find it delicious. Marbled beef served in its popular menu "Gyunabe Hinoki" is surprisingly tender and its sweet flavor fills your mouth.