A winery and vineyard with 100 years of history - Katashimo Wine Foods Co. Ltd.
【Name of facility】
Katashimo Wine Foods Co. Ltd.
【Introduction, descriptions, and contents of activities】
The Katashimo Wine Foods Co. Ltd. winery has been producing quality wines in Kashiwara City, Osaka, since 1914. The winery is situated in a major grape-growing center and produces 120,000 liters of wine annually, from grapes sourced from company and community owned vineyards in the district. Katashimo conducts all wine making processes from growing grapes to bottling. The rustic atmosphere of traditional houses and vineyards around the winery contrasts sharply with the view of "Abeno Harukasu," the tallest building in Japan.
[Taking a winery tour]
Visiting a steep vineyard, the storage vats (designated a National Important Cultural Property), winery, and a historic bottling line. Visitors can also indulge in wine tasting.
【Information provider】
Kinki Regional Agricultural Administration Office
【access】
7 minutes walk from Kintetsu Osaka-Line Ando Station, 15 minutes walk from JR Yamatoji-Line Kashiwara Station
【Availability in multiple languages】
Yes (incl. written materials)
【Available languages】
English
【Price range】
Under 3000yen
【Price for adult(Unit: yen)】
2500
【Included in fare】
Sightseeing; tasting wine
【Payment】
On the spot
【Creditcard payment】
No
【Methods of reservation】
Reservation by telephone or email: kingselby@kashiwara-wine.com (Please send your address, date, number of people (minimum of 10 people or more)
【Methods of cancelation】
Cancelation by telephone
【Conditions of resservation and cancelation】
Tours with lunch are offered with additional fees. Reservation is required by 1 week before. No cancelation. Tours (without lunch) require reservation by the previous day. (Applications may be declined depending on the number o f visitors on the day) Cancelation by the previous day. General tours are available on our designated dates. Group tours are also offered (10 people or more).
【Maximum number of participantse】
30
【Advisable attire or necessary items on the day】
Sports shoes and drink
【Conditions of participation】
Adult only (16 years of age or older must be accompanied by parents or guardians)
【Time required】
Short day trip (Half day)
Photos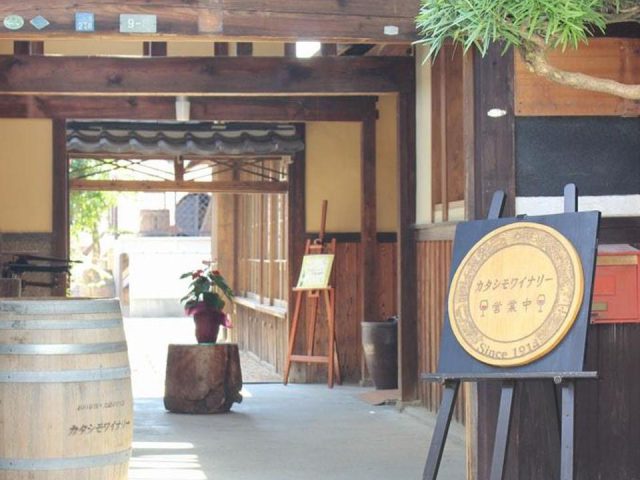 Information
Postal Code

582-0017

Address

2-9-14,Kashiwara-shi, Taiheji,Osaka

Tel

072-971-6334

Businesshours

10:00-17:00

Holiday

[information such as regular holidays ]
The factory is closed on Saturdays, Sundays, public holidays, year-end and new year; Direct-sale store is closed on year-end and new year only; General tours are available on our designated dates. Group tours can be arranged on Saturdays, Sundays, and public holidays as well.

Website
Map