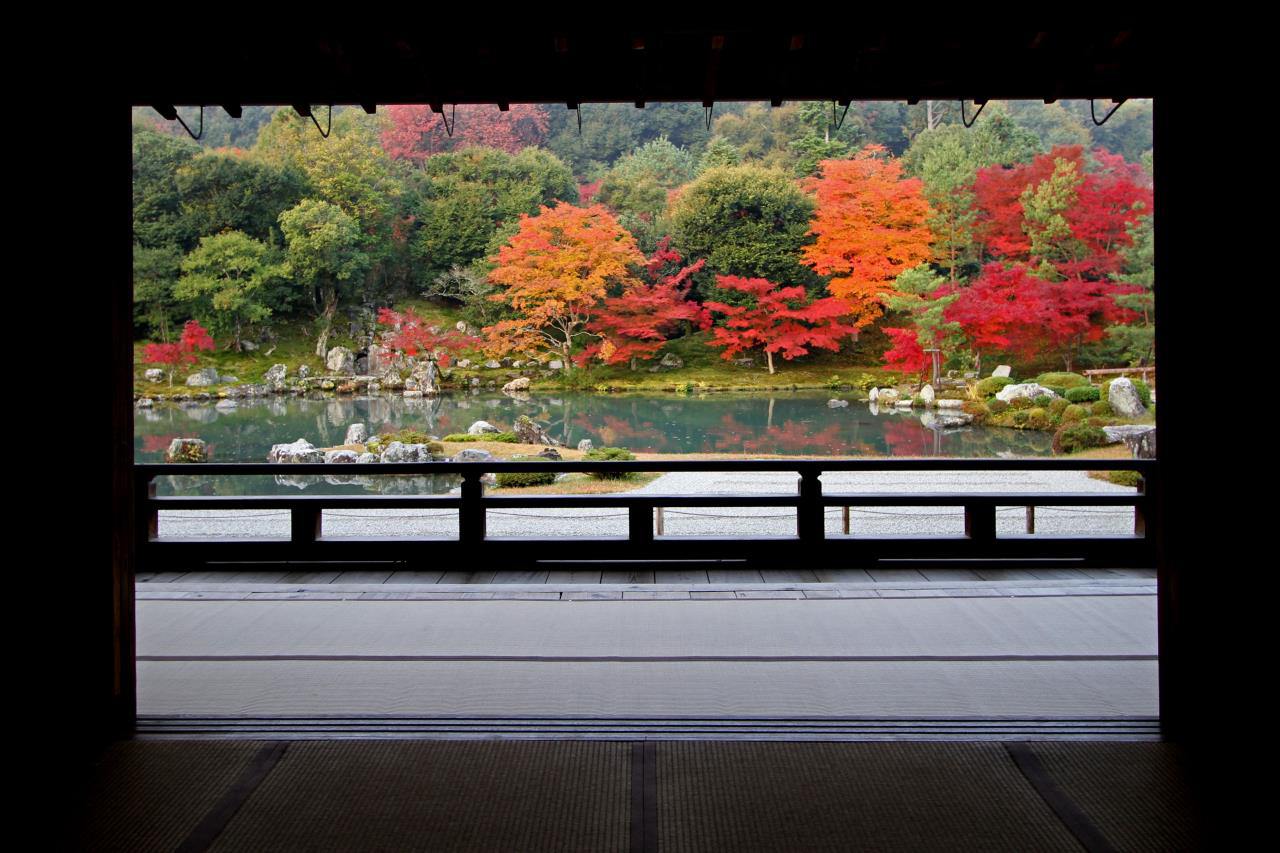 Tenryu-ji Temple was built in 1339, and its garden was designated as the first Site of Special Historic and Scenic Importance in Japan, and as a UNESCO World Heritage Site in 1994. Utilizing the background view of Kameyama and Arashiyama, the famous garden has both aristocratic elegance and a subtle yet profound Zen atmosphere. The Cloud Dragon drawing by Matazo Kayama, located on the ceiling of the Hatto Hall, is also known as "the dragon that stares in eight directions."
[Fee] Sogenchi and Hyakkaen gardens
Adults (High school students and above): 500 yen; Children (Elementary and junior high school students): 300 yen; Preschool: Free
Ohojo, Shoin, and Tahoden halls: Additional 300 yen
Special viewing of the Cloud Dragon painting in the Hatto Hall: 500 yen (separate)
[Access] Short walk from Arashiyama Station on the Keifuku Electric Railroad Arashiyama Line;
approx. 13 min. walk from Saga-Arashiyama Station on the JR Sagano Line;
approx. 15 min. walk from Arashiyama Station on the Hankyu Line;
short walk from the Arashiyama Tenryuji-mae bus stop on the No. 11/28/93 City Bus;
short walk from the Keifuku Arashiyamaeki-mae bus stop on the No. 61/72/83 Kyoto Bus
[Credit Card Payment] Not accepted
[Foreign Language Support] Yes
Photos
Information
Postal Code

616-8385

Address

68 Susukinobaba-cho, Saga-Tenryuji, Ukyo-ku, Kyoto Prefecture

Tel

075-881-1235

Businesshours

8:30-17:30 (gates close at 17:30)
*Closes at 17:00 between October 21-March 20)

Holiday

Open year-round

Date

1 Dec 2020

Website
Map
Nearby Spots
Check also...