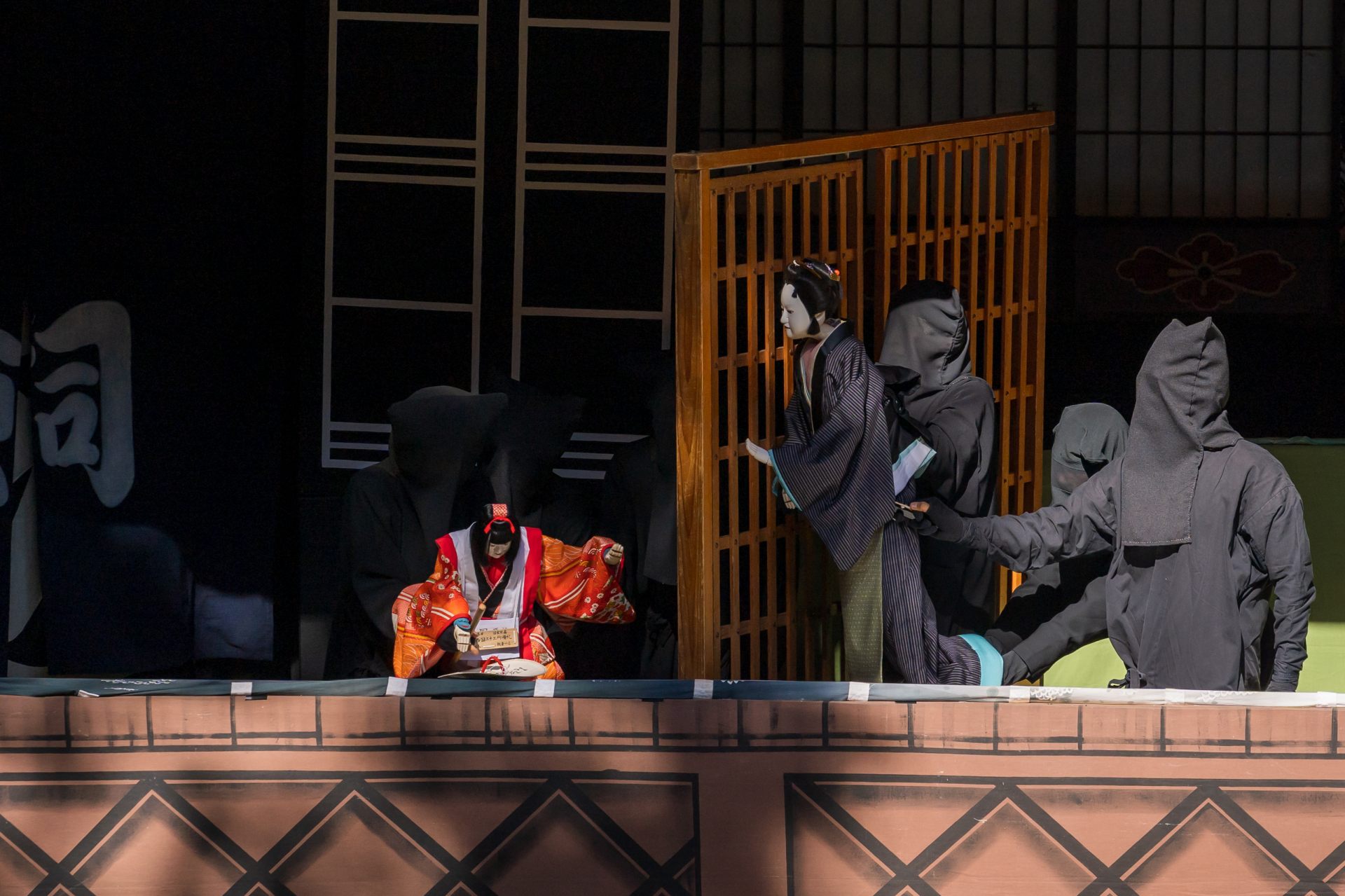 Private Awa Ningyo Joruri Performance at Inukai Noson Butai
Ningyo joruri is a Japanese traditional performing art with four hundred years of history, comparable to that of kabuki. The storyteller, shamisen player and puppeteers work together to create a unique type of stage play, said to be the most sophisticated and have high degree of perfection of the world's many puppeteering traditions.
Tokushima Prefecture, once known as Awa-no-Kuni, has been an active ningyo joruri center for many years, and it has its own unique variation called Awa Ningyo Joruri. In 1999, it was nationally designated as an Important Intangible Folk Cultural Property, and it continues to be carefully preserved and passed down by local communities.
One highlight of this tour is a private viewing of an Awa Ningyo Joruri performance on an outdoor stage called a noson butai, which is one of the characteristics of Awa Ningyo Joruri. We visit the Inukai Noson Butai, located on the grounds of a Shinto shrine, and take a closer look at the appeal of Awa Ningyo Joruri.
Ningyo joruri, a traditional Japanese performing art on par with kabuki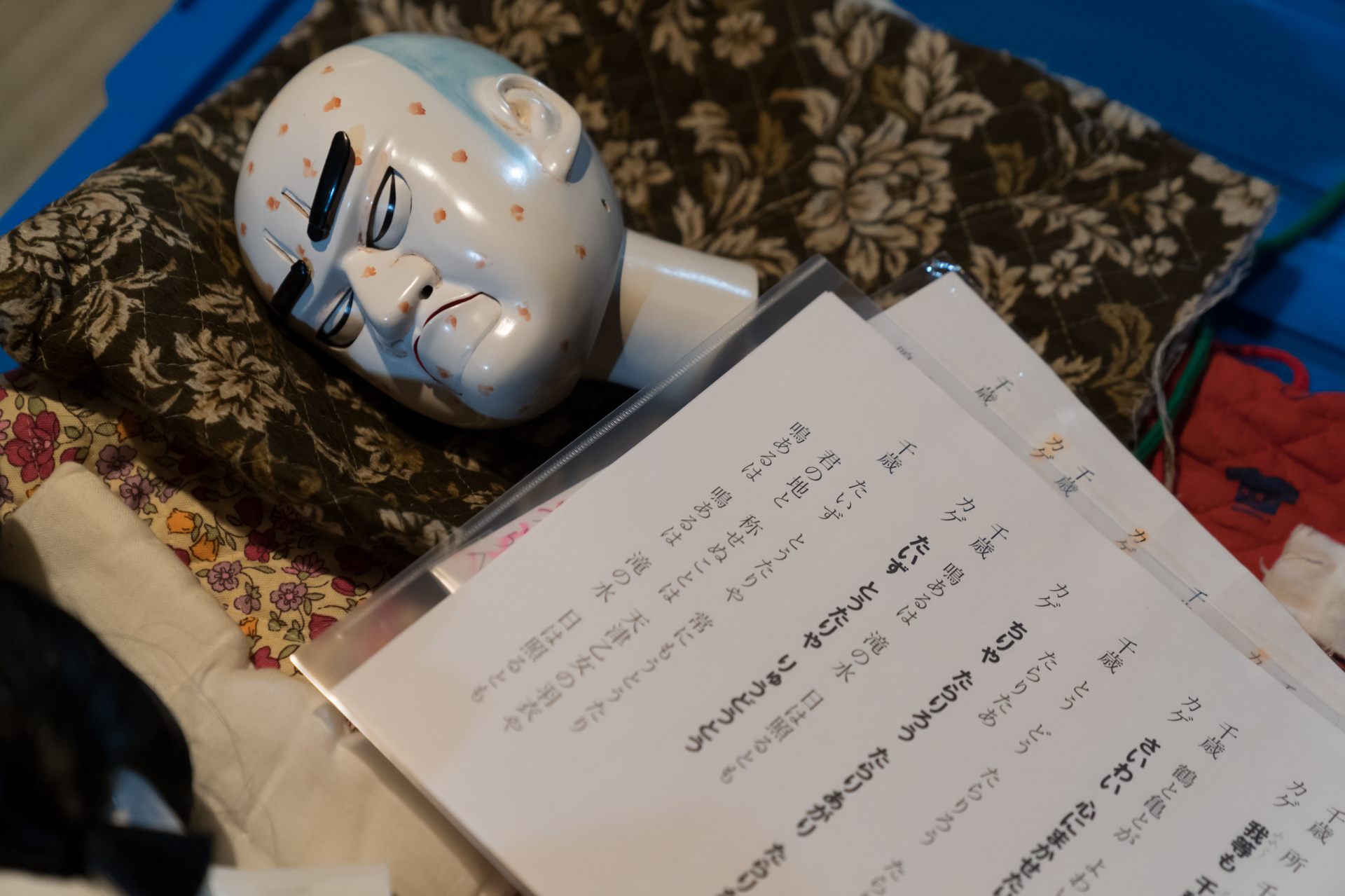 Joruri is a traditional Japanese performing art where a storyteller called a tayu tells stories accompanied by a shamisen. This tradition is said to begin in the mid-15th century, and it got popular with a love story about Ushiwakamaru and Princess Joruri. It is said that the name for the art was taken from the name of the protagonist.
After that, towards the end of the 16th century and the start of the 17th, ningyo joruri was established when joruri was combined with puppets, and it grew and developed along with kabuki while affecting each other, mainly in the Kyoto and Osaka areas. Troupes from Awaji and Awa travelled the country, spreading the appeal of ningyo joruri throughout Japan, and it became a big part of Edo-era popular entertainment.
Today the tradition is passed down in different ways in different regions, as a high-level art, a fun form of entertainment or as a way of paying tribute to the gods.
Storyteller, shamisen, puppeteers. The only performing art in the world where three functions work together to create a single world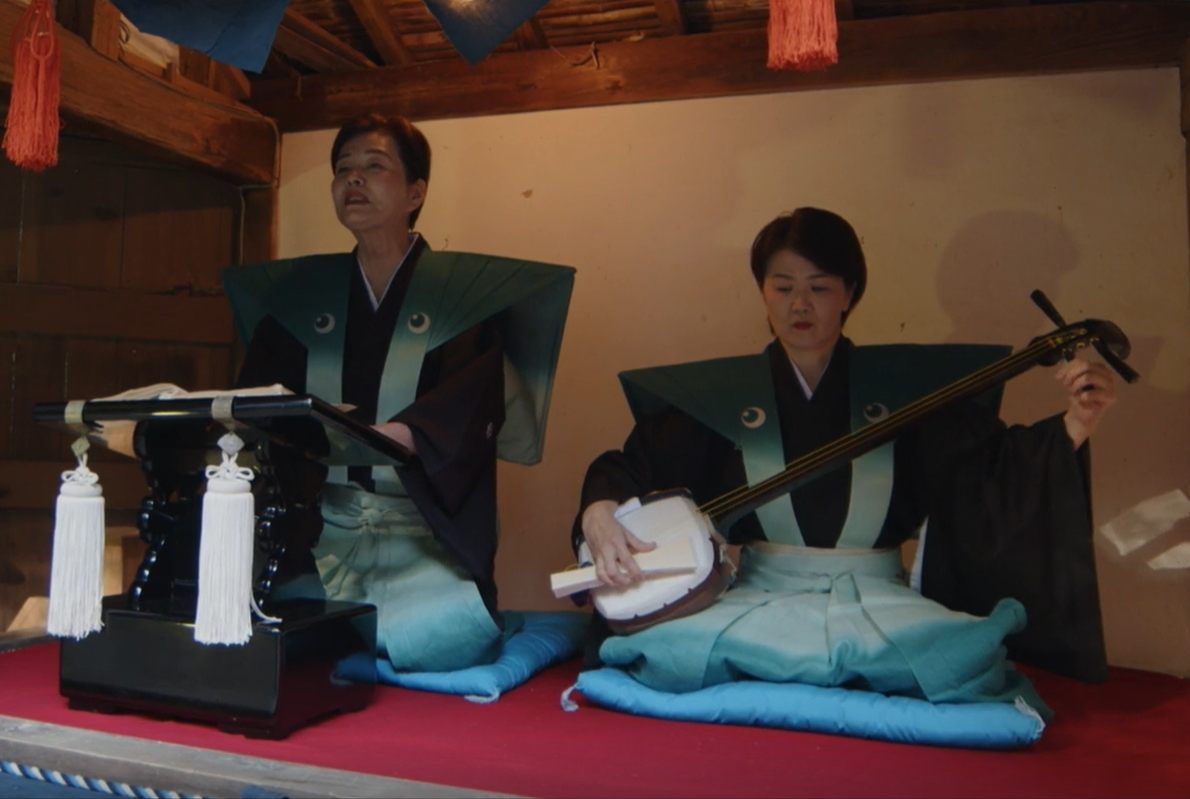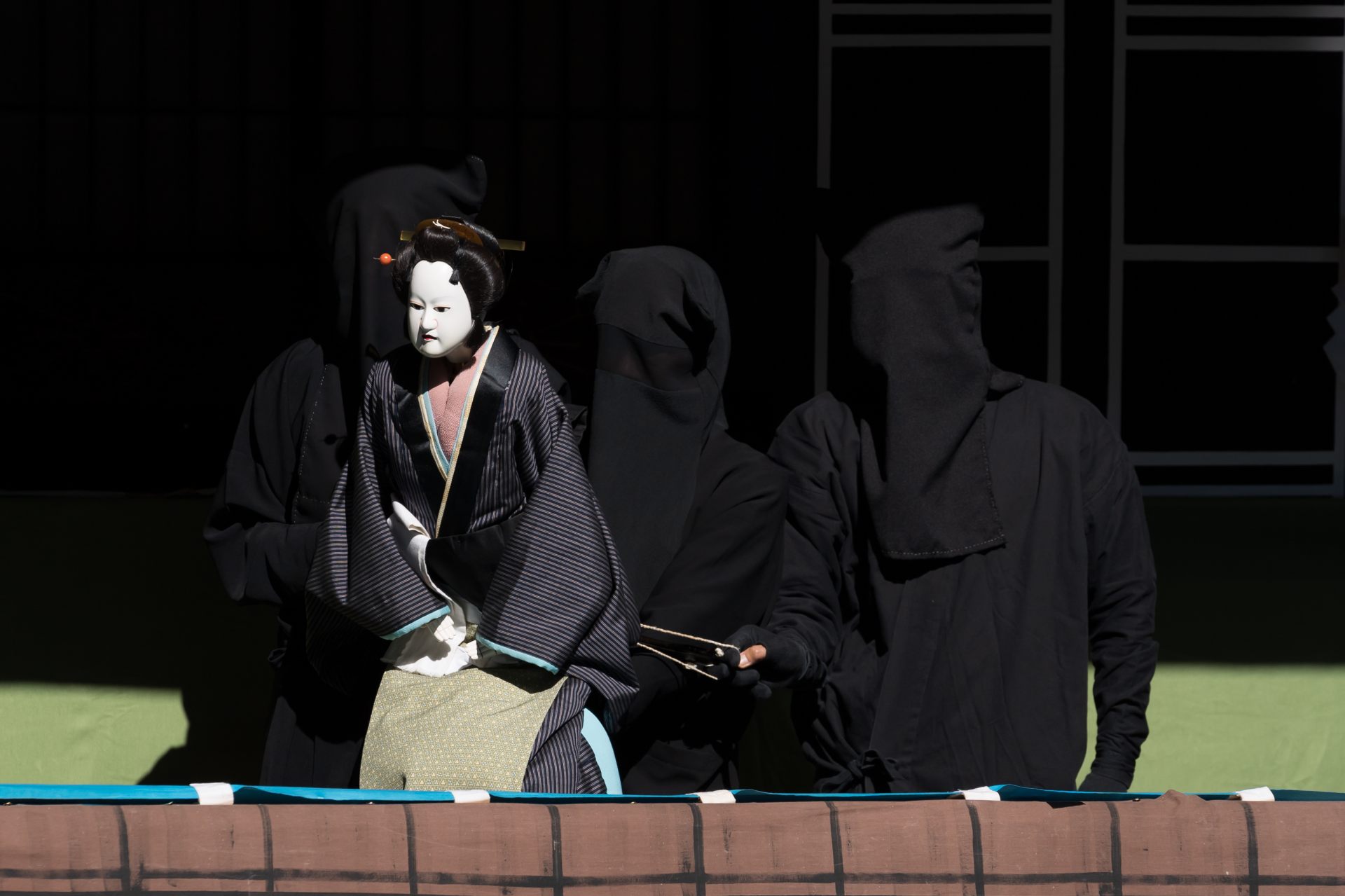 Ningyo joruri is especially interesting because of the way the storyteller, shamisen and puppeteers work together. They work together without one standing out too much to create a unified art form unique in the world, with three roles working as one.
The storyteller, known as a tayu, reads the story in a resonant voice from a script called a yukahon. The story includes lines for the characters, descriptions of the scene and parts that are sung along with the shamisen. The best part is when the storyteller acts out the voices of the characters with great emotion. The today's tayu is Tomowaka Taketomo, who is also a certified joruri gidayubushi (storyteller), an Important Intangible Cultural Property.
The shamisen is characterized by its wide range of tones. From deep, weighty tones to thin, keening sounds, to sounds that can express cold or hot, these many sounds are used to depict the many scenes in a story. The way the shamisen supports the storyteller with perfectly-timed pauses is something to watch for.
There are three puppeteers who handle each puppet. The omozukai (head and right arm), the hidarizukai (left arm) and the ashizukai (legs) work together as a three-person team. It is said that puppeteers start out as an ashizukai, then a hidarizukai, then finally an omozukai, spending eight years on legs, then eight years on the left arm before taking the job of operating the head. The puppet is expressionless on its own, but when it has life breathed into it by the puppeteers, it can show even richer expressions and emotions than humans.
Awa Ningyo Joruri, the pride of Tokushima. Established, nurtured and protected by the people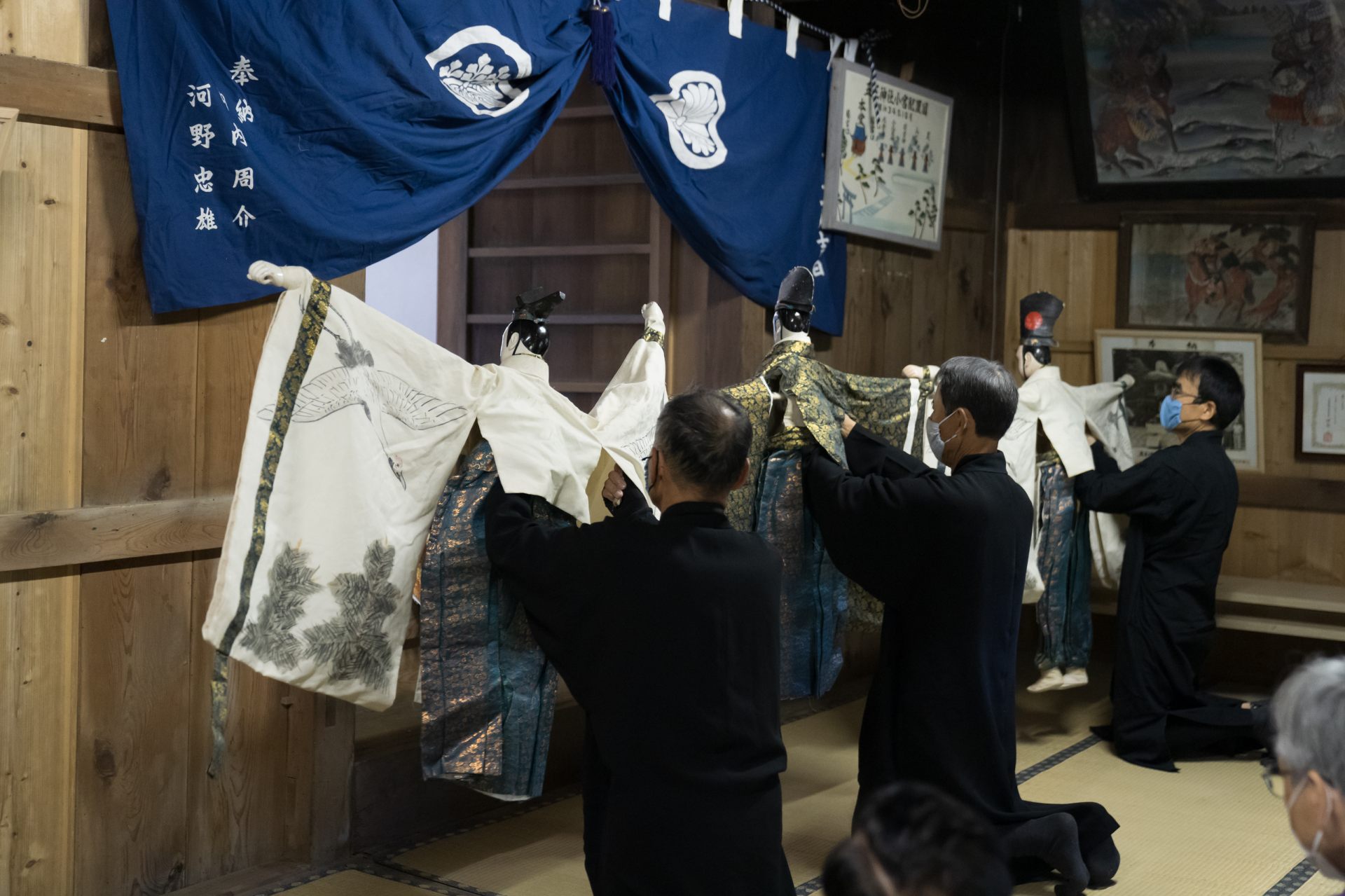 In this world of ningyo joruri, Tokushima's Awa Ningyo Joruri has been nationally designated as an Important Intangible Cultural Property. It's not known where it originated, but it is said to have formed at the latest in the early 18th century when Awa peasants were influenced by the popular puppet theaters of the nearby Awaji Island, learned puppeteering skills and established their own puppet theater tradition. After that, thanks to the patronage of the Hachisuka family, a feudal lord of Awa, and indigo merchants, the art developed and several puppet theaters were built that were comparable to those on Awaji.
Awa Ningyo Joruri, run by farmers and other amateurs, became a performing art for the common people. This wave spread amongst agricultural mountain villages. Local communities built special puppet stages on Shinto shrine grounds, and dedicated them to the shrine gods. The autonomy of the people in these mountain villages is said to be what made Awa Ningyo Joruri develop how it did.
The local people continue to carefully preserve the rural stages located in the shrine's holy forest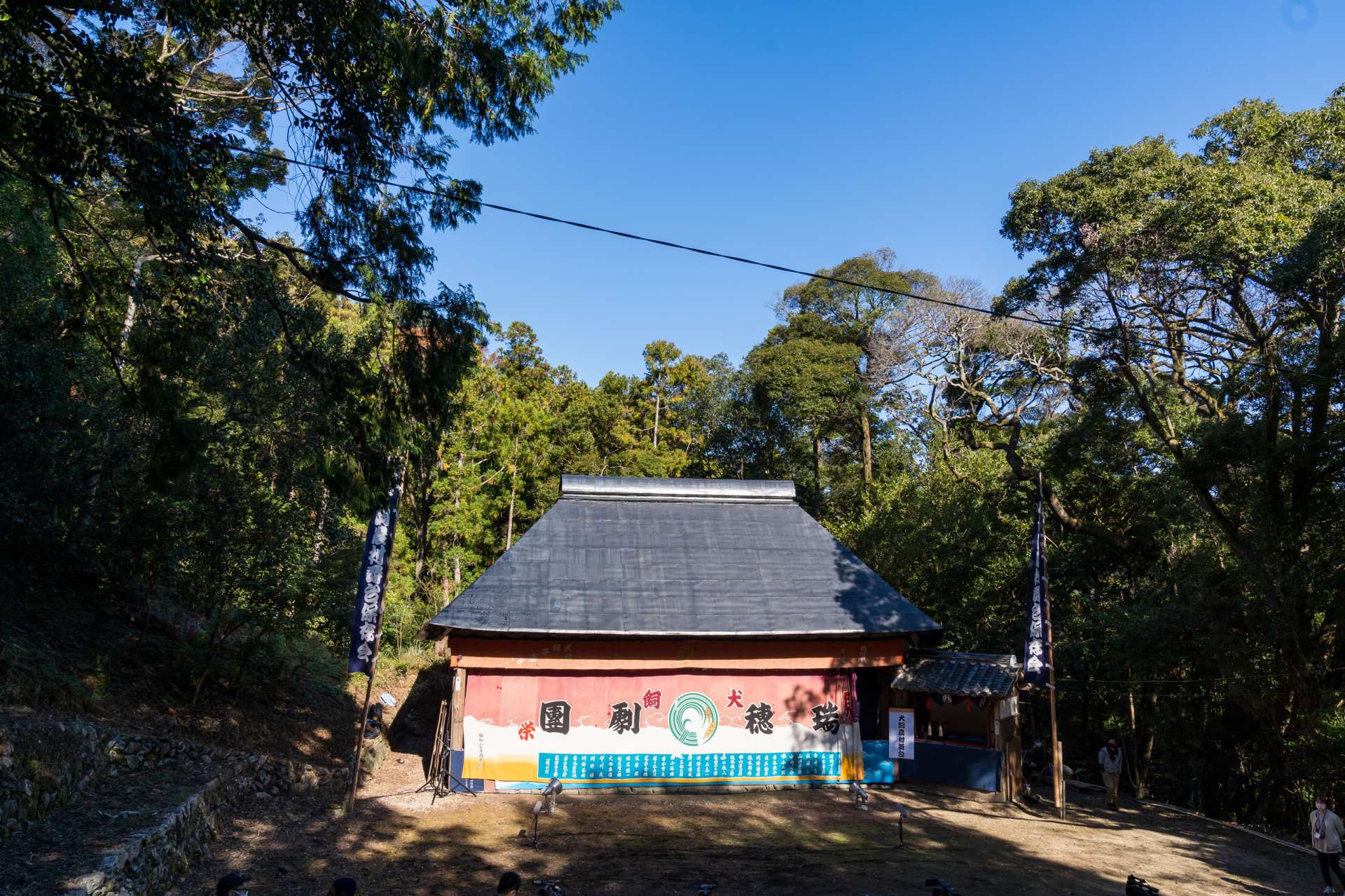 A vital part of Awa Ningyo Joruri is the special stages built in mountain farming villages by local communities. These are locally referred to as noson butai. The Inukai Noson Butai visited in this special cultural experience is one such stage. In the outskirts hamlet of Hata-cho, Tokushima City at the Go-o Shrine, there is a square surrounded by sacred forest where the stage stands.
The stage building was constructed in 1873. Now, nearly 150 years later, it is still carefully preserved and operated by the local community. In 1998, it was nationally designated as an Important Tangible Cultural Property. In addition to the building itself, the stage mechanisms are also delightful, and the "fusuma karakuri" backdrops that use mechanical devices to switch the 42 backdrops ranging from shochikubai (pine, bamboo and plum trees) to karajishi (lion) and senjojiki (a large hall) made up of 132 panels are a must-see.
Every year on November 3, Awa Ningyo Joruri is performed at the Go-o Shrine as a part of the shrine festival, held to pray for good harvest and peace and prosperity in the households of the community. While this long-standing Japanese tradition of performing as a part of an offering to the gods is in decline, this folk art that is closely connected to Shinto rituals is passed down faithfully by local volunteers. Even with the changes in times and society, this special event has solemnly continued as a ritual festival autonomously operated by volunteers of a local preservation society, not as an event led by government, companies or promotors and this is what makes Awa Ningyo Joruri even more valuable.
Preview the experience online