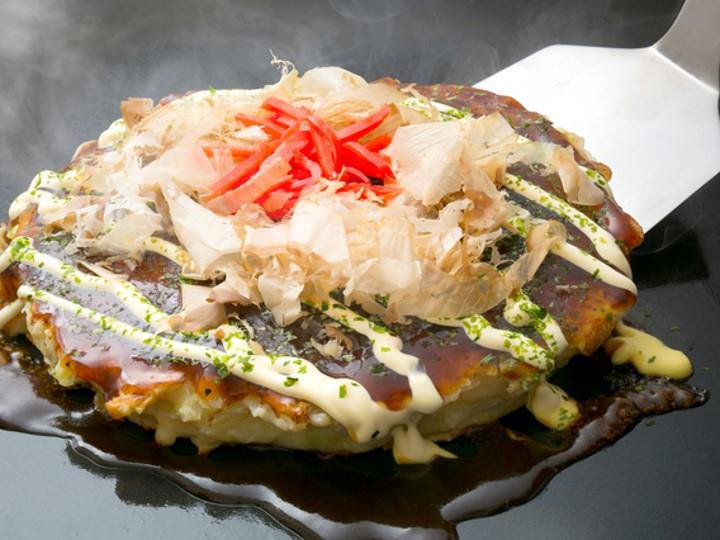 5 Must-Try Foods in Osaka and Where to Eat Them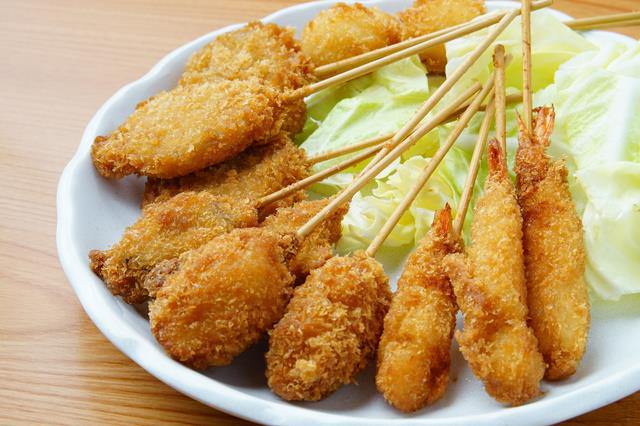 Osaka is crowded with tourists every day, both from Japan and abroad. When traveling to this popular tourist destination, you should definitely try several specialty gourmet dishes. This article introduces five recommended delicacies of Osaka!
1. Okonomiyaki
Okonomiyaki is a type of teppanyaki dish made up of various ingredients, including vegetables such as cabbage, as well as pork, shrimp, squid, or other seafood, which are combined with a water and flour mixture, then cooked on a heated iron griddle. Okonomiyaki is topped with a special sauce, mayonnaise, and bonito flakes, then sliced using a spatula. Other unusual types also exist, such as those using mochi rice cake and natto (fermented soy beans), so be sure to try them! There are countless okonomiyaki restaurants in Osaka, but we recommend the famous shop Kiji, which is popular among locals.

Price range: 800 - 1,000 yen for each okonomiyaki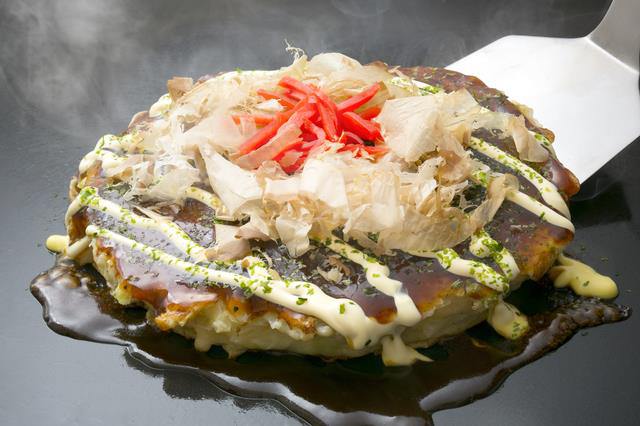 2. Kushikatsu
Kushikatsu is a dish of deep-fried vegetables and meats on skewers. In Osaka, each skewer features only one type of ingredient, and the ingredients are quite varied, including beef, onions, and boiled quail eggs. At specialty restaurants in Osaka, a stainless steel bowl containing special sauce is placed before each diner, and it is common to apply this sauce onto the skewers you order. Because this sauce is shared with other customers, "double-dipping" skewers that you have already placed in your mouth is heavily frowned upon, so be careful! Kushikatsu Daruma, a well-known kushikatsu chain, is recommended.
Price range: 100 - 200 yen per skewer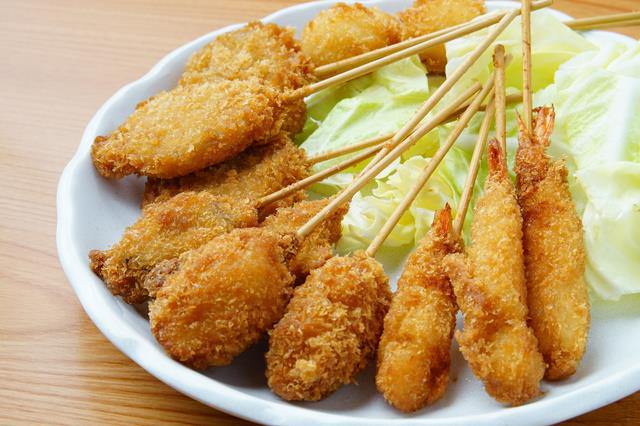 【Facility name】 Kushikatsu Daruma Shinsekai Main Branch
【Opening hours】 11:00 am - 10:30 pm
【Days Closed】 Open every day
【Price】 Average budget: Around 1,500 - 2,500 yen
【URL】 Official website(Japanese only)
【Street address】 2-3-9 Ebisu-higashi, Naniwa-ku, Osaka-shi, Osaka
【Google Map URL】 GoogleMap
3.Takoyaki
Takoyaki is one of Osaka's most famous delicacies. Chopped octopus and red pickled ginger* are mixed into a batter of water and flour, then poured onto a rounded iron plate and cooked. You can often see cooks at restaurants making takoyaki right before your eyes—be sure to watch their deft technique as they flip the balls of dough, one after another! After cooking, top with special sauce, bonito flakes, and mayonnaise before eating. We recommend Takoyaki Doraku Wanaka, where diners are constantly queueing for the food. This popular restaurant has branches in Dotonbori and at Shin-Osaka Station.
Price range: 500 - 600 yen for 6 to 8 pieces
(*Ginger pickled in plum vinegar with red shiso, etc.)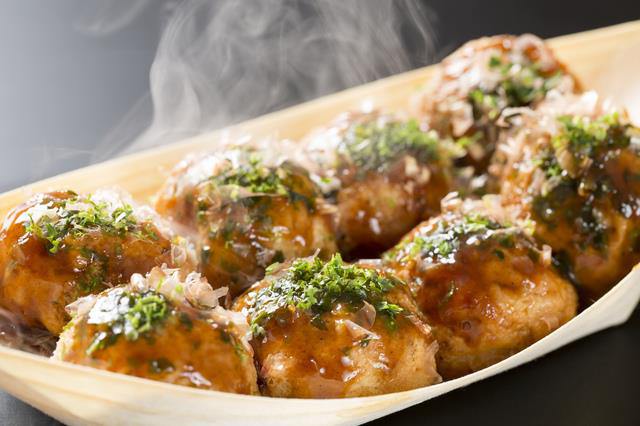 4. Udon
One noodle dish much loved by the people of Osaka is udon. Osaka's udon has a distinctive round cross section and has a pleasant, soft texture that is not too chewy. The soup is characterized by rich flavor created from various seafood stock ingredients such as dried bonito and kelp. Ingredients vary, but kitsune udon topped with sweet fried tofu* is a classic. If you want to add a different flavor partway through, use a seasoning such as shichimi or sansho, which are usually available on your table. Recommended stores include the Namba main location of the Chitose restaurant chain, which has long been loved by locals. Be sure to visit.
Price range: Around 700 - 800 yen per bowl
(*Thinly sliced tofu fried in oil)
5.Yakiniku
Yakiniku (Japanese BBQ) is very popular, both in Japan and overseas. The main style of yakiniku in Osaka is called momidare, in which a unique sauce is worked into the meat. After the meat is grilled, it's dipped in another sauce before eating, enabling diners to enjoy rich flavor. We recommend Itamae Yakiniku Ichi-gyu, which offers the ever-popular Kobe beef at reasonable prices. Incidentally, dining on yakiniku involves the risk of oil splashes. Although restaurants vary, free disposable paper aprons are available in many cases, so please ask staff!
Price range: Average budget per person (dinner) 3,000 - 4,000 yen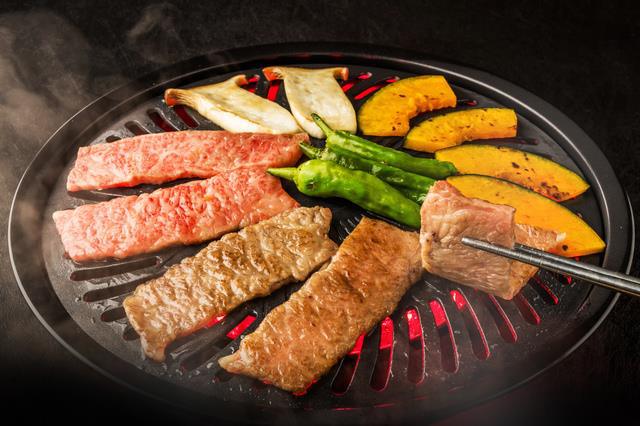 【Facility name】 Itamae Yakiniku Ichi-gyu
【Opening hours】 Monday - Friday: 5:00 pm - 11:30 pm
Saturday, Sunday, National Holidays: 4:00 pm - 11:30 pm
【Days Closed】 Wednesday (if Wednesday is a public holiday, closes on Thursday instead)
【Price】 Average budget: Around 4,000 yen
【URL】
https://www.ichigyu.jp/
https://kansaiguide.jp/rt/eng/gourmet/detail/index.html?item_id=kdef200
【Street address】 3-9-6 Minami Senba, Chuo-ku, Osaka-shi, Osaka
【Google Map URL】 GoogleMap
The city of Osaka has many delicious local specialties. Try as many dishes as you can!