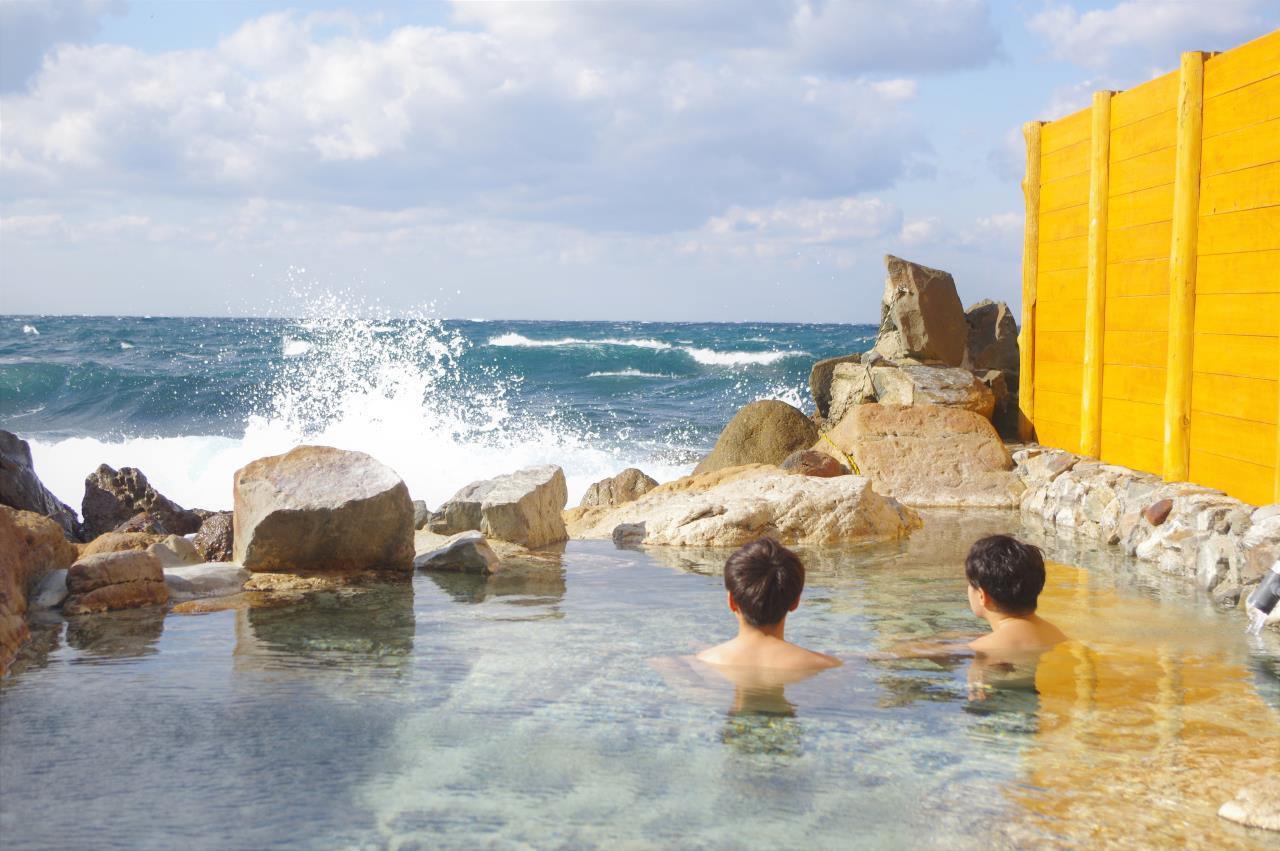 Heal on the pilgrimage road, heal in sacred places, heal in hot springs Wakayama is the home of healing in Kansai
Wakayama Prefecture is located at the tip of Kii Peninsula, the largest peninsula in Japan. Enjoy a scenic and comfortable journey by taking the Japan Railways (JR). You can also fly direct from Tokyo to Nanki-Shirahama Airport in just about an hour! A local bus will take you from Nanki-Shirahama Airport straight to Kumano Kodo, a World Heritage Site.
We will guide you on an amazing journey, starting from Nanki-Shirahama Airport, walking to the first holy place called "Kumano Hongu Taisha" while walking a part of "Kumano Kodo" pilgrimage road. You will also enjoy the wild "Kawayu Onsen" and the historic "Shirahama Onsen".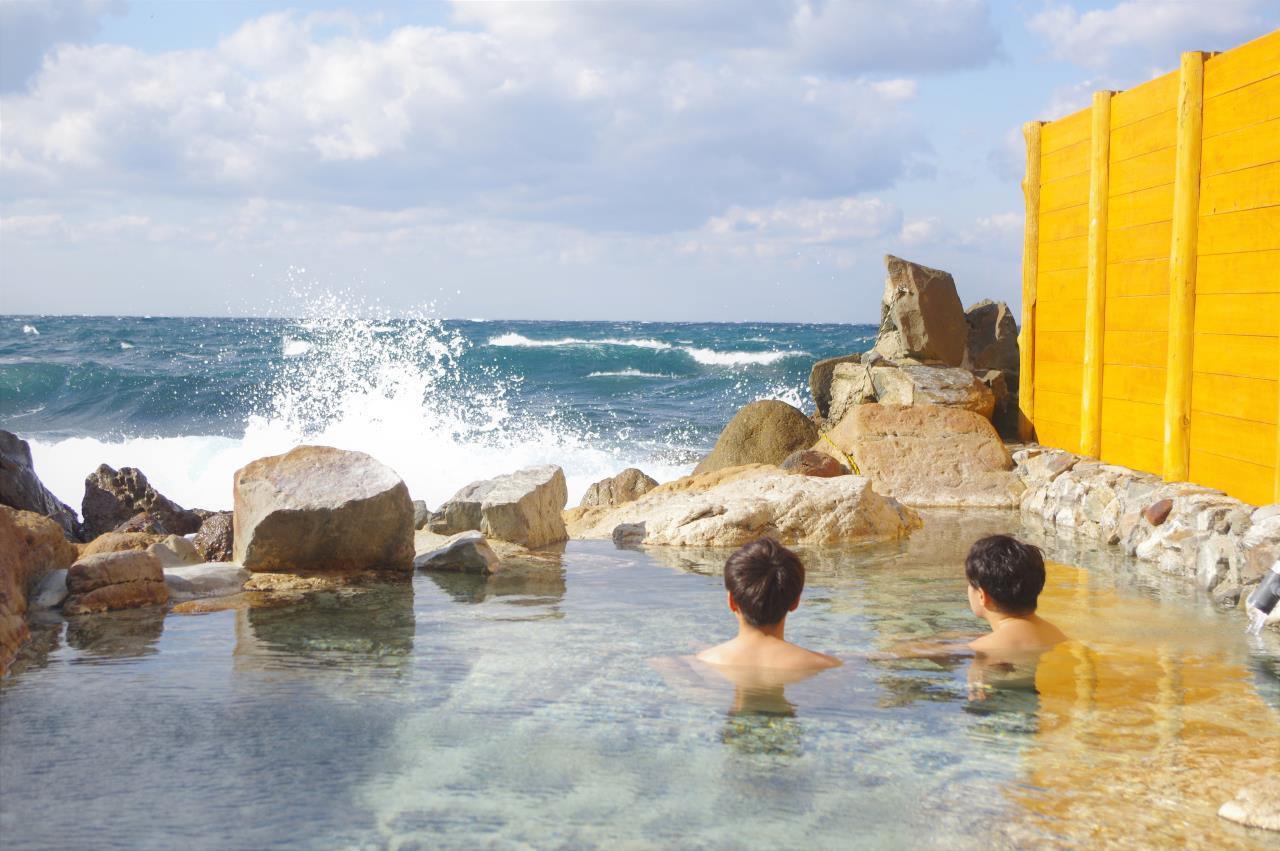 Public baths in Shirahama, a historical hot spring district.(Saki-no-Yu)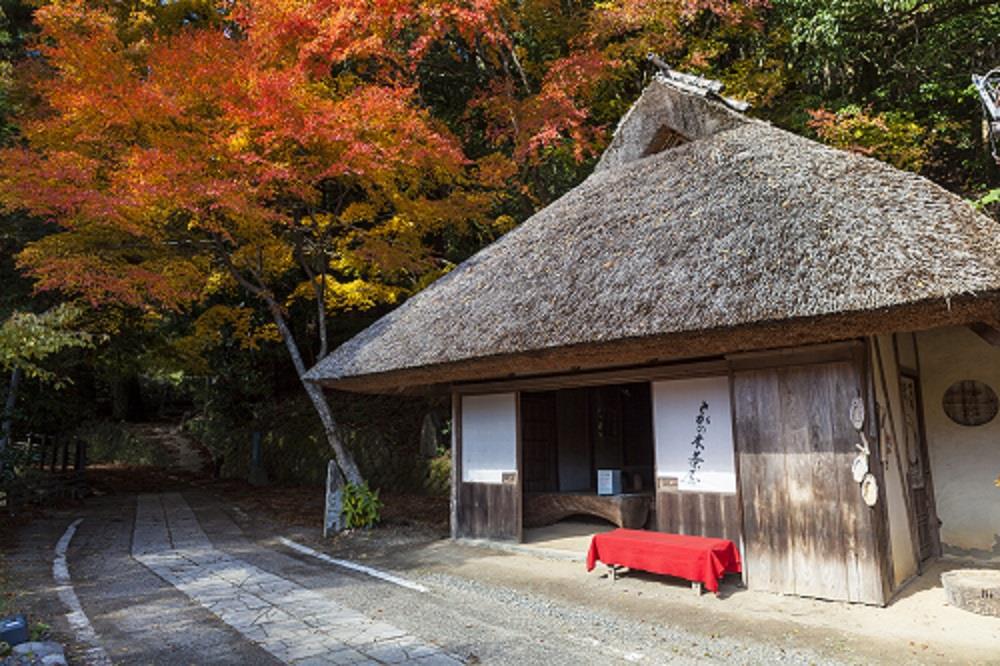 A charming and quaint rest area on the way of Kumano Kodo. ©公益社団法人和歌山県観光連盟
Depart 30 minutes after arriving at Nanki-Shirahama Airport for a comfortable bus trip.
There are three return flights from Tokyo to Nanki-Shirahama Airport daily. Take bus #91 linked to the morning flight, from Shirahama to one of the famous sight-seeing points on Kumano Kodo. There are several local bus companies in Wakayama, they each use the same destination numbering system for easy-to-use convenient transport. Wakayama is tourist-friendly and safe for visitors.
Wakayama is home to "Kumano Sanzan" which refers to a set of three Grand Shrines - "Kumano Hongu Taisha", "Kumano Hayatama Taisha" and "Kumano Nachi Taisha" which has been recognized as a sacred place for more than 1,000 years. The Kumano Kodo is a pilgrimage route to these three shrines and it takes a couple of days to walk this ancient path. Our first challenge will be to walk approximately 3 hours on the old road from "Gyuba-doji-guchi" to "Nonaka Ipposugi" where bus #91 stops.
Nanki-Shirahama Airport https://visitwakayama.jp/plan-your-trip/shirahama-airport/
Bus time schedule http://www2.tb-kumano.jp/en/transport/pdf/Tanabe-Shirahama-to-Hongu-bus.pdf
Bus Route Map https://www.pref.wakayama.lg.jp/prefg/062500/kotsu_d/fil/190331_map_m.pdf
Kumano Kodo is an ancient and well-worn pilgrimage route to sacred places such as Kumano Hongu Taisha and other fascinating sights.
When you exit bus #91 at the bus stop "Gyuba-doji-guchi", which is less than 2 hours from the airport, the first scenic point is the "Statue of Gyuba Doji" located on a low mound. It depicts a figure straddling the backs of both a cow and horse, and this is where its name comes from. You will feel the history in the mossy surface of the statue. Nearby, there are other scenic spots overlooking the Satoyama (an untouched woodland area near the village.).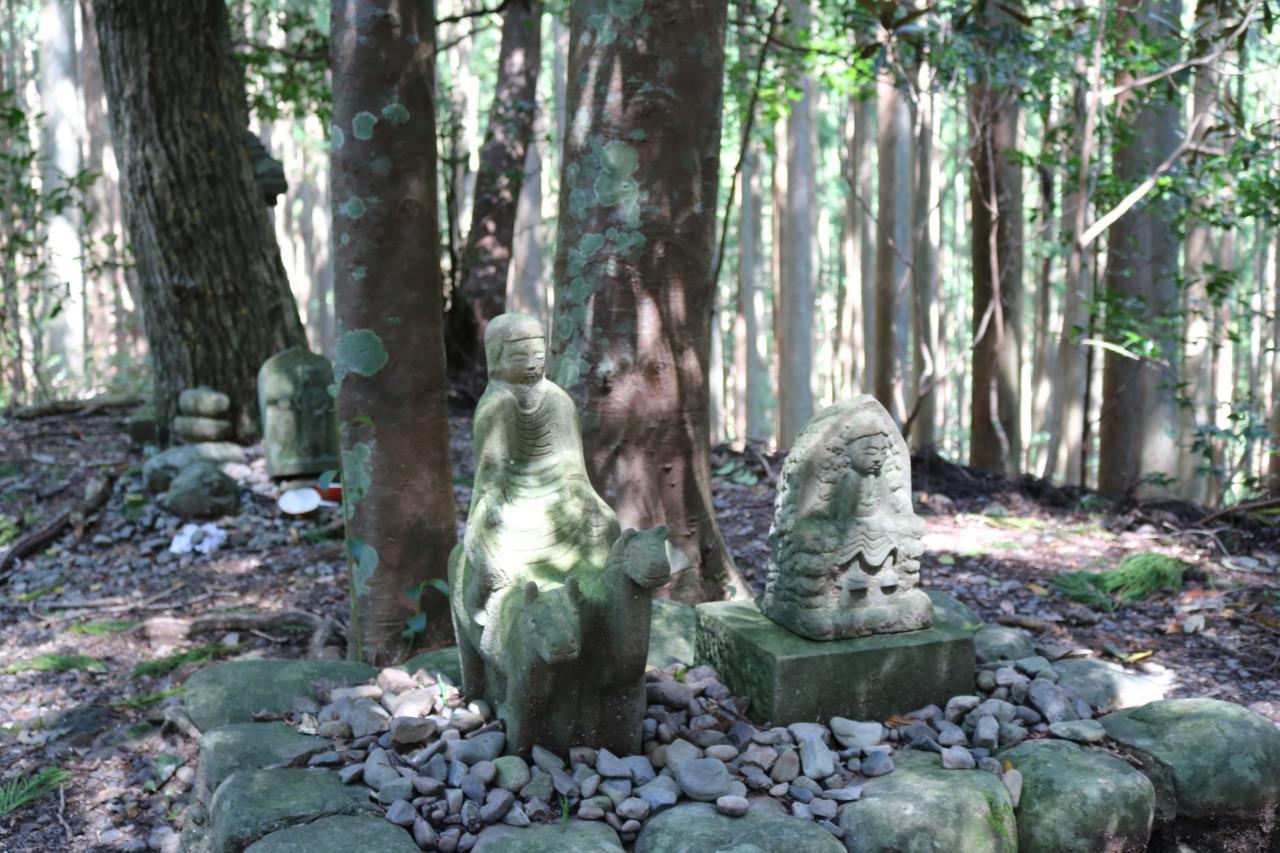 The next point, "Chikatsuyu-Oji" and "The Nonagase Clan's cemetery" are located in at the peaceful Satoyama which was seen before. There are restaurants and shops in the surrounding area, so please enjoy a relaxing lunch here. There are no restaurants for a while from this point, and the pilgrimage route continues uphill. Be prepared for some steep slopes that make you want to crawl some of the way!
After walking uphill and going through "Hisohara-Oji", the last point "Tsugizakura- Oji". There is a huge cedar tree on the side of the stone steps, and this is the famous "Nonaka-no-ipposugi the cedar trees", said to be over 800 years old. Under the stone steps, "Nonaka-no-Shimizu the Spring", which was selected as one of the "100 Best Water Springs in Japan," flows up naturally and visitors can drink freely. Freshly cold natural spring water rejuvenates the weary pilgrim! The "Oji" of "〇〇 no Oji", means the small shrine located along Kumano Kodo route. It is said that since ancient days people have been praying for safe travels here.
It's about 5km to here, about 2 hours of strolling, it'll takes less than 3 hours even if you enjoy lunch on the way. To catch the bus again from here, you walk 1.3km to the "Nonaka Ipposugi" bus stop, so please keep track of time! Kumano Kodo has some tough areas to walk such as narrow mountain roads and long stone steps within thick grove, but most of the route on this plan is paved. It is a course for beginners who can enjoy the peaceful Satoyama landscape and rich nature, relax and greet the locals while walking.
Kumano Kodo https://www.hongu.jp/en/kumano-kodo/walking/
Create your own personal "onsen" just by digging a hole in the river bed!
A very unique "Kawayu Onsen" is found on the way to "Kumano Hongu Taisha Grand Shrine" Don't miss out on this unique Onsen experience! From the "Nonaka Ipposugi" bus stop, take bus #81 or #85 and get off at "Kawayu Onsen" or "Fujiya-mae" or "Kameya-mae" bus stop, it takes about 40 minutes. "Oto-gawa River", is a clear flowing stream, it is a very unusual hot spring (onsen) where you can create your own onsen by digging on the banks of the river. If you can find a hole dug by someone already, you can be wise to reuse it! Bathing in an outdoor onsen its natural setting is just outstanding! The weariness from walking along the old road will fade and you will feel rejuvenated. By the way, don't forget your swimsuits and towels, as the place has no changing room nor the screen panels. In winter (December-February), a large unisex open-air natural bath "Sennin-buro" will appear, which is created by damming this river. Bathing is free for both baths. *An indoor public bath house is also available nearby the fee is 250 yen.
"Kawayu Onsen" has more than a dozen onsen lodgings, so it is also recommended to stay here for one night. You can get to "Kumano Hongu Taisha" in about 10 minutes by taking the same bus #81 or #85 again.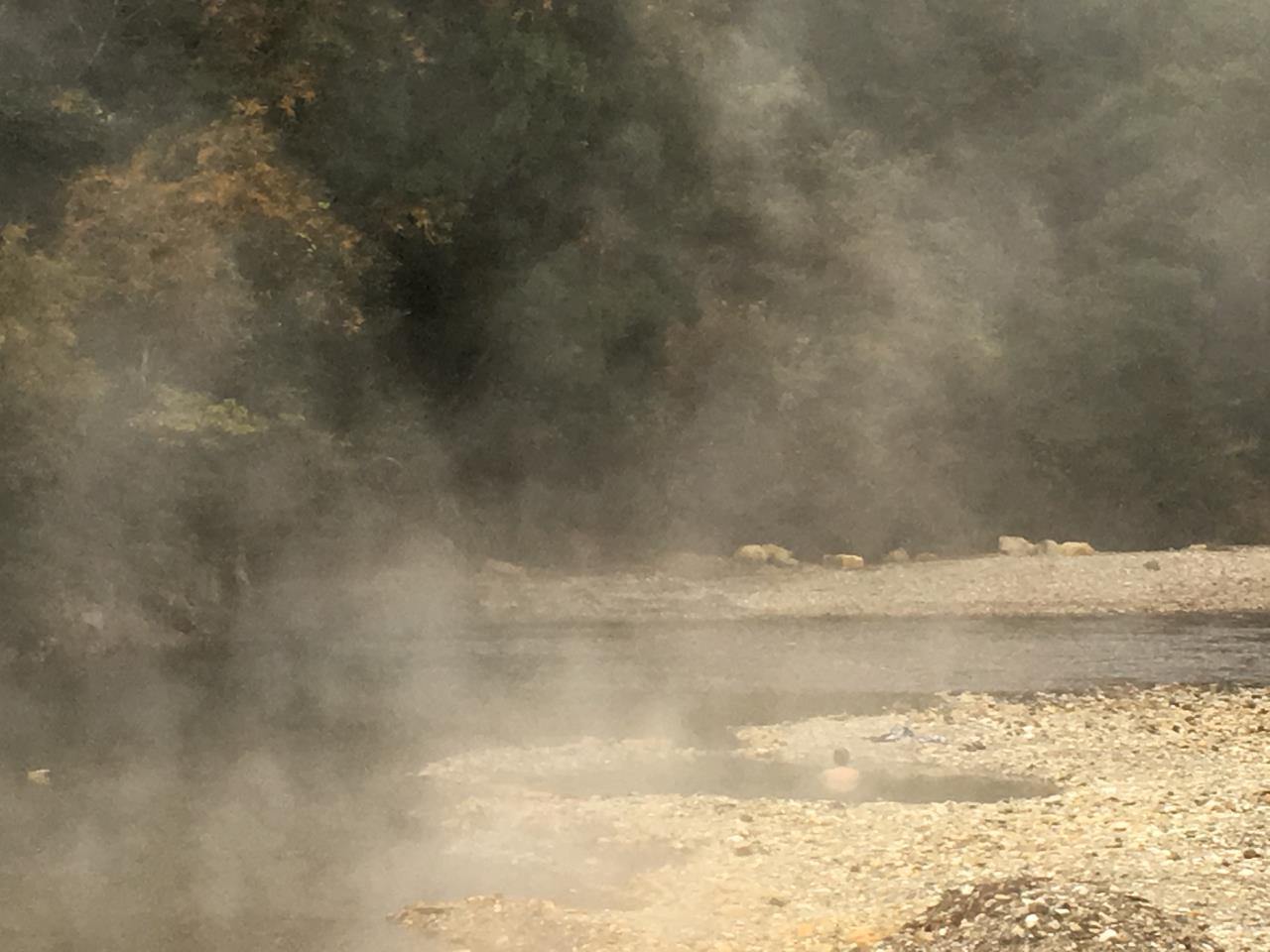 "Kumano Hongu Taisha" a sacred place visited by many, from royals and nobles to ordinary people.
"Kumano Hongu Taisha" is an ancient shrine that was founded about 2,000 years ago and is one of the destinations of "Kumano Kodo". The main hall of the shrine has impressive "hinoki" (Japanese cypress) bark thatching, exuding a solemn energy, it is surrounded by cedar trees and has majestic atmosphere. It is enchanting to feel the history of people walking from all over Japan on a pilgrimage to this place more than 1,000 years ago.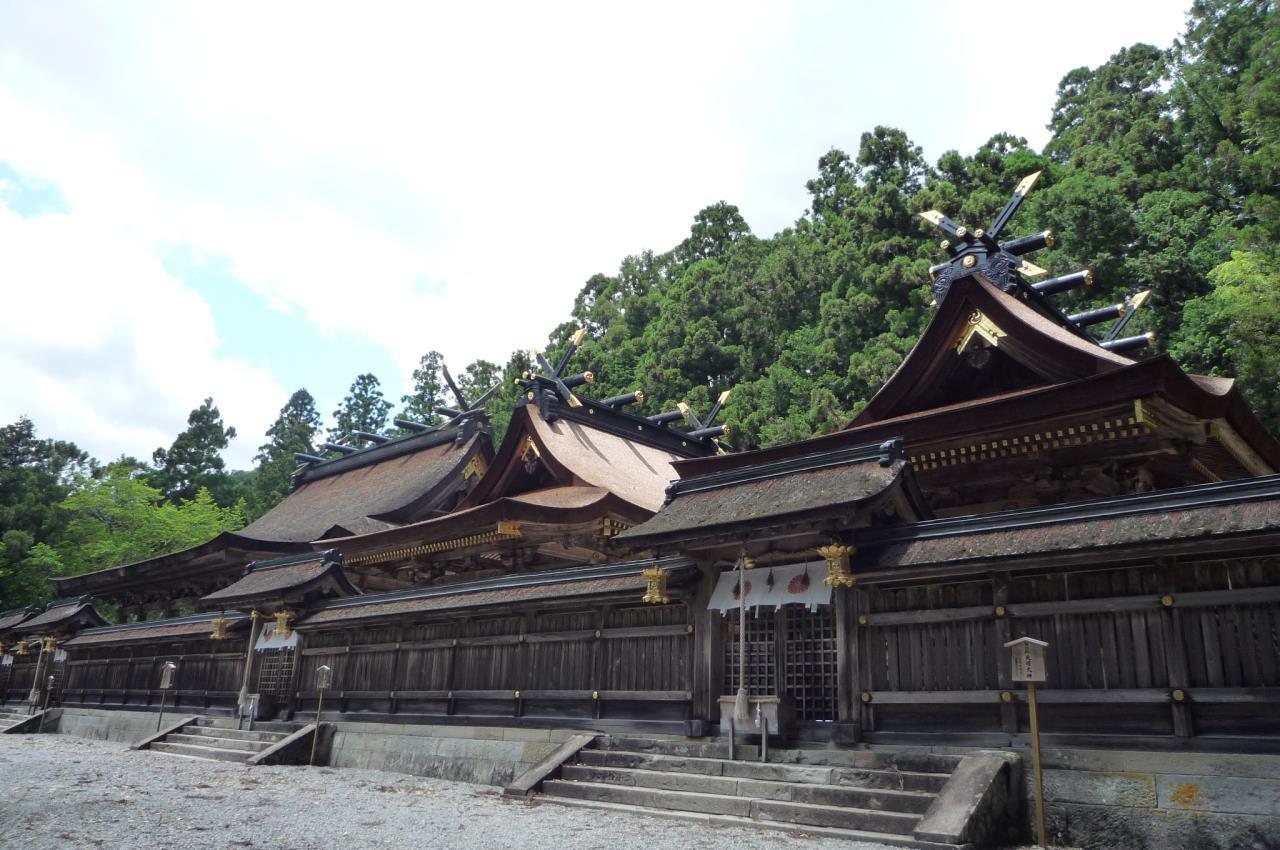 Looking around the precincts of the shrine, there is a famous mailbox with a three-legged crow (Yatagarasu). You can mail a letter from this mailbox, they will set a memorial stamp on your letter which says "From the place of departure, with all my heart - Kumano Hongu." If you have someone special who is trying to start a new project etc., send a letter to them from here. There is a story about the Yatagarasu guided the Emperor Kanmu, the founder of Japan, from this land of Kumano, the job was requested by "Susano-ono-mikoto" the god of Kumano Hongu Shrine.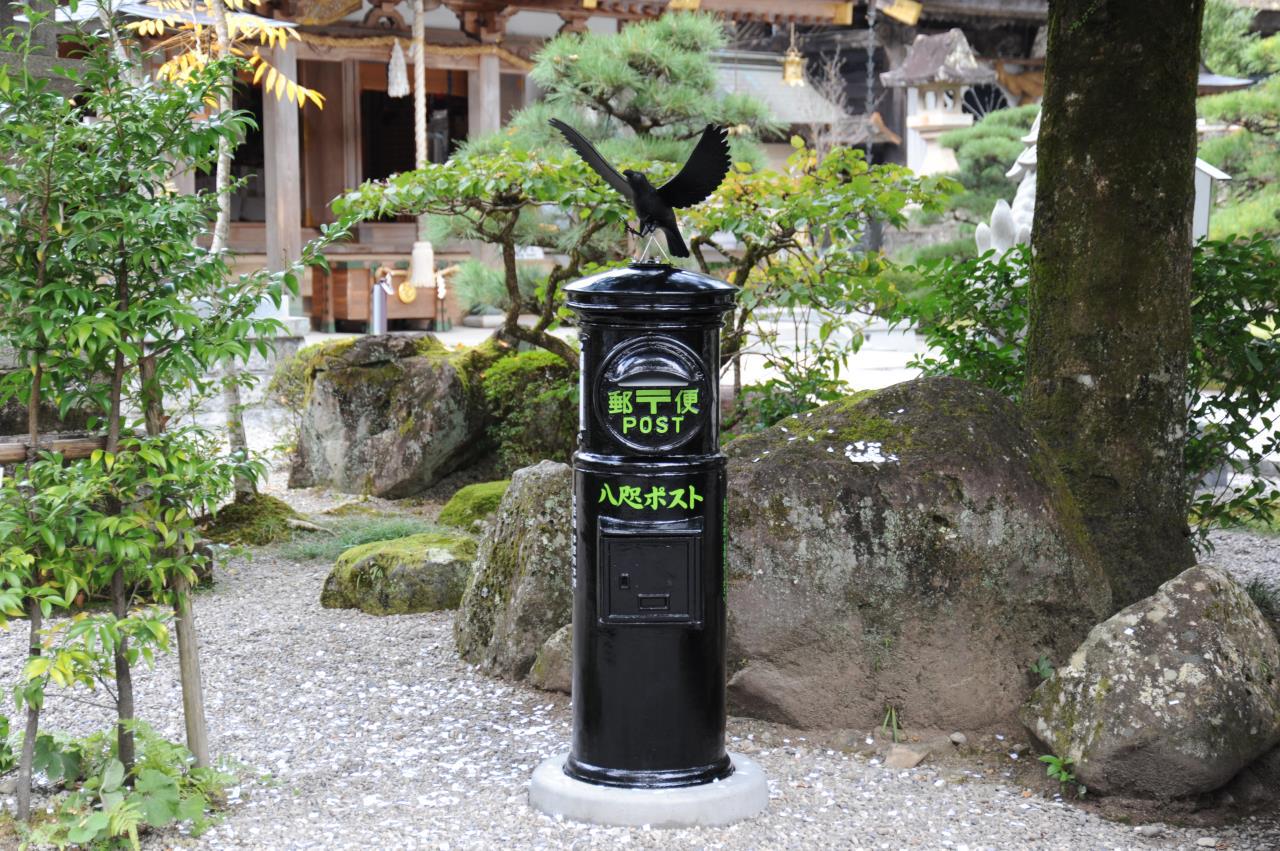 After your prayers, return by the same road taking bus #90 bound for Shirahama (takes approximately 2 hours), or take bus #91 for 40 minutes then change to JR train line from JR Shingu Station, you can enjoy a two-hours train trip to Shirahama.
Kumano Hongu Taisha http://www.hongutaisha.jp/english/
Things to do in Shirahama ?
hot springs → outstanding views → hot springs → outstanding views → hot springs ...
Shirahama is a hot spring resort along the ocean. It is one of the most popular hot spring resorts in Japan with many public baths in the historical hot spring district, as well as scenic spots along the seaside. Local buses are easy to use and convenient to travel everywhere in Shirahama! Taking bus #101, connecting from Shirahama Station to Shirahama Bus Center and Nanki- Shirahama Airport, bus #102 which is reverse route of bus #101. You can easily go around the main public baths and superb viewpoints. If you purchase a bus-pass ticket, it provides unlimited ride and you can hop on and off at any stop along the route.
Bus-pass ticket https://visitwakayama.jp/good-to-know/accessible-wakayama/tokutoku-free-pass/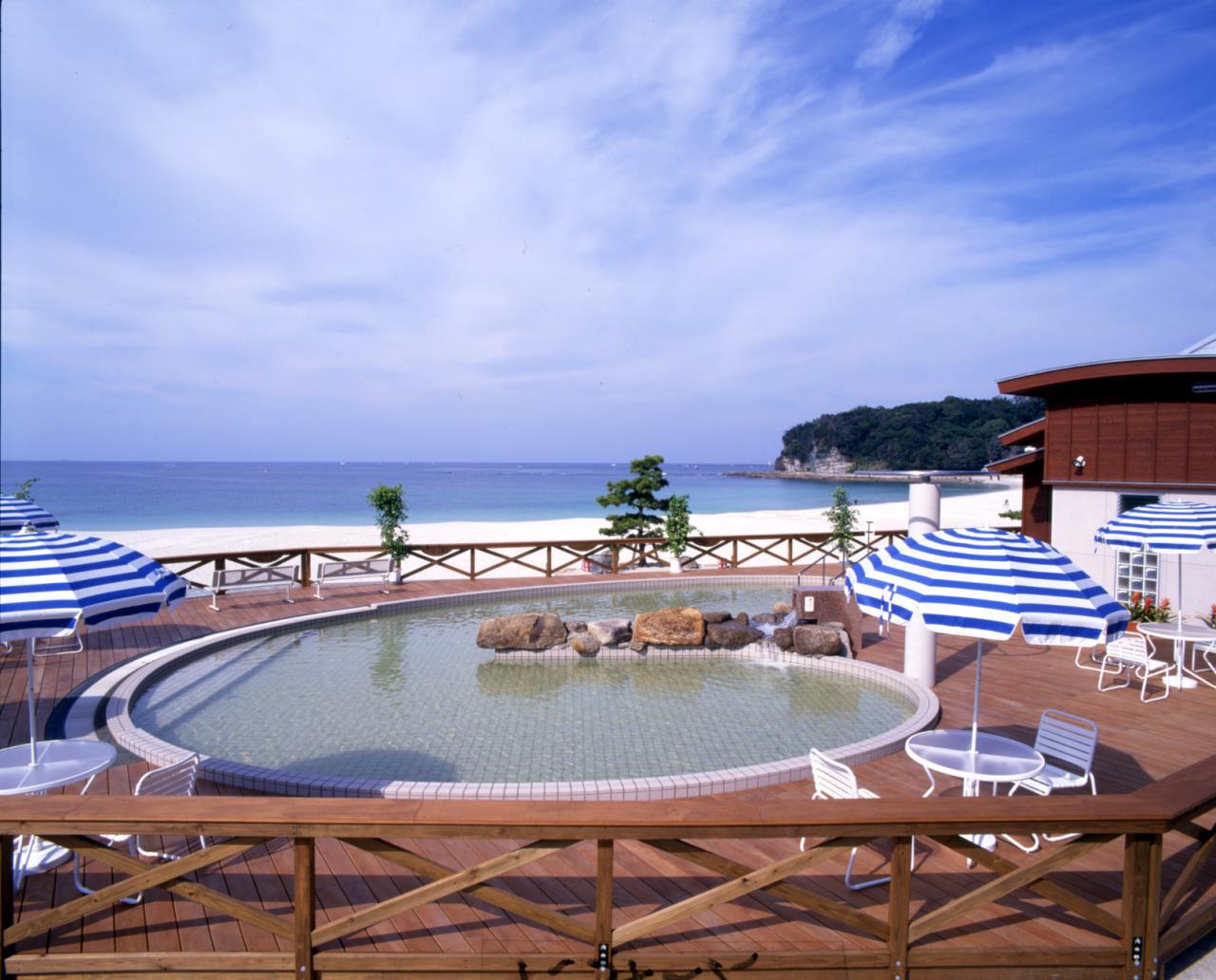 "Engetsu-to(Engetsu Islet)", a small islet with a hole in the middle, a precipitous cliff "Sandanbeki", and "Senjojiki" a tiered rock that stretching out into the Pacific Ocean, formation that has been eroded by the stormy sea and it looks like a huge tatami mat, they are all designated as national scenic spots in Japan. These superb viewpoints are concentrated on the west side, you can overlook the sunset over the magnificent view, the scenery is absolutely a breathtaking beauty. There are public bath houses and footbaths available near the viewpoint, you can relax in the hot spring bath then enjoy the outstanding view.. Just repeat this wonderful routine of life!
Wakayama boasts Raw Tuna landing, a true seafood paradise.
Wakayama, surrounded by the ocean is also famous for is delightful seafood. The largest volume of raw tuna landing in Japan, so you can enjoy fresh delicious raw tuna here. Bus #101 and #102, both take you to great hot springs and superb views, they are actually gourmet buses with easy access to delicious eateries! Get off at "Tore Tore Market", where you can watch whole tuna carving shows if you are lucky, or at "Fisherman's Wharf Shirahama", where you can buy fresh seafood directly from fishermen at the pier in front, and try mouthwatering sushi, sashimi, and tempura while you are there. Unbelievable freshness is only experienced in the seaside town.
Restaurants in Shirahama http://www.nankishirahama.jp.e.aee.hp.transer.com/gourmet/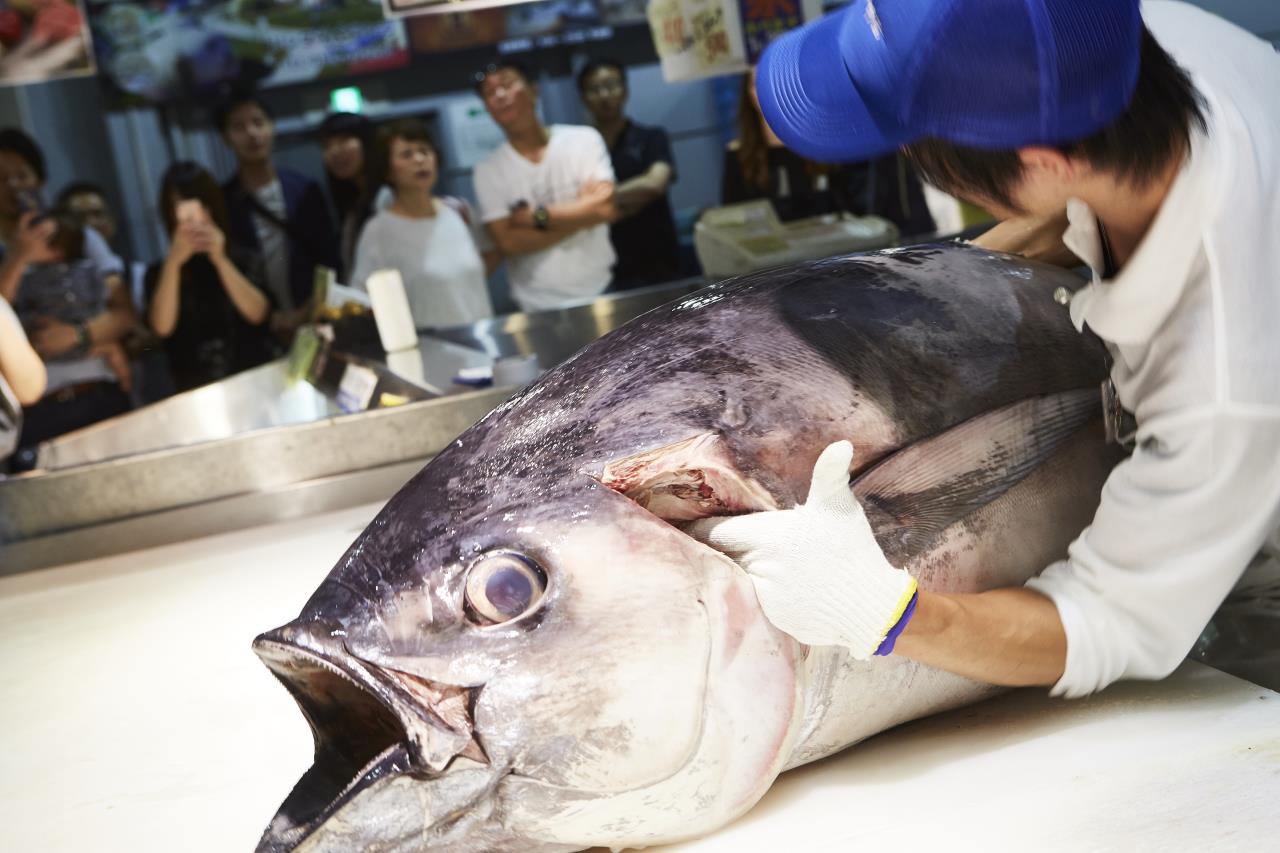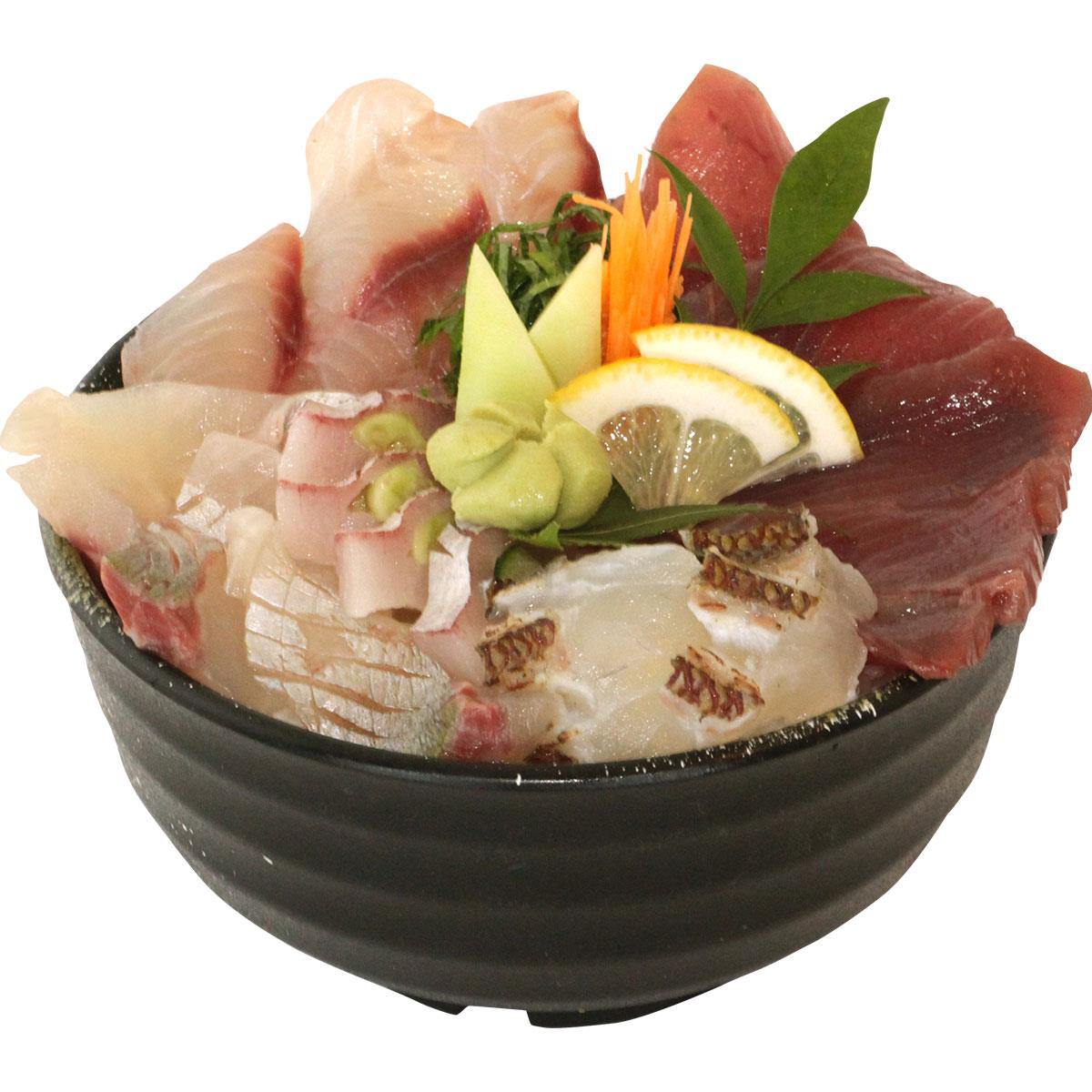 Fisherman's Wharf Shirahama https://fw-sh.com/en/
Come to Wakayama where you can feel and enjoy the sacred atmosphere of "Kumano Kodo" and "Kumano Hongu Shrine", unique hot springs, beautiful scenery, and delicious seafood dishes just by traveling around by buses! Please come visit us!