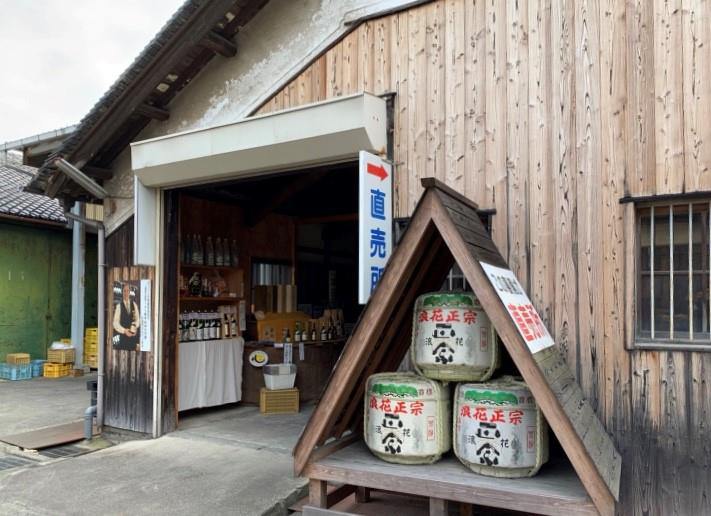 Only 20 minutes away from Kansai Airport! This short trip will take you back in time to a 300 year old sake brewery, you will enjoy super fresh seafood cuisine at a fisherman's house.
The southern part of Osaka where Kansai Airport is located, has many fishing ports so this area is a real seafood paradise. Hannan City is a town located in between the sea and mountains, and is full of natural blessings.
How about a luxury trip to enjoy the best of both the mountains and the sea?
This is a short trip around the Kansai Airport to enjoy the freshest seafood of Osaka and delicious sake from Osaka's oldest sake brewery!
It's right out of Kansai International Airport! Get off at Ozaki Station on the Nankai Honsen Line. Leave your luggage and off you go with empty-handed!
Ozaki Station on the Nankai Railway is about 20 minutes away from Kansai Airport. It is a conveniently located station where the limited express trains stop.
The Hannan City Tourist Association is right in front of you after you leave the West Exit. There is a luggage storage service here, so you may leave your luggage here when you arrive (500YEN). There is also tourist information available in foreign languages, a changing room, a space for prayer, and a bicycle rental service. (500YEN, deposit 1000YEN, up to 5 bicycles)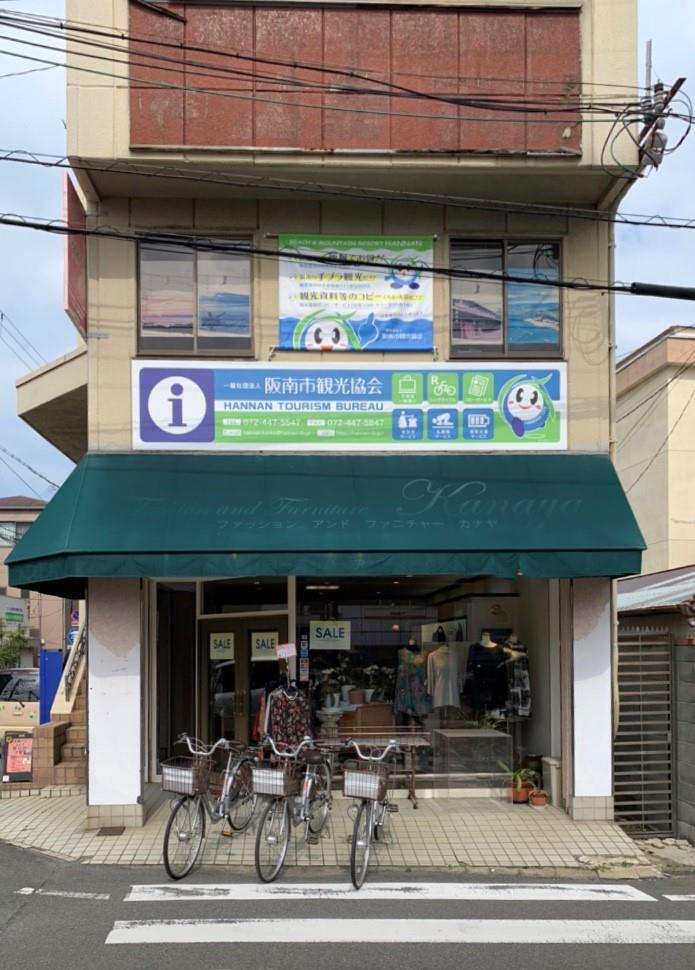 The Tourist Association is located on the second floor.
Hannan City Tourism Association
2-2-11-201 Ozaki-cho, Hannan City, Osaka, Japan
Phone: 072-447-5547
E-mail address: hannan.kanko@hannan-tb.jp
Business hours: Monday-Friday 9:00-17:30
Closed: Saturday, Sunday and national holidays
http://hannan-tb.jp/en/
(Search in the time table -Nankai Electric Railway-)
How to get to Ozaki Station
http://kensaku.nankai.co.jp/en/pc/N1
Feel the fresh sea breeze while riding a bicycle around this picturesque fishing village and find hidden places along the way.
The very famous "Naniwa Sake Brewery" has been in business for 300 years, and is the oldest sake brewery in Osaka. It maintains the traditional ways of handcrafted sake brewing.
Tasting delicious sake at this brewery will be an unforgettable experience.
This area is located close to the mountains, and is blessed with nature's pristine quality spring water.
Naniwa Sake Brewery uses fresh natural water from its own well, which has never dried up in the 300 years since the company was established. The rice used for making their sake is also specially produced locally. Sake by Naniwa Sake Brewery is a blend of the rich blessings of nature and it was the gold medal winner of the prestigious annual Japan Sake Awards.
You will enjoy this unique and delicious sake from Naniwa Sake Brewery, but the best part is taking part in the tour of this historic site! Modern sake manufacturers use machines to make sake but you will see the traditional handcrafted method here, furthermore, the architecture is a fascinating insight to traditional Japanese culture, experience Japan of old as you tour this amazing log building – you won't regret it!
It's a short bike ride from Ozaki station. Enjoy traditional Japanese sake, the sake brewery, and fascinating Japanese architecture all in one place!
During the tour of the Naniwa Sake Brewery, you can enter not only the brewery but also the owner's guest room in the residence area. Both of these buildings have been designated as national heritage cultural assets.
See up close the traditional Japanese wooden architecture unchanged from more than 100 years ago, including the living room with tatami mats, teahouses and peaceful Japanese gardens.
the Naruko Residence
Osaka Heritage Navigation(English)
https://osaka-bunkazainavi.org/en/areatype/izumino/hannanshi
Handcrafted sake is brewed from November to early March, but you can visit the brewery all year round (reservations required).
Enjoy, experience and taste the 300-year-old process of sake brewing!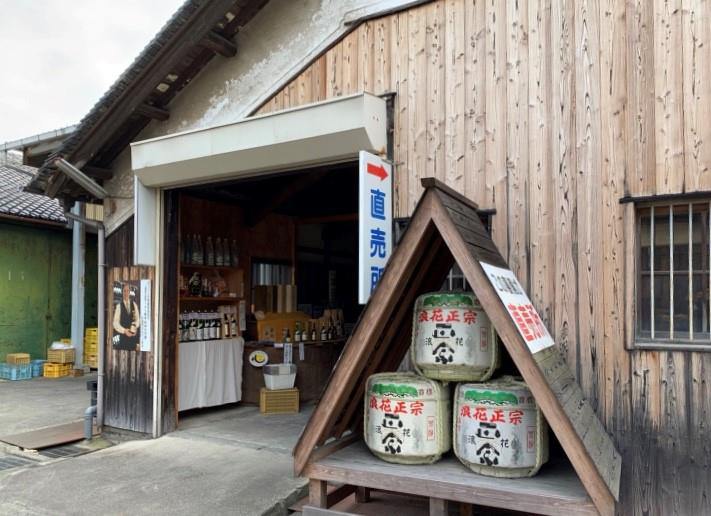 Enjoy unique sake tasting and shopping direct from the sake craftsmen. Ice cream, rice crackers and other souvenirs are also available here for non-alcohol fans.
The tour of the brewery is led by the tenth generation of the owner. They continue to keep the tradition in order to deliver rich local sake that fills the hearts of many people. Feel the heart and soul of this traditional craft.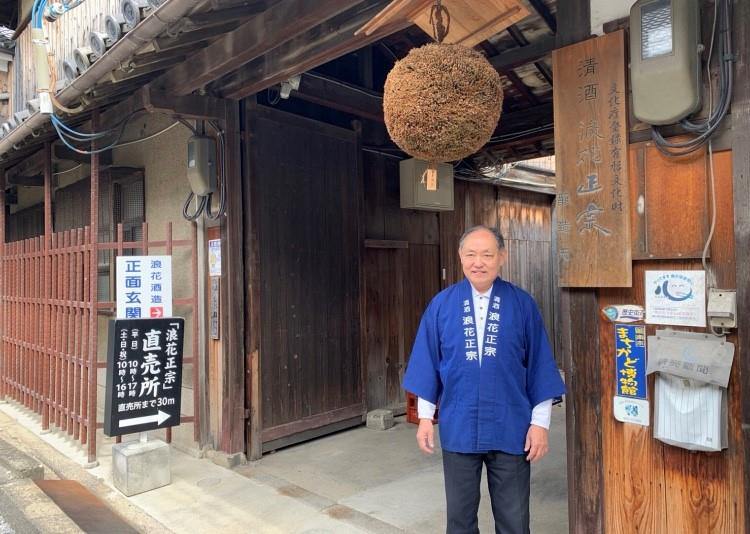 Naniwa Sake Brewery HP (Japanese) http://kensaku.nankai.co.jp/en/pc/N1
Naniwa Sake Brewery 
3-13-6 Ozaki-cho, Hannan City, Osaka, Japan
Google Map https://goo.gl/maps/danoL4jusYQRqFv69
Direct sales business hours: Monday-Friday 10:00-17:00, Saturday, Sunday and national holidays 10:00-16:00
Reservations for tours (Japanese only) 072-472-0032 Monday-Friday 8:00-17:00
Cycling along the coast to Nishi Tottori fishing port
After enjoying sake and Japanese culture, why not experience a real traditional Japanese fishing town?
Enjoy the relaxed atmosphere of this sea town while heading to West Tottori Fishing Port. It takes about 25 minutes to walk from Ozaki station. A leisurely stroll is fun but cycling to feel the sea breeze is very special!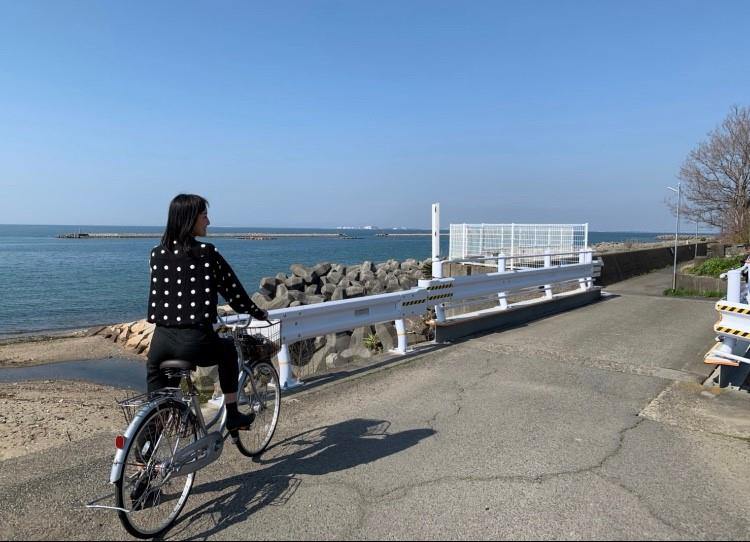 From here, we'll take a look at some of the best places to visit on a short trip!
Shimizu Daishi
There is a natural water spring near Naniwa Sake Brewery where residents of this area come to draw water to drink daily.
A very mysterious spot that natural spring water comes out from the seashore.
It is said that Kobo Daishi stopped by this place and told people to dig a well, then mysteriously natural water sprung from the ground. This is a very special place for the locals.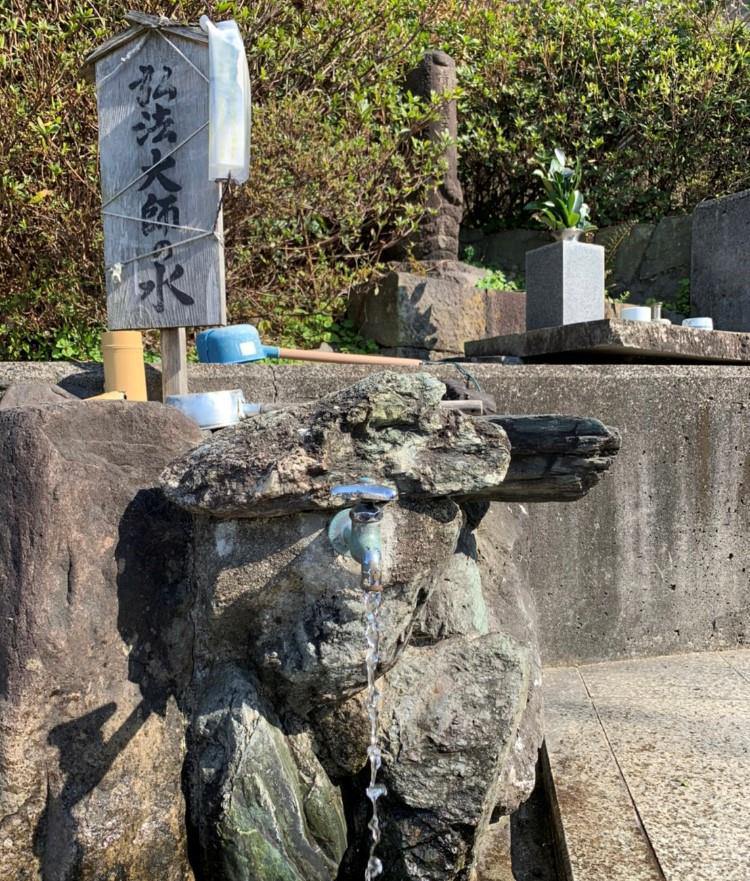 A faucet was installed – turn the faucet and natural spring water will come out!
After refreshing yourself with cold spring water full of nature's blessings, go to a trending eatery for a delicious meal.
Fishermen's Restaurant "Eishinmaru Nagura" - Enjoy the freshest seafood cuisine!
Must visit! Close to West Tottori fishing port. Run by a fishing family, this restaurant serves fresh fish caught on the same day. The specialty here is the exclusive way of cooking fish that infuses "umami" into the dish, this is a secret method only the chef knows. We also recommend the "Omakase Nagura Set Meal", which features extremely fresh fish caught the same day. It's delicious and affordable! This restaurant is not only for popular for locals but also for core fans coming from all over Japan to enjoy succulent fresh seafood.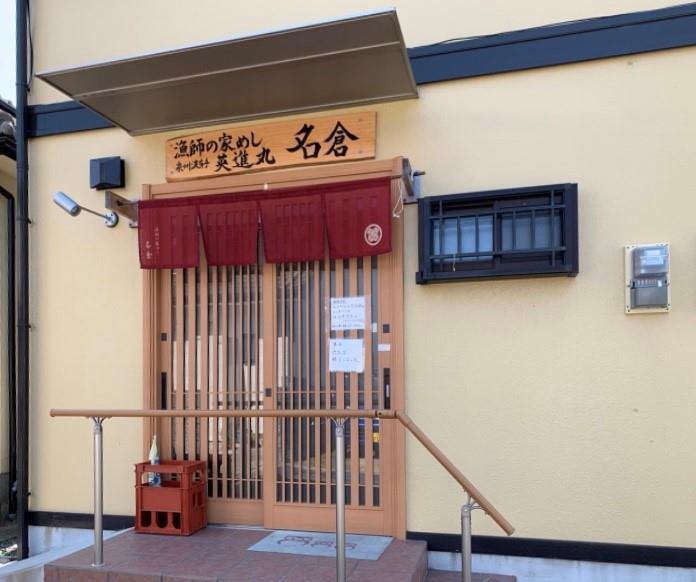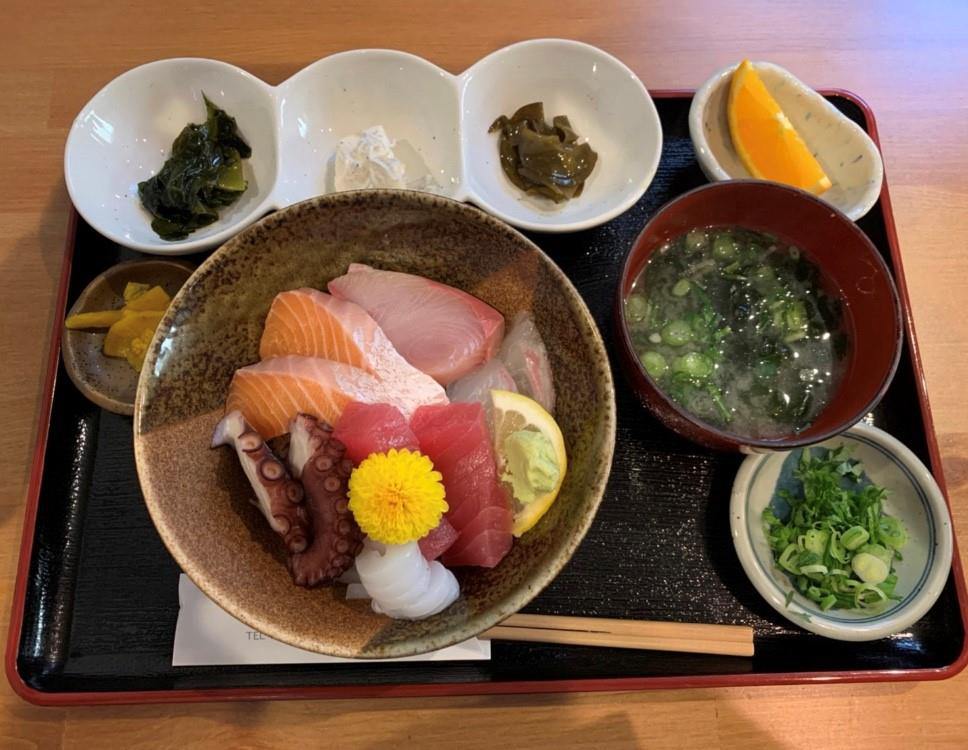 Seafood Bowl Set Meal with plenty of fresh fish
Fisherman's Restaurant "Eishinmaru Nagura"
701 Tottori, Hannan City, Osaka, Japan
Business hours: 11:00-15:00(L.O.14:00) 17:00-22:00(L.O.21:00)
Closed: Every Thursday, first Wednesday of the month for dinner, first Sunday of the month
Telephone number: 090-3273-4690
https://goo.gl/maps/DDKAgDDn6zwbMzQ19
West Tottori Fish Port
A beautiful sea view lined with fishing boats, this is a special and memorable experience.
On a clear day, you can see not only Kansai Airport but also Awaji Island, Kobe, and the Akashi-Kaikyo Bridge from here.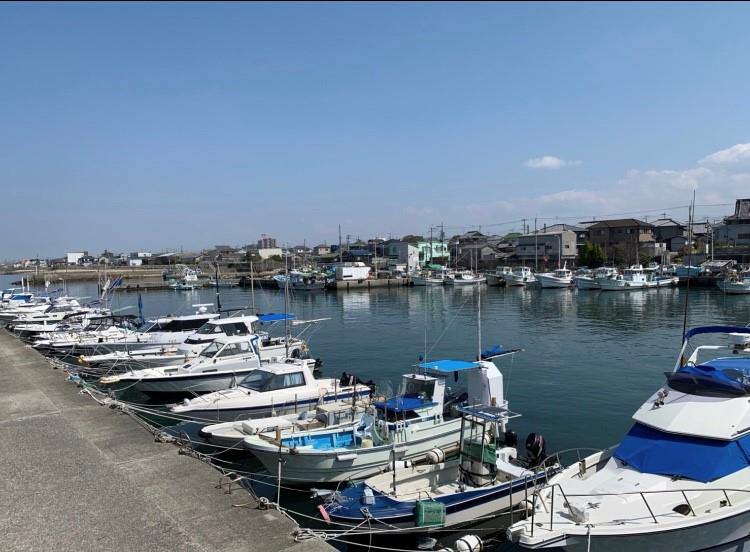 You might be able to see the fishermen coming back from fishing if you are lucky!
Oysters are also farmed in Osaka Bay, where is blessed with an abundance of delicious seafood, the "Kaki Goya"(Oyster House) opens for the public from the end of January to February every year (the season ends when all the oysters are sold out), offering a variety of delicious fresh oyster dishes.
West Tottori Fish Port
*As this is the fishermen's workplace, please do not touch anything in the harbor without permission.
*For inquiries about the "Kaki Goya" (Oyster House), please contact Hannan City Tourism Association.
The fishers here are basically selling seafood wholesale, they don't generally sell direct to tourists but there are many factories that process fresh seafood around here, you will experience the authentic lifestyle of a traditional fishing town. They might be selling something special on a whim any given day? The charm of a fisherman living with nature is that they cannot promise or expect the same thing every time.
Lots of local love! Delicious souvenirs from Osaka -"NAGOMI"
Along the coast you go, you will see this banner.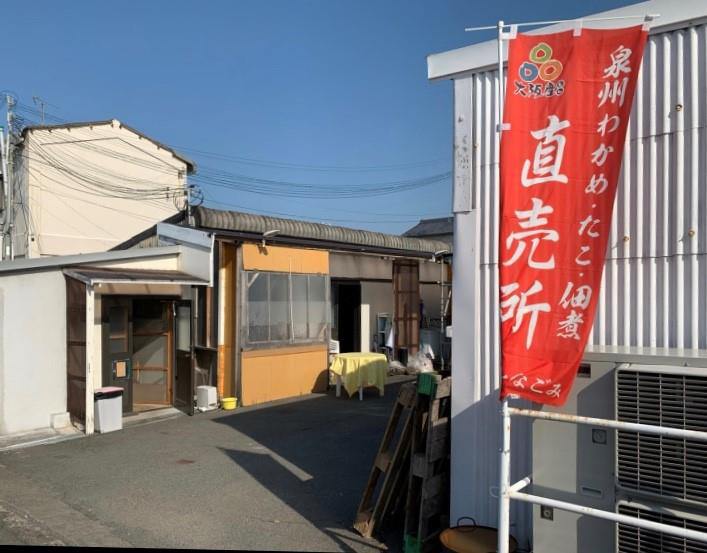 This flag is the landmark.
Selling delicious processed products from the local port such as wakame seaweed, nori seaweed and octopus.
Wakame is used in soups and salads. When you eat nori with rice, the aroma and taste of the seaweed overwhelms your taste buds. How about a souvenir of the taste of Osaka Bay?
NAGOMI Corporation 
2-661 Ozaki-cho, Hannan City, Osaka, Japan
Tel: 072-475-0753 (Japanese only)
https://goo.gl/maps/nkWiKKBKX4dNk46c6
As you continue along the beach, you can see fishermen, and local children playing. Taking photos of this picturesque scenery will be a great memory of this trip!
How was this short trip plan with the sake experience from Osaka's oldest sake brewery and the feeling of experiencing nature in Osaka?
Moreover, Hannan City has many other natural fun spots that attract people visiting from all over from Japan. Please check with the tourist association to see where to visit!
If you like hiking, Yamanakadani Valley is the place for you!
Yamanakadani Valley
Cherry blossoms in spring! This is a popular spot that attracts visitors from all over the country for hiking in the natural forest throughout the year. The popular trail called "Gin No Mine Hiking Trail", is 4km long and takes about 2hours.
Only a short walk from Yamanakadani Station on the JR Hanwa Line.
If you like to enjoy a sunset on the beach, this is the place!
Relax at this beautiful beach with outstanding sunset views that was chosen as one of the 100 best sunsets in Japan.
Hakotsukuri Beach (Pichi-Pichi Beach)
15minutes walk from Hakotsukuri station
Google Map https://goo.gl/maps/DdLjiBgsKzNJAzQp8
For more information, please visit the Tourism Association website.
Hannan City Tourism Association
http://hannan-tb.jp/en/