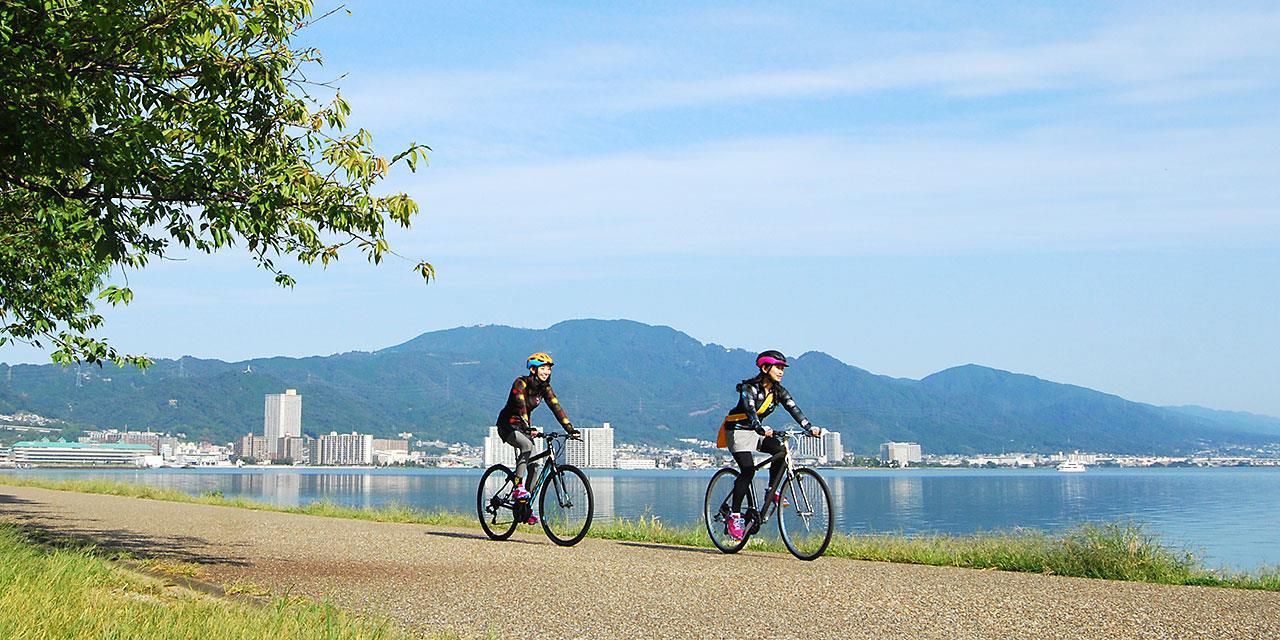 Selected as the first National Cycle Route Enjoy the beautiful scenery of Lake Biwa while cycling
"Biwaichi" is a 200-km cycling route around Lake Biwa, the largest lake in Japan and was designated as a national cycle route in recognition of its safe and comfortable riding environment. The road surface is well maintained with abundant signage, support stations and bike rental bases, that ensures the safety of cyclists and families alike.
"Biwaichi", with its beautiful lakeshore scenery, is a cycling course that allows both families, and sports cyclists to enjoy cycling at their own pace and in comfort.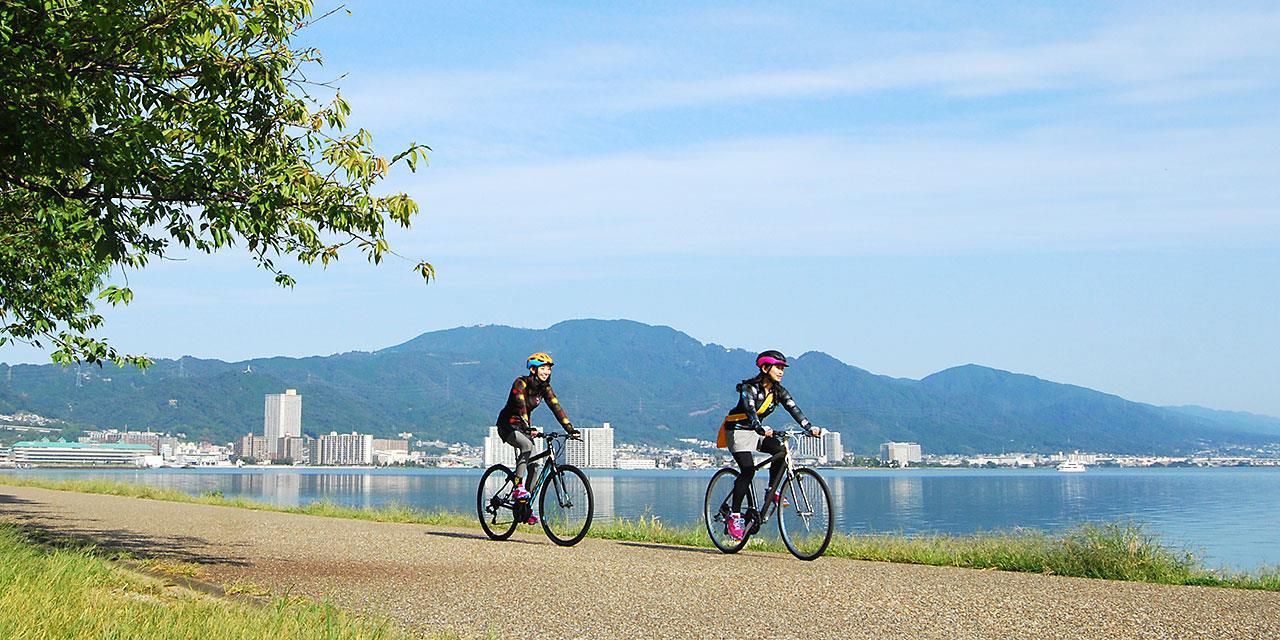 The 200km "Biwaichi"" course can be ridden by the advanced cyclist in one day, but there is also a course that runs only 150km north of the Lake Biwa Bridge and only 50km south of the Lake Biwa Bridge, as well as a course that takes a shortcut across Lake Biwa by boat. For more information, please visit Cycling Around Lake Biwa website.
Cycling around Lake Biwa
https://www.biwako1.jp/
Rental bikes are available for all travelers.
Hybrid bikes and road bikes are available for rent for beginners to serious cycling enthusiasts.
To book online visit the Biwaichi Rental Cycle web site here.
Biwaichi Rental Cycle (NPO Gokan-Seikatsu) - located at JR Maibara station
https://biwaichi-cycling.com/
Cycling around Lake Biwa Certificate
A certificate and sticker will be provided for each "Bwaichi" participant.
To receive the certificate, check the quiz on the poster at authorized checkpoints, visit the website with your smartphone, then register at the checkpoint and answer the quiz. You can start at any checkpoint.
http://i.biwako1.jp
* Works with GPS location service OR read QR code on the poster.
The fee is 1,000 yen per certificate, after payment is completed you will receive a certificate and sticker along with the Biwaichi community paper "Biwako Jitensha", usually within 3 weeks.
North Lake Biwaichi 150km course (shortcut by Biwako-ohashi Bridge)
This "North Lake Circle" is about 80km per day, and usually takes one night and two days to complete, It is recommended for beginners due to the good condition of and well maintained roads.
The most common starting point is "Roadside Station (Michi no Eki) – at Biwako-ohashi bridge Kome Plaza" at the foot of the Biwako-ohashi Bridge. By train, it takes 10 minutes from JR Katada Station to the roadside station. If starting from here, you usually can plan to set up your accommodation in the area between "Nagahama" and "Kinomoto".
If you would like to rent the "Gokkan Seikatsu" rental cycle, we recommend you to start in Maibara. In this case, it's better to plan your accommodation in the area between "Omi Imazu" and "Omi Takashima".
Some of the scenic highlights of this route include the "Shin-Asahi Fusha-mura (Windmill Village)", the waterways of Omi-hachiman, and the avenue of Metasequoias in Makino.
Waterways of Omi-hachiman
Omi-hachiman flourished as the stronghold of Omi merchants and opened as the castle town of Hachimanyama Castle which was built by Hidetsugu Toyotomi. Traces of the life and culture of the former Omi merchants can be found throughout this town, such as the merchant residences in the area marked as the important traditional architectural preservation district, and you can also see the western-style architecture designed by William Merrell Vories, who was active in this city. It's a great way to experience 400 years of history and enjoy riding a bike around the city at the same time. A waterway cruise "Suikyo Meguri" through the reeds of Nishinoko lake is also a great experience.
Avenue of Metasequoias in Makino
About 500 metasequoia trees are planted along the prefectural road, which runs through the Makino Pick-land farmer's market, it's about 2.4km long and harmonizes with the distant view of the Nosaka-sanchi (highland). It forms a highland-like landscape as you approach the Makino highland. The fresh greenery in spring, deep greenery in summer, autumn leaves, and bare trees and snow flowers in winter are beautiful to see and attract visitors in every season.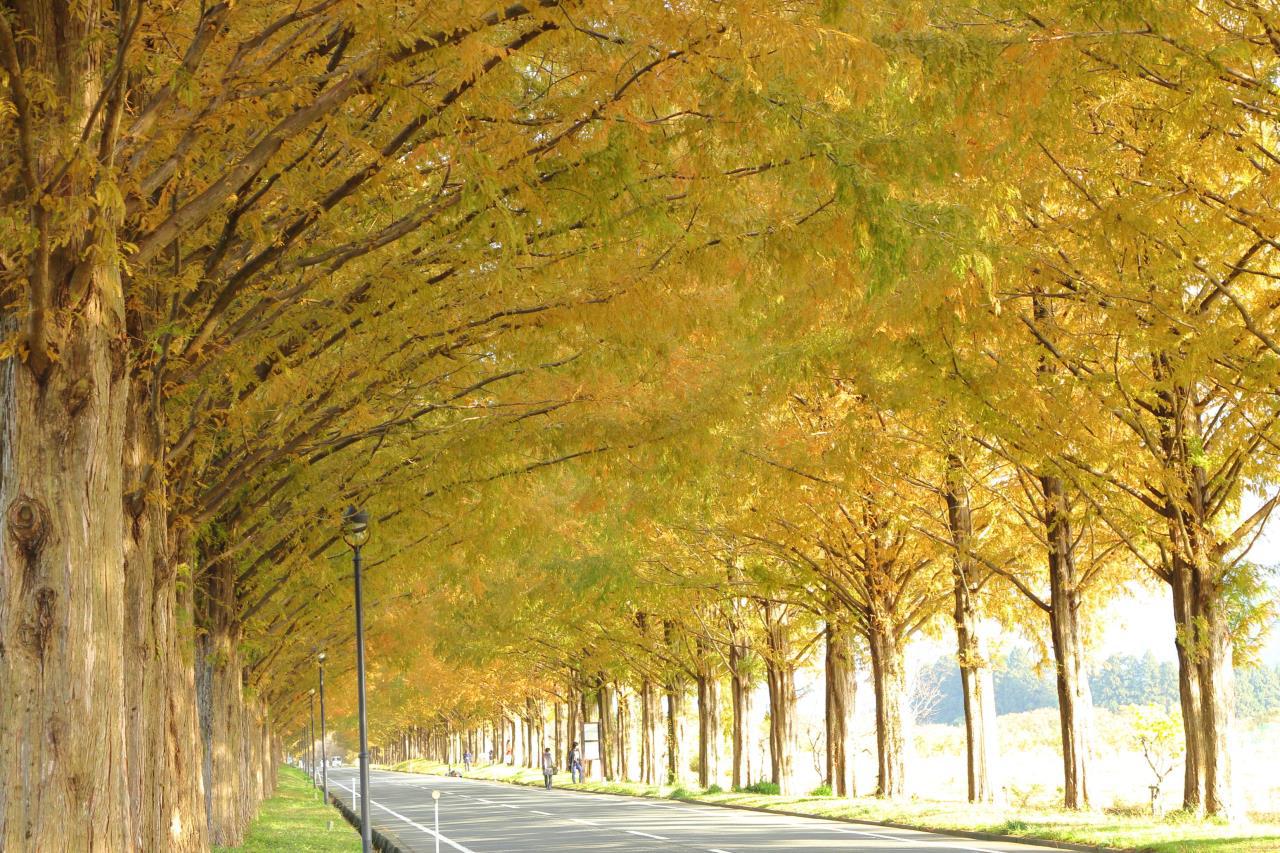 Japanese Heritage - Harie and frosty waterside scenery
Experience the authentic culture that is rooted in the lives of local residents
In the Harie district of Shin-asahi-cho, most of the houses in the village have a place to draw river water or spring water into a house called a "Kabata," which they continue to use for domestic water. The Harie River runs through the center of the village, it is very clean and is made of up to 70% spring water.
Many people from all over Japan and overseas have come to visit this site in search of fresh spring water culture, beautiful scenery, and fascinating interaction with local people.
The Harie Shozu-no-sato Committee holds a tour of Kabata in order to give you an opportunity to rethink the modern life while experiencing the rich nature and waterfront life around Lake Biwa and the local people. They provide guided tours for a modest fee in order to protect their living space. Please consider taking a guided tour of the site, as it is a private area and not to be entered without permission.
Guided tour information:
http://harie-syozu.jp/guide
There is very clear fresh water flowing in the waterways of Harie everywhere in the village. Some of the waterways are 100% spring water.
People use water from Kabata for drinking and cooking every day in Harie.
You can feel the amazing beauty of nature unchanged from ancient times and the life of the people in Lake Biwa, which has been nurtured by the flow of nature. It's a great opportunity to reevaluate our busy lives.
There are no souvenir shops or restaurants in the village, but the "Osakana Asahi" sells Shiga Prefecture specialties such as funa-zushi (Sushi traditionally made with a kind of Japanese goldfish called nigorobuna, unique to Lake Biwa in Shiga Prefecture) and tsukudani (fish boiled down in soy sauce), as well as lake fish dishes such as Tateboshi tsukudani (a shellfish larger than a clam).
Naturally, the water used for washing and cooking fish is also from the spring water of Harie.