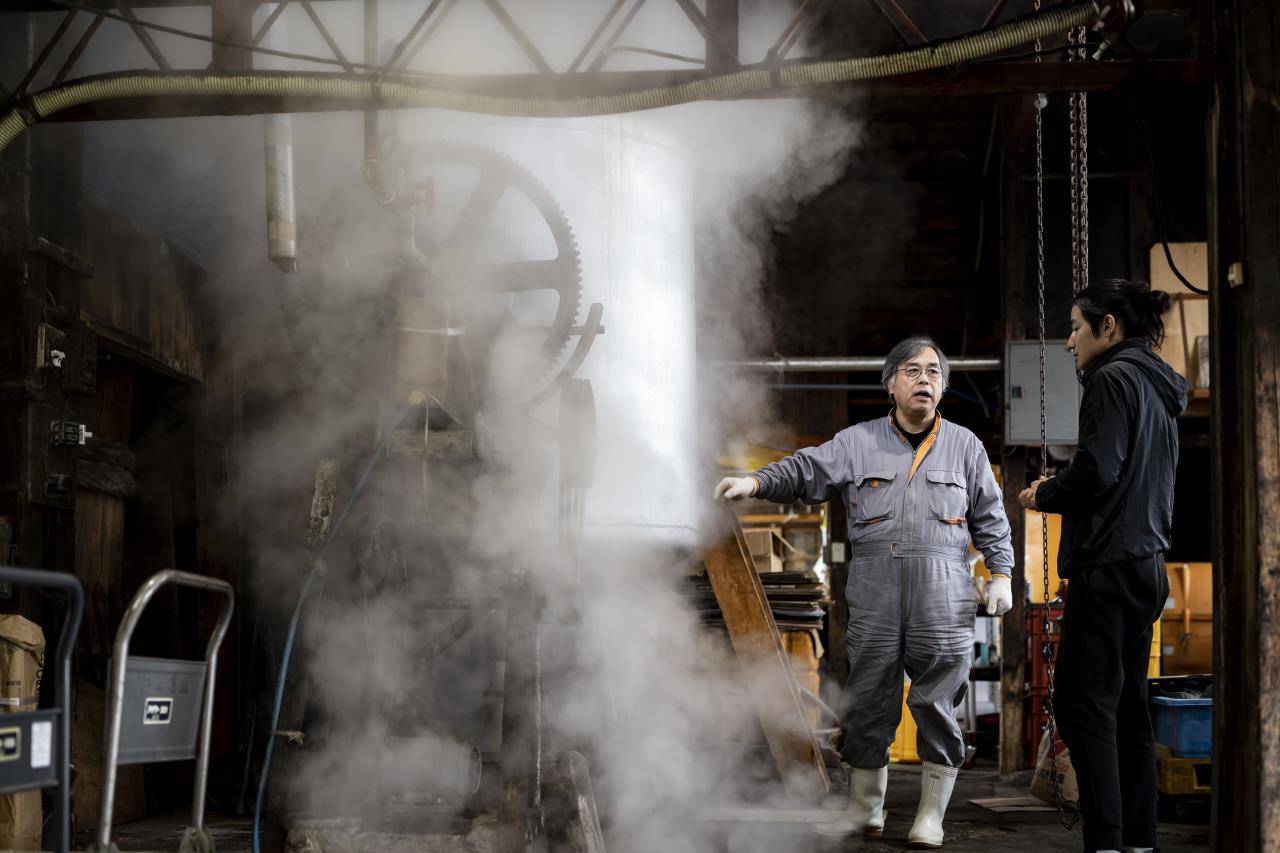 A Gastronomy Walk Through Katsuragisanroku Park, Umemoto Tofu shop, Katakami Soy Sauce
Visit an area ancient Japanese people lived in, and explore the roots of Japanese cuisine
Katsuragi, which appears in Japan's oldest history book, the Nihon Shoki, is a historical land where the royal family (those in power) ruled and cultivated a rich culture before the creation of the Yamato Imperial Court, which appeared around the 3rd century. "Hishio", the predecessor of soy sauce, was introduced to this area from the Chinese mainland centuries ago, where it developed it into a unique piece of our cuisine. Areas that were well populated with mostly wealthy families were also areas that produced the roots of Japanese cuisine.
Walk along the oldest road in Japan and learn about the lives and cuisine of the people living amid the unspoiled landscape of Japan.
Here, you can learn about fermentation at the soy sauce brewery, or enjoy a wonderful stroll and get closer with the local area and its relationship with food. Be amazed at the number of foods at the tofu shop. Visit and experience the food, history, culture, and townsfolk as you down the thoroughfares of the city, including the Katsuragi Kodo, one of Japan's oldest roads.
See the brewing process of soy sauce in wooden pails, and learn the secrets of fermentation
The first place we visited was Katakami Soy Sauce, a fermentation plant founded in 1931. They are very particular about their natural fermentation methods, and make high-quality, additive-free soy sauce with care. They also give lectures on the process, from fermentation to brewing. When you step into the store, you are enveloped in the scent of soy sauce. Witnessing how the soy sauce is carefully brewed in a natural cedar soy sauce tubs is a must. In addition, there is also a taste comparing event, where you try different kinds of soy sauce with rice cakes and other items. Mr. Katakami is a representative of a research group that reproduces "hishio", the predecessor of soy sauce. You can find their "ancient Hishio", a reproduction of the flavor of the item at the time, on sale here.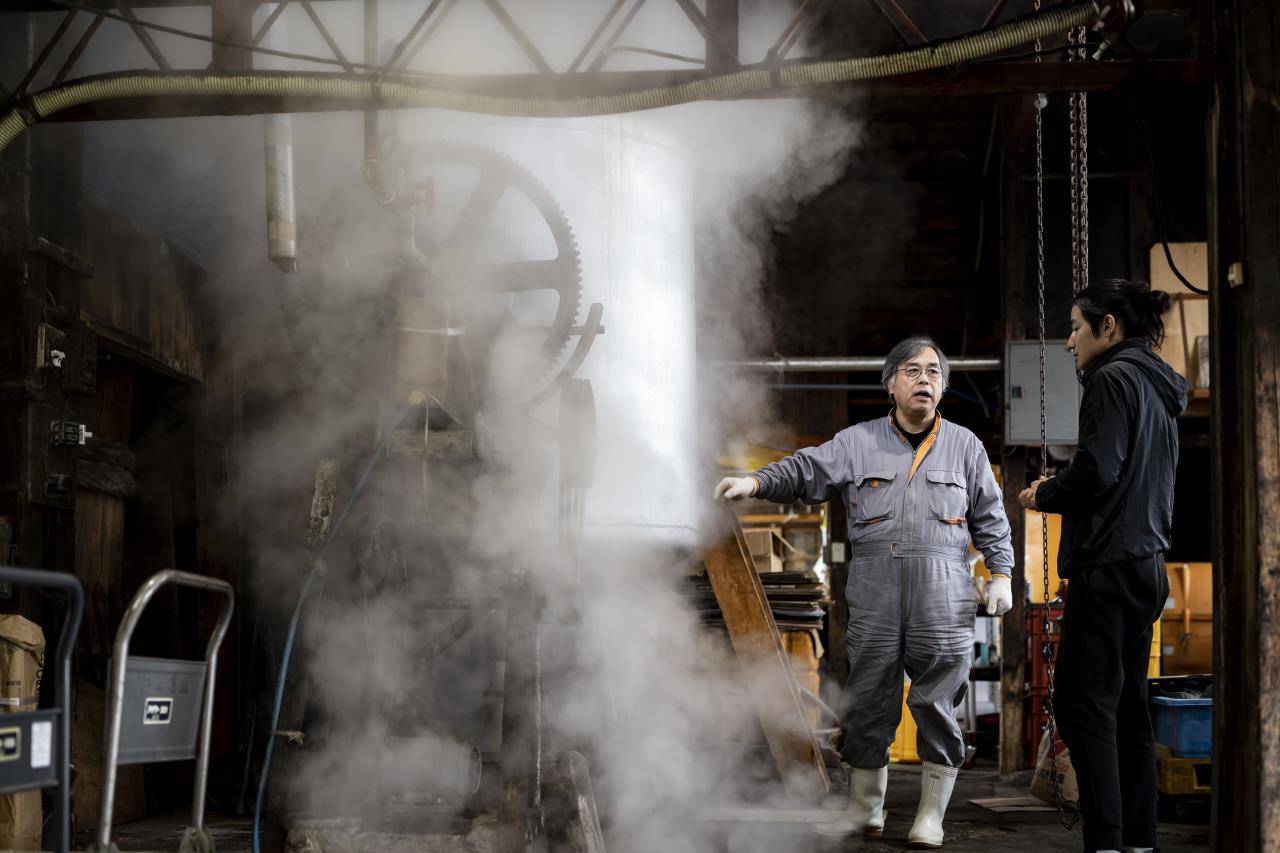 A soybean steamer that has been slowly redesigned over time. It steams the beans softly and carefully, so as to make the most of their flavor.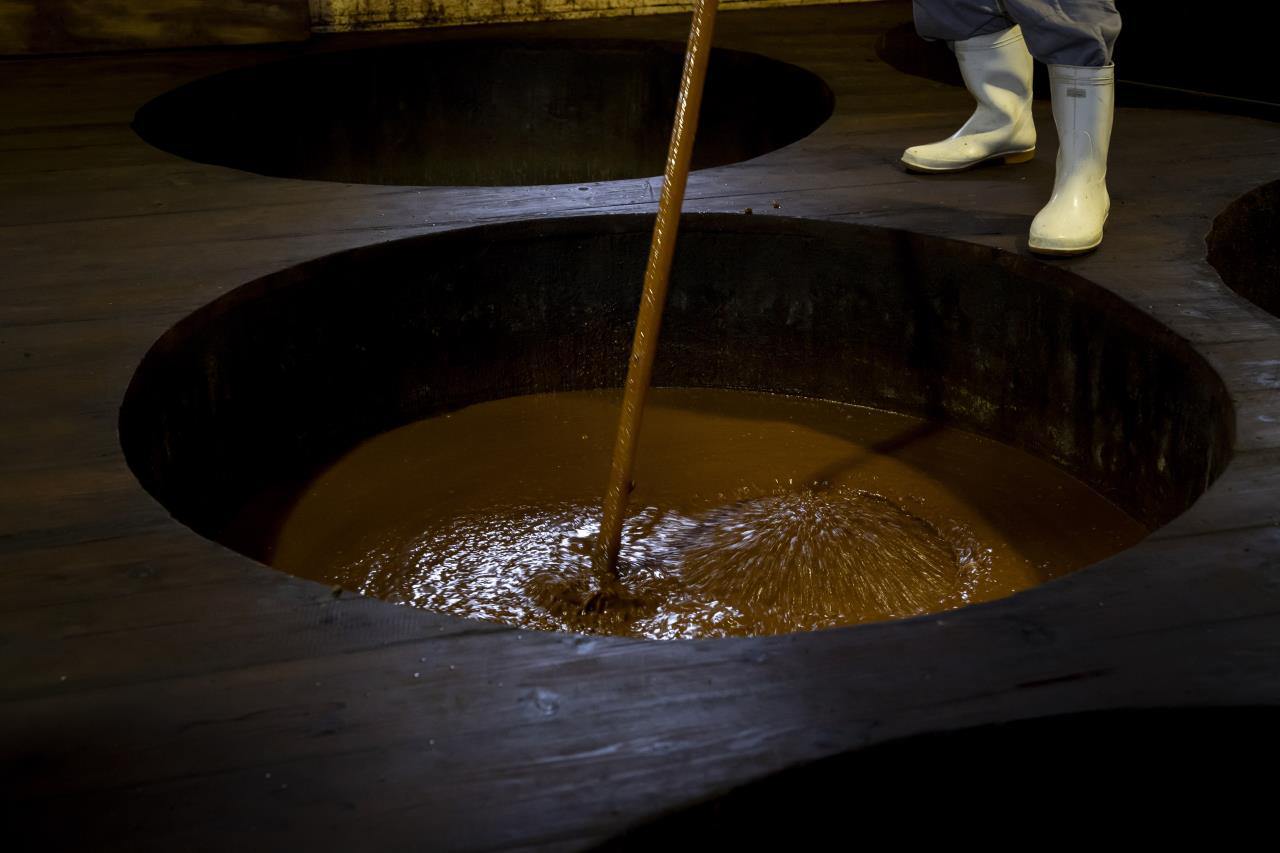 Climb the barrel and see the fermentation process from above. You can also see the brewer's techniques, where they stir the matured soy sauce, with its deepened its hue and flavor.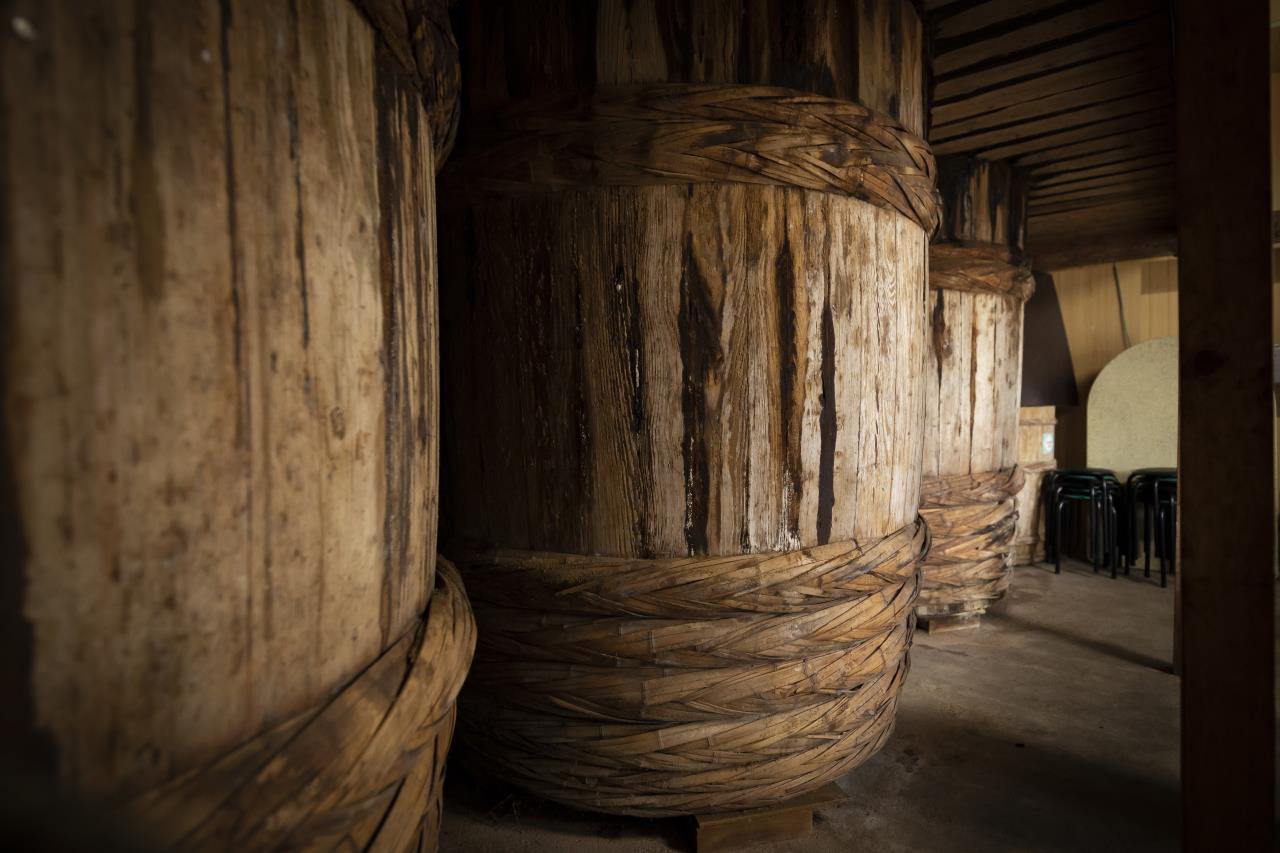 The largest tubs have capacities of between 3,600 to 5,400 liters. The microorganisms that get left in the tuns sometimes result in the unexpected creation of fantastic soy sauce!
Be amazed at the hospitality of this unique hostess!
Next, we visited the Umemoto Tofu store. With over 100 years since their establishment, they use domestic soybeans and natural bittern to make carefully make tofu using traditional methods to create the flavor that was loved by the imperial court. They are famous for their hostess, and for their wide variety of taste testing samples! You can sample a number of tofu dishes, such as tofu donuts and soy milk drinks, before you make your purchase. Aside from their tofu hamburger, everything is safe for vegetarians to eat. The hostess tells us, "I'm willing to try anything!" She uses her conversations with the regulars to find hints to help create new products.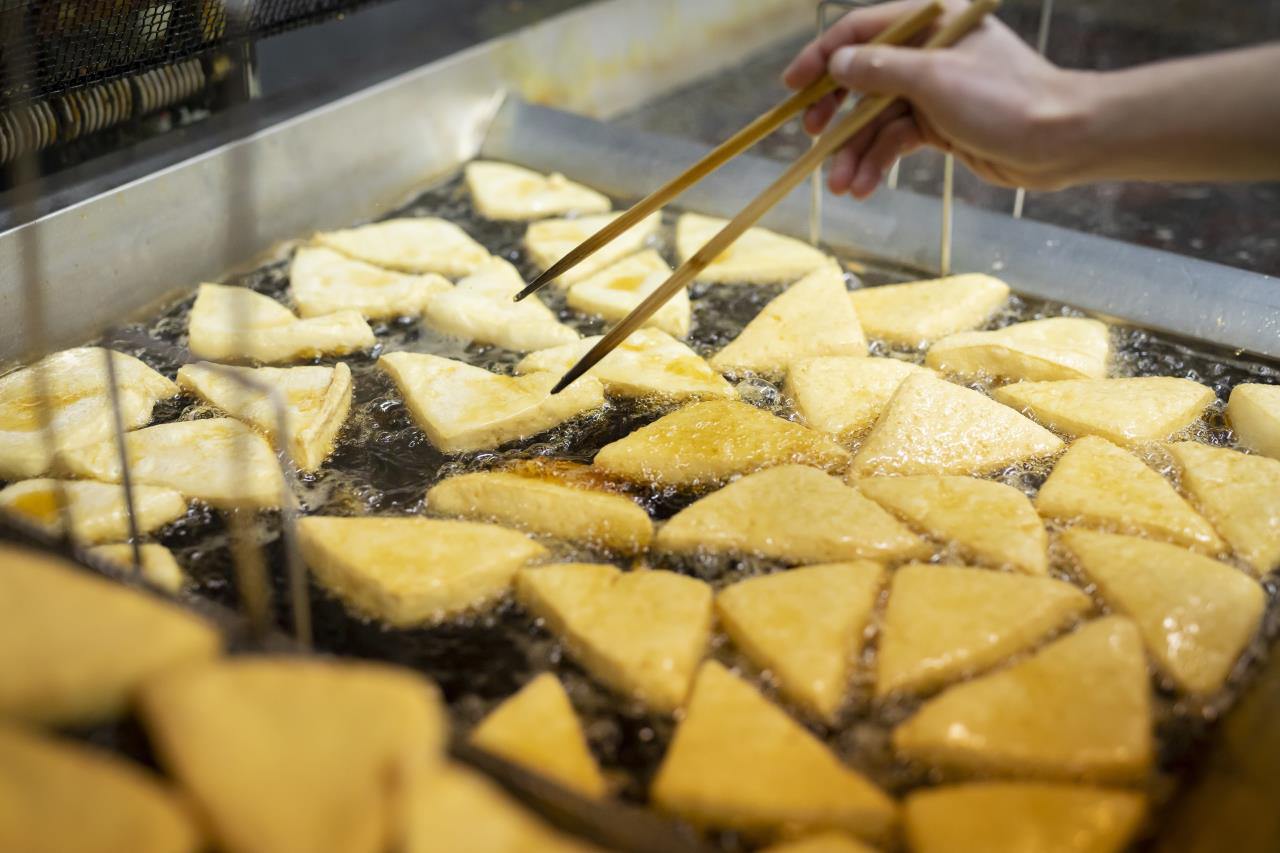 The lively kitchen can be seen over the counter of the shop.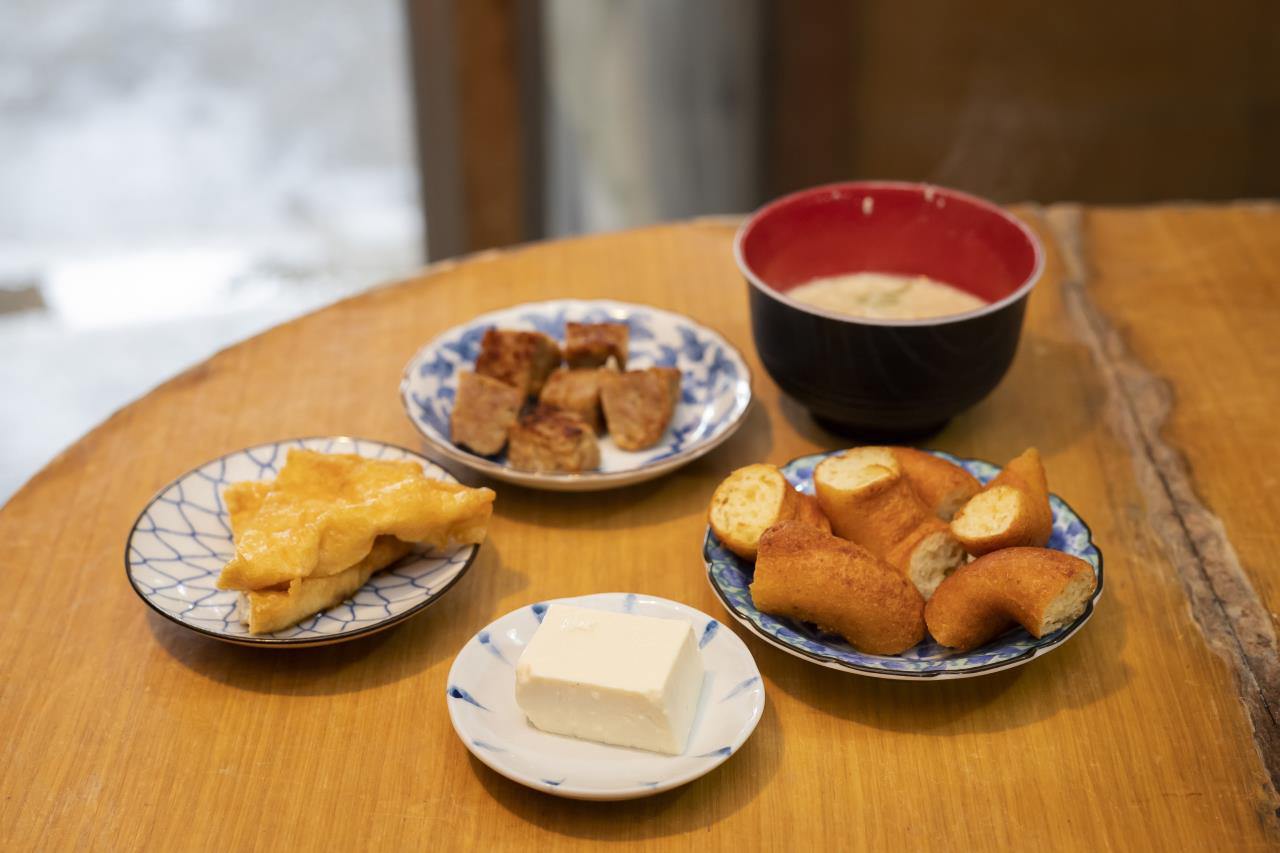 The myriad samples! Give their popular product, Kongo Tofu, a try raw. Taste the original flavor and aroma of the soybeans.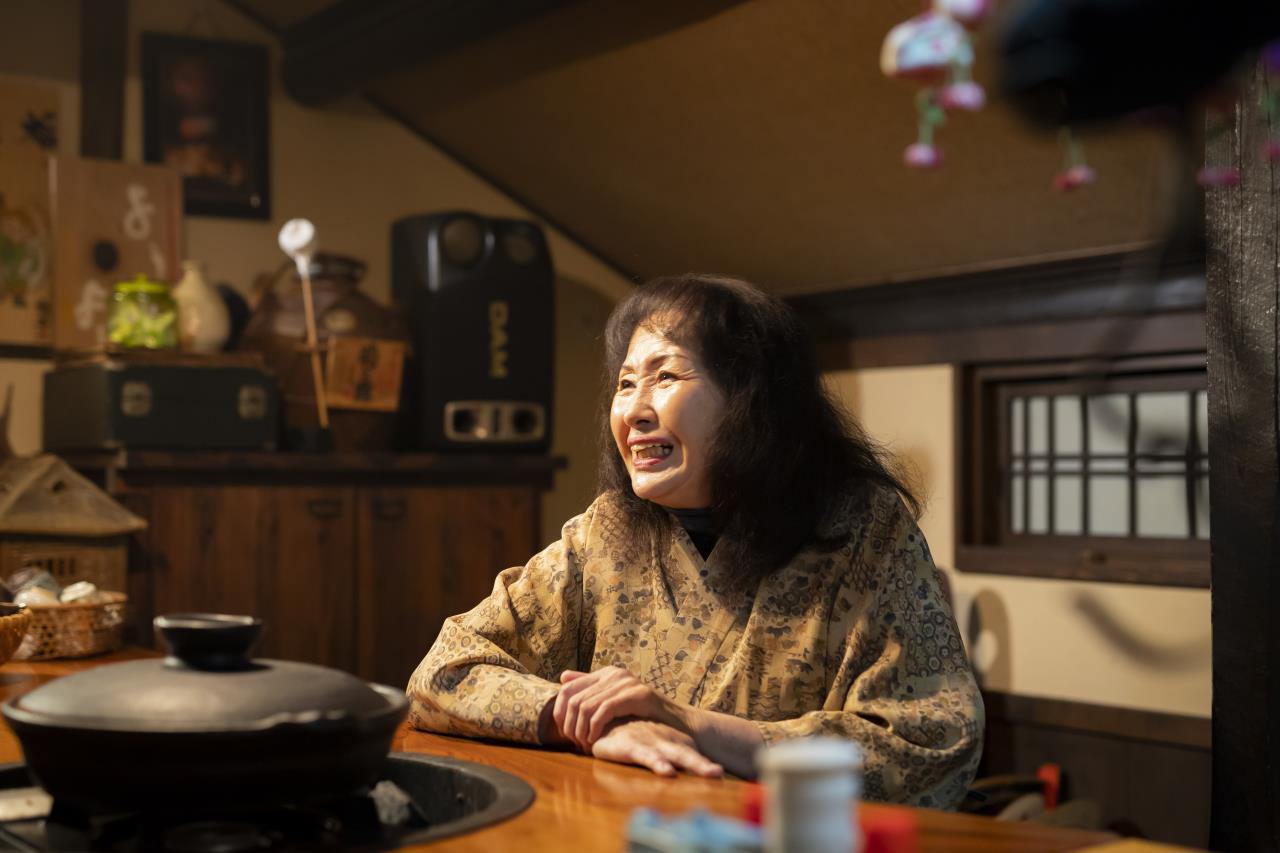 If you visit as a group, head up to the second floor, where the hostess will hold a lecture on tofu. The room is comfortable, and has a unique Japanese atmosphere.
Take a stroll and enjoy the mythical village of Gose City in Katsuragi!
Stroll around the foot of the mountain and enjoy the beautiful and mysterious scenery of the foothills of Katsuragi. You will see the countless ancient shrines and temples scattered throughout the area. Take a break in the nice coffee shop run out of a renovated 100-year-old post office. If you go a little further, you will find restaurants that serve homegrown vegetables and hand-made ham and sausages. Enjoy a gastronomy walk, and delight in the cuisine nurtured by the land and locals.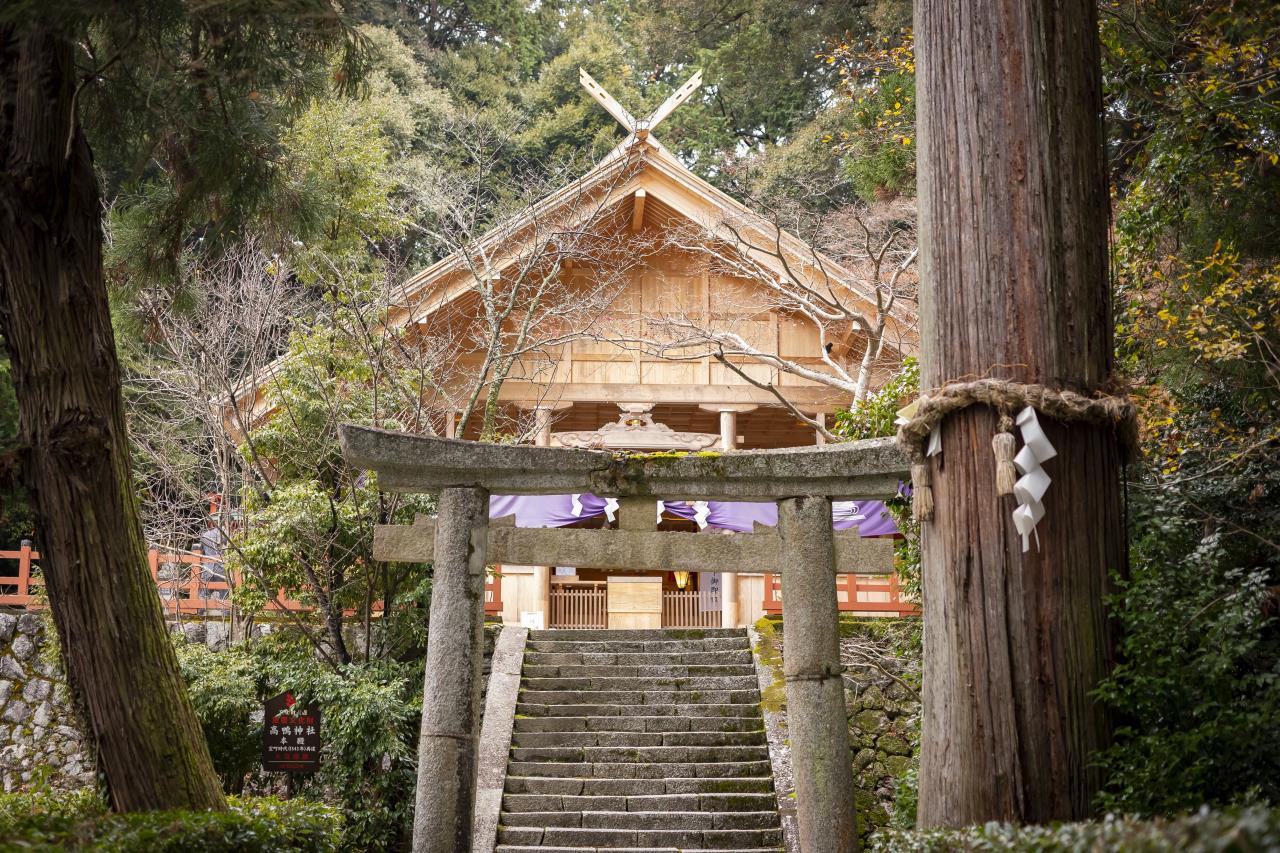 The current main hall of Takakamo Shrine is a Sangensha nagare-zukuri style building that has existed since the 1400's. It has been designated as one of Japan's Important Cultural Properties.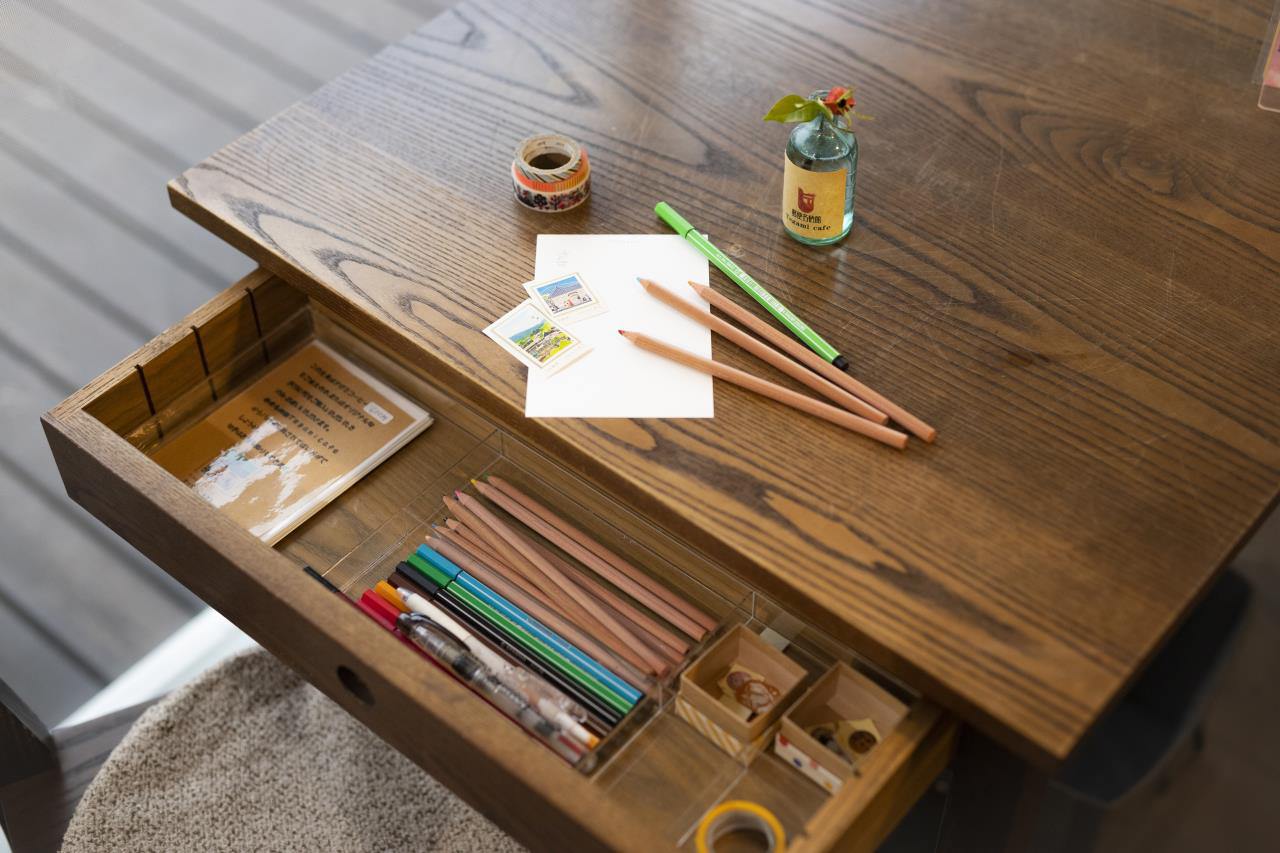 Tegami Cafe, run out of the renovated post office. It is a great place to sit down a write a letter.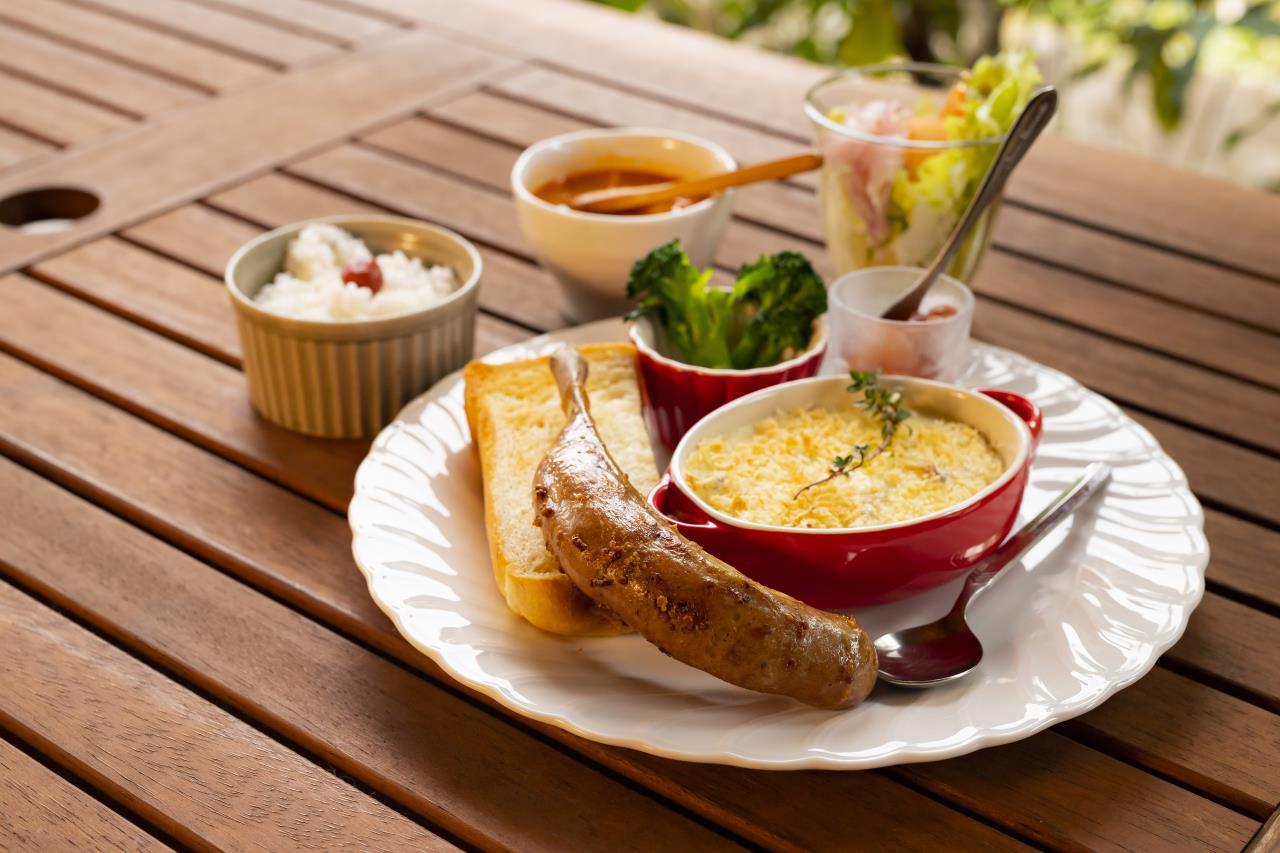 We recommended you go a little further, to Baaku, a restaurant and handmade ham sausage workshop operated by a farmer. You can eat their original Baaku pork here. A Baaku lunch costs 1,550 yen.
Facility information
You can experience these things here!
Facility name | Katakami Soy Sauce, Umemoto Tofu Store, Nagara Postal Gallery (Tegami Café)
Name of experience | Gose City Global Tour
Address | Katakami Soy Sauce: 329 Moriwaki, Gose City, Nara 639-2318
Umemoto Tofu Store: 53-3 Nagara, Gose City, Nara 639-2321
Nagara Postal Gallery (Tegami Café): 326−1 Nagara, Gose City, Nara 639-2321
Business Hours |10:00 a.m.-2:55 p.m.
Closed | No holidays
Rates| Katakami Soy Sauce: From 1,500 yen
Umemoto Tofu Store: From 1,400 yen
Nagara Postal Gallery (Tegami Café):From 2,000 yen
Payment methods | Cash or PayPay
Number of people accepted (group) | Up to 10 people per group (please consult us for larger groups)
Telephone number | 0745-65-1201 (Gose City Chamber of Commerce and Industry)
*Weekdays 9:00 a.m.-4:00 p.m.
Languages spoken | Japanese only
Notes| None
Check also...