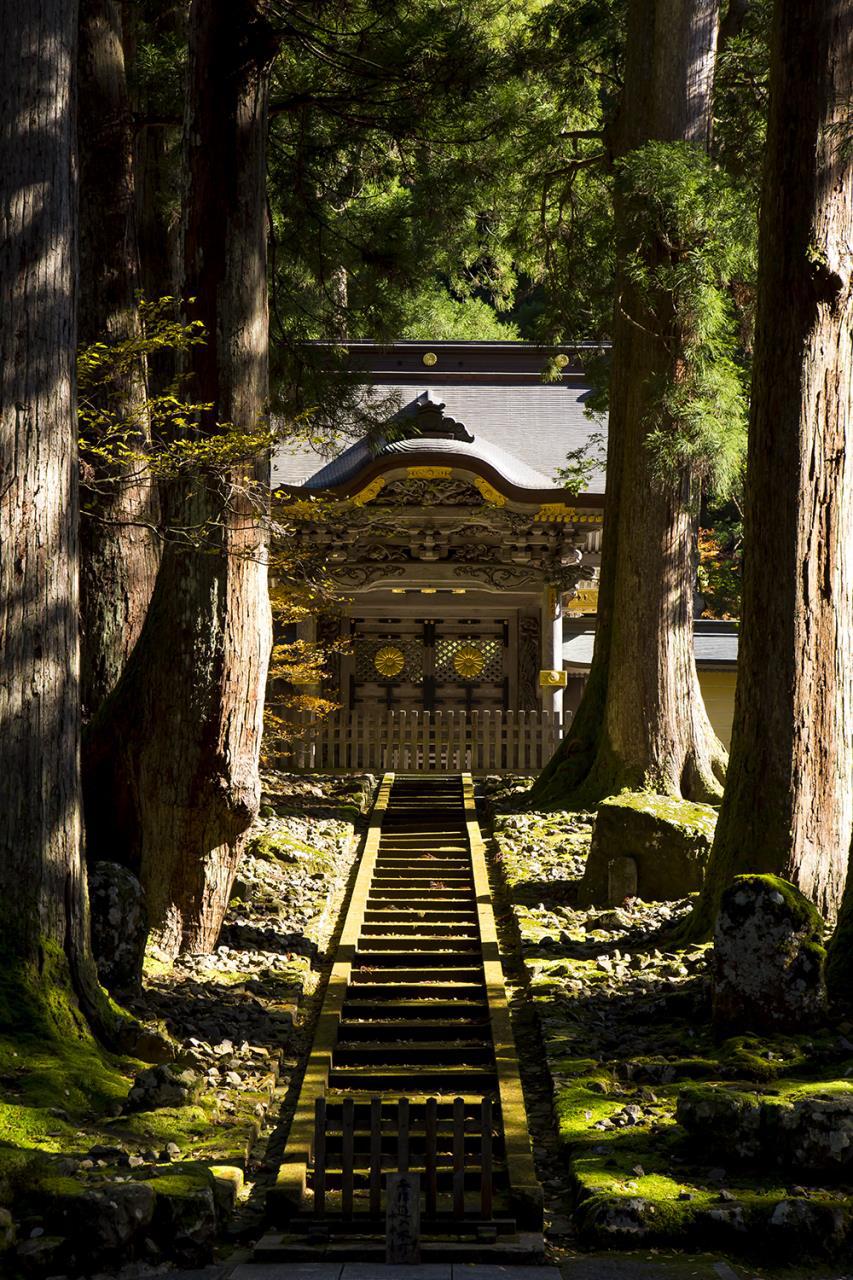 A day to get in touch with the heart of Japan. Experience "Zazen" at the sacred home of "Zen", then visit the old castle town.
Zen practice is becoming more and more popular around the world, Zazen(seated zen) has been practiced in Japan since 13 century. Zazen practice is available at various temples in the Kansai area now but one of the best places to visit is Eiheiji Temple. Eiheiji is the highest temple of the Soto school of Buddhism (the head temple) where Zazen is practiced, and is a sacred place for "Zen". There are more than a hundred monks practicing at this temple continually, this will be an unforgettable experience to try Zazen in the most authentic place in the world.
Eiheiji temple https://daihonzan-eiheiji.com/en//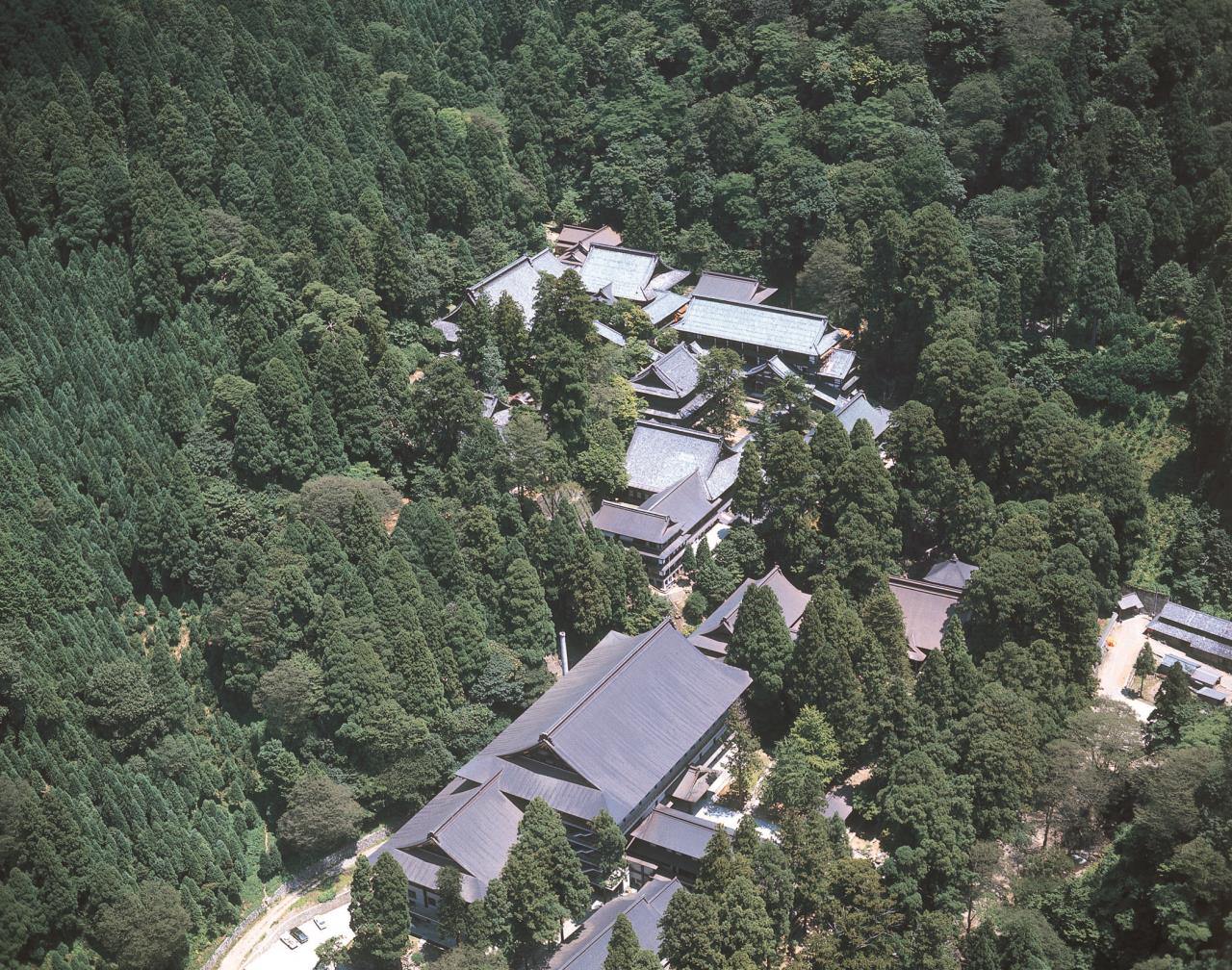 Eiheiji was built by Zen Master Dogen in 1244. Surrounded by cedar trees, it is a tranquil oasis, worlds away from the noise of the city.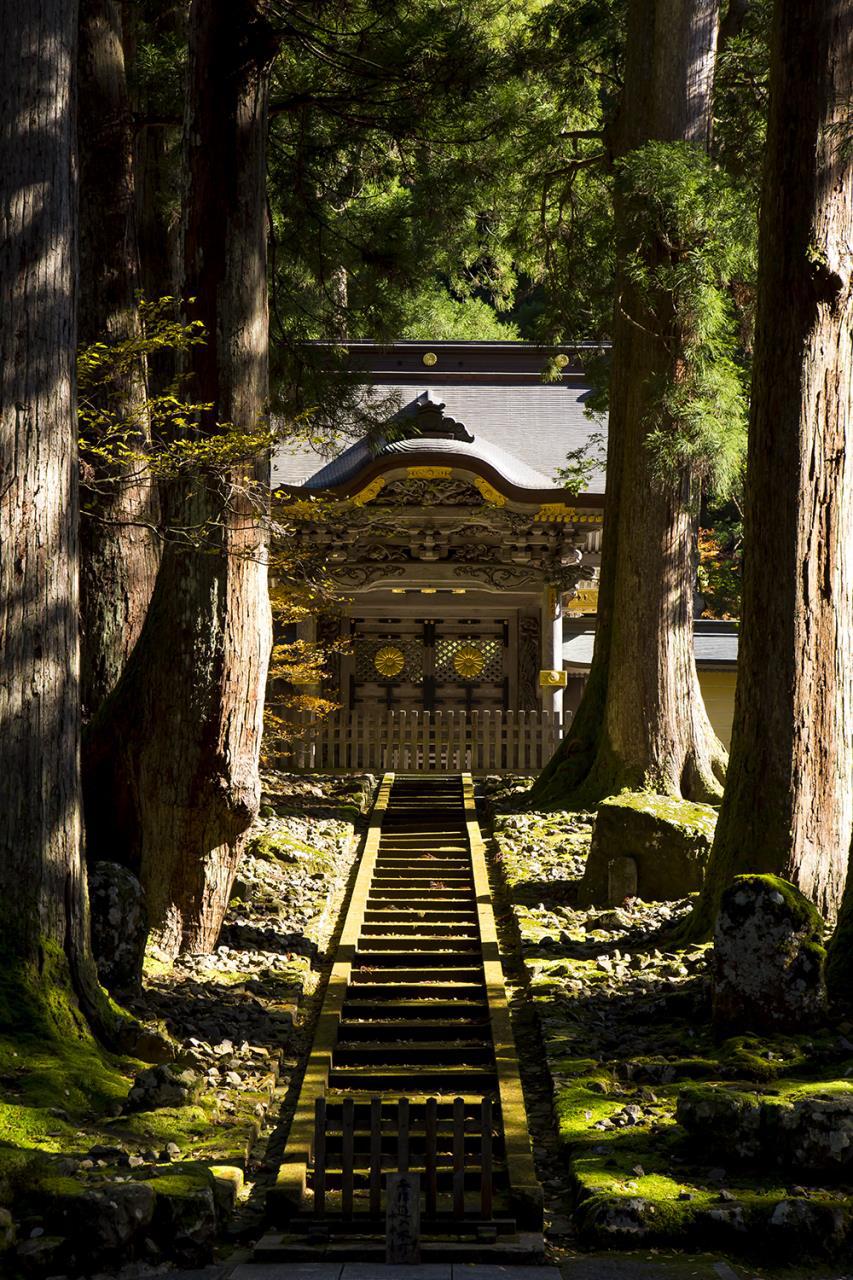 The Karamon Gate for welcoming guests. (photo taken from the bottom of the stone stairs as it is a restricted zone.)
Start with a visit to the temple and take a look at the beautiful grounds.
Take a short flight from Tokyo to Komatsu Airport or use bullet train Hokuriku Shinkansen to Kanazawa, after that it'll take about 1-2 hours by car or train to get to Eiheij. The grounds of Eiheiji are spread out at the foot of the mountain, surrounded by deep groves of trees, with an area of about 330,000 square meters. Once you enter, the hustle and bustle of the temple town is instantly transformed into a sacred and tranquil atmosphere.
Make a reservation for Zazen practice at Kichijo-kaku reception (for 4 or more people, please inquire in advance). Feel free to look around the grounds until your reservation time comes. "Kichijo-kaku", is where you can learn about the history of Eiheiji, and next to it is "Sanshokaku", where the ceiling is filled with 230 paintings. In the "Ruri-shouboukaku", treasures and old documents from Eiheiji are on display. You can also visit the "Shichido Garan", a complex of seven buildings connected by corridors where most of the practices/training take place. Please be mindful to be quiet as this is an authentic training ground! Some of the buildings are very solemn and private conversation is strictly forbidden for monks (no tours are allowed).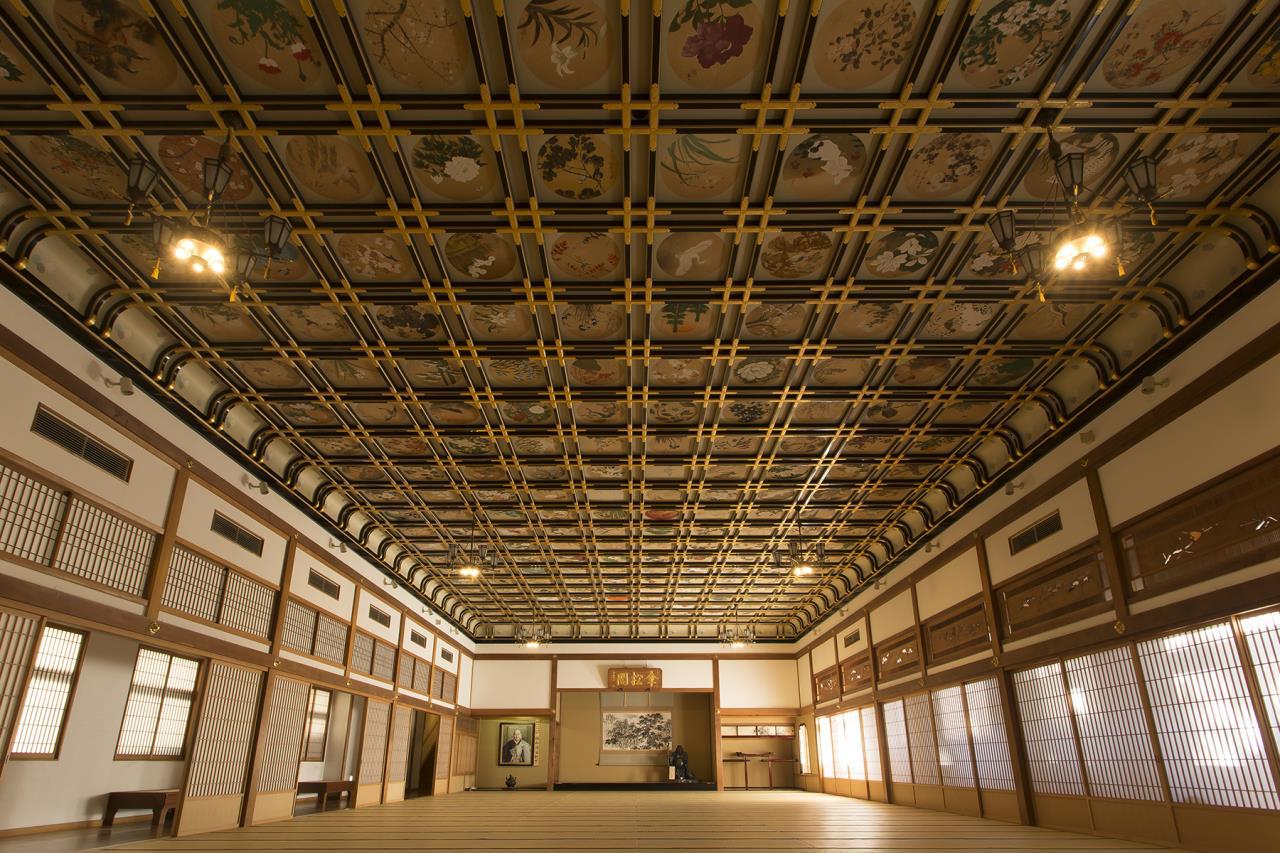 The ceiling painting of the "Sanshokaku". Rumor has it that your wish will come true if you find pictures of a carp, Chinese lion and a squirrel (5 pictures in total).
Experience real Zazen and find peace of mind.
At the time of your appointment, you will be escorted to the Zazen room, and from this point onwards, private conversation is strictly prohibited. After receiving instruction on how to sit in the correct posture during Zazen practice by monk, it's time for Zazen. Special cushions are available for Zazen practice, so don't worry if you can't form an "agura", the proper sitting posture for Zazen. In Soto Zen, you will sit facing the wall. If you sit in the correct posture, your breathing is in order, and your mind become calm. Nevertheless, thoughts like "oh my back is hurting from keeping it straight," or "Where do I go after this?" etc., thoughts that keep going around in your mind, is normal. When you feel restless or sleepy, the Monk will help you by "striking" you on the shoulder with the flat stick called "Kyosaku". "Kyosaku" is unique to zazen, and is not found in other practices, it instantly relaxes the mind and clears away all distractions.
Zazen time goes for about 15mins. After practicing Zazen, you will feel calmness of mind. Eiheiji is surrounded by trees, the air is fresh and crisp, the scenery of the greenery and the temple buildings is beautiful, and the glimpse of the zen monks is a dignified view of another world, separate from the mundane. Just being on the grounds of the temple makes you want to breathe deeply again and again, and you will feel refreshed just by enjoying the atmosphere. Eiheiji also has accommodation for those who wish to stay on site and enjoy Shojinryori (plant-based Japanese cuisine), and participate in the morning service. (All photos of Eiheiji are courtesy of Daihonzan Eiheiji Temple)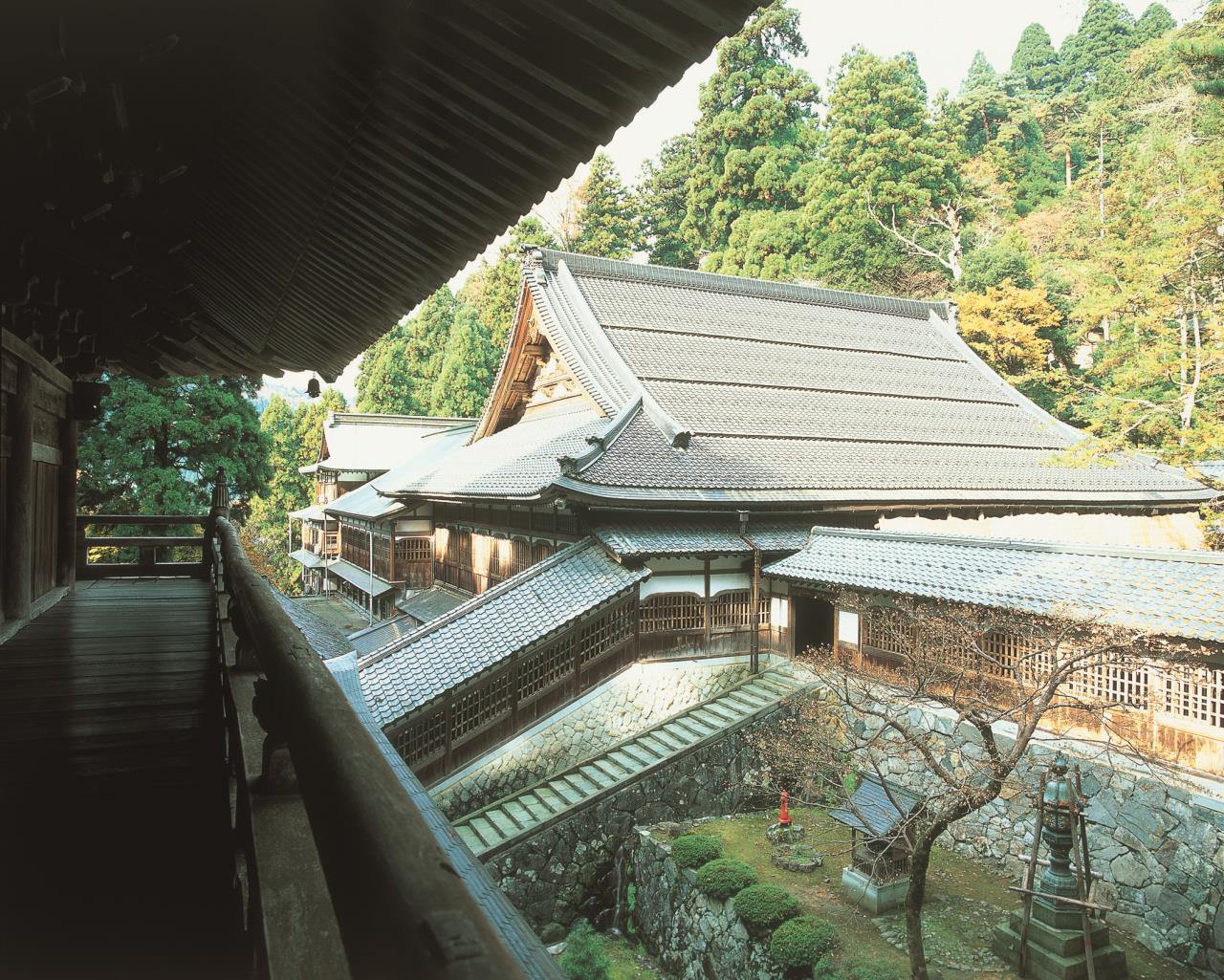 There are seventy large and small buildings on the grounds of the temple.
If you have come to Eiheiji, you must go further and visit Echizen-Ono, a quaint castle town, a short thirty-minute drive from Eiheiji.
The Echizen-Ono Castle, built about 440 years ago, was the center of this prosperous castle town, and the old streets still exist around the castle. Shichiken-dori is a great place to stroll, with its stone-paved streets lined with houses and shops with a deep sense of history. You can also tour the samurai residences that are open to the public and walk down Teramachi Street, which is lined with 16 temples, you will feel you have been transported to the Japanese Middle Ages.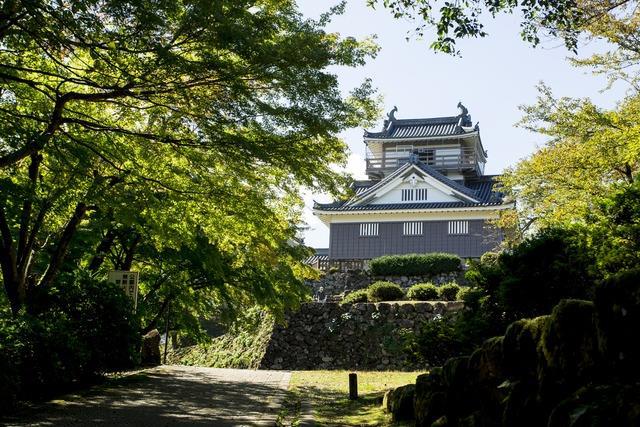 The present Echizen-Ono Castle was rebuilt about 50 years ago, and inside you can see the artifacts of the successive owners of the castle.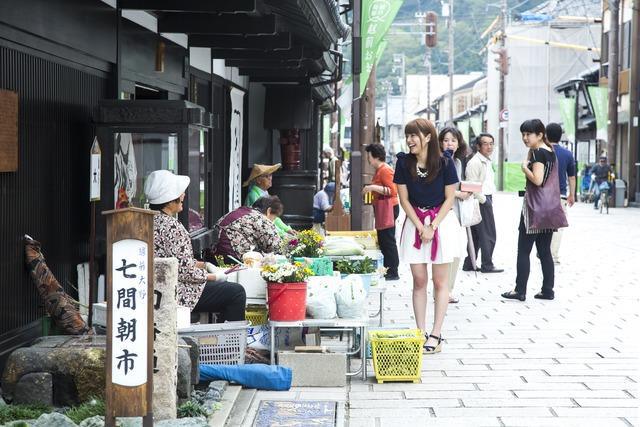 A morning market is held on Shichi-kan Street from spring to December 31, where locals sell their fruits and vegetables. The market has been going on for about 400 years.
Enjoy Ono's famous delicious spring water "Meisui"!
Ono is also famous throughout the country for its delicious spring water called "Meisui".
Moreover, there are eight natural spring water spots in the castle town where you can drink at your leisure. You can purchase an empty plastic bottle at the Ono City Tourist Association on Shichiken Street, so take it with you on a tour of the great spring water "Meisui". One of the natural springs you can't miss is "Oshozu". It is said that the water used by lords in historical Japan, used to be drawn from here. It's famous for its deep and mild taste!
"Meisui" Water Tour (Japanese) https://www.ono-kankou.jp/first/meisui.php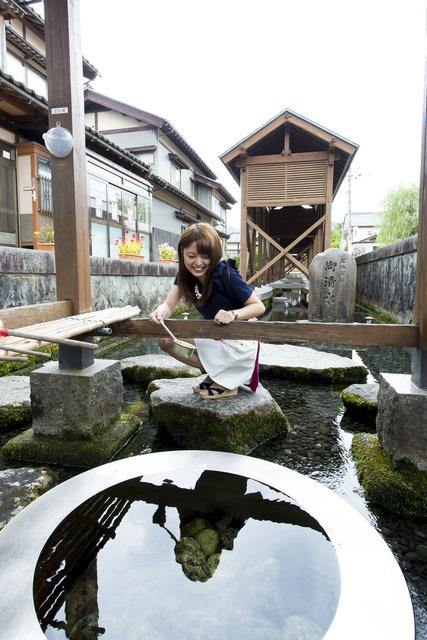 The natural spring water named "Oshozu" has been selected as one of the top 100 natural spring waters in Japan. Because it is underground water, it is cool in summer and warm in winter.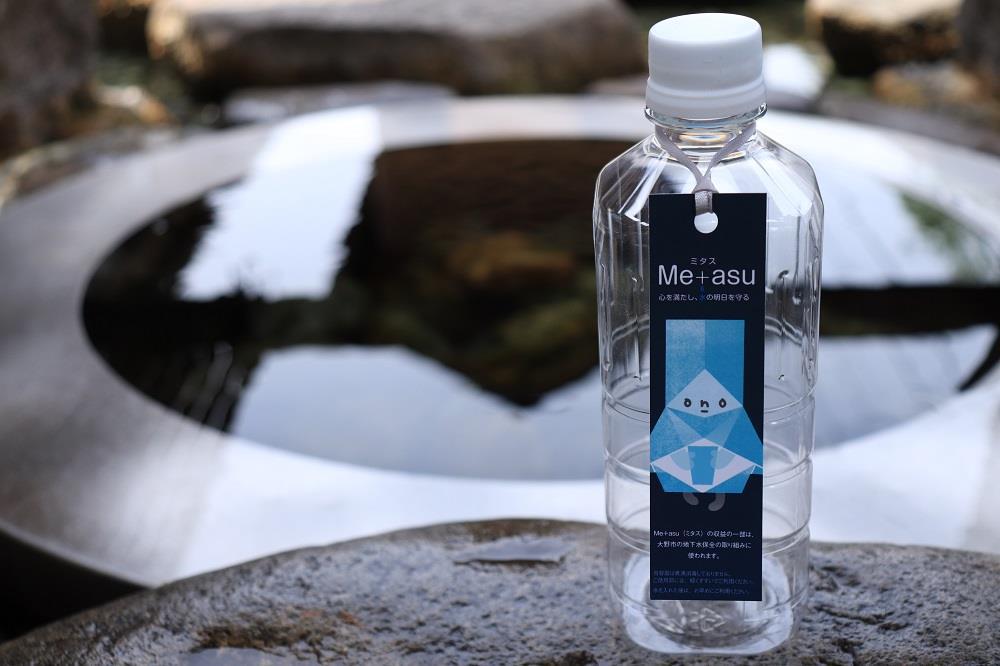 Plastic bottle "Me+asu"(Mitasu) - 100yen. The proceeds will be used for groundwater conservation in Ono.
Plastic bottle information (Japanese) : https://www.ono-kankou.jp/tourism/detail.php?cd=624
It's now a truism that when the water is good, the Sake and food tastes better. There are four Sake breweries in the castle town, all of which use the famous spring water "Meisui" of Ono. There's also a brewery that produces soy sauce made from the "Meisui" of Ono, you will defiantly want to take these delicious but heavy souvenirs home with you.
If you get hungry, don't miss the buckwheat Soba noodle restaurants. Fukui Prefecture is famous for its Soba noodles, and Ono's native buckwheat noodles are grown locally in the prefecture. The local Ono Soba is characterized by a richer aroma and crunchier texture than ordinary soba noodles, they are made from the delicious Meisui spring water of Ono. Locals use this water to cook the noodles, and serve with tsuyu dipping sauce, which is also made from the fresh spring water. It is often said that, "Water is the key to Soba noodles," it is an important element in creating the special taste. You can have buckwheat Soba noodles all over Japan, but these delicious Soba noodles are cooked in the special spring water of Ono, and can only be found in here Ono! Other towns in Fukui Prefecture have their own native Soba noodles, so it might be interesting to compare them.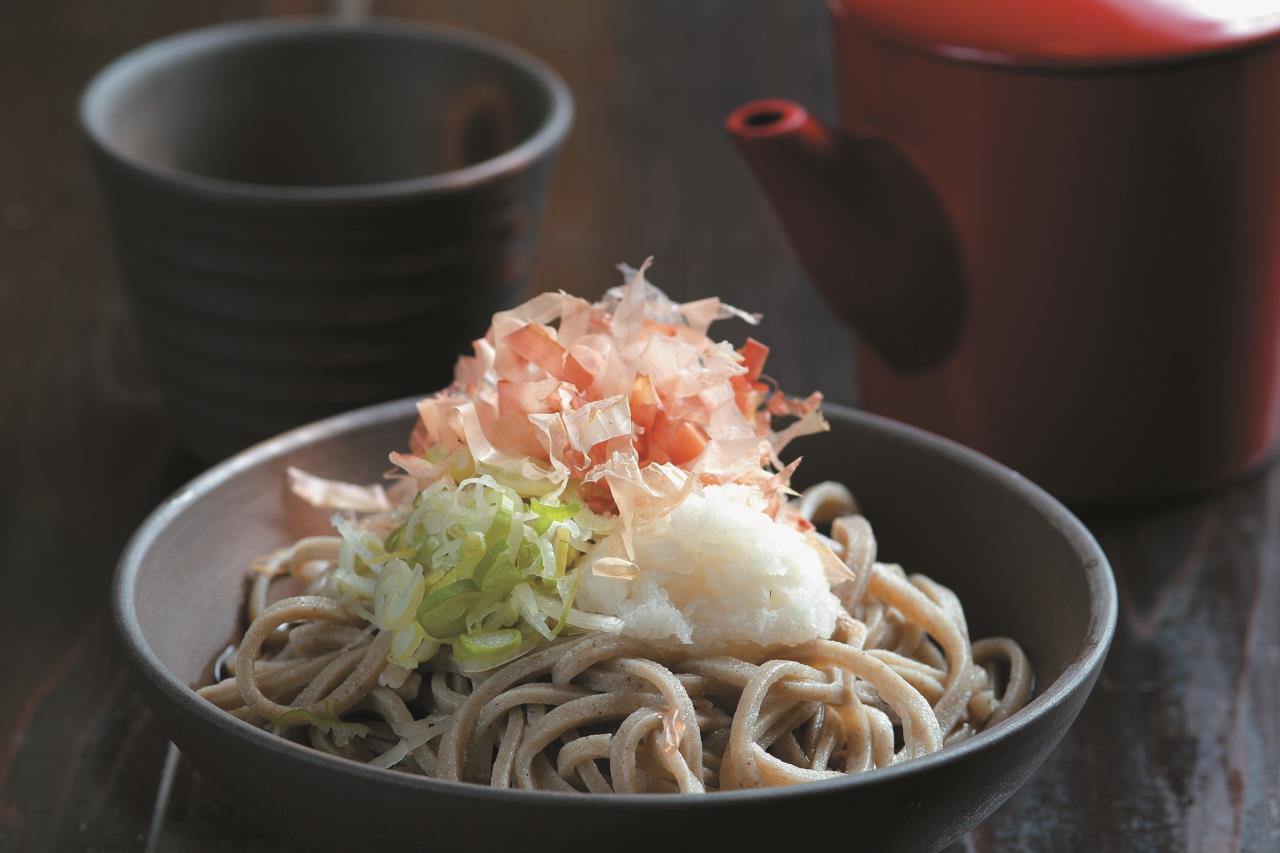 Finish off your visit with a natural "Meisui" hot bath? Founded in 1902, "Kameyama Yu" is an old-fashioned public bathhouse (*not a hot spring bath) located near the castle. It still has an historic atmosphere even though it has been rebuilt once before. The air bubble bath here features the Ono "Meisui". Experience the luxury of being immersed in the special natural spring "Meisui" water! The natural spring water bath has a great reputation for warming the body to the core, probably because they heat the water with wood using the old traditional ways.
Kameyama-yu:https://www.ono-kankou.jp/tourism/detail.php?cd=399
Still so much to enjoy in Fukui!
How was the trip to the castle town and spiritual experience in the sacred temples of Zazen? Fukui is a prefecture where traditional crafts are alive and thriving. Lacquerware, washi paper, cutlery, pottery, etc. are all available in Fukui, and there are many workshops in the area where you can even try making them. After a refreshing Zazen session, it's time to get creative! You can also enjoy Fukui in this creative way!!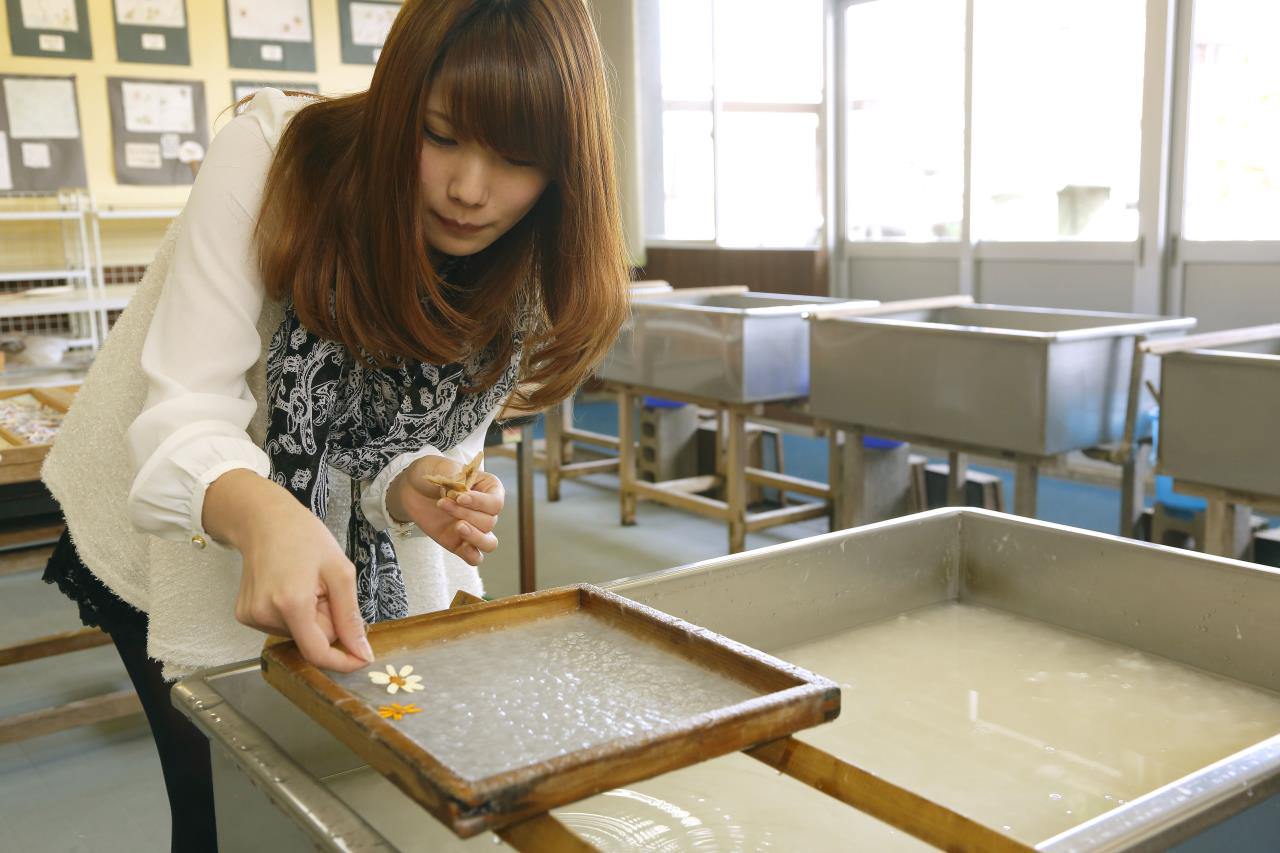 Experience making washi paper by hand