Even Japanese People Don't Know Them! 5 of the Best Ramen Restaurants in Kansai
You can find branches of globally popular ramen restaurants like Ichiran and Ippudo all over Japan, but each area of Japan will have many local ramen restaurants serving dishes particular to their area. This article introduces some of the best local restaurants in Kansai.
1. Kyoto Ramen (Kyoto)
Kyoto Ramen is thick and rich in nature. Traditionally, Kyoto's cuisine is known for its simple flavors, so you would expect a delicate and refined ramen, but actually, it is a strongly flavored dish. Many of the stores started life as food stands. There are three broad types of soup: a tonkotsu pork-based dark soy sauce soup, a thick soup made by simmering and reducing chicken and vegetables, and a chicken bone-based broth with added pork back fat. The Kyoto Ramen industry is a competitive marketplace with many renowned stores jostling for a good position. Any newcomers to Kyoto Ramen should definitely try out this thick, rich variety.
【Facility Name】 Gion Kyoto Ramen
【Opening Hours】 Monday - Thursday: 12:00 pm - 3:00 am (Last order 2:00 am)
Friday - Sunday and National Holidays: 12:00 pm - 4:00 am (Last order 3:00 am)
【Days Closed】 None
【Price】 1,000 JPY (incl. tax)
【URL】 KANSAI Tourism Bureau Homepage
【Address】 Sankoen Bldg. 1F, 116 Tominaga-cho, Yasaka-shinchi, Higashiyama-ku, Kyoto-shi, Kyoto
【Google Map URL】 GoogleMap
2. Wakayama Ramen (Wakayama)
Wakayama Ramen is a well-loved soul food from Wakayama Prefecture. It is usually a type with light soy sauce. In the past, you would see lines of ramen carts in the streetcar depot, so it is sometimes known as "depot style". Recently in Japan, tonkotsu soy sauce ramen restaurant Ide Shoten was proclaimed by the media to be the most delicious ramen restaurant in the country. All of a sudden, thanks to this, people became familiar with Wakayama Ramen, and tonkotsu soy sauce ramen saw a huge spike in popularity. Incidentally, most Wakayama locals don't call it ramen, but refer to it as chuka soba ("Chinese soba").
【Facility Name】 Ide Shoten
【Address】 4-84 Tanaka-machi, Wakayama-shi, Wakayama
【Google Map URL】 GoogleMap
3. Omi Champon (Shiga)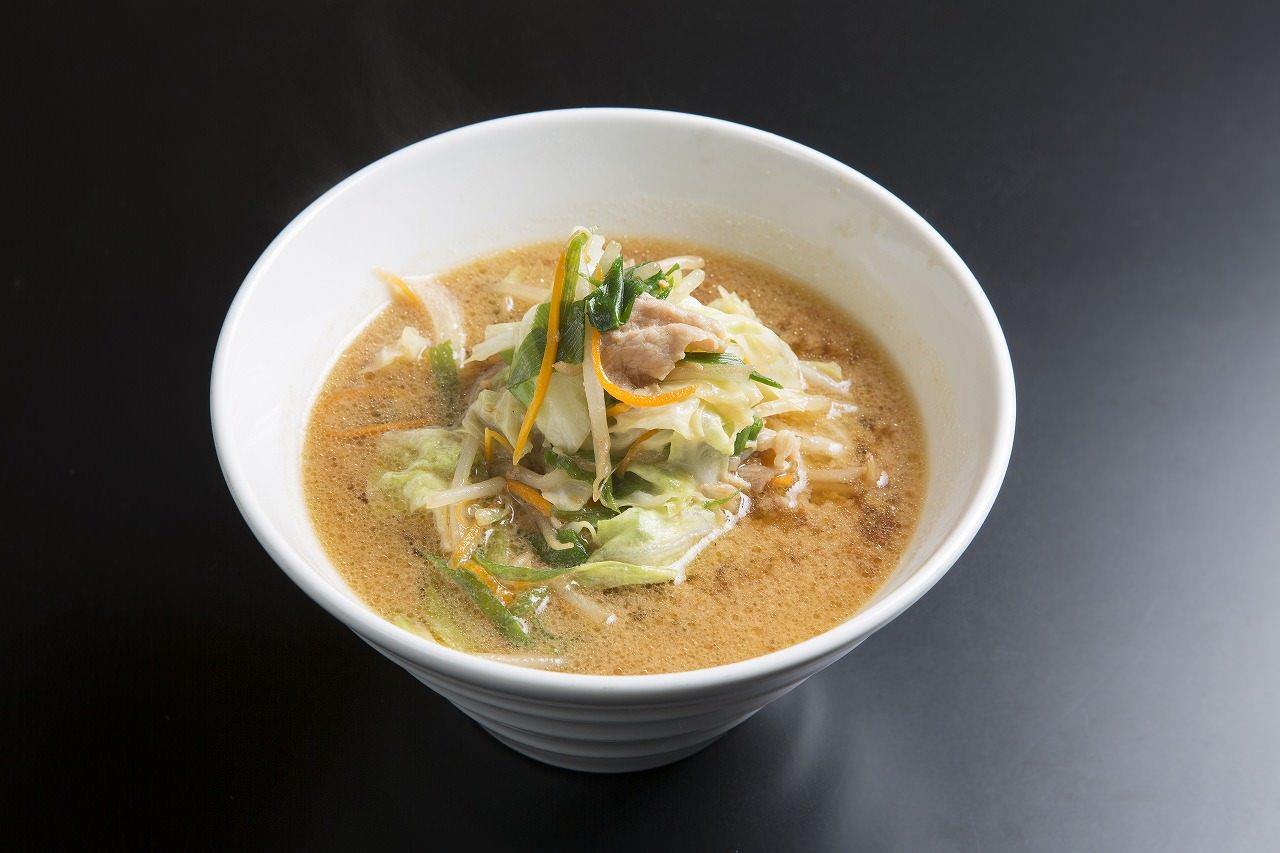 "Champon" means a variety of things mixed together. Champon ramen is made by boiling special champon noodles and stir-fried ingredients in soup. The most well-known champon is Nagasaki Champon from Kyushu, but places around Japan have adapted this to develop their own version. One of these is the Shiga Prefecture comfort food "Omi Champon". It is made with a Japanese soy sauce soup containing Kyoto-style dashi stock and filled to the brim with stir-fried meat or vegetables.
【Facility Name】 Champon Yutaka
【Opening Hours】 Monday - Sunday: 11:00 am - 9:30 pm
【Days Closed】 Irregular closing days
【Price】 680 JPY (incl. tax)
【URL】
Official Homepage (Japanese only)
KANSAI Tourism Bureau Homepage
【Address】 37 Komaizawa-cho, Kusatsu-shi, Shiga
【Google Map URL】 GoogleMap
4. Tokushima Ramen (Tokushima)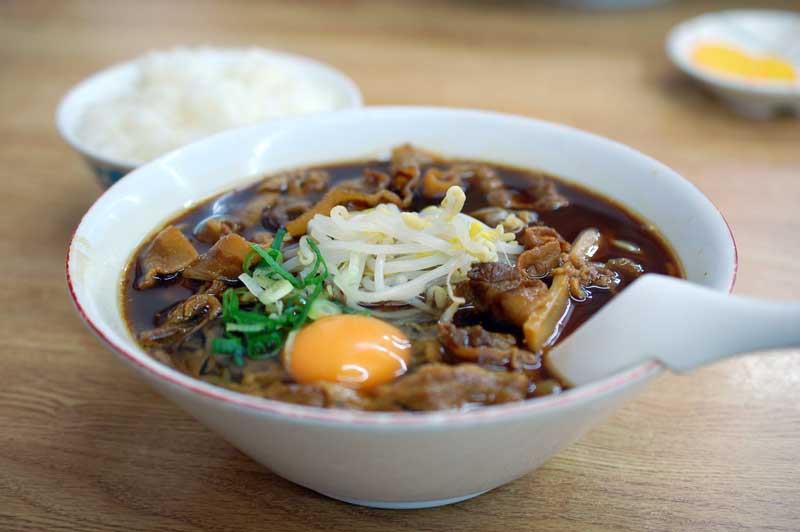 Tokushima Ramen is known for its slightly sweet and intense broth, and you can choose from three varieties: brown soup (a tonkotsu soup mixed with dark soy sauce), yellow soup (a chicken bone and vegetable base with light soy sauce), and white soup (tonkotsu soup with light soy sauce). In Tokushima, it is customary to have ramen with rice, so when you order ramen, it often automatically comes with a free bowl of rice! Because of this, you tend to get a slightly smaller portion of ramen than usual. If it is your first time, go for the brown soup—the sweet sukiyaki-style soup and raw egg are a perfect mix.
【Facility Name】 Inotani Main Branch
【Opening Hours】 10:30 am - 5:00 pm
【Days Closed】 Monday
【Price】 650 JPY
【URL】 Official Homepage (Japanese only)
【Address】 4-25 Nishi Daiku-machi, Tokushima-shi, Tokushima
【Google Map URL】 GoogleMap
5. Gyukotsu Ramen (Tottori)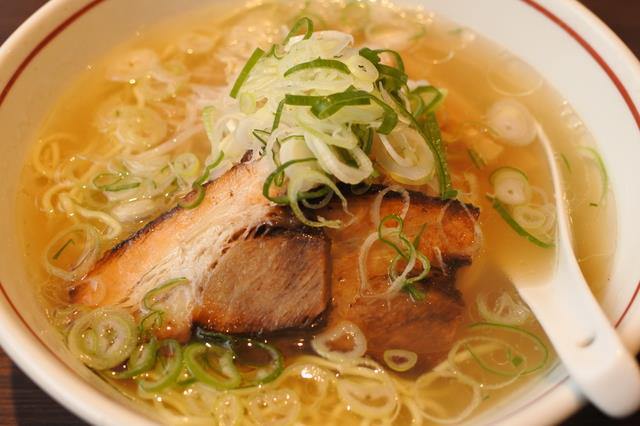 The soup for Gyukotsu Ramen is made from beef bone stock. The beef bones add a sweet, thick, and aromatic quality to the transparent light soup. A local dish and still not well known in Japan, Gyukotsu Ramen is said to have been created at Masumi, a restaurant in Yonago, Tottori. There are many Gyukotsu Ramen restaurants in Tottori Prefecture, but it is Kurayoshi where you'll find the greatest number fighting for your business.
【Facility name】 Masumi
【Address】 9-21-15 Nishi Fukubara, Yonago-shi, Tottori
【Google Map URL】 GoogleMap
So, there you have it! Five varieties of local Kansai ramen that many Japanese have yet to try, from simple soy sauce and thick tonkotsu varieties to the lesser-known gyukotsu. Why not try some local ramen on your trip to Kansai?