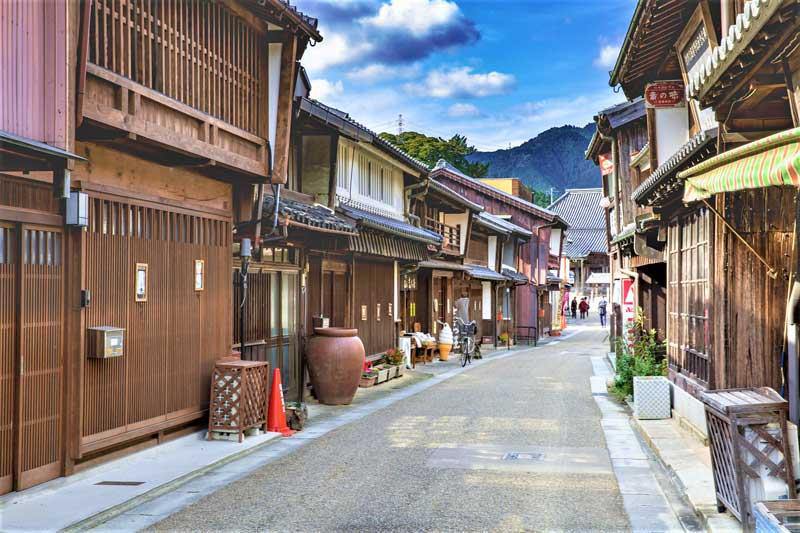 Five Historic Townscapes in Mie Prefecture Perfect For Experiencing Traditional Japan
This article will introduce five areas in Mie Prefecture with historic structures and traditional Japanese scenery. Mie Prefecture is famous for Ise Jingu, the grand shrine with a 2,000-year history, but it also has many other places with wonderful scenery that evoke a sense of times past.
What Kind of Place is Mie Prefecture?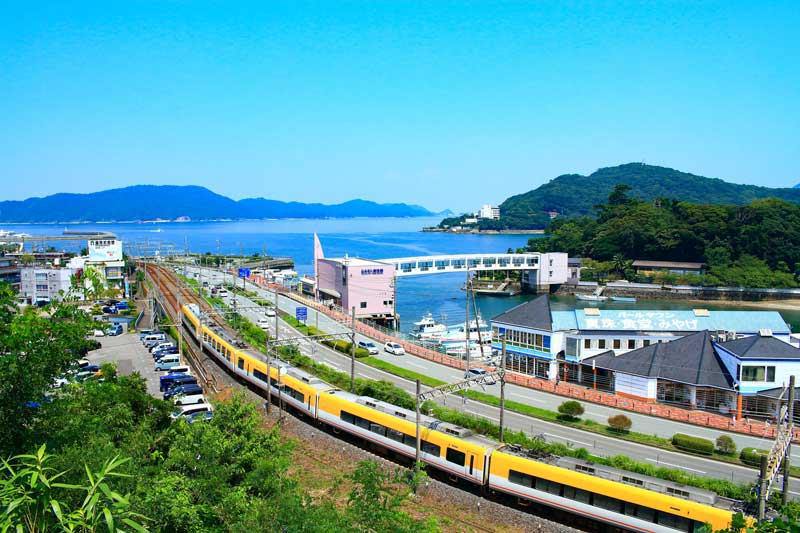 Mie Prefecture is located in the center of Japan and is a nature-rich precture blessed with both sea and mountains. It has thriving agricultural and fishing industries and is famous for such specialties as Ise ebi (Japanese spiny lobster​) and Matsusaka beef. It has a complex topography creating microclimates in different areas of the prefecture. The plains are relatively mild with an average annual temperature of around 15℃, while the mountains and valleys can have colder winters with average temperatures around 3℃.
Access from Tokyo: Take the Shinkansen bullet train from Tokyo Station to Nagoya Station and change to a Kintetsu Railway train bound for Mie (approx. 3 hours and 20 minutes)
Access from Osaka: Take a Kintetsu Limited Express train bound for Mie from Osaka-Namba Station (approx. 1 hour and 40 minutes)
Take a Stroll Through the Charming Townscapes of Mie!
Among the many spots to see in Mie, this article will focus on five areas with wonderful old-fashioned townscapes. Use it as a reference during your visit!
1. Tokaido Seki-juku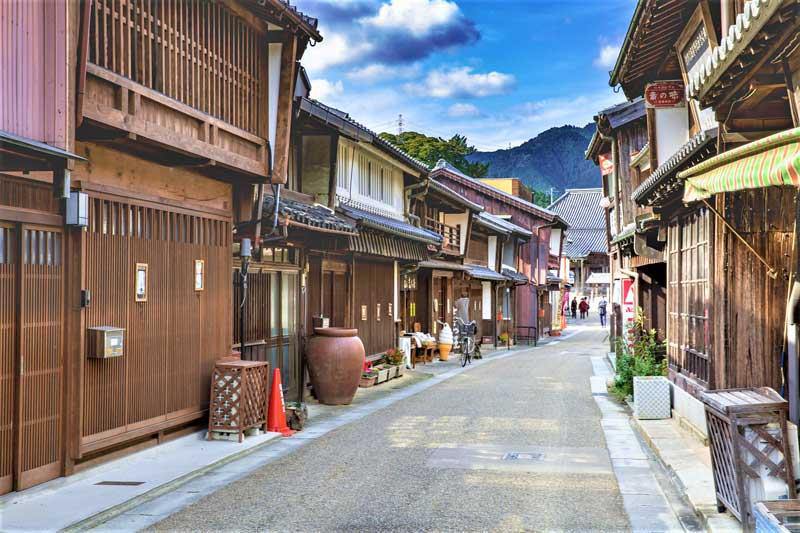 Tokaido Sekijuku is an area that flourished during the late Edo Period (around 1750 to 1850) as a shukuba-machi. A shukuba-machi (post town) is a town where travelers stayed overnight and delivery of goods to the next shukubamachi was managed. In Tokaido Seki-juku, there are many machiya (traditional townhouses) that were built during the late Edo Period into the Meiji Period (1868-1912). A panoramic view of the main street can be enjoyed from Chokantei, a building in Hyaku-roku Ritei Park and a great spot for photographs.
【URL】 Mie Prefecture Tourism Federation Official Homepage (Japanese only)
【Address】 Seki-cho, Nakamachi, Kameyama-shi, Mie
【Google Map URL】 GoogleMap
2. Gojoban Yashiki (Castle Guard Residences)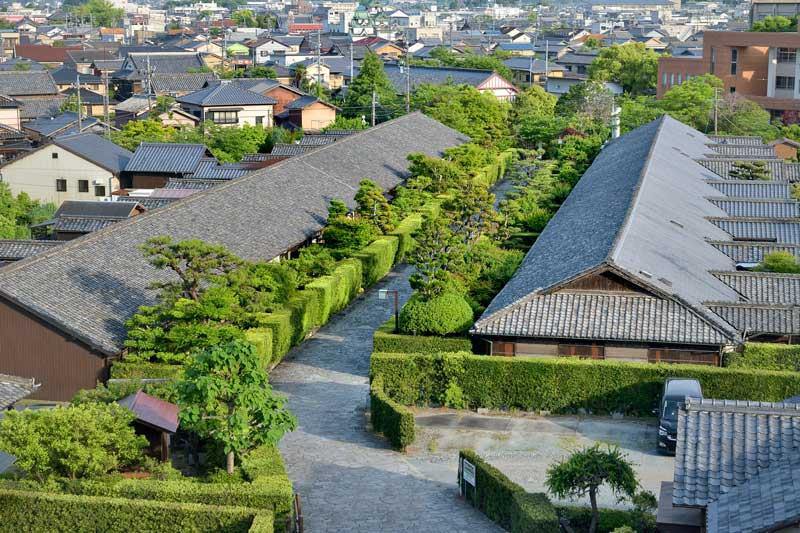 Gojoban Yashiki is an area with samurai residences that were built during the Edo Period (1603-1868). It is close to the ruins of Matsusaka Castle, and it is said that "hanshi" (samurai warriors) who were assigned to guard the castle lived in Gojoban Yashiki. The houses are still occupied as homes, but a few are open to the public, so why not take a peek inside to see how people lived in the past?
【URL】 Matsusaka City Tourism Association Official Homepage (Japanese only)
【Address】 1385, Tonomachi, Matsusaka-shi, Mie
【Google Map URL】 GoogleMap
3. Oharai-machi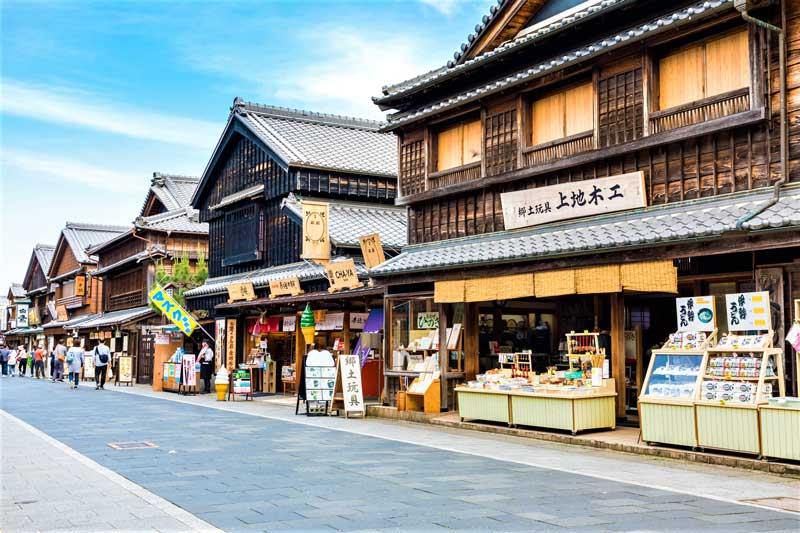 Oharai-machi is a street next to Naiku, the inner shrine of Ise Jingu, which is an important Japanese cultural heritage and the pride of Mie Prefecture. The 800 meter-long cobblestone street is flanked on both sides by famous confectionery stores, ryokan (Japanese style inns), and souvenir shops. Akafuku, the maker of a Mie specialty sweet of mochi covered in red bean paste, has its main store here, and it is a great place to get a souvenir or to sit and enjoy a treat. The freshly made mochi is so soft and stretchy and can only be enjoyed here. There are also restaurants on the street serving dishes made with the Mie specialty, Matsusaka beef, and the regional noodle dish called "Ise Udon," so be sure to stop by after visiting Ise Jingu.
【URL】 Ise City Tourist Association Official Homepage
【Address】 2, Ujinakanokiri-cho, Ise-shi, Mie
【Google Map URL】 GoogleMap
4. Kawasaki Townscape
Kawasaki is an area that was reclaimed by filling in the banks of a river during the middle of the Muromachi Period (1336-1573). Buildings that were the houses and shops of merchants and their "kura" (traditional storehouses) have been retained as they were at the time. Kawasaki Shoningura is a cluster of three kura housing a café and shops selling localy-made items such as traditional Ise lacquerware and Japanese black tea made with tea leaves grown in Mie Prefecture.
【URL】 Mie Prefecture Tourism Association Official Homepage (Japanese only)
【Address】 2, Kawasaki, Ise-shi, Mie
【Google Map URL】 GoogleMap
5. Matsusaka Merchants Townscape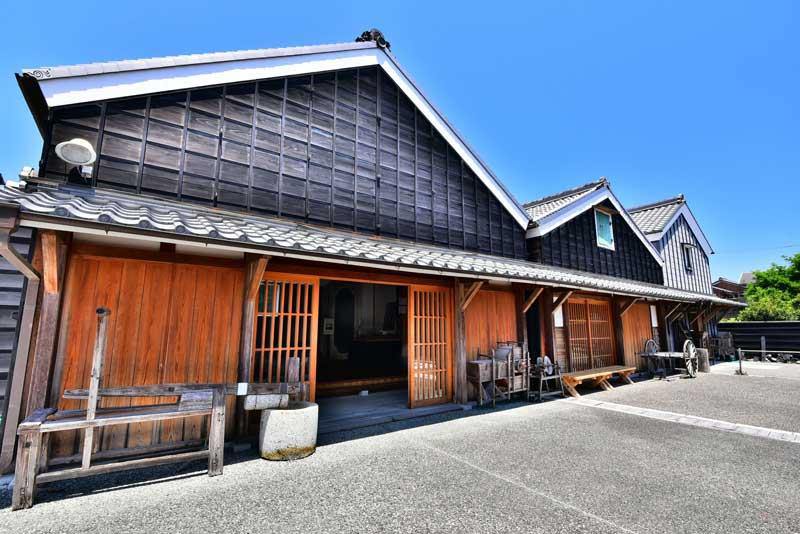 The Matsusaka Merchants Townscape is an area where wealthy merchants had their residences. Two residences of wealthy Matsusaka merchant families, the Hasegawa Family and the Ozu Family, remain to this day. The mansions are open to the public, so be sure to take a look at how Matsuzaka merchants during the Edo Period lived!
【Facility name】 Former Ozu Residence
【Opening hours】 9:00 am - 5:00 pm (last entry at 4:30 pm)
【Days Closed】 Mondays (the next day if Monday is a national Holiday), Year end and New Year holidays
【Price】 Adult: 160 JPY per person, Ages 16 - 18:80 JPY per person
【URL】 Official Homepage (Japanese only)
【Address】 2195, Honmachi, Matsusaka-shi, Mie
【Google Map URL】 GoogleMap
Were there any spots that piqued your interest? Strolling along the charming streets of these towns is a wonderful way to experience the history of Mie Prefecture, so be sure to check them out during your visit!