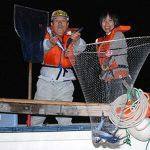 【Description】
Late May to late June is the season for catching flying fish in Tottori. You will leave port at 8 p.m. A light will attract the fish who will come gather. You can then scoop them up as they come up to the surface. It's a safe and fun activity for children and adults in a small fishing boat.
You're allowed to take home all the flying fish you catch, so bring a cooler if you have one.
It's an impressive sight to witness these creatures soaring over the ocean water at high speed, but it only happens for a short season, making this a considerably rare experience to have.
【Fee】
Fee applies to join
Photos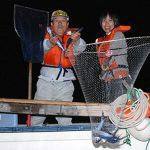 Information
Postal Code

681-0011

Address

Kugami 693, Iwami Town, Iwami County, Tottori Prefecture

Tel

Higashihama Tourism Association (Nakamura, Lodge #20, Higashihama)Tel: 0857-72-0273 Fax: 0857-72-0273

Businesshours

Booking hours: 9 a.m. - 6 p.m.

Holiday

Season: late May to late June

Website
Map
Nearby Spots