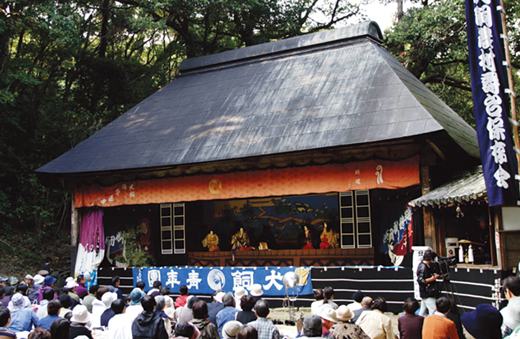 Rural Community Stage"Noson Butai"in Tokushima
In Tokushima, there is a lot of Noson Butai.
Noson Butai literally means a "Rural Community Stage". Since ancient times the Japanese landscape has been dotted with Shinto shrines of all sizes. On the precincts of some of these shrines were small play houses called Noson Butai, where Kabuki or Ningyo Joruri were performed as a votive offering to the guardian gods,expressing farmers' wishes for a rich harvest and peaceful life.
videos of Rural Community Stage"Noson Butai"in Tokushima
Ningyo Joruri performance
Guidance of theater
Performances in each Noson Butai, do from spring to autumn.
Please ask to Awa Jurobe Yashiki Puppet Theater.
+81(0)88-665-2202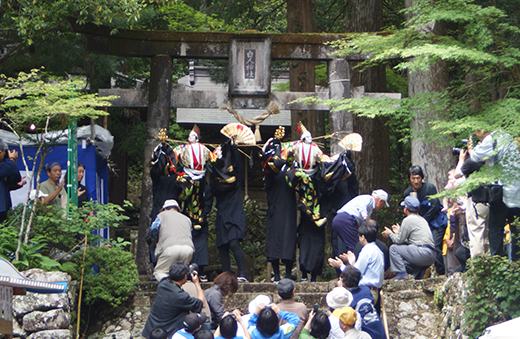 Noson butai of Inugai: go-oh shrine,hatacho,tokushima-city,tokushima
Noson butai of Imayama: imamiya shrine,munae,katsuura-cho,tokushima
Noson butai of Onosakura: tennou shrine,jinryo,kamiyama-cho,myouzai-gun,tokushima
Noson butai of yatsura: yatsura shrine,nishinou,naka-cho,naka-gun,tokushima
Noson butai of Hegawa: hegawa shrine,hirano,naka-cho,naka-gun,tokushima
Noson butai of kamase: yama shrine,yokoishi,naka-cho,naka-gun,tokushima
Noson butai of kawamata: iso shrine,kawamata,naka-cho,naka-gun,tokushima
Noson butai of Kitagawa: hachiman shrine,kitokitagawa,naka-cho,naka-gun,tokushima
Noson butai of Sakasyu: sakasyu shrine,sakasyu,naka-cho,naka-gun,tokushima
Noson butai of Higyu: sirahito shrine,haigyu,naka-cho,naka-gun,tokushima
Noson butai of Nitta(ohto): nitta shrine,kitagawachi,minami-cho,kaifu-gun,tokushima
Noson butai of Hoichi: funato shrine higashiyama,higashimiyoshi-cho,miyoshi-gun,tokushima