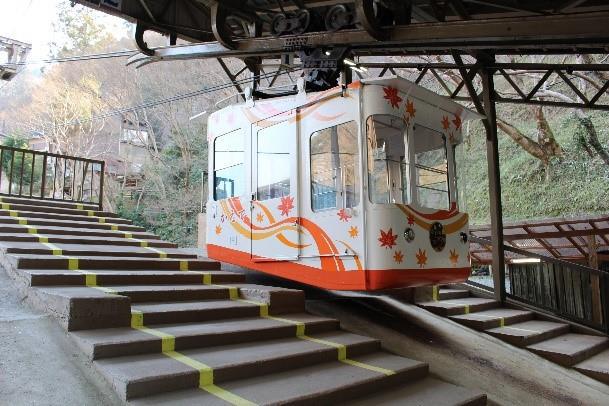 A kimono experience unlike any other! Dress in the style of a Yamabushi monk and walk the sacred paths of Shugendo.
You often see people wearing rental kimono, but for those who want to try something a little different, a little more spiritual, there is the option to try on the clothes of a Yamabushi monk at Mt. Yoshino, hallowed ground to practitioners of Shugendo. This valuable, unforgettable experience lets you dress in the white robes of a Yamabushi monk—which you'd be hard-pressed to find anywhere else—and stroll around this sacred site.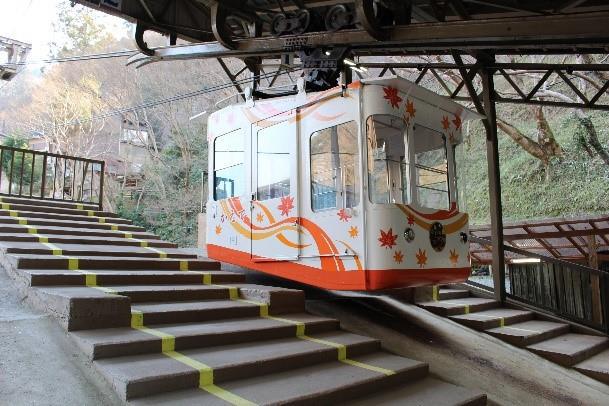 Alight from a Kintetsu Railway train at the final stop, Yoshino Station, and head to the bottom of Mt. Yoshino. From there, ride the ropeway to Yoshinoyama Station, where you'll find Kinpusen-ji Temple and a lively row of gift shops.  ?Yoshino Visitors Bureau
What are Shugendo and Yamabushi monks?
In Japan, since the distant past, mountains have been worshipped as the dwelling place of divine spirits, and in some cases as manifestations of deities themselves. This belief merged with elements of Buddhism and Shintoism and came to be known as Shugendo. The depths of the mountains where these divine spirits are believed to dwell are places of ascetic training, and those who train there are known as Yamabushi monks.
En no Gyoja, believed to be the founder of Shugendo, is said to have discovered the existence of a mountain deity and achieved enlightenment around 1,300 years ago on Mt. Omine, a mountain in the south of Yoshino. He is said to have carved an image of the deity into a piece of wood and enshrined it at Kinpusen-ji Temple. As the home of Shugendo and a site for particularly tough ascetic training, even now the temple remains a center of worship. Here, we will introduce a special itinerary that will allow you to clad yourself in the vestments of a Yamabushi monk in Yoshino, a sacred site in Shugendo.
Yamabushi make their way into the depths of the mountains to train. Training is only opened up to members of the public a few times a year with applications through Kinpusen-ji Temple and other organizations. *Actual Shugendo training in these robes is prohibited.
Put on these unique white robes and transform into a Yamabushi monk!
At 10:00 am, make your way to the Kam Inn guesthouse, located around 1 km south of Kinpusen-ji Temple. Once you've been registered, guesthouse staff will help you put on the white robes and transform into a Yamabushi monk (approx. 30mins). The high-quality robes are realistic, and just putting them on will put you in the right frame of mind.
Once you're changed, you're free to do as you please. Like the robes used in Shugendo training, these robes are easy to move around in, and we recommend that you come in comfortable footwear so that you can venture further afield.   *Actual Shugendo training in these robes is prohibited.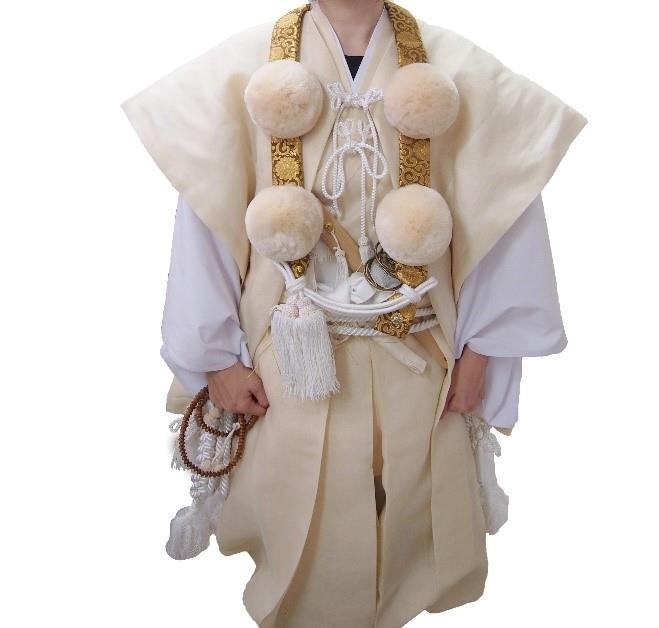 Yamabushi Clothing Experience at Mt. Yoshino
■Limited to one group per day (1–2 people)
■Available to fit heights of 140–190 cm
■Cost is 8,000 yen per person, payment due on the day (Cash only)
Five-hour rental, but what to do?
Surely the first thing to do after changing into your rental Yamabushi monk outfit is to visit Kinpusen-ji Temple. The temple is the heart of Shugendo in Yoshino, and forms part of the Sacred Sites and Pilgrimage Routes in the Kii Mountain Range UNESCO World Heritage Site. After taking in Zao-do Hall, the main hall and a National Treasure, why not give yourself a little taster of ascetic training and tour the mountain's shrines and temples as you climb.
There are numerous shrines and temples scattered across the mountainside between Kinpusen-ji Temple, which sits 297 m up the mountain, and Kinpu-jinja Shrine at 630 m. The path that winds its way between them is, for the most part, paved, but is predominantly uphill. Give it your all, and you'll find yourself out of breath; perhaps that sense of driving yourself onward has something in common with true ascetic training.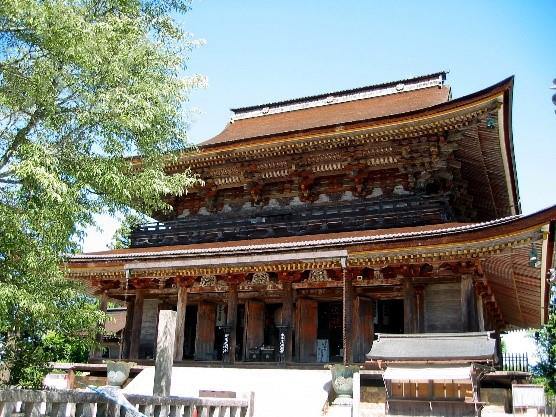 Kinpusen-ji Temple's Zao-do Hall. Including the principal images not normally on display, the hall houses several Buddhist statues.  ?Yoshino Visitors Bureau
— Recommended Route —
From Kinpusen-ji Temple, follow the path along the rows of lively shops to Yoshimizu-jinja Shrine (approx. 5 mins). From here the slope will start getting steeper, and the shops more sporadic as you walk to Chikurin-in Temple (approx. 10 mins). There are no more shops to pass and the path will start winding as you make your way to Yoshino Mikumari-jinja Shrine (approx. 30 mins). From here, a narrow cedar-lined path continues to the main approach to Kinpu-jinja Shrine (approx. 20 mins), which is an especially steep climb. If you can haul yourself up that, you've arrived at Kinpu-jinja Shrine!
Shrines and Temples in Yoshino http://yoshino-kankou.jp/spot/
Wearing the white robes of a Yamabushi monk will give you that extra motivation to challenge yourself!
While the journey onward from Yoshimizu-jinja Shrine is a hard one, you'll find yourself surrounded by greenery, breathing in the clear air, and catching the occasional glimpse through the trees of a stunning panorama that gets better the higher you go! At your goal, Kinpu-jinja Shrine, the invigorating view from the shrine grounds will have you forget your fatigue in an instant. While you may not have undergone true ascetic training, the sense of accomplishment is irreplaceable.
If you don't stop to inspect the intervening shrines and temples, the walk to the shrine should take about one hour. While the journey back is downhill and comparatively easy, those who feel tired can take a once-an-hour bus from Okusenbon-guchi bus stop back down to the bottom.
wo local specialties recommended for the weary traveler.
After you return to the bustling area near the station, why not indulge in a late lunch of persimmon leaf sushi? This special type of sushi, which consists of salmon or mackerel on a bed of vinegared rice and wrapped in a persimmon leaf, is one of the area's best-known dishes.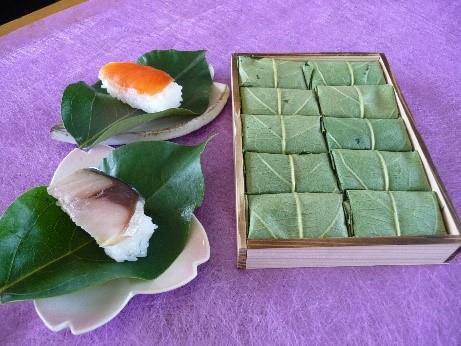 persimmon leaf sushi ?Yoshino Visitors Bureau
For dessert, how about some kuzukiri noodles? These noodles are made with starch taken from the roots of the kudzu plant, and Yoshino is famed for the quality of its kudzu. The silky-smooth texture of the noodles and the unique sensation when you bite into them is definitely something worth giving a go! Kudzu is also used in medicine and so the dessert might even whip away your fatigue.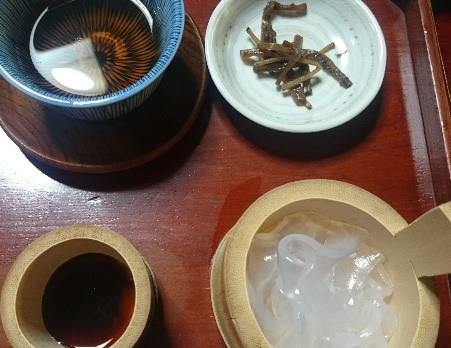 Yoshino and its famous cherry blossoms!
Yoshino is known as the place where a visitor can see a thousand blooming cherry blossom trees in a single view, and is famous not only in the Kansai region but throughout Japan. The area of full bloom slowly winds its way up the mountainside over the course of about a month.
Yoshino's status as a famous cherry blossom spot is in fact linked to Shugendo. The tree into which En no Gyoja, the man believed to have founded Shugendo, carved the likeness of the mountain deity after his enlightenment was in fact a Yoshino yamazakura mountain cherry tree. Since then cherry blossoms have been considered sacred, and duly protected. Furthermore, visitors to Yoshino, as a sign of their faith, donated cherry blossom trees to the area, so that now the mountains are somewhere a visitor can see a thousand cherry blossoms in a single view. When you consider that the numerous cherry blossom trees that cover the mountains and villages of Yoshino are a symbol of worship, the view goes beyond just beauty to take on a spiritual significance.
Please note, though, that during the cherry blossom season, the area is transformed by the hustle and bustle of the many tourists that visit, and that there will be queues for buses and the ropeway.