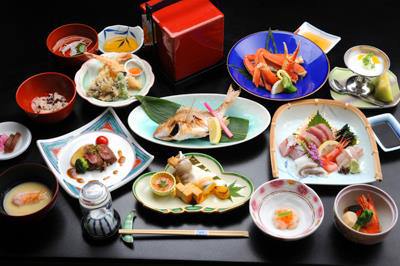 Top Kyoto Restaurants for Kaiseki Cuisine (and Some Japanese Restaurant Phrases and Etiquette!)
When you visit Kyoto, the home of traditional Japanese cuisine, make sure you try a kaiseki meal! This article introduces the best kaiseki restaurants, manners to observe while eating, and some useful Japanese phrases to remember when ordering.
What Is Kaiseki Cuisine?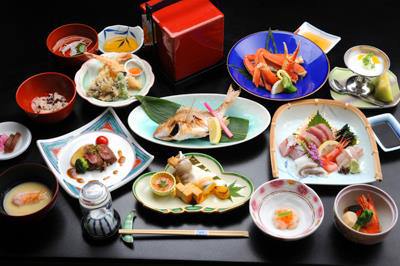 There are two ways of writing kaiseki, 懐石 and 会席, both with separate origins. 懐石 is a style of cooking that comes from the world of Japanese tea ceremonies. Also known as cha-kaiseki ("tea kaiseki"), it was a light meal taken during the tea ceremony to make it more enjoyable. 会席, on the other hand, referred to the food offered at banquets and gatherings, usually taken with alcohol. Today, both terms are usually used interchangeably to signify a traditional Japanese meal of several courses made with seasonal ingredients. It consists of foods such as sashimi, grilled dishes, and stewed or boiled dishes made with seasonal vegetables and seafood.
Manners to Keep in Mind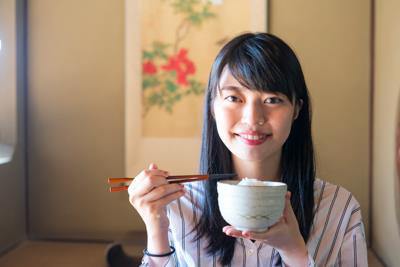 Here is an introduction to some of the manners you should observe when eating kaiseki cuisine.
• Hold your dish while eating
When eating Japanese cuisine, it is customary to pick up small plates and dishes such as rice bowls and soup bowls. If the dish does not fit in the palm of your hand, leave it on the table and eat directly from it.
• Manners when using chopsticks
The elegant use of chopsticks is important in Japanese culture. Actions such as letting your chopsticks hover over food items while deciding what to eat, or pulling a dish towards you with your chopsticks are a big no-no!
• Start with your hot soup
With traditional Japanese cuisine, the order in which you eat dishes is important. It is usual to start with the hot soup. Then, in order to fully experience the taste and aroma of the food, eat foods with a more subtle flavor (such as sashimi) before progressing to stronger tasting foods (such as deep-fried foods).
Useful Phrases to Know for Ordering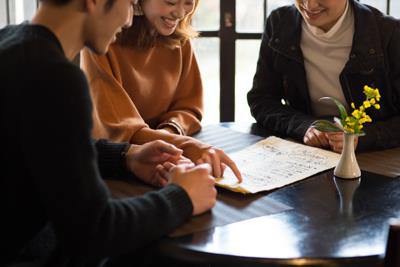 This section introduces several Japanese phrases worth remembering when ordering kaiseki.
· [jp] Sumimasen. (Excuse me!)
Say this while slightly raising your hand to get the attention of the waiting staff.
· [jp] Kore o onegai shimasu. / Kore o kudasai. (I'll have this, please.)
Use this phrase while pointing to photos or descriptions on the menu.
· [jp] _____ wa nan desuka? (What is _____?)
Use this phrase when you are not sure what something on the menu is or what is in a dish.
▼Some examples to fill the gap above
Kore (this)
Kono niku (this meat)
Kono yasai (this vegetable/these vegetables)
· [jp] _____ wa taberare masen. (I can't eat _____.)
This is the phrase to use to let people know there are foods you don't or can't eat.
▼Some examples to fill the gap above
Buta-niku (pork)
Gyu-niku (beef)
Nama-zakana (raw fish)
Ika (squid)
Karai-mono (spicy food)
Recommended Restaurants
This section introduces two of the best places in Kyoto to enjoy kaiseki cuisine. As both restaurants are located in the heart of Kyoto, they are the perfect places to stop off at when sightseeing.
Hanakanzashi Matsui Bekkan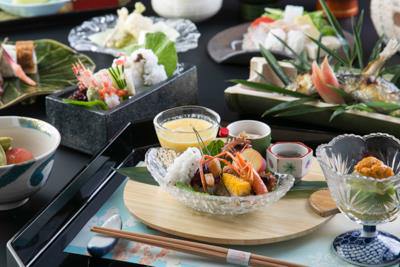 The first recommended restaurant can be found in the popular ryokan (traditional Japanese inn), Hanakanzashi Matsui Bekkan. You do not need to stay at the ryokan to eat here. They boast a diverse set menu offering a variety of main courses, ranging from healthy yuba (tofu skin) to a filling steak.
【Facility Name】 Hanakanzashi Matsui Bekkan
【Opening Hours】 11:00 am - 10:00 pm
【Days Closed】 None
【Price】 Average budget: Lunch 4,000 JPY, Dinner 7,000 JPY
【URL】
Official Homepage (Japanese only)
Kansai Tourism Bureau Homepage
【Address】 Rokkaku Takakura Higashi-iru, Nakagyo-ku, Kyoto-shi, Kyoto
【Google Map URL】 GoogleMap
Sokkon Fujimoto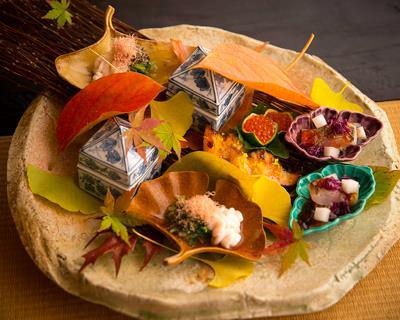 The second restaurant, Sokkon Fujimoto, is highly rated both in Japan and around the world, having been awarded stars in well-known, international gourmet guides. The omakase (chef's choice) set menu is the main option, and the menu pairs seasonal foods with carefully selected wines.
【Facility Name】 Sokkon Fujimoto
【Opening Hours】 12:00 pm - 2:30 pm, 5:00 pm - 10:00 pm
【Days Closed】 Wednesday, Beginning and end of the year
【Price】 Average budget: Lunch 8,000 JPY, Dinner 17,000 JPY
【URL】
Official Homepage (Japanese only)
Kansai Tourism Bureau Homepage
【Address】 92-12 Enoki-cho, Nijo-dori Teramachi Higashi-iru, Nakagyo-ku, Kyoto-shi, Kyoto
【Google Map URL】 GoogleMap
So, how about it? Head to the old capital Kyoto and treat yourself to some kaiseki cuisine that is as sumptuous to look at as it is delicious to eat!