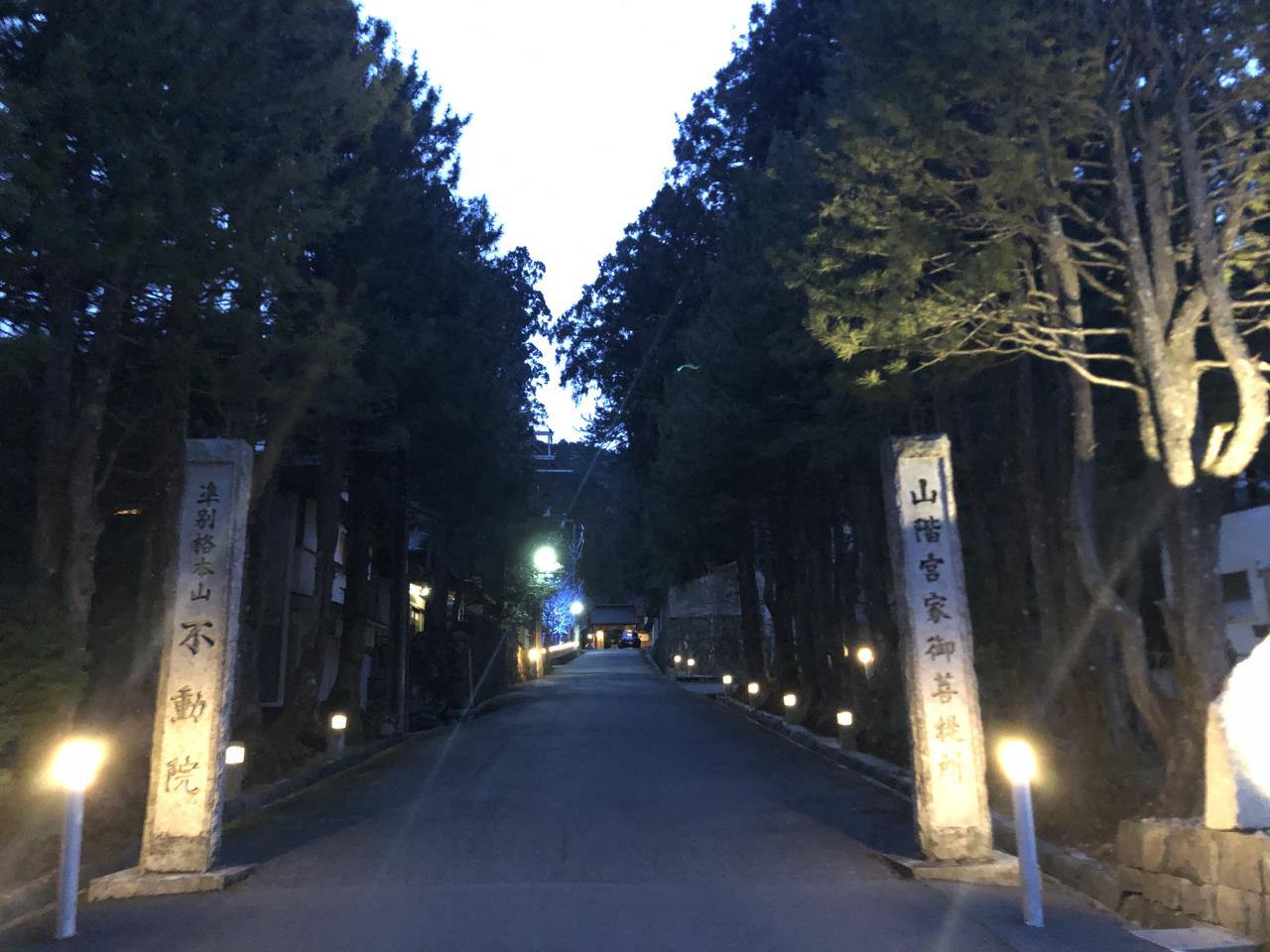 An Overnight Stay at a Buddhist Temple on the Sacred Mt. Koya
Mt. Koya was first established as a sacred Buddhist site more than 1,200 years ago by the high priest Kukai. Enveloped in a sacred aura, the mountain sits at an elevation of 900 meters, and the whole area lies within the precinct of Kongobu-ji Temple. The temple precinct can largely be split into two: the Danjo Garan area, home to numerous important temple halls, and the Okuno-in Temple area, where Kukai is thought to be enshrined. There are a total of 117 temples on the mountain, of which 52 offer shukubo experiences, allowing worshippers to sleep over in the temple. To experience Buddhism first hand, here we stop off for a night at Henjoson-in Temple, which is near the Danjo Garan area.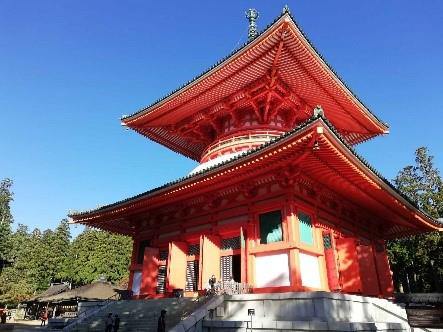 The Conveniently Located Mt. Koya
From Namba Station, Mt. Koya is around 90 minutes away on the Nankai Electric Railway Limited Express train and cable car service. From the cable car station at the top, a local bus takes you into the depths of the mountain. All of the transfer points in between have English-language signs to ensure a smooth trip for foreign visitors. From Kyoto, a bus takes visitors directly to the center of Mt. Koya in about 150 minutes.
As the mountain is so big, we recommend that visitors purchase a one-day unlimited bus ticket
One-day unlimited bus ticket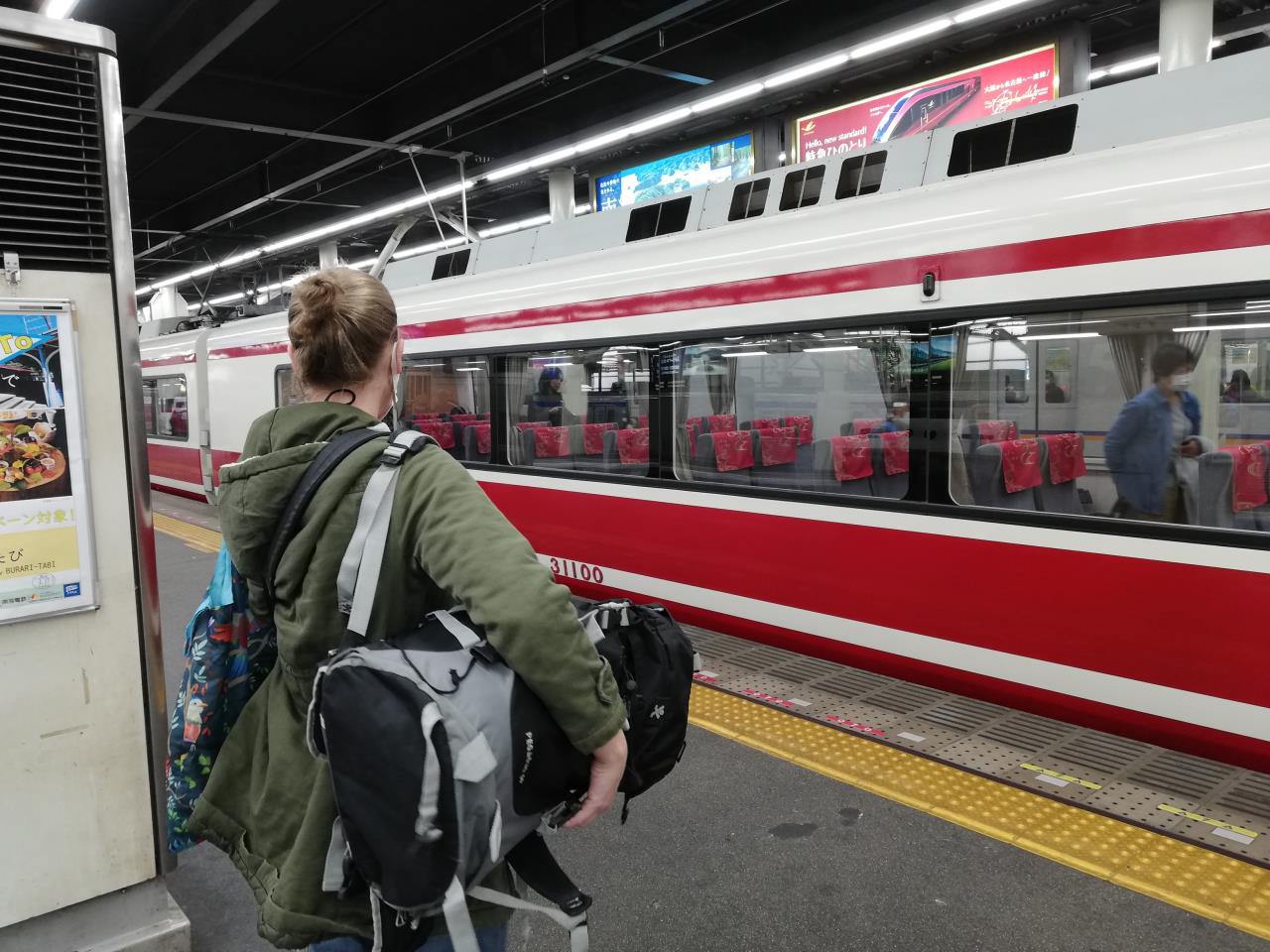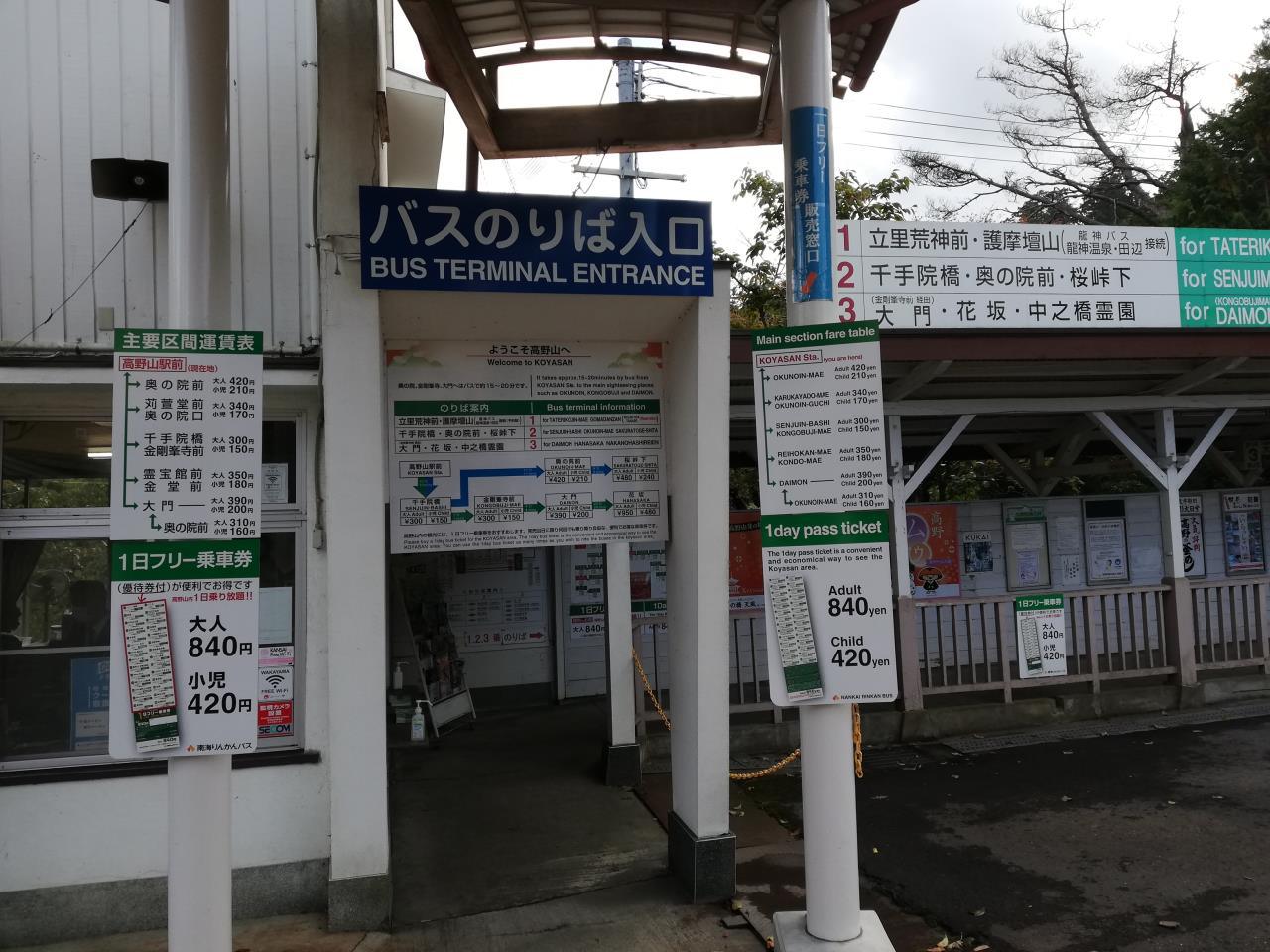 Experiencing Japan through Shukubo—Tatami-mat Rooms, Large Baths, and Buddhist Cuisine
Check-in is at 15:00, and so after dropping off your baggage, head off to explore the sights of the Danjo Garan area until sundown. Relax in your tatami-mat room on your return, and for those who find kneeling difficult, chairs by the window offer calming views of the traditional Japanese garden.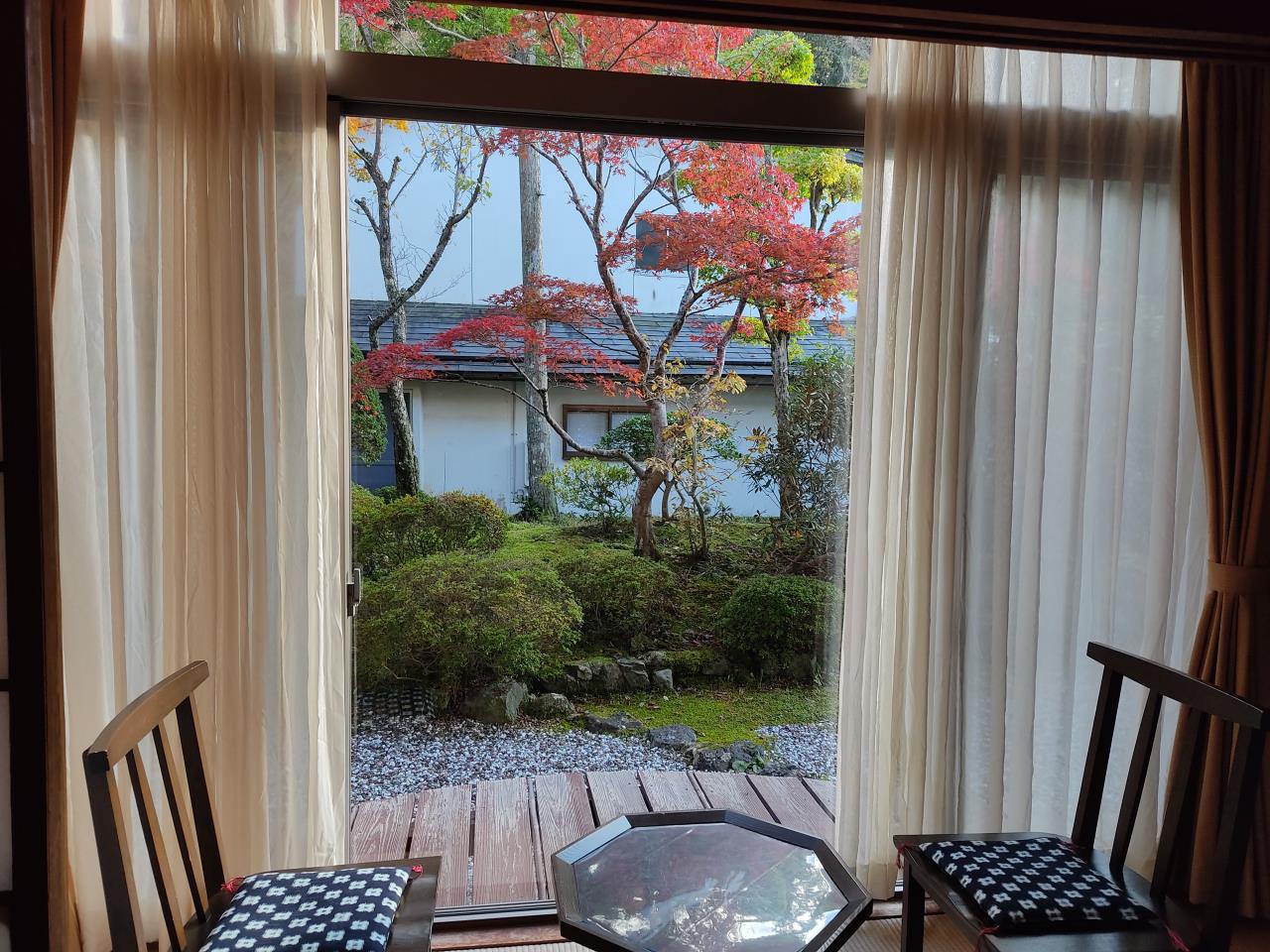 While some of the rooms have their own private bath or toilet, others don't. Although it is no doubt convenient having a private bath and toilet, the best way to experience the temple is perhaps to use the shared facilities (while of course being considerate of others). That said, the shared bath here is a large bath like those found at hot spring resorts, and is definitely worth trying out. Swimwear is forbidden, and guests must follow Japanese custom and enter without any clothes on.
Dinner is shojin-ryori, or Buddhist cuisine, presented in a quintessentially Japanese fashion with small, individual dishes. Buddhism prohibits the killing of animals, and so shojin-ryori does not include any meat or fish. The healthy dishes are not extravagant, and with light flavors that emphasize the innate taste of the ingredients, are quite delicious. Guests can sit down and enjoy the meal.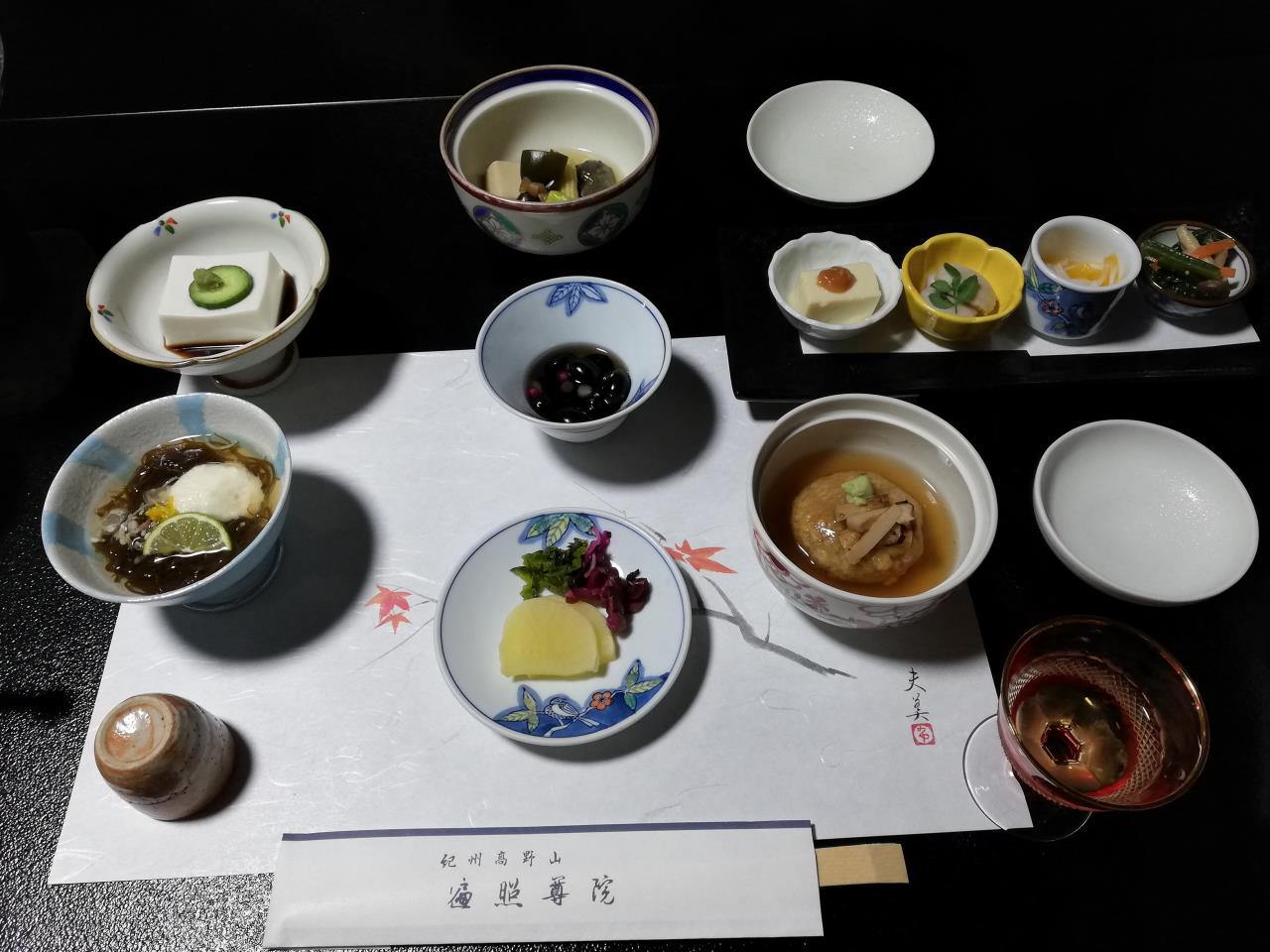 Night Tours and Morning Services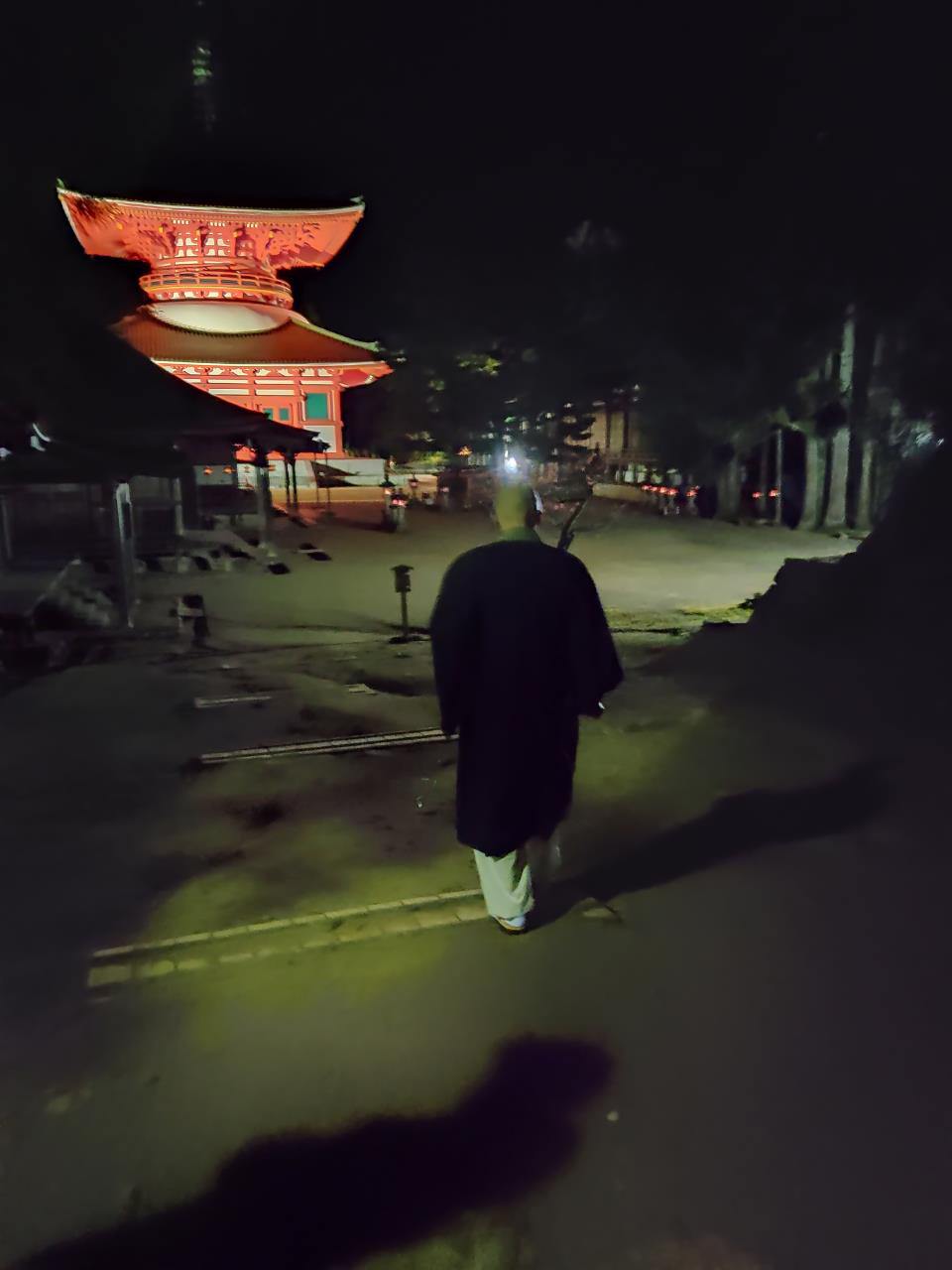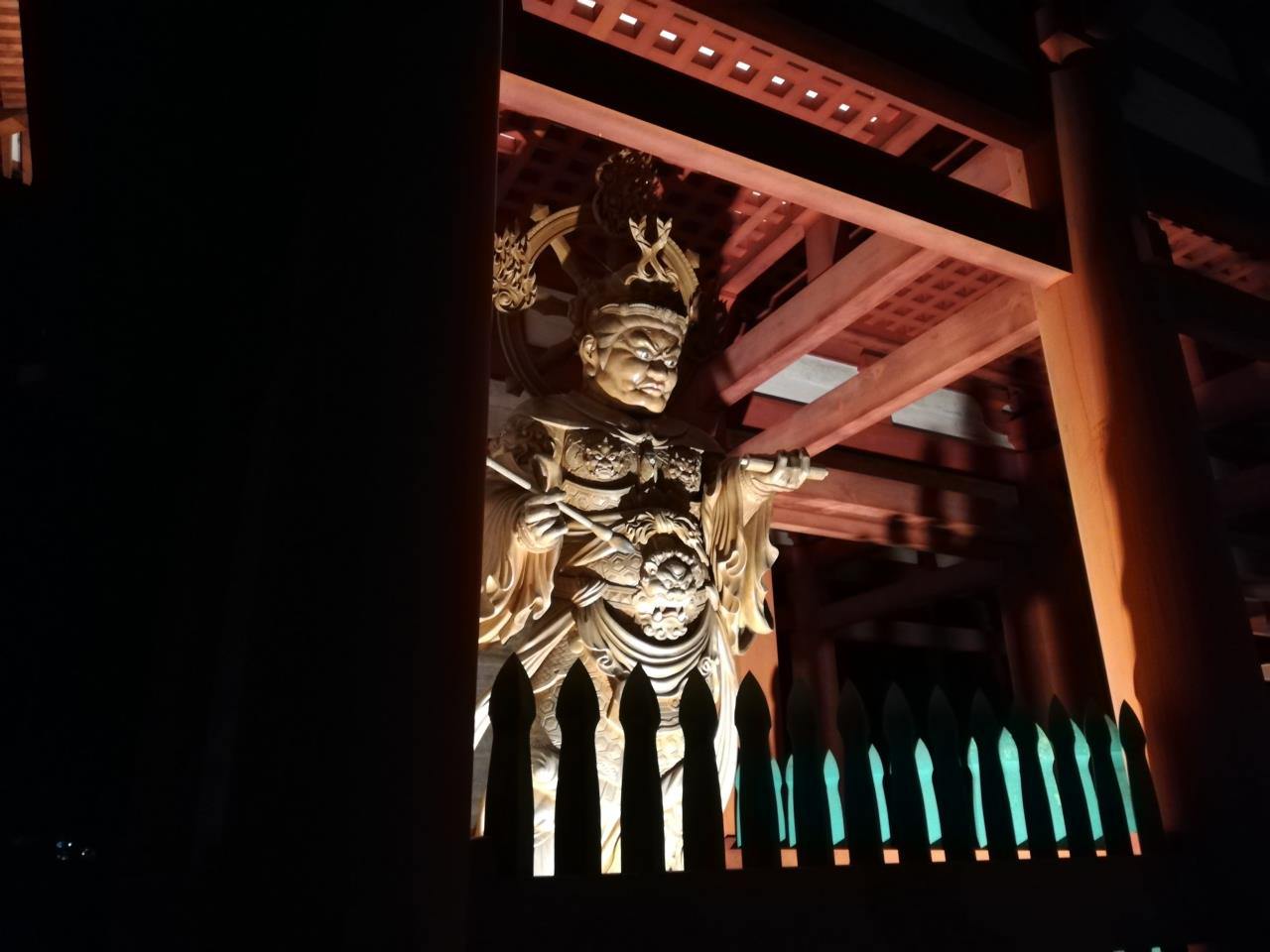 At Henjoson-in Temple, guests can enjoy a Danjo Garan night tour after dinner. This practice is part of the priests' Buddhist training, with guests led by the temple's deputy chief priest. At night, the Danjo Garan area—right in front of Henjoson-in Temple— is lit up, taking on an entirely different appearance to during the day. With very few tourists around, the area is even more tranquil than usual, and charming, vermillion structures appear amidst the darkness. It's almost as if you've stepped into a different world. The deputy chief priest is kind enough to describe the sights of the Danjo Garan in detail along the way, and the 75 minutes are up in no time. At bedtime, guests sleep on a traditional Japanese futon, and although it might seem strange to sleep on the floor, there is something comforting about the sense of stability.
The morning service begins at 6:30, so we recommend waking up at 6:00 to get ready (attendance is not compulsory). In the refreshing morning air, the chief priest of the temple recites Buddhist sutras in the main hall. The echoing voice of the chief priest is somewhat comforting, and guests might feel their bodies resonating with the chants. For those who meditate, the experience could be even more rewarding. Chairs are available here, too, and so guests who can't kneel don't have to worry.
In addition to the above practices, Henjoson-in Temple also offers ajikan meditation, shabutsu—where guests use a brush to trace a Buddhist image—and other fascinating experiences.
Using the Second Day to Tour the Sights around Okuno-in Temple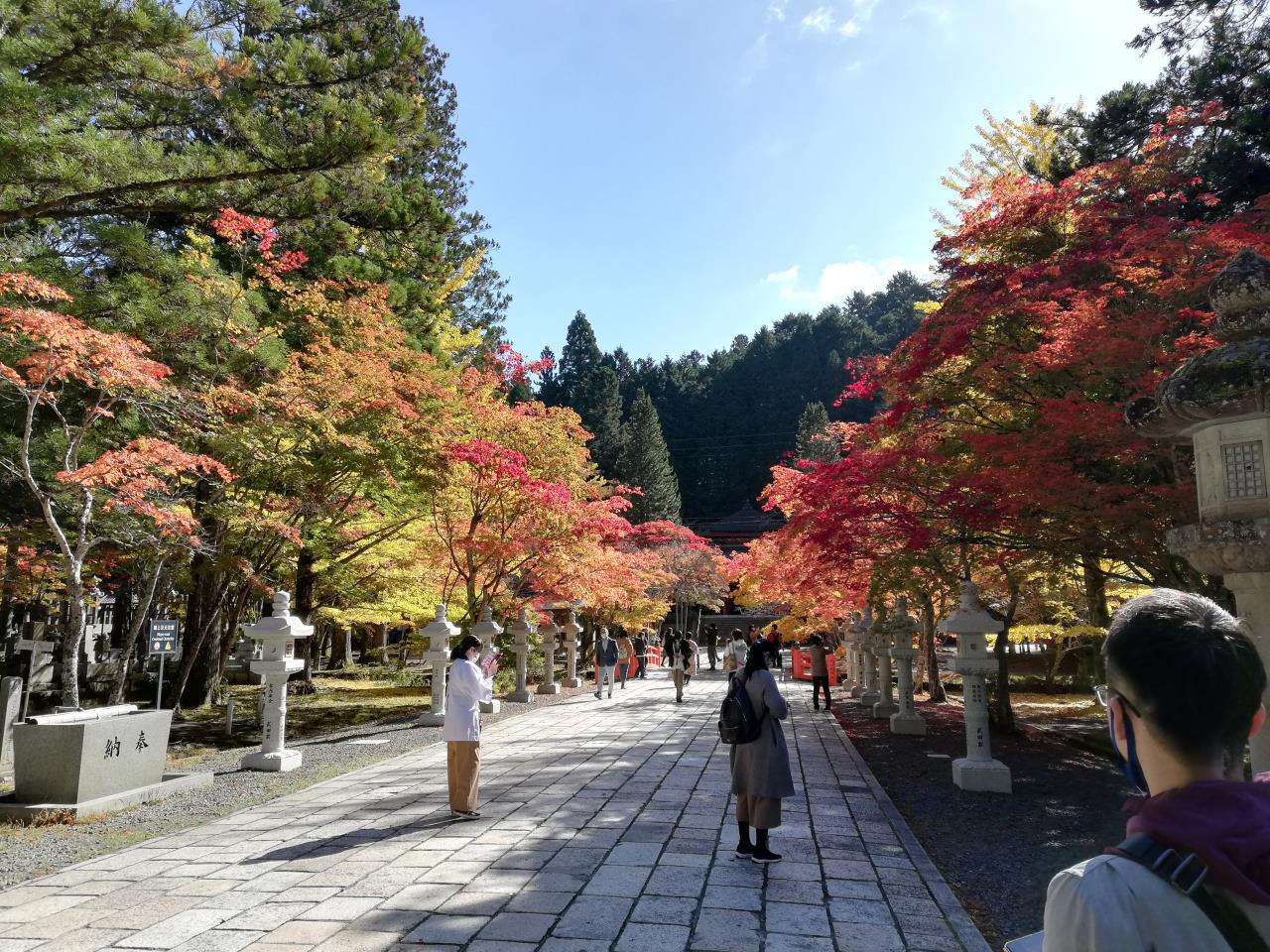 After checking-out, head to the Okuno-in Temple area. Unlike the Danjo Garan area, which is full of majestic buildings and training halls, Okuno-in Temple is enveloped in a more tranquil aura, as even now Kukai is thought to continue his meditation in the area. The approximately two-kilometer temple approach is lined with trees on both sides, and at the end visitors will come to the Gobyobashi Bridge. From here onwards is a sacred precinct that houses Kukai's mausoleum. Photos are prohibited, and the correct practice before crossing the bridge is to straighten oneself out and bow. Lucky visitors might see a procession of priests heading to the mausoleum with a wooden box. This is a daily practice in which priests carry food to Kukai, one which has continued nonstop for more than 1,200 years. This ritual offers a glimpse into the very depths of Buddhism.
After Okuno-in, you are free to head off for some lunch and some souvenir shopping. In between the many temples of Mt. Koya are a range of restaurants, cafes, and souvenir shops, many of which have English menus and signs. With no language barrier, then, guests can enjoy a stress-free trip to experience the essence of Japan.
A night at a temple is a great way to experience life in Japan, and is made all the more enjoyable with a night tour and a morning service. If you're visiting Kansai, Mt. Koya is only 90 minutes away from Osaka City, and is a wonderful place to encounter a mystical, altogether different world.