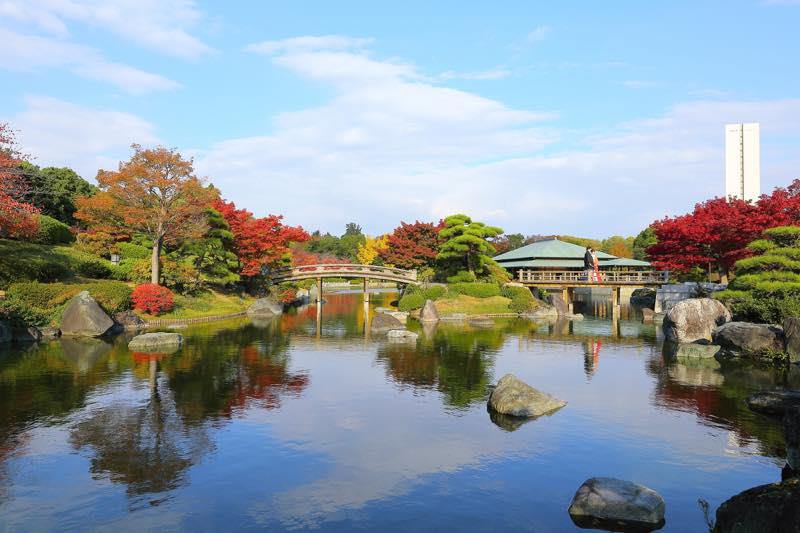 ・ Summary
A beautiful circular hill and pond garden spanning 2.6ha and using many traditional Japanese gardening techniques. Surrounded by flowers and trees, you will find many characteristic locations, including structures, bridges, ponds, and flowing water, and seasonal flowers such as iris and plum.
A beautiful circular hill and pond garden created using traditional Japanese gardening techniques inside Daisen Park as part of Sakai City's centennial celebrations. Pass though the gates and you will find a 2.6ha garden spreading before you, divided into zones for ponds, flowing water, and flowers. The cypress rest area features copper roofing, and was created to mimic the gathering places of rich merchants during the 15th century. The far shore of the large pond is intended to invoke images of mainland China. Within the grounds, and surrounded by flowers and trees, you will find structures such as the rustic Azuma and Seitaitei, the Eihakyo and Ingetsukyo bridges that lead to the island at the mouth of the pond, the highly characteristic Dojakuchi pond around which numerous types of iris bloom in early summer, and the Hiryubaku cascade that sends the water to the ocean. These beautiful ponds, flowing waters, and rich selection of seasonal flowers truly represent the future of the enterprising city of Sakai. There are also around 70 plum trees planted in the grounds, which are best viewed in mid-February.
You can also enjoy tea and confections while taking in the scenery of this Japanese garden (charged).
・ Address
Daisennakamachi, Sakai-ku, Sakai shi (inside Daisen Park)
・ Open
Apr - Oct: 9:00-17:00 (entry until 16:30), Nov - Mar: 9:30-16:30 (entry until 16:00
・ Closed
Mon (following day if Mon is a holiday), year end-new year period
・ TEL
+81-72-247-3670
・ Official HP
http://www.daisenteien.jp/