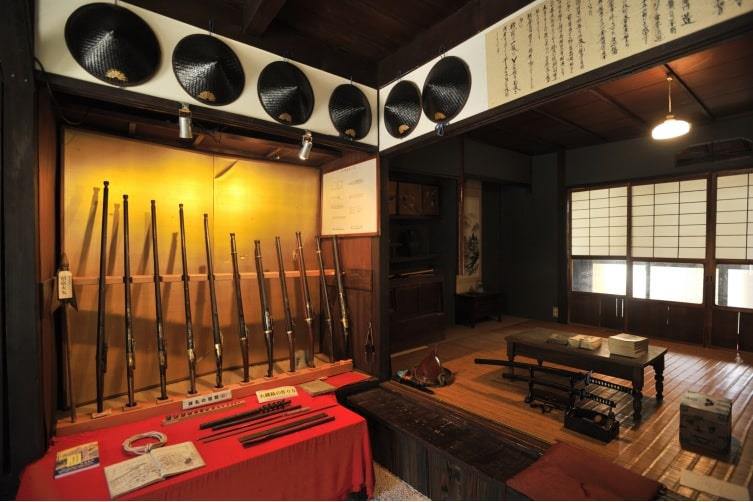 ・ Summary
The interior of this townhouse recreates a forge used to make guns, as well as exhibiting a varying selection of guns and clothing actually used in battle, allowing you to view a forge and battle encampment in one location. The perfect place to touch upon the firearms history of Sakai, you can even receive instruction in how to use a matchlock gun. (Only open Sat, Sun, and holidays).
Located in a corner of the Kitahatagocho area, a place where manty pre-war buildings still remain including the Edo-period Gunsmith's Home (interior not open to the public), volunteers opened the Sakai Teppokan in 2009 inside a townhouse around 100 years old, establishing a place where visitors can touch upon the firearms history of Sakai.
Inside the building is a recreation of the forge used to make guns, with semi-finished barrels and period tools lying around. The gun racks are lined with various sizes of gun to be used in actual warfare, and looking to the lintel you will see rows of clothing such as battle surcoats and straw hats.
The Teppokan is only open on Saturdays, Sundays, and holidays. You can receive more detailed instruction in the weapons, including how to use matchlock guns. The head of the facility is also happy to provide mini lectures, such as how the introduction of guns affected the rapidly changing Sengoku period, which warlords stood up in the face of conventional wisdom, the skills required to use the weapons and their firepower.
Finally, for an additional charge of 100 yen, you can don armor and a battle surcoat and experience what it was like to be a soldier during those times.
・ Address 1-2-7 Kitahatagochonishi, Sakai-ku, Sakai shi
・ TEL +81-72-233-6601
・ Official HP None
・ Open 11:00-16:00 (only open Sat, Sun, holidays)
 *Also has unscheduled holidays.
・ Closed Winter closure: 12/26-2/3 All days other than Sat, Sun, holidays