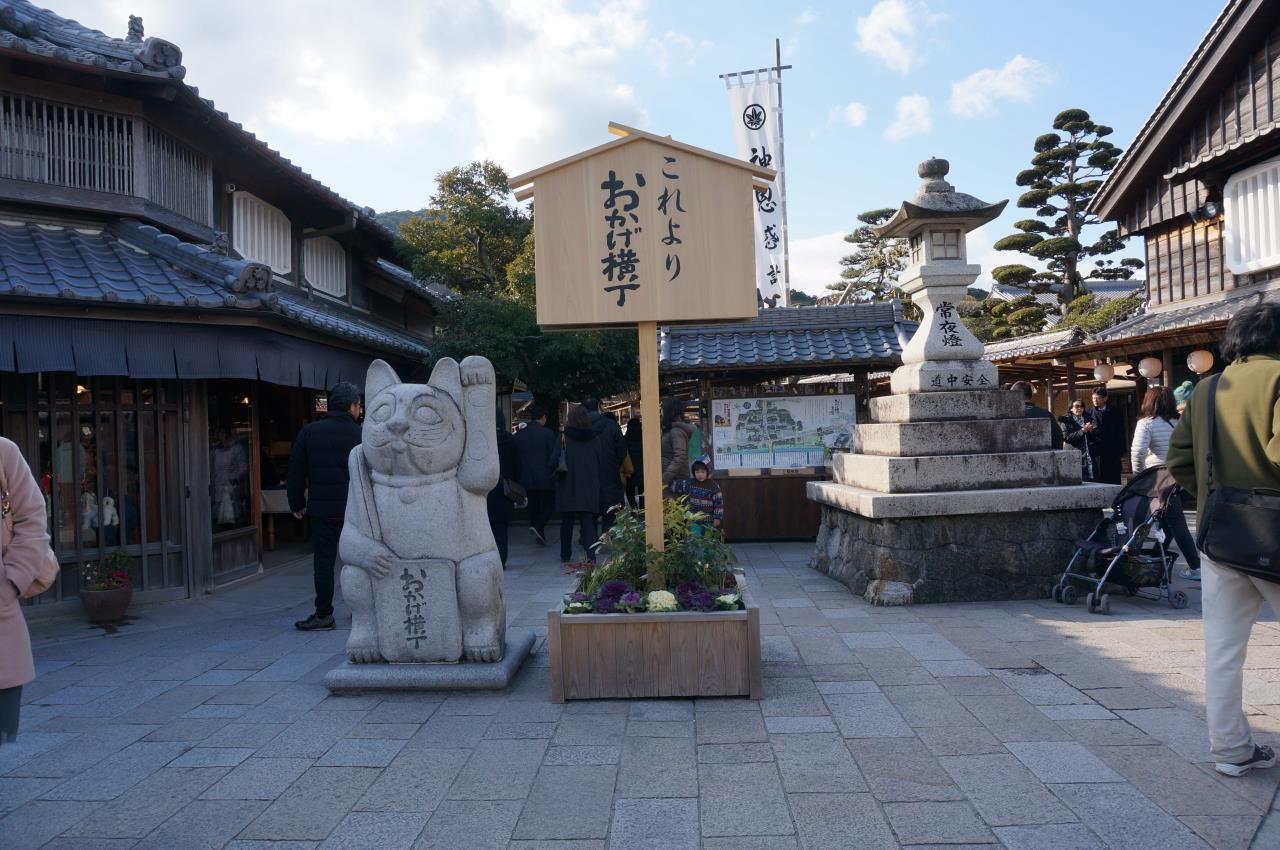 After visiting Ise Jingu, enjoy Okage-yokocho walk -5
After visiting Ise Jingu, enjoy taking a walk at "Mukashi-machi" (old townscape). Along the stone paving on the bank of Isuzu-gawa river starting from the Ujibashi bridge at the entrance to the Naiku (Toyo-uke Daijingu) of Ise Jingu, you will find the shrine town called "Oharai-machi" (Purifying town) replicating old streets with restaurants, souvenir shops, traditional sweets shops with a long history and traditional inns etc. At the center of "Oharai-machi", "Okage-yokocho" (Blessing alley) with around 60 shops is very polular among Japanese tourists and local residents and is lively like a festival every day. You will be fascinated by good old Japanese sweets and lovely Japanese fancy goods and find it difficult to choose. Business hours differ by shops and seasons, but nearly all shops are open from 11:00 till 17:00.
Ise-shoyu-honpo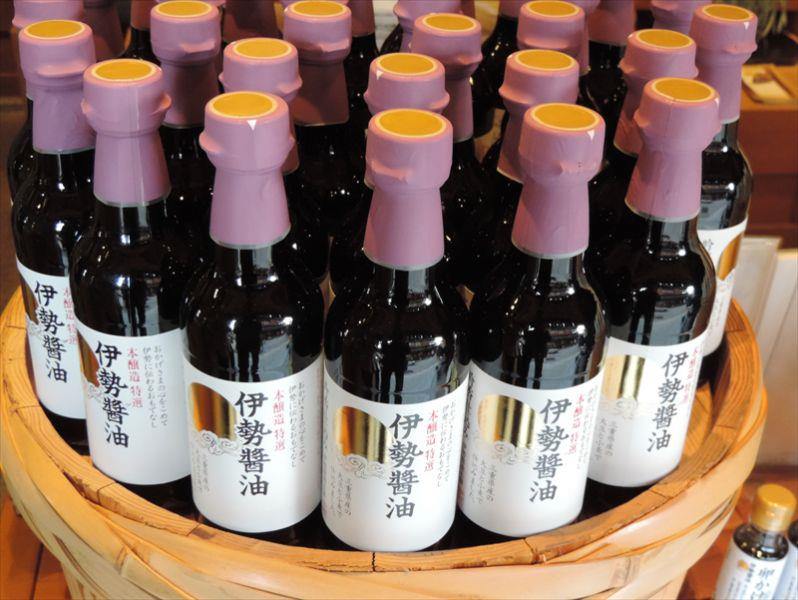 You will enjoy the good taste of Ise Shoyu (Ise soy sauce) and the smell of roasted soy sauce. For souvenirs, "Ise Shoyu Ginkou-shikomi" (flavored soy sause made from selected soy beans) is recommended. For take-out, "Ise-yaki Udon" (Japanese fried noodles) with the scent and rich taste of Ise Shoyu, and "Ise Shoyu soft-serve ice cream" with the tasty rich flavor of the added Ise Shoyu are very popular.
Zeniya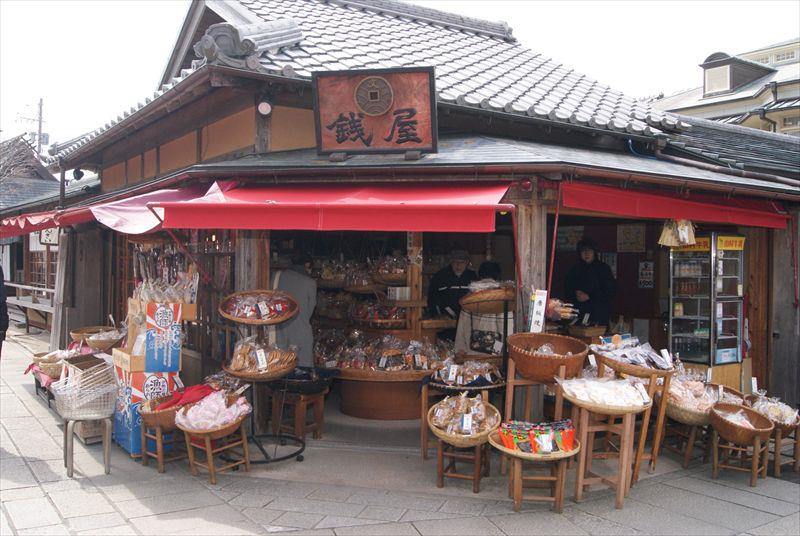 The shop is full of old-fashioned confectionary nostargic to most Japanese, like colourful candies and "Karinto" (fried dough cakes) etc. You can find the shop by the signboard of Ichi-mon Sen (Coin of Edo Period). Flagship product is "Waraji Karinto", characterized with cripsy thin wheat flour dough and dark brown sugar flavor. Please give it a try.
Kicho-shoufuku-tei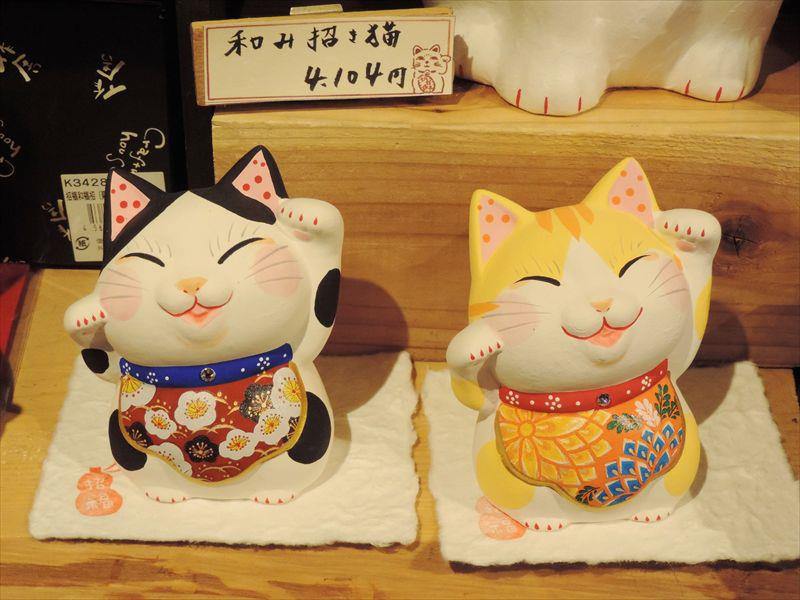 With the theme "sharing the happiness", the shop developed as it accumulated and sold charms throughout Japan, and is now known as a specialty shop with 1,000 kinds of "Maneki-neko" (figure of a cat with one paw raised). In addition to Maneki-neko, the shop is full of cat goods and are irresistable for cat lovers. After being healed by Maneki-neko, make sure to try "Meneki-neko Omikuji" (fortune slip) to test your luck. You certainly can enjoy the time filled with Maneki-neko.
Kumihimo Hirai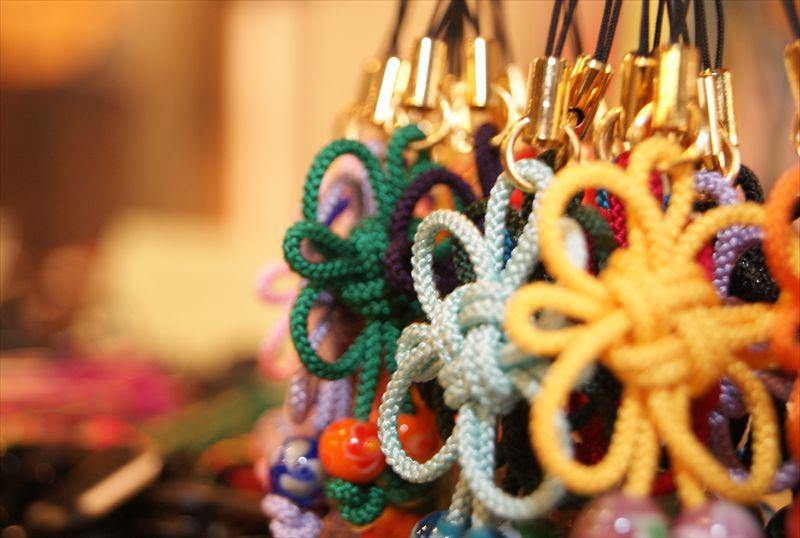 "Iga Kumihimo" has been commonly known for long in Mie prefecture. It is a traditional craft inherited from ancient times, and its beautifully dyed colorful silk strings commingled one by one, create unique taste. Recently, Kumihimo appeared in smash hit movie "Your Name." and its popularity surged. Kumihimo specialty shop "Kumihimo Hirai" offers a number of Kumihimo products including straps for mobile phone, key-holders and earrings. By performing the Kumihimo demonstration in the shop, the effort to inherit traditional skills and techniques to the future generations is being continued.