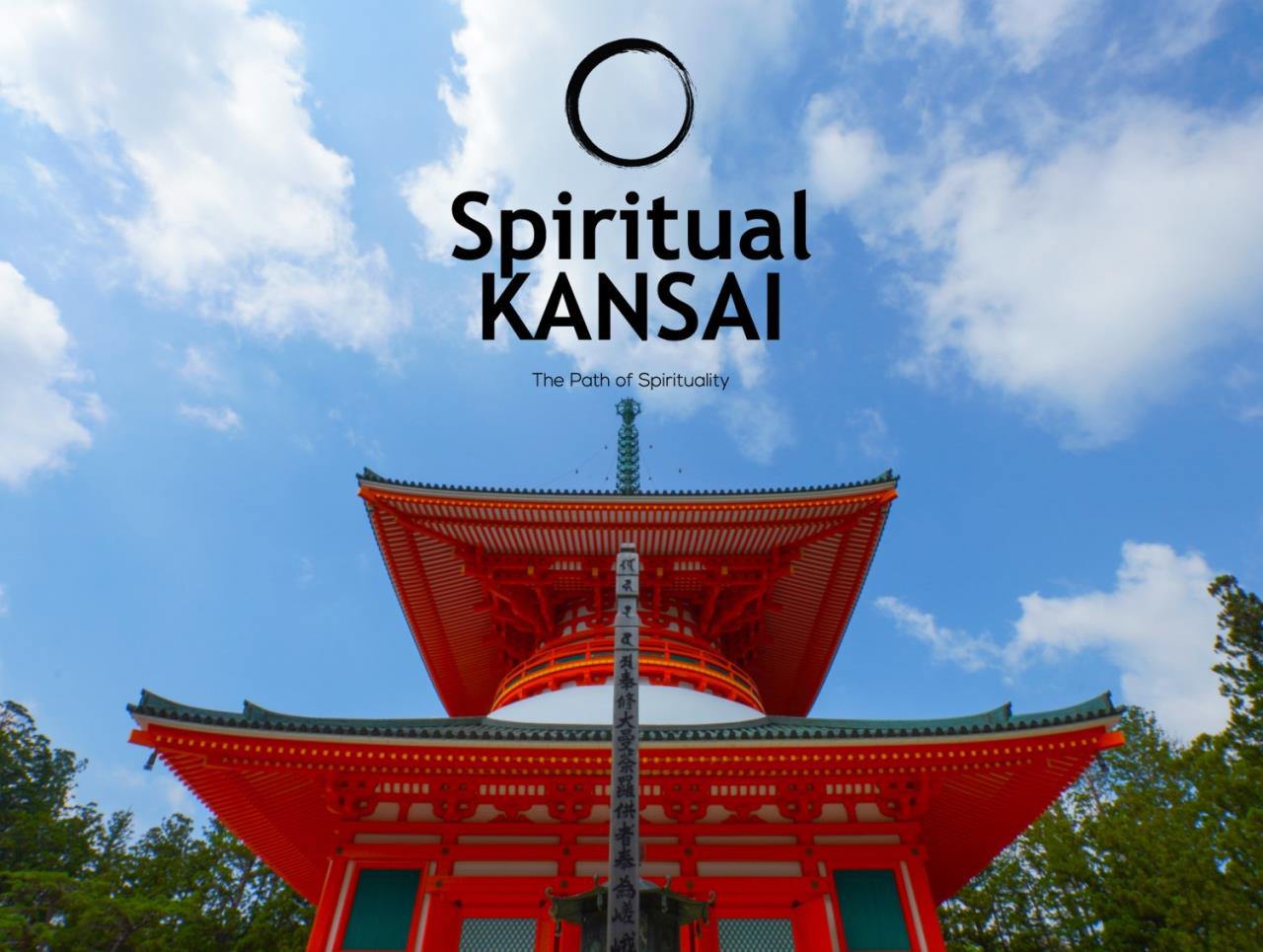 Spiritual KANSAI Series Blog 5 : Diversity and Inclusion in Koyasan
The Kansai region is a sacred place for Japanese spiritual culture, and Kansai is full of genuine hospitality. We tried to extract various themes and put them together in columns under the title of "Spiritual KANSAI". In this blog series, we will introduce these columns in order. The 5th in the series is " Diversity and Inclusion in Koyasan" by Koyasan Koso-in temple Zenbo Hidaka. (The following text is quoted from the Spiritual KANSAI column page (https://kansaiguide.jp/rt/eng/column/) of this site)
***************************
Diversity and Inclusion in Koyasan
Quote source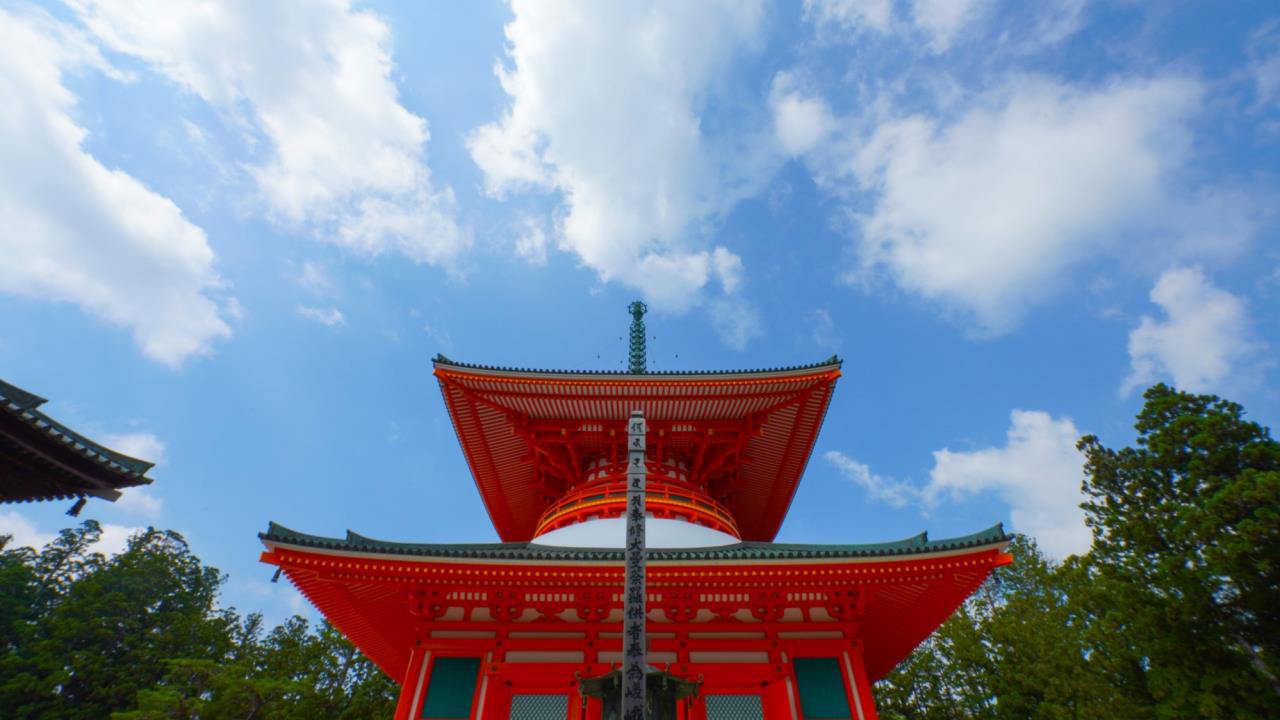 Taking a slow walk for about two kilometers along a muddy path under large trees, with the sunlight shining through them, Sartre murmured, "This is the most beautiful cemetery in the world, where nature and death have merged."
(Asabuki Tomiko, "28 Days in Japan with Sartre and Beauvoir")
At Koyasan Okunoin Cemetery, more than 200,000 gravestones are found along the path leading to Kukai's mausoleum among the 800-year-old Japanese cedar trees. When the French philosopher Jean-Paul Sartre visited Japan with Simone de Beauvoir in 1968, the author Asabuki Tomoko served as their interpreter. Sartre, the standard-bearer of modern thought at the time, was a renowned atheist who never joined his hands to pray in front of God or Buddha. But when he visited Okunoin at Koyasan, Asabuki heard Sartre describe it as "the most beautiful cemetery in the world where nature and death merge." Okunoin is a symbolic place that reveals the unique aspects of Koyasan.
Koyasan, along with Yoshino and Kumano, was registered as a World Heritage Site in 2004 as "Sacred Sites and Pilgrimage Routes " in the Kii mountains. In Koyasan, there is a belief that Kukai (posthumously known as Kobo Daishi), the founder of Koyasan, is in eternal meditation at the inner sanctum. For that reason, a meal called Shojinku is served twice a day at his mausoleum.
Offering meals to Kukai, who became one with nature, can be seen as a ritual of mutual exchange between humans and nature. This is a way to return the blessings of nature. This expresses directly our worldview of being embraced by nature, living and dying in nature. Sartre's words could be said to have hit the mark.
At Okunoin, the tombs of the founders of other sects of Buddhism, including Shinran and Honen, are found. In addition the graves of past warring feudal lords and nameless commoners harmoniously coexist at Okunoin. Furthermore, the "Korean Soldiers' Memorial Tower" was built in 1599 by Shimazu Yoshihiro and Tadatsune to commemorate the war dead during Toyotomi Hideyoshi's invasion of Korea, and notably that monument honors not only the fallen on the Japanese side but also enemy combatants.
The belief that even those who were in conflict with each other in life can exist in harmony in the mandala world that encompasses the entire universe is central to the thought of Koyasan.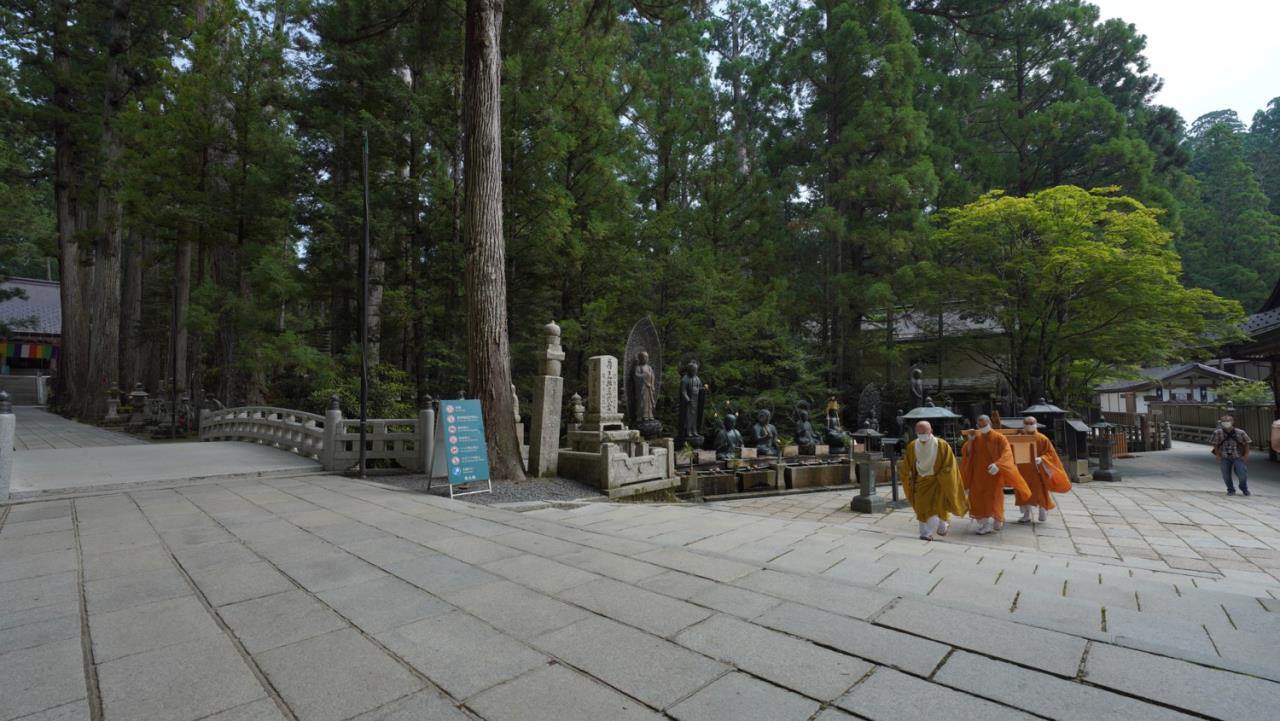 Foreign tourists visiting Koyasan often describe their impressions as being like coming home, or that it is very peaceful. Perhaps that feeling is not unrelated to the long history of Koyasan, which has embraced and accepted foreign things while preserving their individuality. Nowadays, diversity and inclusion are two of the characteristics of Koyasan.
Kukai founded a temple for Buddhist training in Takano, a place held by the goddess Niutsuhime-no-Okami. Therefore, it was originally conceived that gods and buddhas, normally dissimilar things, can be brought together eventually. At the back of the Danjogaran, a three-dimensional representation of the esoteric doctrines of Buddhism, there is a shrine called Miyashiro, where Niutsuhime-no-Okami and 3 other Shinto deities are enshrined as the landowners of the whole Koyasan area. This is why the priests of Koyasan call these deities Myojin-san and believe in them the same way they believe in the Buddha. This kind of coexistence between gods and buddhas dates back to the origin of Koyasan, is one of the reasons the area received "World Heritage" status.
Kukai wrote a letter to Emperor Saga asking forpermission to use Koyasan to found a place for Buddhist training. He wrote that, "Koyasan is surrounded by high peaks on all sides and is rarely visited by people."
Koyasan went on to become a major tourist destination, attracting 1.5 million visitors per year, of which 100,000 were from foreign countries. Unfortunately, due to Covid-19 the numbers of visitors dwindled, and the situation at the time of the establishment of Koyasan was unintentionally recreated. Covid-19 caused serious economic damage to Koyasan, but at the same time provided an important opportunity for us to pause and reflect on what kind of place Koyasan was originally.