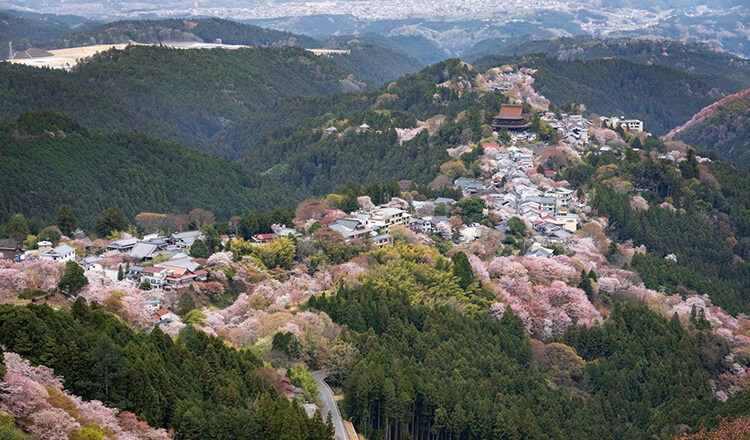 Shinto-Buddhist syncretism—the acceptance of multiple faiths in Japanese culture
Many Japanese people are accepting of different kinds of religion. For example, they go to Shinto shrines for a dedication when their children are born, yet, more often than not, have Buddhist funerals. Many of them celebrate Christmas, ring the bell at a temple on New Year's Eve, and then go on to visit shrines to pray for a good year. However, interestingly, many of them believe they don't actually follow any religion. This is probably the reason why they don't feel it odd to pray to different gods depending on the occasion. It is also most likely due to the long history of Shinto-Buddhist syncretism: the integration of a religion that originated in Japan with a religion introduced from overseas.
Amaterasu Omikami, the goddess who traveled over many years from Yamato to Ise
Since ancient times, Japanese people have believed that the natural features of their world, like mountains, seas, forests, trees and rocks, are home to gods and other deities. With beliefs founded in animism, they have also long cherished ancestral spirits and prayed for peace and tranquility in their lives. This is represented in a number of Japanese words, such as, "reizan" or "ryozen," which mean spiritual mountain, and "iwakura," meaning a seat of rock for a god. Mt. Miwa in Sakurai City, Nara Prefecture, is one good example of this, as Omiwa Shrine on this mountain does not have the usual main hall where a deity is enshrined, as the mountain itself is the object of worship.
Also, in Yamazoe Village in Nara, there are a number of massive iwakura rocks that are said to have been placed there by followers of asterism. According to GPS data, the positioning of these rocks corresponds to the location of the stars of Vega in the constellation Lyra, Altair in Aquila, and Antares in Scorpio. Therefore, it is believed that people worshiped these rocks in relation to these heavenly bodies. In much the same way, shrines are believed to have originated in stones or rocks placed on the spot where important people, such as village elders, were buried at the foot of spiritual mountains.
Amaterasu Omikami is a prominent goddess in Japanese mythology, and recognized as an ancestor of the Imperial Family and the main deity of the Japanese Shinto religion. She is currently enshrined in Ise Jingu (the Grand Shrine of Ise) in Mie Prefecture, but was worshiped within the Imperial Palace up to the reign of the 10th Emperor Sujin. However, it was decided to move the goddess to a more suitable permanent location, and this mission, which started at Omiwa Shrine in Nara, was taken on by Yamatohime-no-mikoto, the daughter of the 11th Emperor Suinin. This epic journey took 90 years in total via Iga, Omi, Mino and Owari until the final destination was reached in Ise. This brought about the establishment of the Grand Shrine of Ise, as well as the early history of Japan's Shinto religion.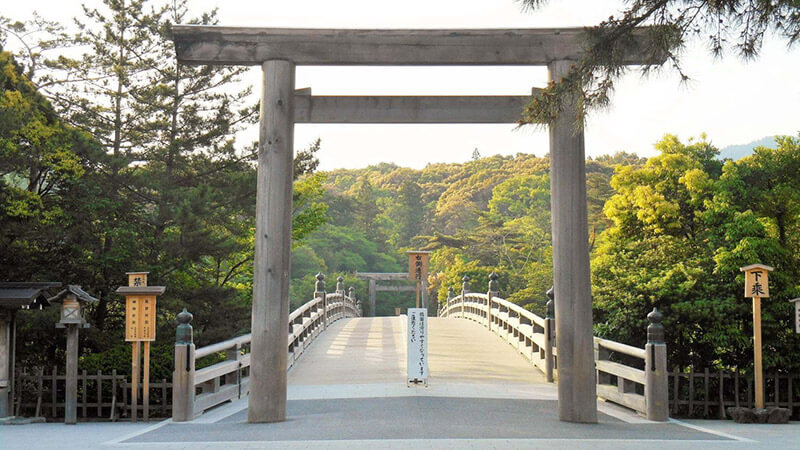 The Marriage of Shintoism and Buddhism started in Sakurai, Asuka
Buddhism was introduced to Japan in the 6th century, when King Seimei of Paekche (Korea) sent Emperor Kinmei of Japan a number of gifts, including a glit bronze image of Buddha and a number of sutras. After that, this religion spread all over Japan, starting in the Sakurai area, which included the national hub of Amakashinooka in Asuka (present-day Nara).
Later, war erupted between the anti-Buddhist Mononobe clan and the pro-Buddhist Soga clan, which the latter won, leading to Buddhism being designated as the state religion. As a consequence, the first Buddhist temple in Japan, Hokoji (later named Asukadera), was established with members of the Imperial Family and aristocrats mainly starting to study and worship Buddhism, rather than Shintoism. However, a syncretism of Shinto and Buddhism was gradually developed and continued to be followed due to the common belief that Buddhist gods would appear as Shinto gods in order to save people. This would continue until 1868, when the Meiji government implemented its policy of separating these religions in an attempt to reestablish Shinto as the state religion.
A number of fine examples of Shinto-Buddhist syncretism can be seen throughout Japan, including Otataneko Shrine. The shrine was once Daigorinji Temple, which was established on the grounds of Omiwa Shrine whose object of worship was Mt. Miwa. In its main hall, an eleven-faced Kannon, or the Buddhist goddess of mercy, used to be placed in the center, with the Shinto deity of Wakamiya to the rear. Wakamiya was a descendant of Omononushi, the god of Omiwa Shrine, and there are various legends that abound concerning these deities. For example, Wakamiya transformed himself into an eleven-faced Kannon as a result of the ultimate ascetic meditation practice; and the Kannon was the image of Wakamiya's mother. This eleven-faced Kannon was moved to Shorinji Temple in Sakurai during the Meiji period, following the government's separation policy, and was later designated as a National Treasure. It will be displayed, for the first time outside Nara, at The Tokyo National Museum in 2021.
From Ise Jingu Grand Shrine to Shima, home of the ama divers
In Meiwa Town, Mie Prefecture, sit the remains of Saiku, the residence of Saio. This person was an unmarried female member of the Imperial Family, who dedicated her life to serve Amaterasu Omikami enshrined in Ise Jingu, on behalf of the Emperor. This Saio position lasted approximately 660 years from the Asuka period to the Nanbokucho period (7th–14th century).
There are various theories for the reason Ise was chosen to be the place where Amaterasu Omikami would find a permanent home. One is the area was thought to be something like utopia as it was located, from Nara, directly to the east of where the sun rises. Another is an abundance of food from both land and sea were harvested here; and the area was extensively covered by deep forests.
Ise Jingu actually encompasses a complex of 125 shrines, with Naiku (the inner shrine) and Geku (the outer shrine) as the two main shrines. Every twenty years, a remarkable renewal ceremony called Shikinen Sengu takes place here, and has done so for 1,300 years. Prior to this ceremony, a new divine palace is constructed to the exact same dimensions as the current one in order to relocate the deity. It is believed that the deity would be more able to offer continued protection to people if it is treasured in a new and brighter place. This is one of the reasons why many Japanese people visit this shrine at least once in their lives.
This grand shrine holds over 1,000 minor and major festivals a year, and the Jingu Chokokan Museum exhibits a wide range of the festival equipment used, as well as the costumes and treasures employed in the Shikinen Sengu ceremony. Interestingly, these items are also replaced with new ones every twenty years. The Jingu Museum displays artworks dedicated to the ceremony from its extensive collection as a showcase for the rich history of Japanese art.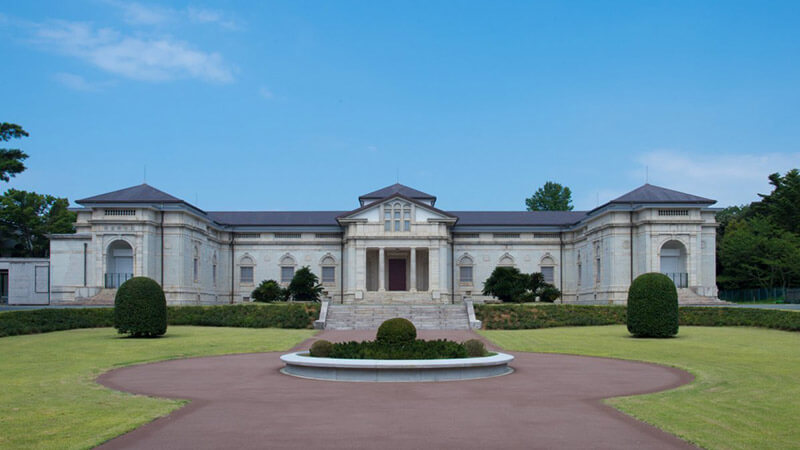 Another distinctive feature of Mie are the around 660 ama (female free-divers) that still harvest abalone in the sea off the Shima Peninsula in Toba City. These women represent the largest number of active divers in one area throughout Japan. Noshi-awabi, or dried and flattened abalone strips, is the oldest form of food stuffs to be offered to the deities of Ise Jingu, and Kuzaki, Shima, is the only place that offers its abalone to the grand shine. The history of this donation started when an ama diver dedicated local abalone to Yamatohime-no-mikoto when she visited Ise Bay, and this legendary ama, named Oben, is enshrined in Amakazukime Shrine in Kuzaki.
Shinmei Shrine in Toba enshrines a goddess, called "Ishigami (Stone God)," and is well known as a place for spiritual energy for women. According to legend, the goddess will surely make women's wishes come true at least once in their lives, as ama divers have long prayed for their own safety and a good harvest at this shrine. Good luck charms embroidered with a star and a grid pattern sold here are all hand made by local ama divers. As the star sign can be drawn in one stroke, it means that divers will always come back from the sea. The grid patterned part prevents evil from entering.
The Toba Sea-Folk Museum offers a wide variety of information on ama divers and fishing in the Shima and Toba regions, and visitors can also enjoy hands-on craft experiences involving shells and seaweed.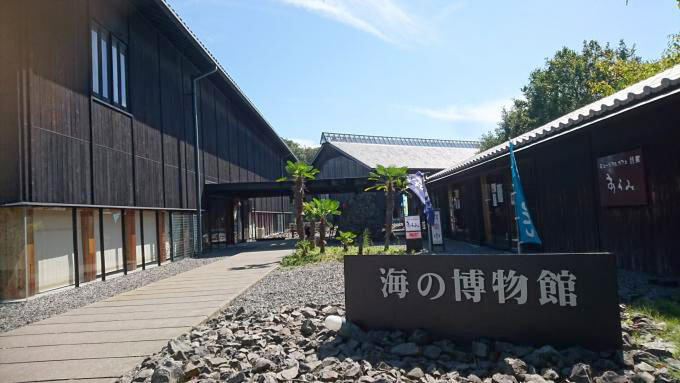 Japanese people have long considered a variety of things as objects of worship since ancient times. They have worshiped gods and goddesses in the spirits of the dead and in features of the natural world, both in Buddhism and Shintoism. Perhaps this reflects the true nature of Japanese people, who have always tried to survive through uncertain times in a versatile and peaceful manner.